After World Series Game 2: IRL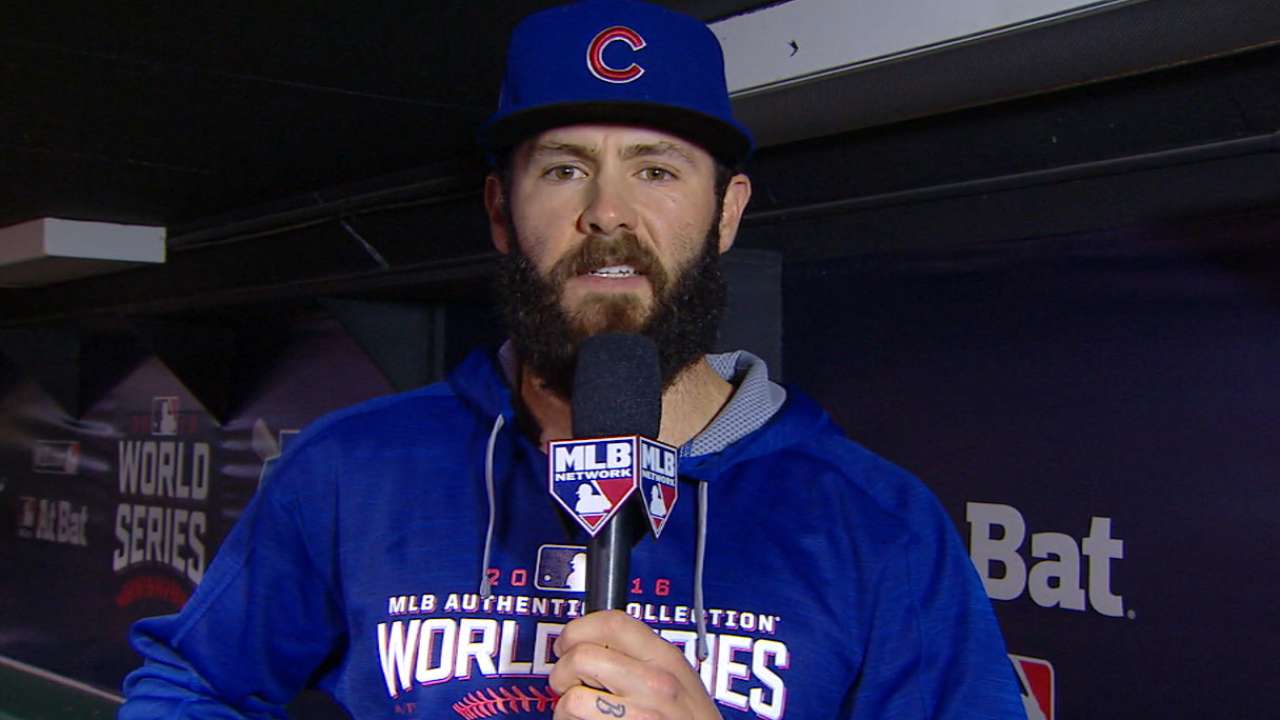 The Cubs claimed Game 2 of the 112th World Series, 5-1, on Wednesday night, knotting the series at 1-1 with the Indians as both clubs continue their pursuit of an elusive championship.
We are on the scene at Progressive Field. The Fall Classic will resume at 8 p.m. ET Friday night at Wrigley Field.
• Game 3: Friday, 7:30 p.m. ET air time | 8 ET game time on FOX
Last year's National League Cy Young Award winner, Jake Arrieta, grinded through a two-hit, one-run win for Chicago at Progressive Field opposite Tribe right-hander Trevor Bauer, who appeared unaffected by a recent right pinkie injury but was chased in the fourth inning nonetheless.
2:08 a.m. Cubs, World Series make long-awaited return to Wrigley
As the World Series shifts to Wrigley Field for Game 3 on Friday night, players and fans are understandably pumped for the first World Series game to hit Chicago's North Side in 71 years.
The #WorldSeries is headed back to Wrigley Field, and yeah, @BobNewhart is pumped. #Cubs https://t.co/2uJvAx3LZX pic.twitter.com/LK8DMqwqDu

— Cut4 (@Cut4) October 27, 2016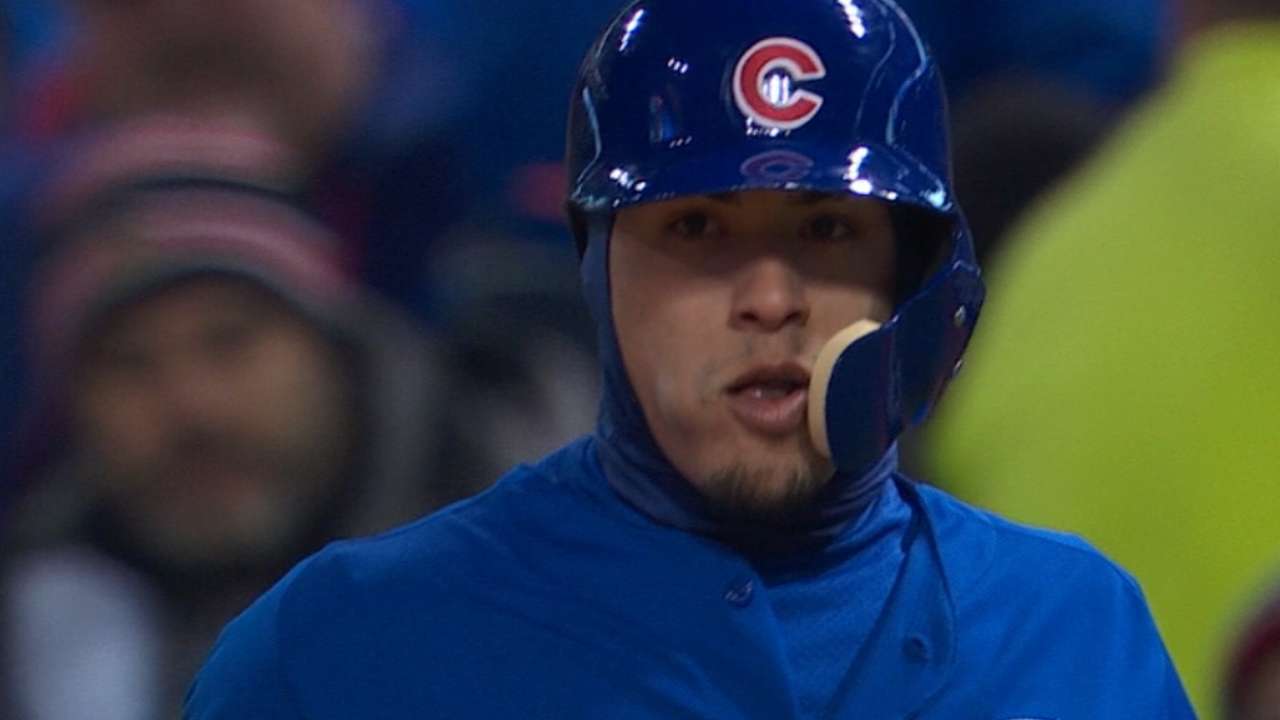 #FlyTheW home. pic.twitter.com/W7MqscYl5m

— Chicago Cubs (@Cubs) October 27, 2016
11:45 p.m. ET: Cubs fans get to celebrate in Cleveland
Plenty of Cubs fans -- well accustomed to cheering on their team in cold temperatures -- were on hand at Progressive Field to celebrate after Chicago's Game 2 win.
As the rain falls on Progressive Field, a large group of Cubs fans are singing "Go Cubs Go."

— Mike Petriello (@mike_petriello) October 27, 2016
#WorldSeries tied, 1-1.

And we're coming home. #FlyTheW pic.twitter.com/jZFbqtIgRq

- Chicago Cubs (@Cubs) October 27, 2016
11:10 p.m. ET: Chapman brings serious heat
Cubs closer Aroldis Chapman fanned Jose Ramirez with a 103-mph fastball to finish the eighth inning and then closed out the ninth to secure the Cubs' 5-1 win in Game 2.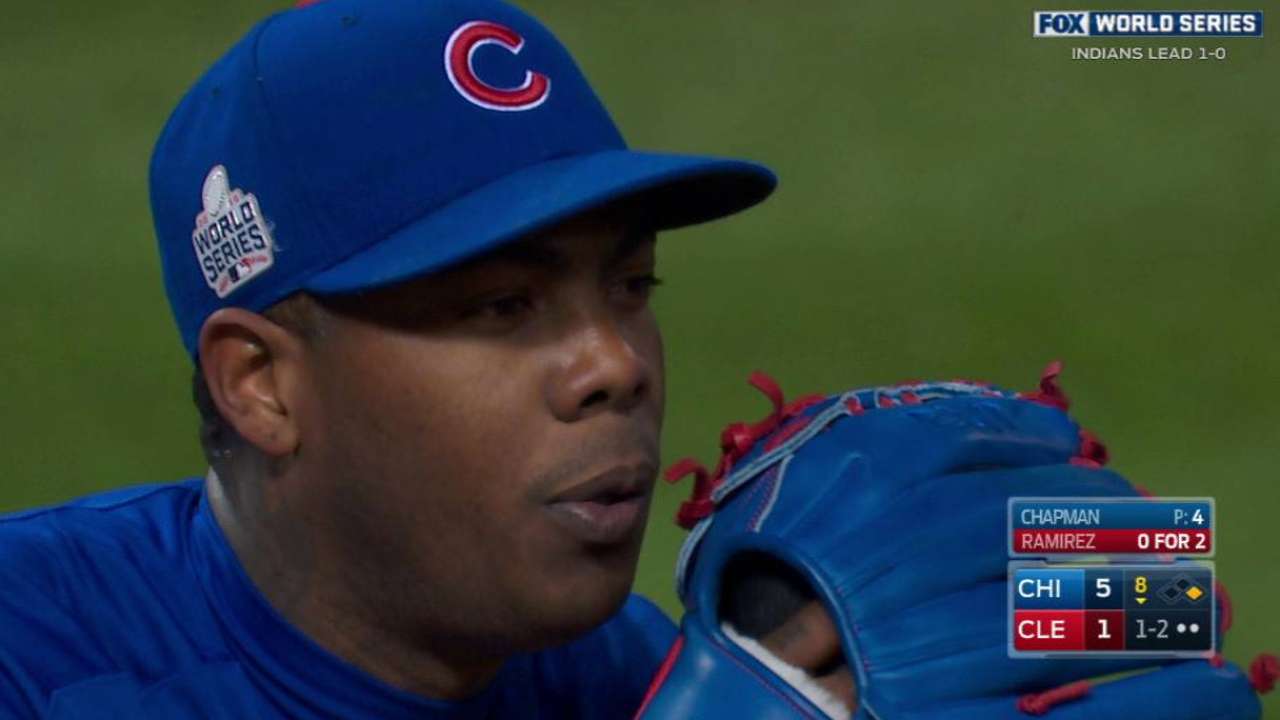 10:39 p.m. ET: World Series gets seriously chilly
Fans throughout Progressive Field were forced to bundle up and huddle together as the first-pitch temperature was a chilly 43 degrees. Game 2 tied for the second-coldest World Series game of the Wild Card Era, just slightly warmer than the 35-degree Game 4 of the 1997 World Series between the Marlins and Indians, also in Cleveland.