Tale of the Tape: Game 3 starters on a roll
Cubs' Hendricks, Indians' Tomlin coming off two strong outings each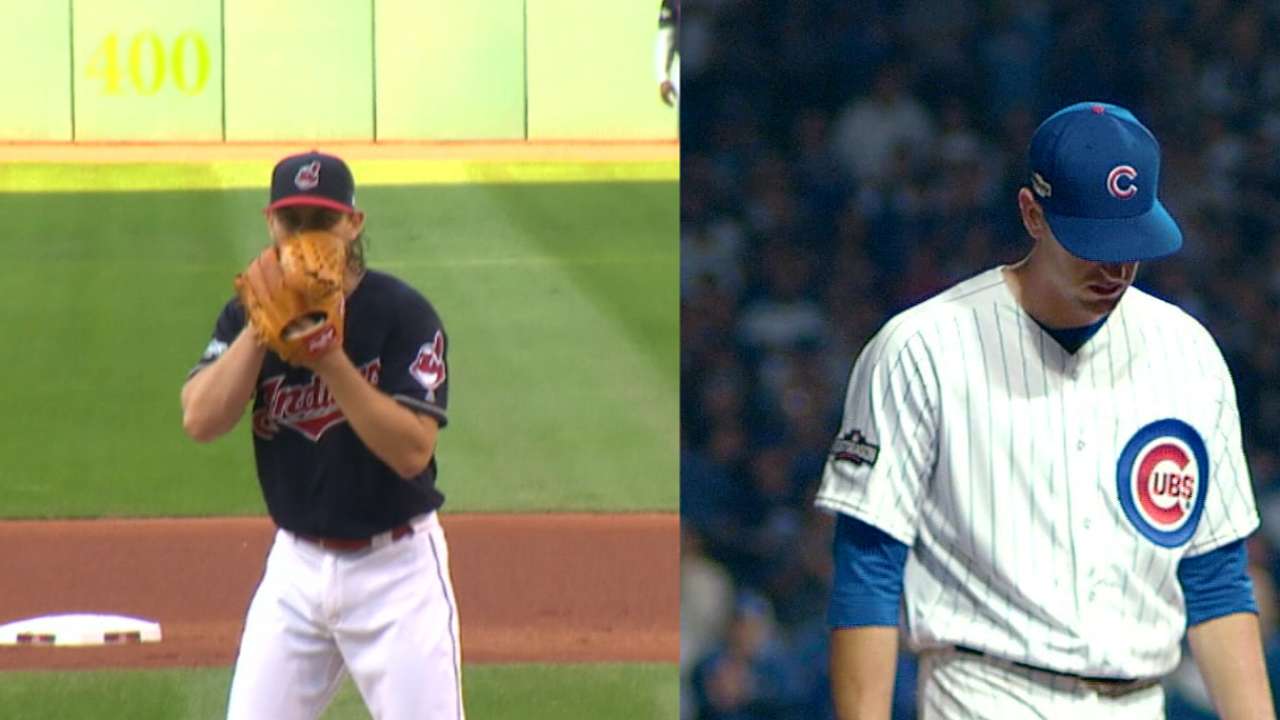 Wrigley Field will host its first World Series game in 71 years Friday, when two right-handers square off in what will be a pivotal Game 3 for two franchises looking for their first championship in decades.
The World Series tied at a game apiece, the Cubs turn to one of the best pitchers in baseball in Kyle Hendricks. He opposes Indians starter Josh Tomlin, who is coming off two impressive starts already this postseason.
• Game 3: Friday, 7:30 p.m. ET air time | 8 ET game time on FOX
Tomlin is 2-0 with a 2.53 ERA in 10 2/3 innings this October, having beaten the Red Sox in Game 3 of the American League Division Series and the Blue Jays in Game 2 of the AL Championship Series. Hendricks struggled in the NLDS against the Giants, but rebounded to the tune of a 0.71 ERA over two NLCS starts against the Dodgers. He faced one over the minimum in 7 1/3 innings in his last outing, earning the win in Chicago's NLCS-clinching Game 6.
Here's how the two right-handers match up in advance of Game 3.
Season stats
Tomlin: 13-9, 4.40 ERA, 174 IP, 118 K
Hendricks: 16-8, 2.13 ERA, 190 IP, 170 K
• Shop for World Series gear: Cubs | Indians
Josh Tomlin, Indians
Tomlin against the Cubs
2016: Did not face
Career: Has never faced
Loves to face: Ben Zobrist, 2-for-19, 3 K
Hates to face: Tomlin has only faced three Cubs players, and Zobrist is the only one with more than five at-bats against him.
Game breakdown
Why he'll win: Tomlin last pitched in Game 2 of the ALCS, on Oct. 15, meaning he'll be on 12 days' rest when he pitches Friday. That's a lot of extra rest, and Tomlin has excelled on extra rest throughout his career. His ERA when pitching on six or more days of rest was 1.97 in five starts this season, compared to his 4.98 ERA in 24 other starts. Over his career, his ERA drops more than half a run, from 4.55 to 3.90, in such situations.
Pitcher beware: Batters actually hit Tomlin for a better average the first time through the lineup, which is unusual and implies he doesn't benefit from unfamiliarity as much as most. Eleven of the Cubs' 14 position players are yet to face Tomlin in their careers, but the numbers suggest this might not hinder their approach against him at all.
Bottom line: The Indians likely won't need more than the 5 2/3 innings Tomlin pitched in Game 2 of the ALCS, especially if their lights-out bullpen continues its near flawless postseason. The reliable, veteran Tomlin pitched that deep 19 times this season, so there's little reason not to expect an at least solid night.
Kyle Hendricks, Cubs
Hendricks against the Indians
2016: Did not face
Career: Has never faced
Loves to face: Coco Crisp is the only Indians player with any experience against Hendricks. He's 0-for-3.
Game breakdown:
Why he'll win: Because whether you know it or not, Hendricks is an ace, despite flying under the radar for much of the year. On a staff with Jon Lester and Jake Arrieta, it was Hendricks who won the Major League ERA title, in just his second full season. His 2.13 ERA in 190 innings led all pitchers, and his 0.98 WHIP placed second, by mere decimal points. The Cubs have an unassuming ace to unleash in Game 3.
Pitcher beware: The changeup is a major part of Hendricks' success. He throws the pitch 27 percent of the time, more than all but one pitcher in the Majors. The Indians may be able to turn that strength into a weakness. Four Cleveland starters hit over .300 against changeups this season.
Bottom line: After hiccupping in his first start this October, Hendricks regained his dominant regular-season form in the NLCS. He'll ride that momentum into the raucous environment at Wrigley Field, where Hendricks (1.32 home ERA) loves to pitch. The Indians will likely have their hands full.
Joe Trezza is a reporter for MLB.com based in New York. Follow him on Twitter at @joetrezz. This story was not subject to the approval of Major League Baseball or its clubs.