Oct. 26 David Ross pregame interview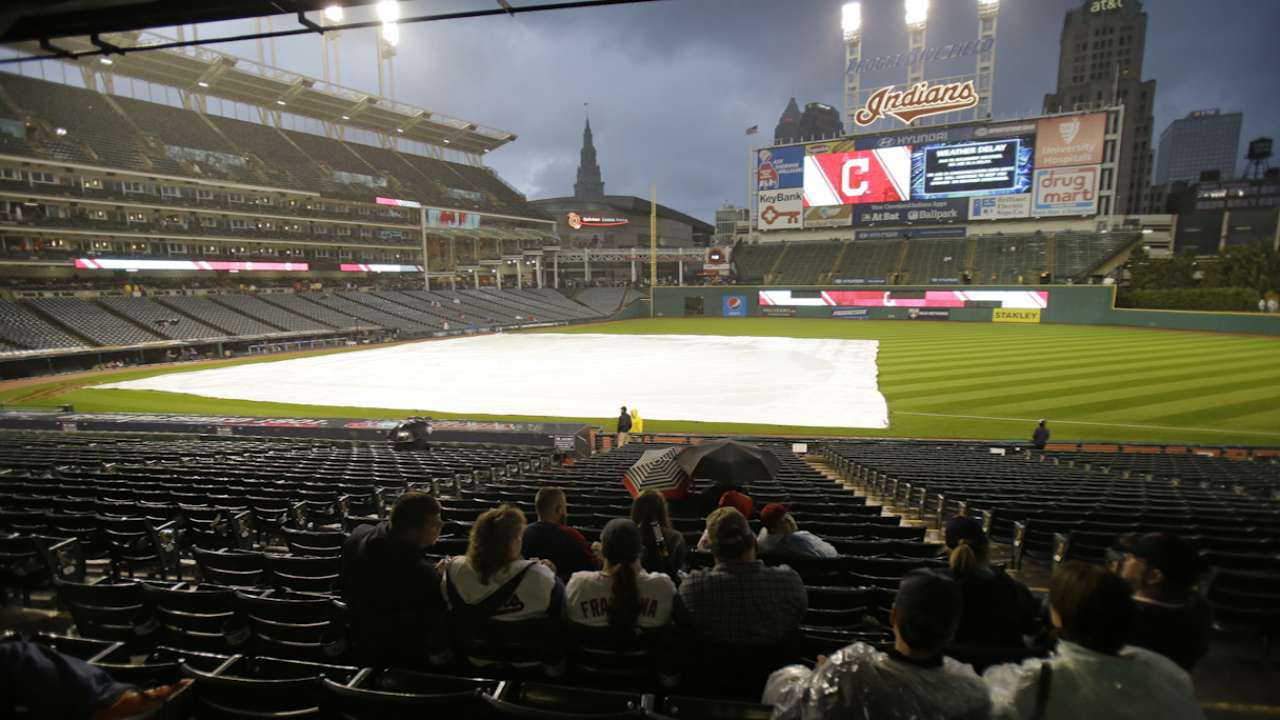 Q. Now that Terry Francona has said that Kluber will start two and possibly three games in this series, will that change any of your preparation? I know you're not the manager, but you're certainly a prepared player. How does that change your guys' mindset when you look at the series?
DAVID ROSS: Honestly, we really are just kind of focused on today. You know how we've been all year, just focusing on the day. Corey Kluber is obviously a really good pitcher, established. I think everybody knows that. The stuff he had last night was pretty impressive. But, yeah, I think we're focused on Trevor Bauer and what we do to beat him today. We're always tried to stay in the moment. If we get ahead of ourselves, we can't do the same thing when we're facing Kershaw or Bumgarner. We've been answering questions about these guys all seasons long or all playoffs long.
We try to stay in the moment, and you know, we'll worry about him when we get to games 4 and 7 or whatever it is. We're just trying to focus on today and move from there.
Q. The Indians I guess during the regular season flew under the radar at least a little bit, but here in the postseason they've obviously been very good. Your general thoughts on this team, they're pretty well balanced, seemingly.
DAVID ROSS: I think sometimes smaller markets with low expectations and they had a lot of injuries and people counting them out, I saw a lot this year. If you follow the playoffs at all, they've handled a very good, what I think America thought was a Boston team that was very potent, and swept those guys, and handled Toronto, who both those lineups were really well. So we knew they had very deep power in those lineups, and we knew they had good pitching.
If you follow baseball, you understand how hard it is to sweep a team in the playoffs. They almost swept Toronto. So they've got one loss in the playoffs so far. So they haven't flown under the radar in my eyes, and I don't think in our team's eyes. But, again, we're focused on just the battle of the day. They're a very good team, they've got speed, they've got great at-bats. They've got rookie talent, veteran talent, very similar to our team. Lindor's one of the better young players in the game, as well as some of the young talent we have. So the third baseman is a very talented player. I've watched him kind of. Mike Napoli's a friend of mine, so I've kind of just checked the scores every once in a while, and I kept seeing this dude hit .300 that I've never heard of. So those things stand out to me throughout the year and get my attention.
Q. When you get to the postseason and, say, Lester last night is struggling with his fastball command, looked like a little arm-side breaking ball command as well. How long do you sort of hang with a pitch that you know you're going to need, trying to get that pitch back into what you're doing, as opposed to say on July 2nd, where you feel like, all right, we'll do this for a while or whatever? Late changeup as well?
DAVID ROSS: Yeah, yeah, it has to do a lot with the scouting report and what the weaknesses are for the other team, and what pitch I've got to have. In bullpen he was missing arm-side a lot, so I thought that maybe just the energy of the moment, drifting a little bit. Maybe just running off in the bullpen, so I didn't say anything mechanically. But we talked a little bit between innings, and he found that sinker.
Then just to get him back right. Went in a little more when we had the opportunity to force seamers in, a couple guys, getting back on the cutter a little more, getting his hand back on top of the baseball because he was just leaving it arm-side a lot.
The first inning you're trying to, when you're an out away, you're trying to just -- you're assuming he's going to make the adjustment. In my eyes he's done that for me almost his whole career that I've been catching him. He makes the adjustment pretty fast. He couldn't get that two-seamer to run out there, and even when he threw ones close, we wouldn't get the calls. It's just one of those things. You are expecting somebody to hit one at somebody at some point. The best two-seamer he threw was the swinging bunt. So you finally get a good one, and he hit it's where nobody can field it.
So I try to stay with the pitch, give the guy the benefit of the doubt if it's a match-up that works out well, especially when you're just looking for one out. Maybe it's first and second, nobody out in the first inning, I'm going to adjust a lot faster, but really when you're like that, you only need one executed pitch. It could be an out, with two outs, I mean.
Q. How do you see the rain and possible delays impacting how this game plays out in the pitching?
DAVID ROSS: I don't see it. It just depends. It's hard to speak on that. Depending on when it comes, what inning or how it's going to affect how far along the game is. Hopefully Jake throws well tonight and goes deep into the game, and we're hoping the rain stays off. It's hard to comment on weather. But I think usually when you have a long delay, then the bullpen's come into play. We like our bullpen. We know they've got a strong bullpen. They had to do that in Toronto and got a game.
It could be a bullpen game if the rain comes early, and the starters aren't able to go deep into the game with maybe a long delay. But those are things that Joe, you know, has got an idea on. I'm sure both managers are well thought out what their plan is, and they'll go from there just to figure out how long the starters are able to go.
Q. Looking ahead a little bit here, but what impresses you or stands out to most about Kyle Hendricks to you?
DAVID ROSS: His poise. The way, no matter how bright the moment gets, he seems to just keep his poise and everything and execute his pitch. We kid all the time, this guy's heart rate does not ever change. He'll strike out the side, bases loaded and he'll walk out with his head tilted to the left and just head down walking off the mound.
I'm very impressed with the way he carries himself on the mound and just continues to do his thing. You never see him rattled. You never see him hurry. There is no rush. There is no panic for a guy that's got three, four years in. The way he goes about it in this moment, and not being on this stage very much, is very impressive to me.
Q. So you nailed Lindor at second yesterday. One part of that is getting the throw down there. The other part is getting the tag on the guy. How impressed have you been with Javy Baez's ability to get the tag down this year, and how unusual is that ability he has?
DAVID ROSS: I've been as impressed as, I don't have a word, ever, maybe. I've never seen a guy tag like him. I've never paid attention to the tag. I don't know that many people have ever asked me about a guy's tagging ability, and I've been asked this year more than ever. He's probably gotten me, I would say, ten to 15 outs, that's a ton when we're talking about throwing out guys. He's probably gotten me at least ten just on his tagging ability at third or second base. Last night you saw how quick he gets that thing down. He practices it.
He's the best I've ever seen at being able to have his body under control and get the ball down and tag that guy. He lets the ball travel so well and he's able to just anticipate the flight of the ball, and it goes right into his glove. There is no stop and then movement. It goes right into the base runner. I've never seen anybody as good as he is. I don't think many people have watched that or talked about it. It's definitely something that's paid more attention to this year because that's how good he is.
Q. What do you think Jake's mindset is going into tonight's game? Do you think he has a little bit of a chip on his shoulder? He had the great numbers last year. There was no way he was going to be able to duplicate that this year. But he took some criticism anyway. Do you think there is that chip on his shoulder?
DAVID ROSS: He's not really the personality or type of guy to me that carries a chip, but he's very simpleminded and focused on his plan of attack. Just getting himself right. He knows when he's right, his stuff is pretty much unhittable. So I think he's more concerned about himself and what he's able to do to get himself right, throw strikes, command the fastball, move the ball in and out. I think that's the mindset. He's a very, very simple type of guy.
I can't speak for him about the chip. But I don't see him, he's not that personality for me. So I would say no, but you'd have to ask him on that. I'm sorry.
Q. I know between you, Borzello, Miggy, a lot has gone into in the ears of Willson Contreras, and a lot has stayed within the ears. For a young player that's not always easy to do. What do you think clicked with him? Any conversation you had with him this year that has really clicked and you've now seen play out?
DAVID ROSS: I think it's just a group effort. Yeah, I don't like to take credit for other guy's success. But he definitely is a guy that's always listening, learning. Miggy is in his ear a lot. Borzzie's in his ear a lot about reading swings, getting to know the scouting report, how to adjust off the scouting report when they adjust.
I've just seen a calmness about him when he first came up. A lot of energy. A lot of bouncing around. He's got more energy than probably any catcher I've ever been around. He's got some serious antics back there that just you don't see, that if I was trying to do it, I might hurt myself. But he has definitely taken a role of leadership a lot more as the years have gone on. He's gotten more comfortable with the pitching staff.
His at-bats continue to get better and better. He's a great hitter. He's got a cannon for an arm, you see. If anything, he's just slowed the game down a lot to me, and he's able to handle the moments a lot better than he was early on. And that just comes with everybody, I think.
Q. I think one thing along your career we've learned is you have a great perspective and appreciation for what's going on around you. But has there been something over the last few weeks where you've reminded yourself, hey, aside from maybe the obvious standing in the middle of Wrigley Field and all that, but you've reminded yourself, hey, appreciate this, remember this? Maybe a small thing or something that touched you?
DAVID ROSS: Yeah, yeah. It's small moments. I stress out a lot especially in the moments before the game starts, but once we start getting into the game, it seems to slow down a lot more for me.
Walking to the bullpen last night was really cool. Walking up those steps. A camera was following me, Jon's locked in, the coaches and everybody's quiet and stuff. And the fans are chirping at me a little bit. I'm like, you know what? I'm never going to be able to be a part of this again as far as these moments, so take this in. I'm trying to tell myself a lot, "Take this in. Take this in." You'll see me, if you pay attention, I'll look up in the stands a lot, just because there are not too many times you get to be in front of 40, 50,000 people on the field and they're all cheering for a team and you're able to look up and it's just a massive amount of people.
The National Anthem for me last night, we're standing in the top bullpen up there, you're up on top, looking down at the anthem. Everybody's standing up in the stands. You've got the stars and the flag. I mean, I asked our bullpen catcher, I said, "You don't happen to have your cell phone on you right now so I can snap a picture of this?" Because it was a really, really cool moment.
So I'm just trying to take those pictures in my brain and hold onto those nice things. Santana said something really nice during that review on the tag at second on Lindor when I threw him out. He was saying, "You know, congrats on a great career. I really admire the way you carry yourself." Little things like that. Those go a long ways when you're respected by your peers. The back-up catcher said something to me during BP which was neat to me, how much he respected me. Those things go a long way.