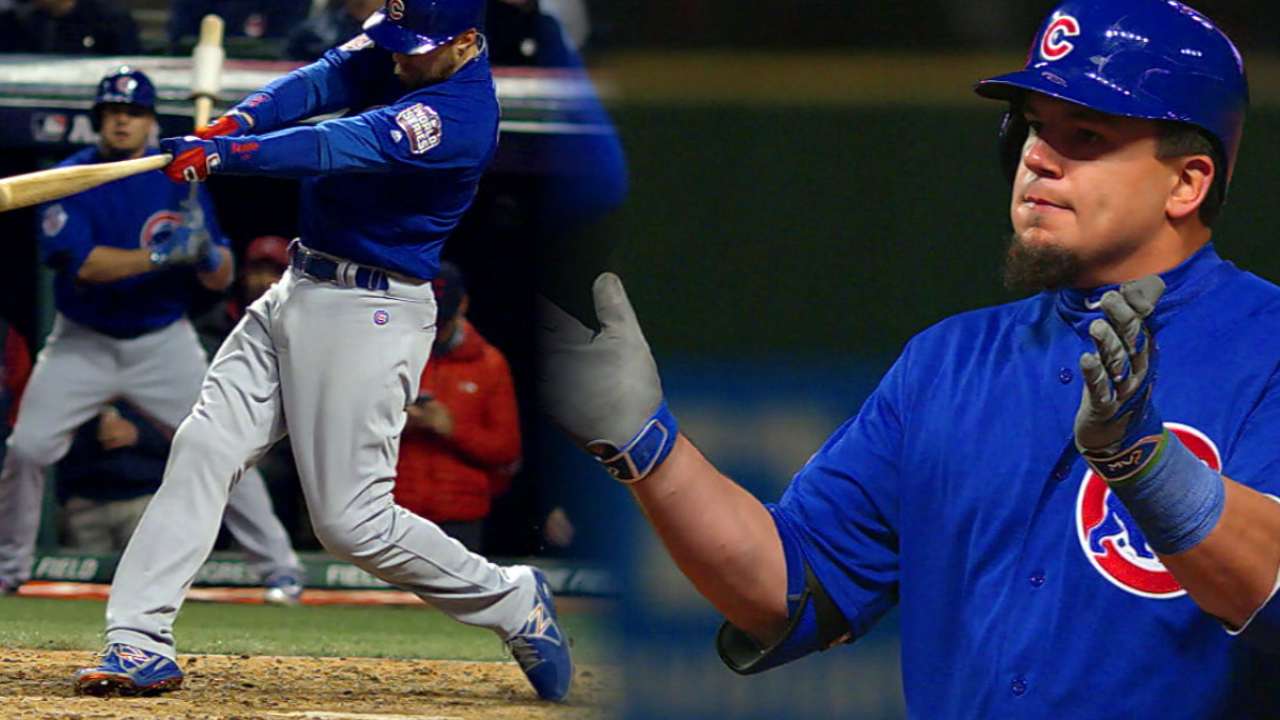 The Cubs claimed Game 2 of the 112th World Series, 5-1, on Wednesday night, knotting the series at 1-1 with the Indians as both clubs continue their pursuit of an elusive championship.
We were on the scene at Progressive Field, taking it all in before and after the first pitch. The Fall Classic will resume at 8 p.m. ET Friday night at Wrigley Field.
• Game 3: Friday, 7:30 p.m. ET air time | 8 ET game time on FOX
Last year's National League Cy Young Award winner, Jake Arrieta, grinded through a two-hit, one-run win for Chicago at Progressive Field opposite Tribe right-hander Trevor Bauer, who appeared unaffected by a recent right pinkie injury but was chased in the fourth inning nonetheless.
• World Series gear: Cubs | Indians
11:10 p.m. ET: Chapman brings serious heat
Cubs closer Aroldis Chapman fanned Jose Ramirez with a 103-mph fastball to finish the eighth inning and then closed out the ninth to secure the Cubs' 5-1 win in Game 2.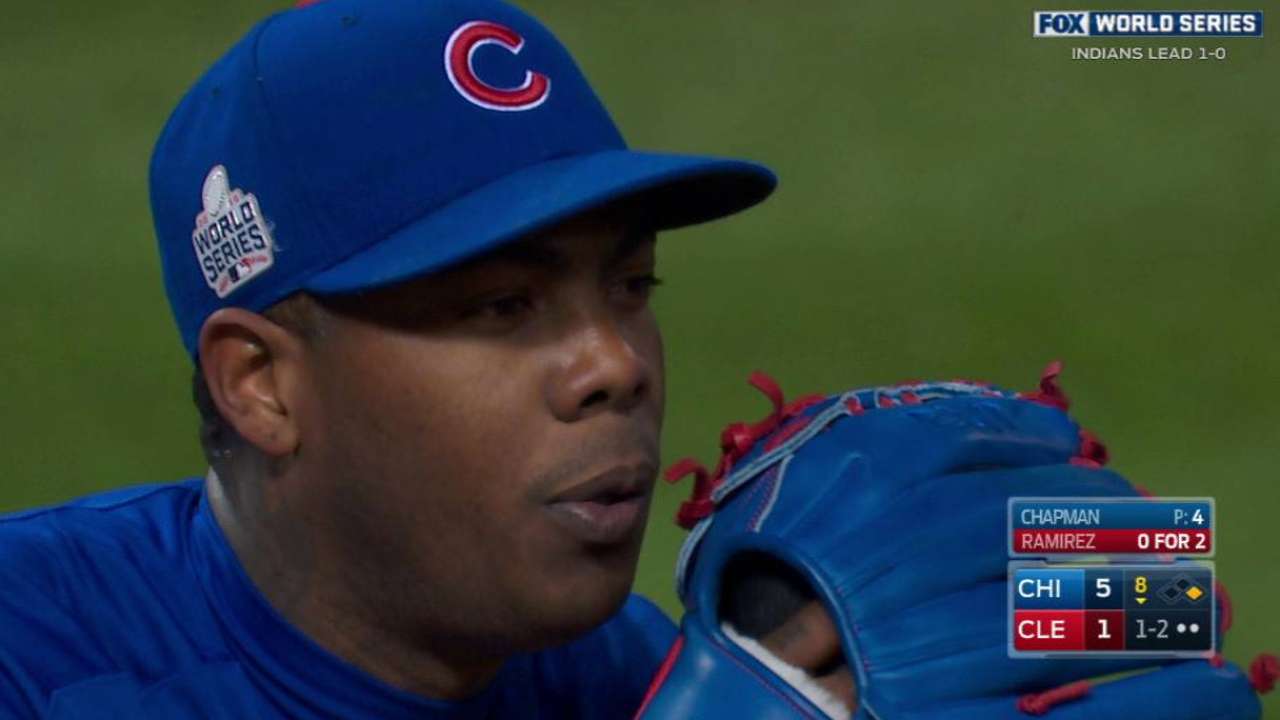 10:39 p.m. ET: World Series gets seriously chilly
Fans throughout Progressive Field were forced to bundle up and huddle together as the first-pitch temperature was a chilly 43 degrees. Game 2 tied for the second-coldest World Series game of the Wild Card Era, just slightly warmer than the 35-degree Game 4 of the 1997 World Series between the Marlins and Indians, also in Cleveland.
10:03 p.m. ET: Indians end Arrieta's no-hit bid, get on board
Arrieta, who has two regular-season no-hitters to his name, didn't allow a hit in Game 2 until Jason Kipnis' double with one out in the sixth inning. The hit snapped an 0-for-16 slump for Kipnis, who moved to third on a groundout and scored Cleveland's first run on Arrieta's wild pitch. When Mike Napoli singled, Cubs manager Joe Maddon lifted Arrieta at the 98-pitch mark.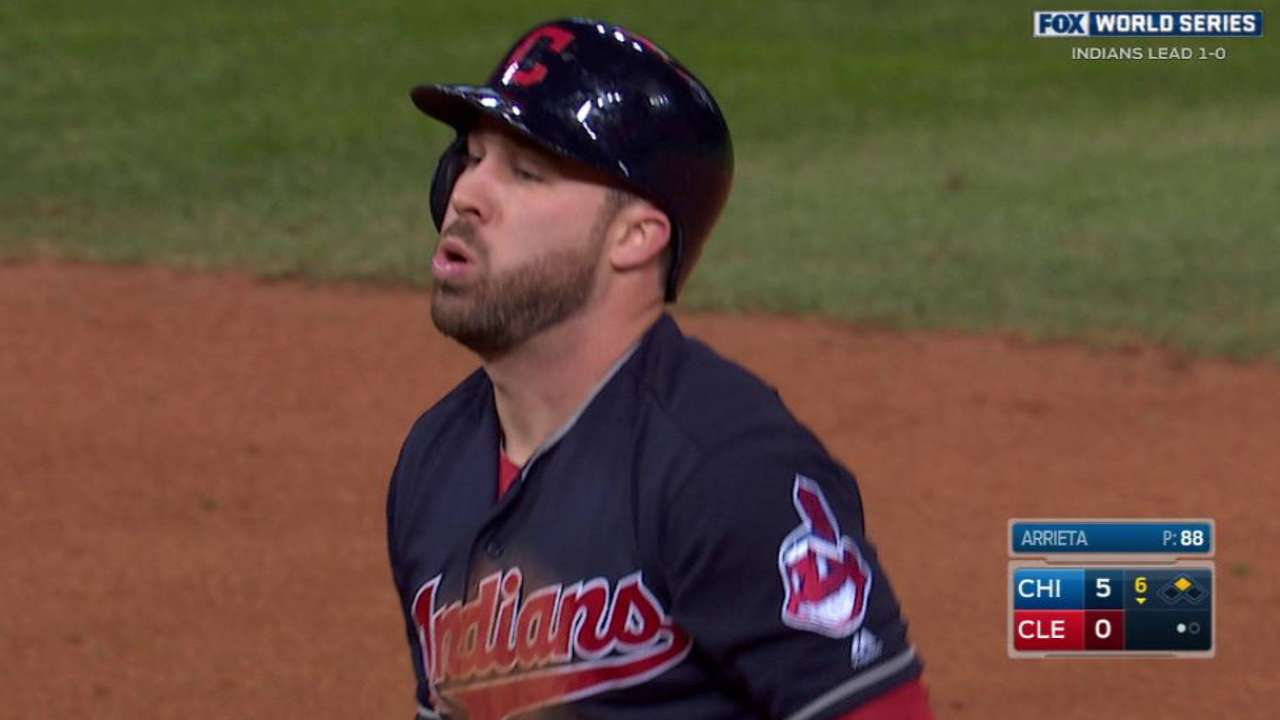 9:30 p.m. Get Loud! Tribe fans look to spark rally
Fans at Progressive Field are urged to "Get Loud" as the Indians look to come back from a 5-0 deficit after the Cubs scored three runs in the fifth inning, highlighted by RBIs from Ben Zobrist and Kyle Schwarber.
9:14 p.m. Fans get their hands on World Series gear
Fans line up between innings to shop for the latest World Series gear at Progressive Field.
9:10 p.m. ET: Holy cow! Cubs fan pays homage to Harry Caray
A World Series fan pays homage to legendary Cubs broadcaster Harry Caray and his signature spectacles.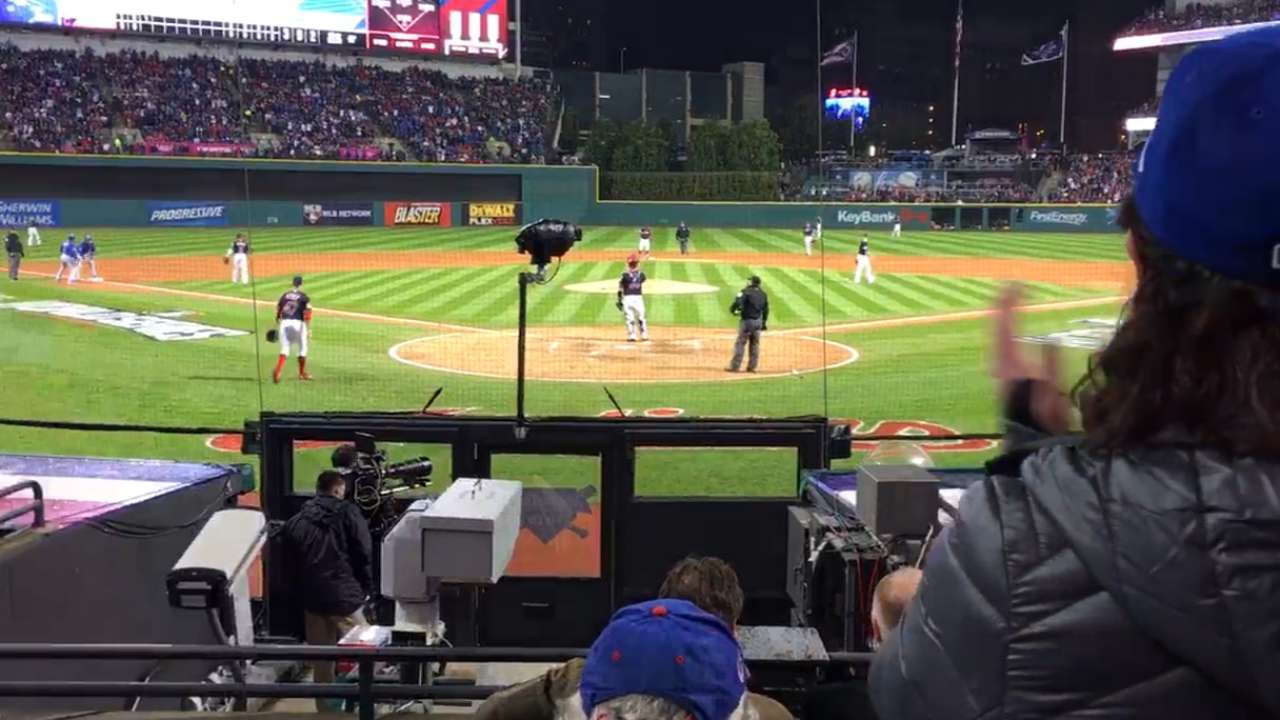 8:50 p.m. ET: King James cheers on Tribe
Fresh off a putting up a triple-double for the Cavaliers in Monday's season-opening win over the Knicks in Cleveland, LeBron James joined his teammates at Progressive Field for Game 2 of the World Series.
Commissioner Rob Manfred and his wife Colleen with @KingJames and the @nba champion @cavs during Game 2. #worldseries pic.twitter.com/N8ExQSqC0S

- MLB (@MLB) October 27, 2016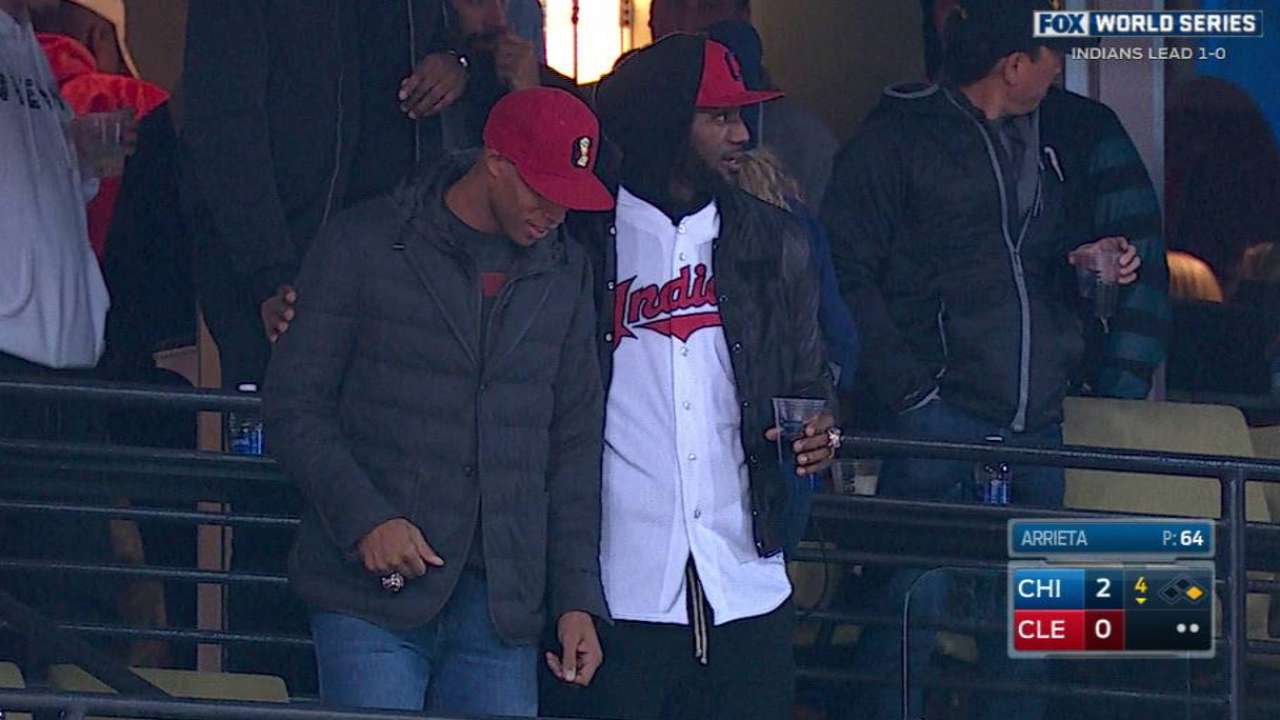 7:15 p.m. ET: Cubs get to work
Kris Bryant got the Cubs off to a fast start, singling off Bauer in the first inning and scoring the first run of Game 2 when Anthony Rizzo roped a one-out double.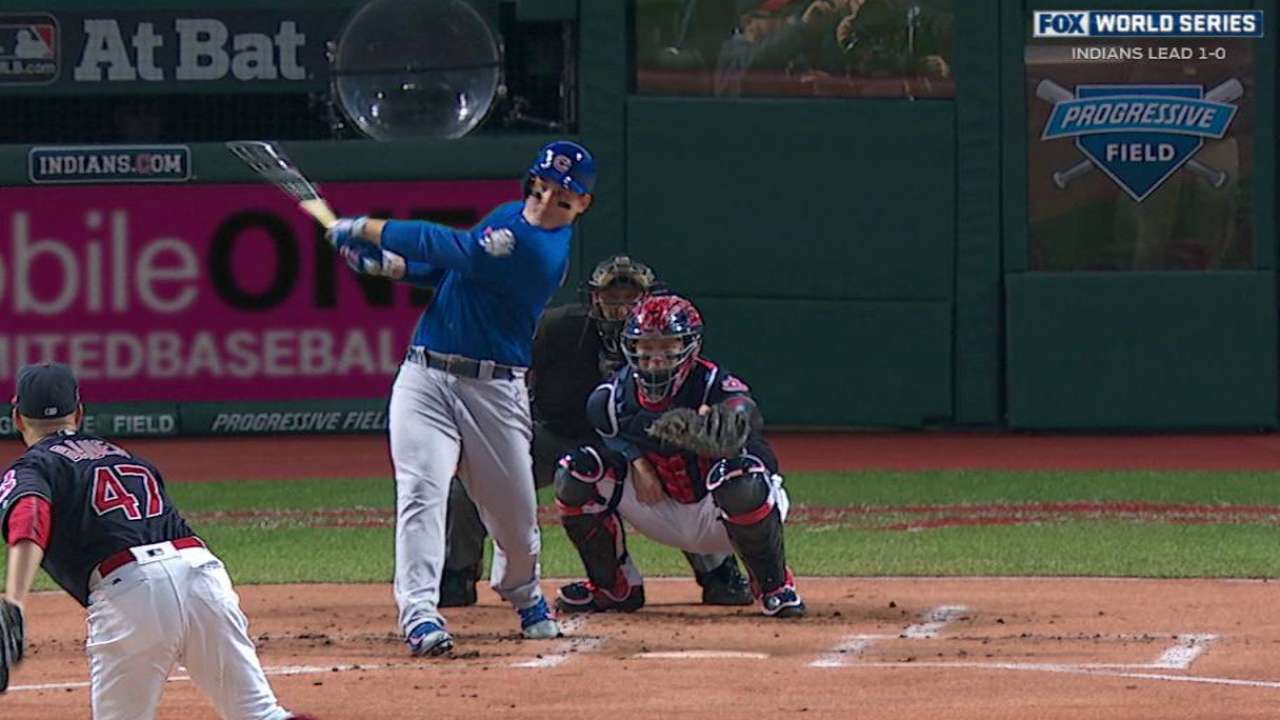 6:15 p.m. ET: Greatness on hand
Bryant and David Ortiz were named this year's winners of the Hank Aaron Award before Game 2, and the Hall of Famer is taking it all in at Progressive Field.