MLB.com Columnist
Richard Justice
Ortiz's Aaron Award helps connect generations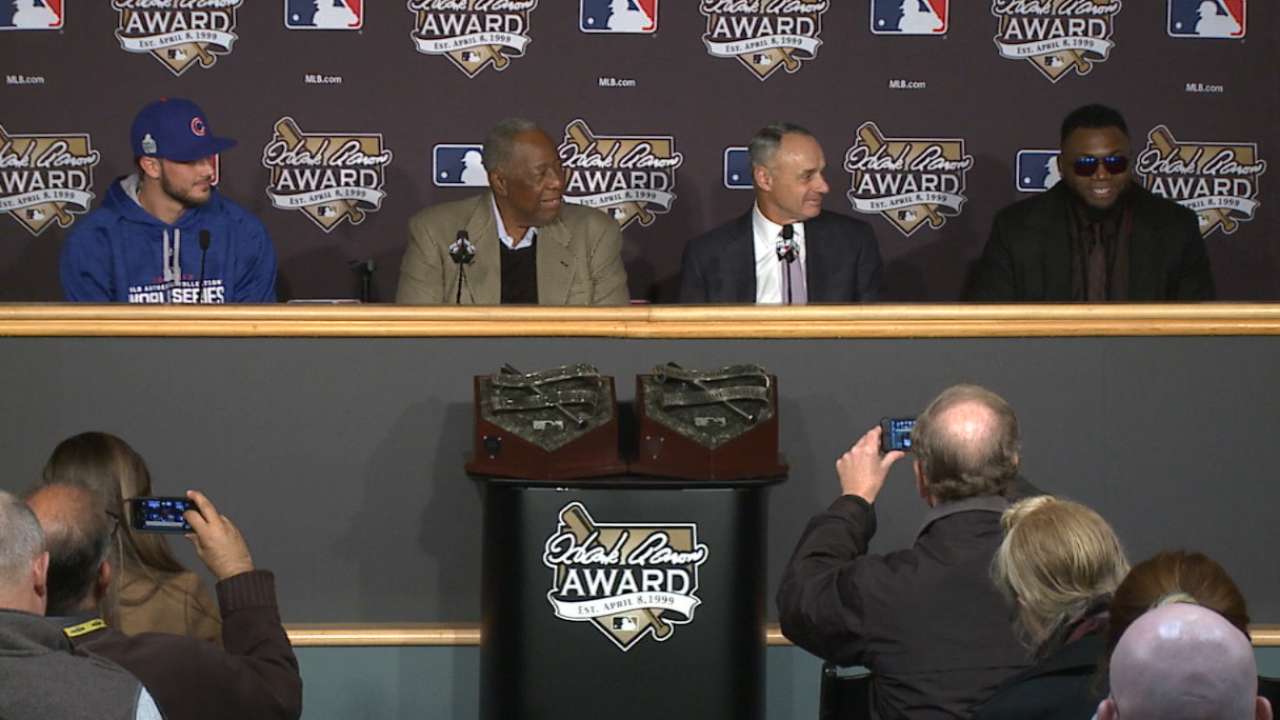 CLEVELAND -- David Ortiz hasn't gotten his mind around all of it just yet. That will take some time as he begins this next chapter of his remarkable life.
"As I was walking into the stadium, I was like, 'Wait a minute, I was here a couple of weeks ago,'" Ortiz said.
Yeah, that.
Ortiz's brilliant 20-year career ended 16 days ago when his Boston Red Sox were swept from the American League Division Series by the Cleveland Indians.
On that final night at Fenway Park, Ortiz gave the Indians time to celebrate and then walked back onto the field to acknowledge the fans who cheered for him during his 14 seasons in New England.
Ortiz was back at Progressive Field on Wednesday night to be honored as the AL winner of the Hank Aaron Award.
Dressed in black and wearing dark sunglasses, Ortiz smiled that familiar smile and laughed often as he discussed beginning his next chapter.
"You know, when I was on my way out, the last game we played here, I was wondering when was going to be the next time I was going to be back in Cleveland, also," Ortiz said.
Ortiz found himself in a very nice spot, sharing a table with National League Aaron Award winner Kris Bryant of the Cubs, Commissioner Rob Manfred and Aaron.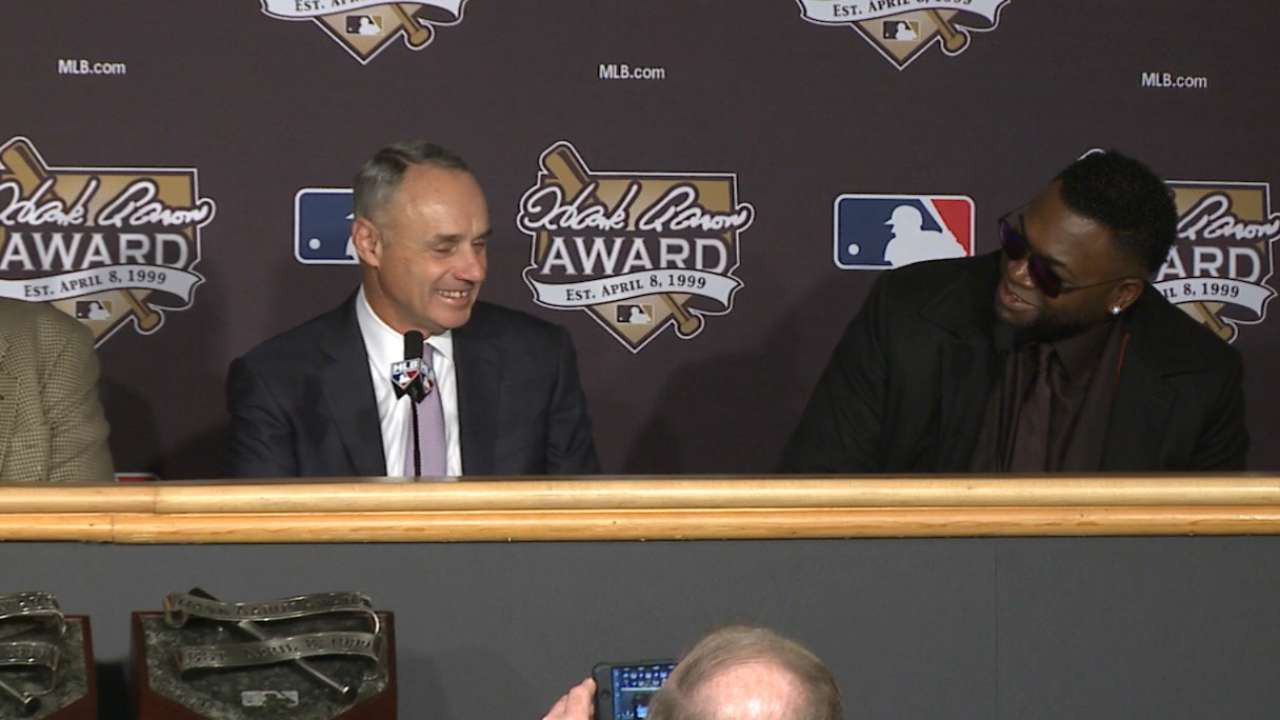 There was some symmetry in those four men being together. Manfred is guiding baseball into a future that features some of the most impressive young talent ever.
In a recent conversation with Willie Mays, Aaron said he joked that the level of talent was so good, "You and I would probably be in the Minor Leagues compared to these guys. We couldn't keep up with them the way they're playing."
Well, not quite.
Aaron's 755 home runs would have played in any generation. Beyond that, his decency and charitable heart have made him a role model for any player who wears a Major League uniform.
The award named for him honors the top offensive players in each league, as voted on by fans on MLB.com, Aaron and an assortment of Hall of Famers.
Ortiz was accepting the award for the second time, also winning in 2005. But this time, it was one of his first public appearances after playing his last game.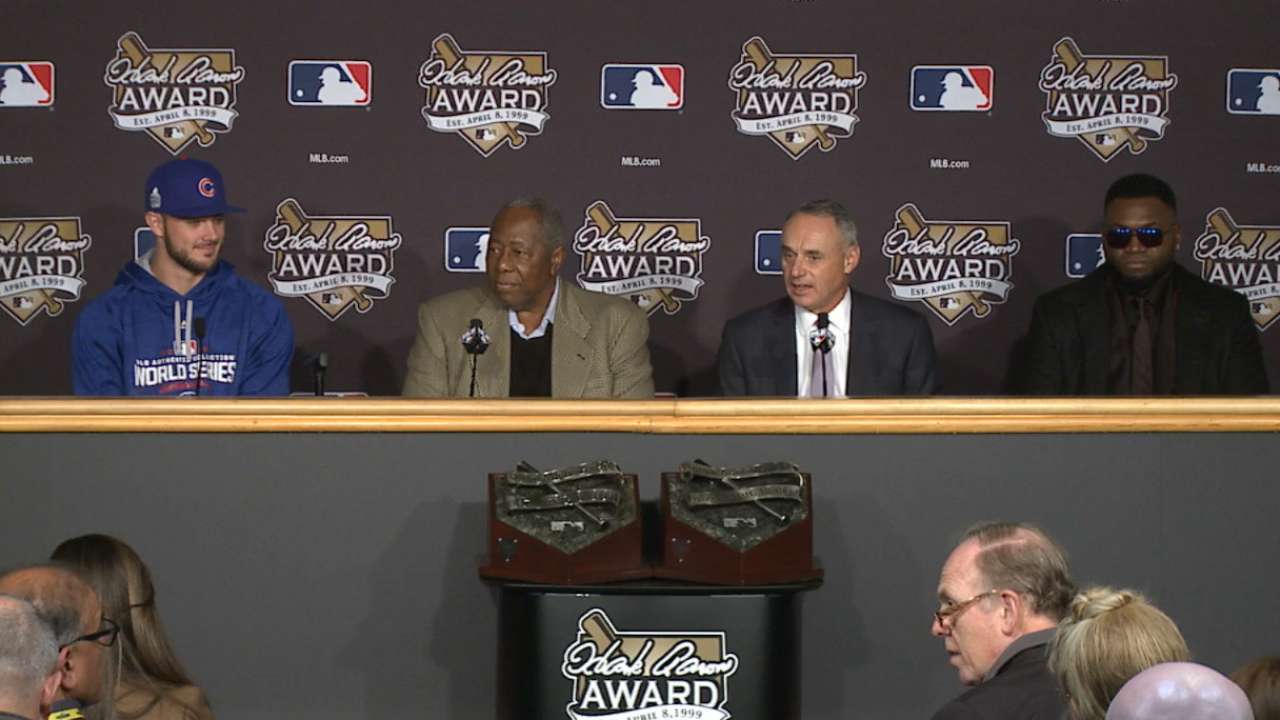 To have Ortiz up there with Aaron and Bryant -- all of 24 years old and in his second season -- was to connect three generations of talent and to remind us that baseball's circle remains unbroken.
Ortiz said there have been moments -- for instance, walking into Progressive Field -- when he's reminded he's now an ex-player. For the most part, though, he's not there yet.
"Not yet, not yet," Ortiz said. "Not going to be able to play another season hasn't hit me yet. It starts hitting you once January shows up and you start getting prepared and getting ready for Spring Training, and all that stuff. But I'm good, you know. I think I'm more busy now than what I used to be. It's crazy."
Ortiz and Aaron laughed about the last time they were together, in the Bahamas when they happened upon one another.
"Mr. Hank came to me, and he was like, he had a baseball [for me to sign]," Ortiz said. "I was vacationing with the family in the Bahamas. He came to me like, 'Hey, can you please sign this ball for my grandson?' You know, like I always have people come and ask me for autographs, and some of the people I just, 'OK, yeah, that's fine.'
"But while I'm signing it, I'm looking at him and I'm like, 'Why don't you sign one for me?'"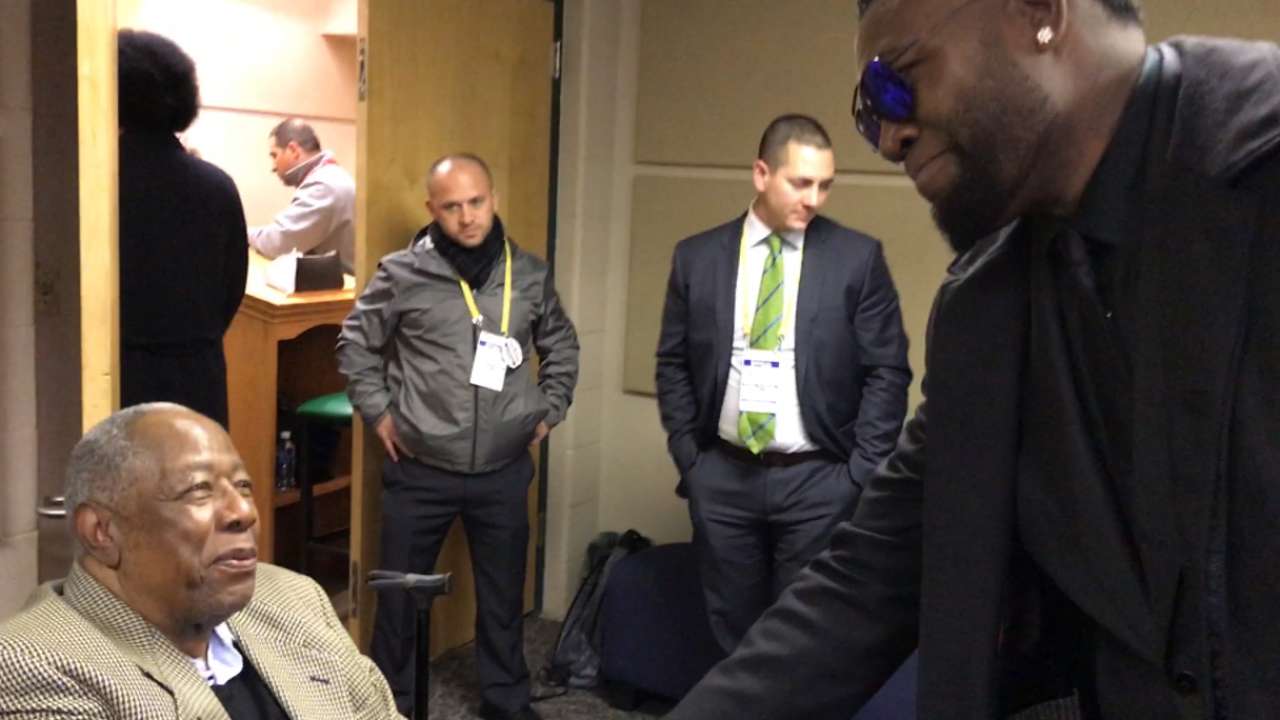 Aaron was effusive in his praise of Ortiz, not just for a career that included three World Series victories and 541 home runs, but for the way he has lived his life.
"For many years he has carried himself in the way that I tried to carry myself in the 23 years that I played baseball," Aaron said. "I know what it means when you play that long and had the kind of career that you had, the way that you had it, you can walk on the field and feel proud of yourself."
Richard Justice is a columnist for MLB.com. Read his blog, Justice4U. This story was not subject to the approval of Major League Baseball or its clubs.