Bryant's homer followed by small ball in victory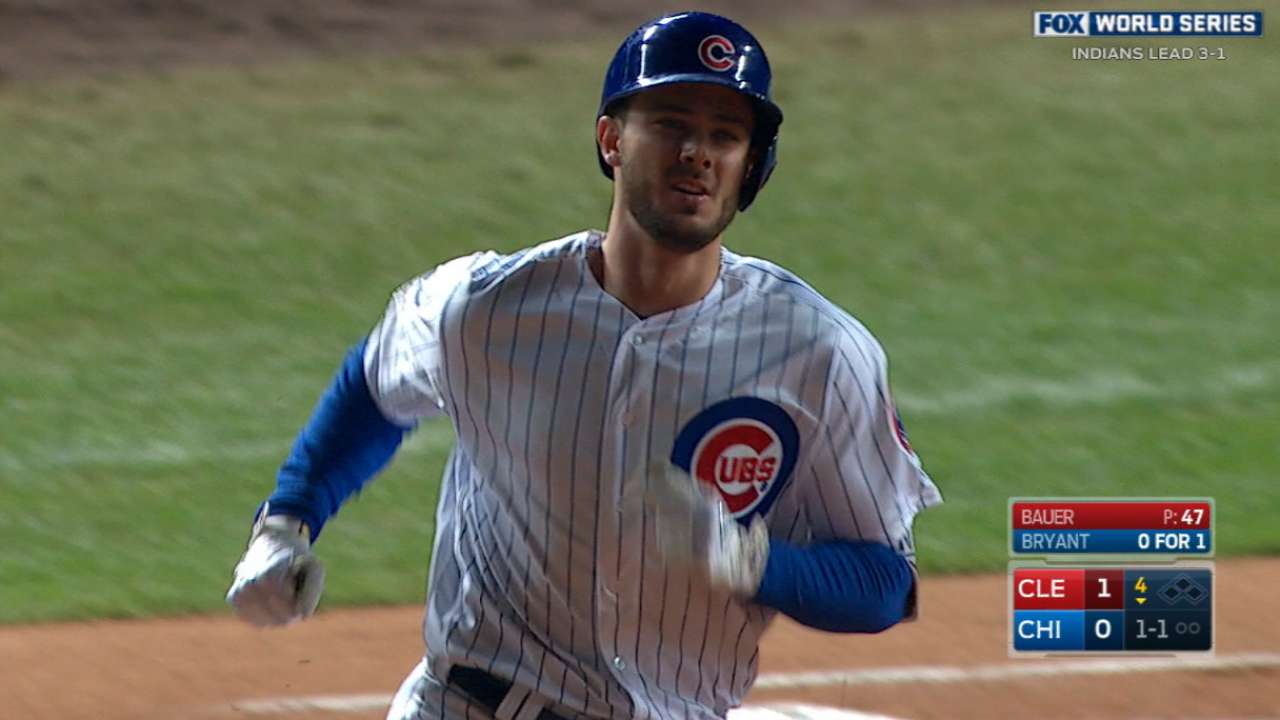 CHICAGO -- National League MVP Award candidate Kris Bryant hit the big home run. The Wrigley Field crowd erupted with pent-up enthusiasm. That only tied the score in Game 5 of the World Series against the Indians, though.
What followed in the bottom of the fourth inning Sunday night was that seven more batters went to the plate. And the Cubs stayed alive with a 3-2 win by piecing together a rally that included an infield hit by Addison Russell, a bunt by Javier Baez and a sacrifice fly by David Ross.
• World Series Game 6: Tuesday, 7:30 p.m. ET air time | 8 ET game time on FOX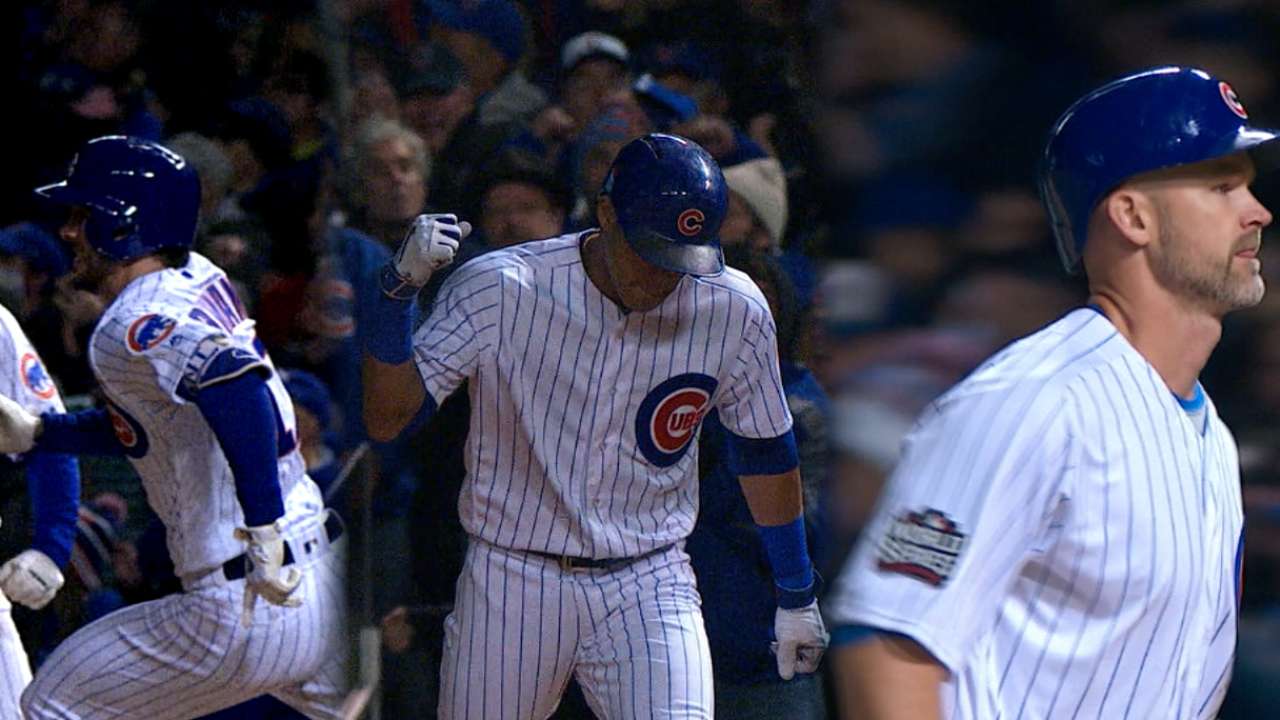 Home runs are fun. But once the batter returns to the dugout, the bases are empty and the pitcher gets to start over. The reason Chicago avoided elimination and forced the Series back to Cleveland, beginning Tuesday night with Game 6, was what happened after Bryant went deep.
"It's about passing the baton and keeping it moving," center fielder Dexter Fowler said.
• Shop for Cubs World Series and NL champs gear
"We've got to do the little things first," Baez said. "If a homer comes up like it did in this game, we'll take it. But we have to do the little things first, and let the other stuff come to us."
After Bryant's shot, Tribe starter Trevor Bauer was still in good shape. There was nobody on and he could still pitch out of his windup. That started changing when Anthony Rizzo followed with a double and went to third on a single by Ben Zobrist.
That's when the Cubs' small ball really kicked in. Two hits that if placed end to end would have barely made it to second base, and a flyout, accounted for the two additional runs that ended up making the difference.
"Whenever we get people on base, and we don't have any outs, [we] take some good approaches, some good at-bats in those situations," Bryant said. "We're a threat. You look down the lineup, we've got people that can put up great at-bats."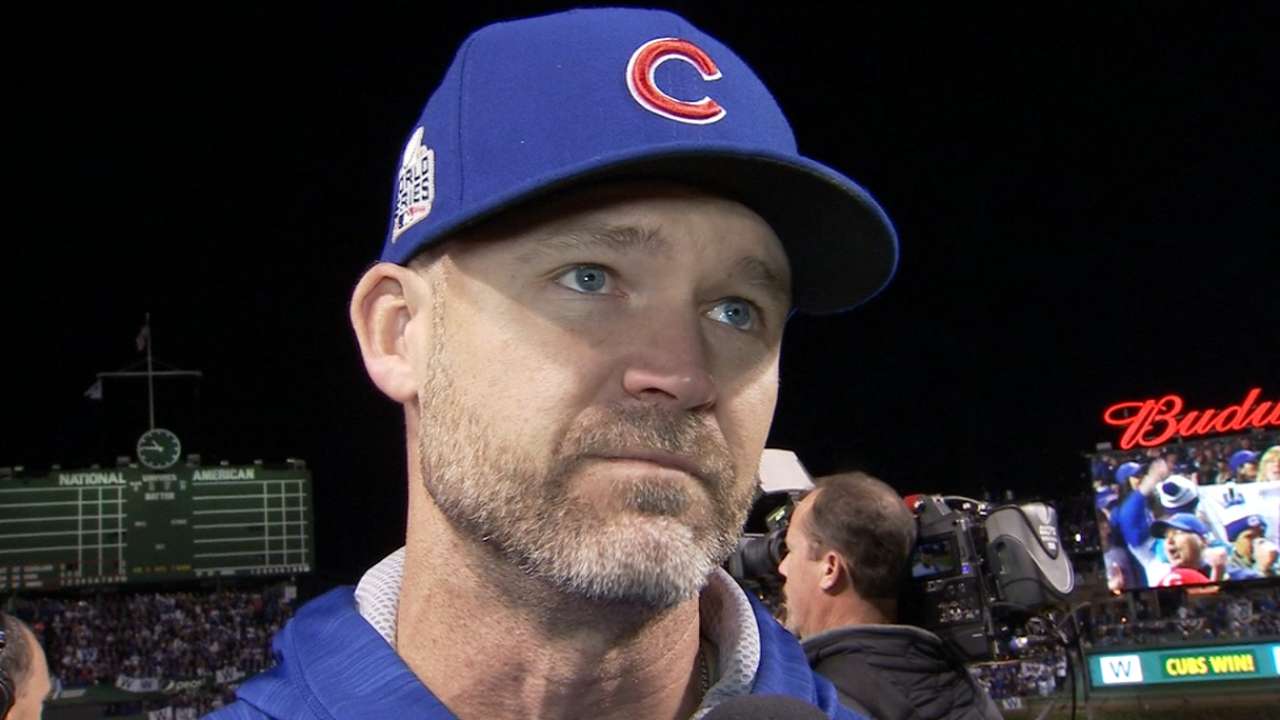 Take Russell. With runners on first and third and nobody out, he hung tough and topped a slow roller down the third-base line that Jose Ramirez had no play on. Rizzo scored to put Chicago ahead.
Then, with one out and runners on first and second, Baez dropped a bunt and beat it out for a hit to load the bases. That set up the sacrifice fly by Ross to bring Zobrist home with the run that turned out to be the difference.
Baez was bunting on his own.
"I saw the third baseman way back. And right now, I'm kind of struggling a little bit at the plate," he explained. "So I took the chance. It was a big bunt, because Rossie came in after that with a sacrifice fly, and that was a big run for us."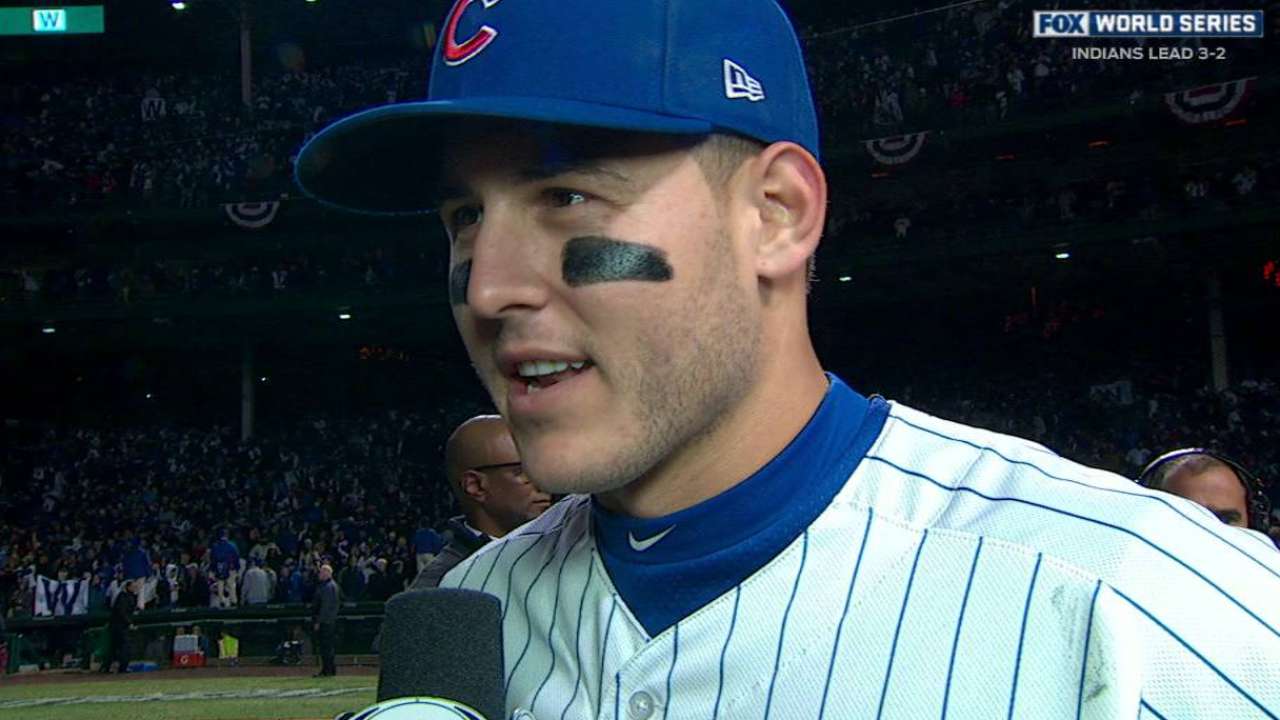 "How about Javy's bunt to set me up for that game-winning RBI?" Ross said. "That was nice. He's been struggling a little bit and finding a way to play baseball and do the little things. That's what's nice."
Cubs manager Joe Maddon was pleased with the way his hitters were able to extend the inning against Bauer after the home run.
"I loved it, man," Maddon said. "You could see what happened after that. It kind of put their pitcher on the ropes a little bit. We had better at-bats. We got our three runs."
Paul Hagen is a reporter for MLB.com. This story was not subject to the approval of Major League Baseball or its clubs.