Oct. 26 Francisco Lindor pregame interview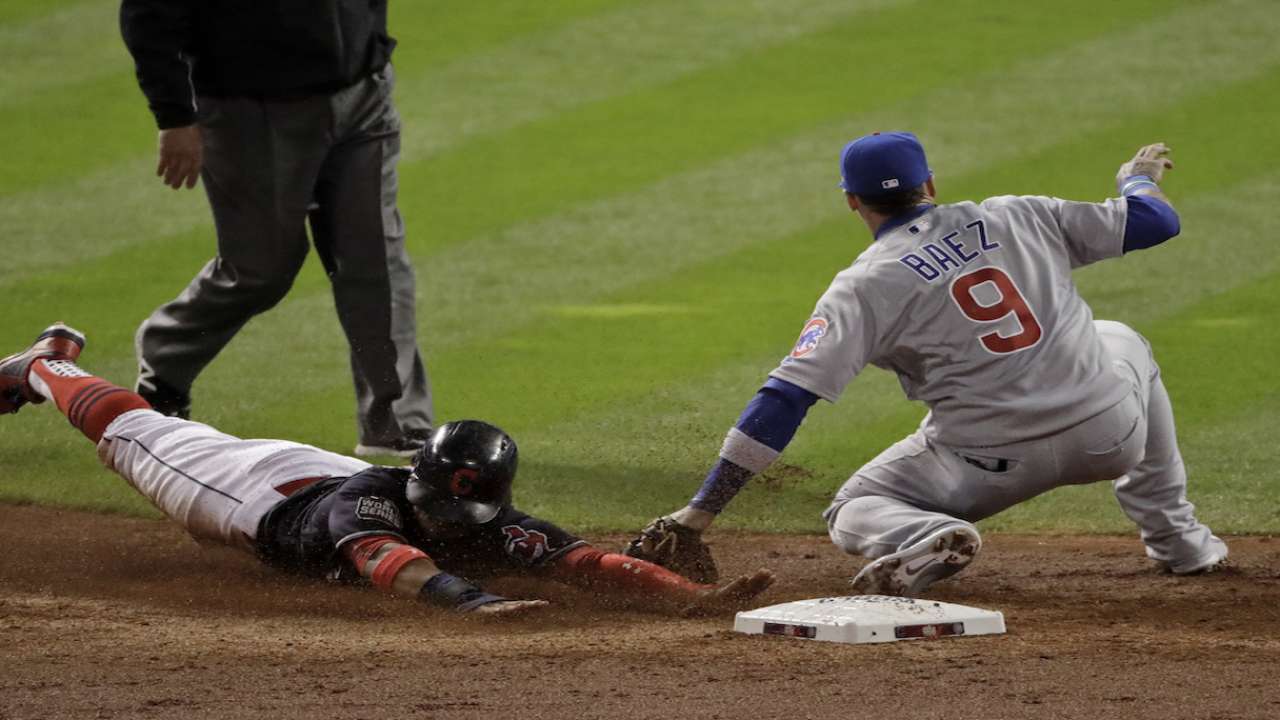 THE MODERATOR: Questions for Francisco Lindor.
Q. Francisco, Game 1, of course, I know you guys wanted to be aggressive on the bases against Lester, and Arrieta has had some issues with base stealers as well. How similar or different could the approach be tonight? FRANCISCO LINDOR: We've just got to continue to stay aggressive but be smart. I continue to emphasize the same thing. We've got to be smart. We can't just run wild like they're not going to pick us or throw us out. We have to make sure we're smart and know when to run and when not to run.
But our game's been like that since day one during the season. It's not that, no, we're just changing, because they're slower throwing to home plate or difficulties throwing to first base. No, we've got to continue to be ourselves, and that's what's given us success, so why not continue to be ourselves.
Q. What was it like for you to play in the first game of the World Series? It's another baseball game, but it's not. How did you make it into another game knowing what was going on all around?
FRANCISCO LINDOR: It was awesome. It was awesome. Just going out there and seeing the fans. I usually go out 40, 7:40. If there's a game at 7:08, I'll go out 6:40, and just seeing the fans how packed the stadium was already at that time, it was pretty cool, seeing the flags. And it's always special whenever you go up to a manager and they announce your name and he gives you a hug, and he's like, "All right, buddy. Go time." It's cool. It's an awesome feeling. Even that win made it even better.
Q. What are the qualities, you being such a young player, what are the qualities that make Tito Francona such a good manager for you and the Indians?
FRANCISCO LINDOR: Firstly since day one he has let me be me. He has never told me to be someone different or to be how he wants me to be. He emphasized day one when I got called up, he said, "I want you to be yourself, but at the same time respect everyone here. The only way you're going to earn respect from your teammates and everybody around is if you show them that you want to win and you play hard." And that's exactly what I'm doing. I want to make sure I earn my respect with my teammates. I want to win, and that's why I go all out. I try to do whatever it takes to make sure at the end of the day we end up with the victory.
Q. Francisco, when did you realize that Mike Napoli's such a good base runner, and what is it that makes him good at running bases even though he's not really the fastest guy out there?
FRANCISCO LINDOR: Spring Training he had a couple of good reads and he went first and third, and once to second when the ball was in front of the catcher. I think him being a catcher, he understands how difficult it is for a catcher to block the ball, to try to find the baseball, and then throw to the base. He's pretty good at reading the track of the ball. He sees whenever there is a breaking ball, he sees when it goes up. He knows when it's going to bounce, and he just takes off.
He's smart. He's been around for a while. He's a smart player. He wants to win. He wants to win, and he'll do whatever it takes to win. So by him reading the track of the baseball, seeing when he's going to block the ball, he just takes off. Nobody really expects it until you see him like almost about to start diving to second base. It's like oh, my God, he stole second. It's cool watching him do it. It motivates me to be a better base runner.
Q. What's allowed you to be so consistent offensively through this whole playoff month? You see some guys go up and down in ALDS, ALCS, but you've kind of stayed right on the same line.
FRANCISCO LINDOR: I think it has to do with my teammates, Brantley, Napoli, Kipnis, Perez, Ramirez, all of them. We have kept it in the clubhouse, in the dugout, in the field kind of the same mentality since day one. No one has really changed. And I'm just trying to do the exact same thing that I've been trying to do since day one, just get on base somehow, just get on base. Just find a good pitch to hit and get on base. And if I don't get on base and I'm not successful that day, just find a way how to help the team that day.
I think it's just in reality that's what's given me a little bit of success. Just guys around me, they're all the same. No one's thinking, this is a bigger game. And the coaching staff, I've got the same routine. I've done pretty much everything. Yeah, of course, we know in the World Series, it's obvious, but I'm just trying to do the same thing. I'm not trying to do too much. When I try to do too much, I'm 5'11", I weigh 180, so I'm not trying to hit home runs. So I've got to make sure I stay within myself. When I'm not myself, I'm not successful, so I just try to do my thing.
Q. Francisco, can you talk about how long you've had this kind of fun-loving personality? What do you attribute that to? Is there anything that makes you upset? It seems like you're always in a good mood.
FRANCISCO LINDOR: There are some things that make me upset, but I think it has to do with how my mom is, how my dad is. Their personality that, yes, I got it from them. But I'm enjoying this. This was my dream playing on TV. It was never to play in the Big Leagues. It was always to play on TV so my family could watch me.
I just sit back, look around and see how blessed I am. The Lord has given me a lot of opportunities and blessed me throughout my career, and it's taken a lot of work to get here, and it's going to take a lot more work to stay up here.
But I'm just thankful and appreciative, and I'm enjoying the ride. I try to be a little kid.
Q. How would you describe Trevor Bauer as a teammate?
FRANCISCO LINDOR: As the game tonight?
Q. As a teammate.
FRANCISCO LINDOR: Oh, as a teammate. Interesting. He's a guy that -- he's a good person, and he competes. But at the same time, he will say some things and it's like, what? But he's awesome. He's a great person. But don't talk to him too much when he's competing, because he'll say some things and you're like, "TB, what are you saying?"
But he's a good guy. He's a good guy, so that's why I think he's interesting. Whenever he's competing, good luck.
Q. Since you've come up you've obviously had a lot of success. Was any part of the game hard for you when you got to the Big Leagues, and part of that, do you pride more on offense or defense?
FRANCISCO LINDOR: Everything's hard. Everything's hard. There is nothing -- I don't think there is anything that I can say oh, it's pretty easy on do it. I think everything's hard. It's just you work. You work and you understand that you're going to fail, that you're not going to be successful every single day, and I try to win. I want to win. I want to do whatever it takes to win. So I think if I take care of that mentality of I'm going to do whatever it takes to win, good things are going to happen.
And the success that I've had so far, I owe it to a lot of people. There's a lot of people that have helped me throughout my career. It's not just me. There's a lot of people that have helped me throughout my short career, and even when I was in high school and in the Minor Leagues.
Q. You mentioned Brantley a little while ago. He obviously only played in 11 games, but what role has he had in the clubhouse, in the dugout, in the batting cage in the regular season and in these playoffs?
FRANCISCO LINDOR: I call him sometimes like, "You're daddy," I tell him sometimes. To me, he really is. He gives me that sense of calmness where I go up to him, I'm like, "Brantley, what do you think? What would you do against this pitcher?" He'll tell me what his approach will be, and I'm like, "Okay, I'm going to go do that." And, you know, it's just we talk and I listen.
Yesterday I got thrown out at second, and he was the first one to tell me in the dugout, "Keep on running." Guys every single guy on the team told me, "Keep on running. Keep doing your thing. Don't worry about it. It's part of the game."
But then we were talking about how I take my lead. Rajai was telling me I should have taken a bigger step, one more step. Tito told me, too. And Brantley was like, "We've got to work in Spring Training." So he's thinking already about Spring Training, and stuff like that that plays a huge impact on me and I'm sure every one of our teammates is huge. And Brantley to me, he's one of the best.
Q. Who was your favorite player growing up and why?
FRANCISCO LINDOR: I liked Robbie Alomar because he seemed like he was going to impact the game in different ways. Vizquel, Jeter, Jimmy Rollins, Larkin. My dad and my cousin and brother they always told me try to get something from everyone. Don't get stuck in one player. Just learn something from everyone. So that's one of the reasons I've got multiple favorite players growing up.
I like the swag that Alomar had, and how calm and how he impacted the game. Vizquel, how he always seemed like he knew what was going to happen. Jeter, how he was focused and he was always helping teammates. Larkin, how calm he was at the plate in big situations. Jimmy Rollins, little, but at the same time, he was a big guy on the field. So there were a lot of players I liked growing up.
Q. I've watched you now three series, and you've learned so quickly. You adjusted a little bit. But with Baez, the way he tagged so quickly, did you learn anything other than obviously taking a bigger lead, did you learn anything, how you can counteract that when you steal bases?
FRANCISCO LINDOR: Don't let him tag you (laughing). No, as I'm getting to second base I see him cutting across from me, and I'm starting to dive. And when I started to dive, he didn't have the ball yet. I felt like the wind, kind of like the wind. Because in my mind I didn't think he tagged me. The replay it says he got me with the laces, I think. So when he caught the ball and I felt the wind I was like, there's no way. And I started screaming safe, and the umpire said "out!" I'm like, oh, my God. That was pretty quick. I didn't see him, but I felt it. So, just don't let him tag you (smiling).
Q. With your success and Javy's success, and Roberto's big game last night and the way Puerto Rican players have been so great in MLB this year, how much enthusiasm do you have? And from your friends back home about the WBC in the spring? And which future teammates are you hearing from over text over the course of the postseason?
FRANCISCO LINDOR: This is awesome. Seeing Perez, how he stepped up for us, not only yesterday but throughout the whole postseason, and the last month of the season helping us, it's awesome. It feels pretty good. Seeing Baez on the other side, every time he walks to the plate, he looks like he's mad, but he's not, and that's how he always played the game. It's like, all right, you've got to be careful with this guy. And seeing him on second base enjoying the game, and doing his plays and people thinking he's not -- when he would, like the pop-up yesterday, he kind of like went to the side, and people in the dugout are like, "oooh," that's how he always been. He's always played like that. He's not doing it to show anybody up. He's a little kid on the field, and I love it. I love it. Every time he does something good or bad, I look at him like, wow, that's pretty cool.
It's just awesome seeing him and his family. It's pretty cool. For the people in Puerto Rico, they're very excited. They're excited, and they should be. We're doing it for them, so they should be excited.
I hope they are because every time we do something we're thinking about it. We're thinking about our plan for the World Baseball Classic, and it's going to be fun. It's going to be fun. I'm looking forward to it.