Oct. 26 Joe Maddon pregame interview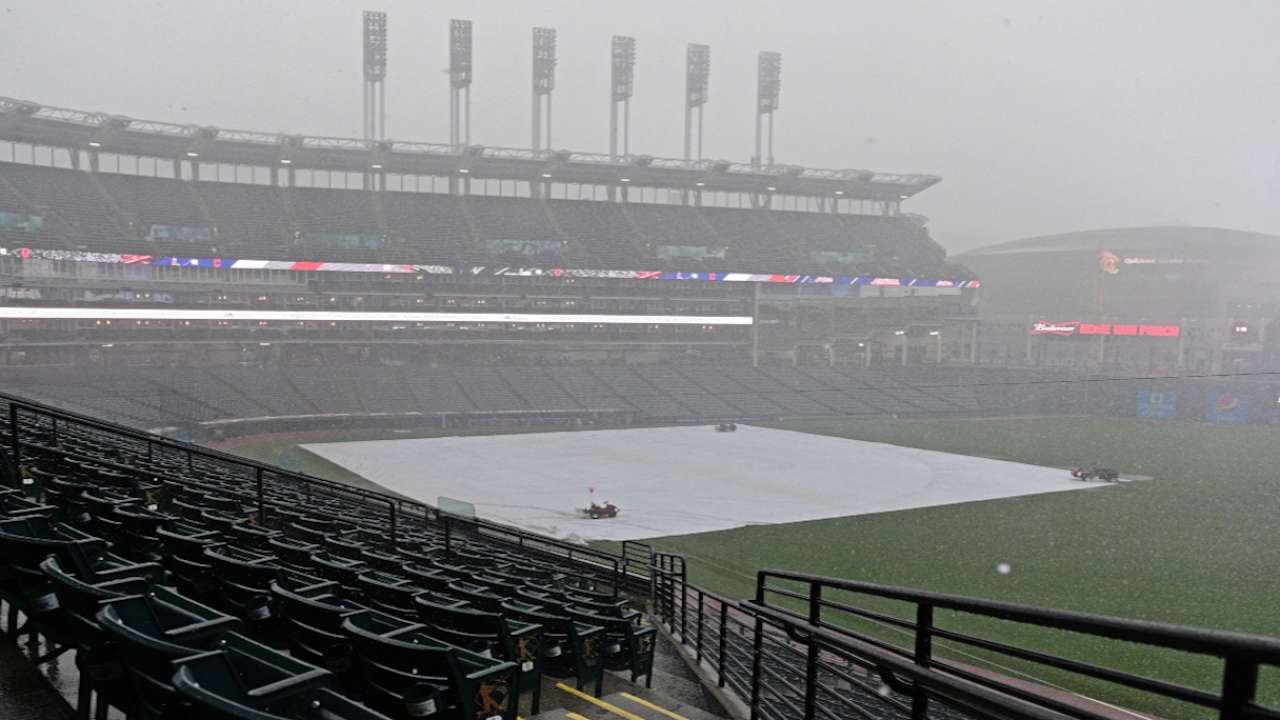 THE MODERATOR: Questions for Joe Maddon.
Q. You played in the last postponed game with the Rays, I'm sure you remember that. But can you talk about the weather a little bit tonight, how it's going to change any dynamic, if at all, strategy-wise, et cetera?
JOE MADDON: Well, you just have to play the game. There's not a whole lot you can do about it. It's one of those uncontrollable components. The game in Philadelphia was pretty severe. I don't think it's going to be Philadelphia-like weather conditions tonight. That game was very awkward to play. The rain was horizontal. It was freezing. There was actually standing water on the field. They wouldn't even call an infield fly rule because the wind was blowing so much. It was really an abnormally difficult night to play baseball.
I was just talking to Peter (Woodfork) and what I'm seeing on the report and what I'm hearing that it might be a drizzly kind of a thing, but not necessarily the same extreme weather we played at then.
For us, it's what we do. The guys are ready to play. The worst part would be to start a game and have it stop and you lose a starting pitcher early. Those are the kind of things you really want to avoid. Starting pitching is to valuable right now. It's always valuable. It's very valuable right now. That would be the thing the guys are most concerned about regarding starting the game or not. But from what I've heard, I think we're going to be okay.
Q. Mike Napoli was saying the other day that a lot of his base-running ability was the influence of coming up in the Angels organization when he came up. When you were there, do you happen to remember him and that skill then? Has he always had it? Has it developed over the years? Was it sort of with him all the way back then?
JOE MADDON: Yeah, Nap and I worked together a lot back then. I remember just even worked with his hitting down at lower fields with Ty Van Burkleo, who is here right now. Me, Ty and Nap down in the lower cages. That was something I always emphasized back in the Instructional Leagues back in the mid '80s, we were very proud of our baserunning, and when Scioscia came around, it was a continuation of all of that. I thought we did a really good job of teaching that back then.
And Nap, you don't have to be the fastest guy in the world to be a really good base runner. He might not be the quickest or fastest, but he really knows what he's doing out there. You watched his lead at first base last night. He's running around second base, he does it perfectly; I was watching that. He knows how to advance on a ball in the dirt. That was something really perfected by the Expos organization. Vladimir Guerrero probably one of the best I've ever seen on advancing a ball in the dirt.
So for me, when you get a guy that's that instinctive on the bases, it's somebody that pays attention. As a scout, I used to really look for guys that showed instinct on the bases, because if you have the ability to really concentrate there, I think you're going to concentrate well at the plate or on defense, et cetera.
Nap's always demonstrated that. He's always been a good baseball player. He's a very good catcher. The pitcher used to love to throw to him back then. He was really considered a very good receiver. I always thought he could be a first baseman. He's very athletic. This guy gets off his feet if he needs to jump. So it doesn't surprise me at all about him.
Q. Yesterday you were mentioning the possibility of using Contreras as a catcher because he could control better the running game. Could you talk a little bit more about that today? Also the inclusion of your lineup of Soler.
JOE MADDON: Well, today, so, yes, everybody knows how well the Indians were just talking about base running plus they can steal some bases, too. And Willson's very good at stopping that. David did a nice job last night, I believe the same thing about Willson. And not to denigrate Miggy. Miggy's one of the best receivers I think that's in the game even today, both leagues, with receiving borderline pitches, all that stuff. Miggy's outstanding. But Willson's better at that, too. Plus he's got one of the most premier arms again in either league.
Beyond that, Bauer. Bauer kind of presents as a reverse split guy, meaning that he's better against left-handed hitters than righties, and Soler fits into that mold where he's right-handed, obviously. The thing with reverse split guys is that if you think about it, a righty throwing to a left-handed hitter, they're throwing the ball to the weak part of the bat all the time. They're getting on guys' hands with the cutter, elevated fastball, breaking ball in the dirt. With the right-handed hitter, they reverse guys, have a tendency to throw the ball to the barrel.
So I just like the idea that we have those four righties at the back side, Baez, Contreras, Soler, and Addie. And of course you're not going to not include Fowler, and of course we have other lefties in the lineup, too. It's not to say a lefty cannot hit him. But if you have the option between a righty and a lefty, if you're going to do that platoon thing, I prefer playing the right-hander against this pitcher.
Q. Going back to the '08 Philadelphia thing, what do you remember about the dynamic of the resumption of play? It was kind of like that. I know it took about ten days, it felt like to get there. But that kind of mini game, and I assume you're in favor of the rule of playing a postseason game to completion?
JOE MADDON: Yeah, it was interrupted by the Philly fans. We finally found a hotel. We had already checked out to go back to Tampa, regardless of the result of that game. So the game ends up in a suspension. Ziggy (Jeff Zeigler) had already checked us out, so we didn't have a hotel. Did not have a hotel. Everybody's bags were in the truck or whatever. So we found a hotel in Wilmington, Delaware, the du Pont I think it was. I remember at 1:00 in the morning, the entire organization is standing in this magnificent lobby there, and I thought that was a pretty cool moment having us all there at the same time under some really difficult circumstances. But even being down in the series, et cetera, it was still kind of a memory that I'll always remember.
The Philly fans, they knew we were there somehow. Five o'clock in the morning they're driving around the hotel blowing the horn, trying to wake everybody up at 5:00 in the morning, 6:00 in the morning. So like you said, a week later it eventually resumes and (Geoff) Jenkins hits that double against Grant. And I was able to pitch Grant Balfour in that moment, and of course, they went on to win the game.
But you have to be able to conclude or complete a World Series game. I think at that time there was actually no built-in mechanism for that. It was really probably a nervous moment for a lot of people, and thankfully B.J. gets on, steals and scores on a base hit, in spite of a good throw by Pat Burrell.
So, yeah, you want to play the game all the way through. It's a little bit different right now. But that's my recollection. It was really an awkward moment, not knowing exactly what was going to happen, had we not scored that run in the top of the fifth inning. But the weather conditions were extreme. But it's still one of my better memories in baseball.
Q. Just to follow up, when play resumed though, that almost felt like kind of a compressed game?
JOE MADDON: It was. Yeah, it was in the sixth, bottom of the fifth?
Q. I think the sixth. JOE MADDON: That's what I'm saying. Of course it was. And everything had to happen good, fast, and if it didn't, you're in bad shape, which it ended up being that way.
I was pitching Grant that day. We're talking about reverse guys, because Grant was very good against lefties, and you knew they were going to hit Jenkins, and they did, and he hits a double off the right-center field wall. And eventually, I don't know if that's the day Pat hit a double against J.P. Howell. But it was condensed, it was quick and awkward. I mean, to come back on that day and still be in the World Series and playing under those circumstances or conditions was different, obviously. It's something you don't want to do to decide the World Championship in that manner. But that's how it's set up at that point. It was just a really different moment for all of us.
Q. Terry said he's going to pitch Kluber in Game 4 and basically go the entire rotation on short rest the Final Four games of the series. How does that impact your team in terms of its approach? How do you think it impacts the series in general to have four games where they're going to have guys on short rest?
JOE MADDON: We're going to find out. I don't really know. Again, I don't worry about stuff like that, quite frankly. I don't. It's more about what we're doing. I'm looking for Jake to pitch well tonight. Then you've got Kyle and John Lackey.
I really think it's wise to worry more about what you're doing as opposed to what the other side's doing. There is nothing you can do about that. That's one of those uncontrollable moments. Kershaw just did the same thing. Although he was on regular rest, wasn't he that second time through? He was pretty good the first time.
I don't worry about stuff like that. There's nothing you can do about it. You get your guys ready to play, you present your best lineup, and you go. That's strategy. We all have our own basic strategies that we'll incorporate. But at the end of the day, I think this time of the year or actually all the times at every moment, we always worry about so much what somebody else is doing, and I really tend not to do that. I think it's more important to worry about what you're doing. Get your guys ready tonight. Make your sure your pitcher is prepared, make sure you're working your concepts properly, and if you do, you work the process, you have a chance to win the game.
So of course we scout, of course we set up, of course. But at the end of the day do what you do well first, and if you do, you have a chance to come out on top. That's what I think.
Q. I think all the pitchers on your staff have been acquired from other teams. I wonder what that says about the places teams can go to find pitching talent? Also what emphasis that puts on your coaching staff or the Minor League coaching staff's ability to, I guess, harness, unearth, or develop pitching talent?
JOE MADDON: I didn't even realize that. That's interesting. My first thought is when that does occur, you're at the mercy, and I'm thinking just about how their PFP, how they defend themselves or hold runners, their times to the plate. That's my first thought when you talk about getting somebody from another organization. Because once you do, that's pretty much a built in. It's very difficult to change a guy here that's either probably too slow to the plate or doesn't have a good move. It's hard to get him to be that here. That's a big part of development. When you're able to home-grow your own, you're able to really incorporate those different components that you think are really important, and they do show up obviously where they are good fielders, they do throw well to bases, where they are quick to the plate.
Beyond that, it's just a philosophical stance. I would imagine organizationally when it comes to the draft, what are you looking for? Offensive players, more offensive-oriented? Are you looking for pitching oriented? The college kid, the high school kid? There are so many different ways to look at it. I think from what I can see we've done a really nice job of acquiring or drafting some really good position players.
And the pitching, I've not even been there, but that's Jed and Theo's job, but they've done a nice job of acquiring the pitching talent, too. I just think moving forward, that's a philosophical approach. Something I would never be involved in. I don't want to be involved in. But I think different organizations go different ways. It's always nice to grow your own pitchers. It's really nice. It's a very expensive commodity to buy if they're really good.
Again, I don't know how to comment on that. That's just an organizational philosophy and the draft philosophy. But I think what stands out for me differently is when that does occur, when you acquire guys, there might be some different things that you'd like to see them do better that they don't.
Q. Knock on wood the weather holds off tonight, you get the game in. Then on Friday, Kyle goes over at Wrigley. David Ross was in here previously and he marveled at how cool, calm and collected this guy has been. You've been around him for two years. Does he amaze you how almost it's low blood pressure at this point?
JOE MADDON: No, nothing surprises me about him. He's so well prepared. First of all, he's good. Again, everybody looks at the gun and they want to see 90-plus miles an hour to determine that a pitcher is good or 94, 95. Okay, the numbers aren't that high, but the movement is incredible. You ask any hitter, like Kluber's fastball inside last night to the lefties, so it kept coming back. The guys are just standing there, they know it's a strike and there is nothing you could do about it. That's movement. He was throwing 92, 93, a lot of 93s, which is nice, but it's not over the top. But the movement is what messed our hitters up last night. That's what Kyle does. Movement on his fastball, both sides of the plate, an exceptional changeup.
The thing about guys like Kyle is when you get into a hitter's count, they can do something other than the fastball effectively, and that's what really separates him. Beyond that this year, the utilization of the four-seam fastball, that's 90. 90 over 88 doesn't sound like a lot, but if you're used to seeing 88 and this thing jumps at you, it looks a lot quicker than that and then curveball strikes.
So he's reinvented himself on a couple levels with the four-seam fastball, curveball, combined with all this crazy movement. Dartmouth guy that really knows how to process the moment from what I've seen.
Q. What do you look for early with Jake to know that he's got it, that he's on his game?
JOE MADDON: The biggest thing with Jake, with all of our pitchers, I'm a big fastball-command guy. You talk about having good pitching staffs and good starting pitchers, commanding your fastball. That's what permits you to pitch deeply into a game. The guys that try to trick hitters from the very first inning on, throwing a lot of other different stuff, they might get through five innings, one, two runs, maybe even zero runs, but normally they're out of the game by then. I like the guy, if you can command your fastball, you have a good chance to be there more deeply into the game, and everything plays off of that.
A well-located fastball is still the best pitch, I think. After that, I like changeup, and of course curveball, slider. But the guys that know where their fastball is going first of all, it sets up everything else. If you don't have fastball command, man, the hitters are going to put you in a hole all the time, and they're going to get what they want.
So my point is with Jake, like everybody else, if he's throwing his fastball where he wants early in this game tonight, he'll pitch deeply into the game.