Indians Fan of the Year: Tribe's run is 'magic'
Originator of 'Party at Napoli's' phrase soaked up atmosphere at Game 1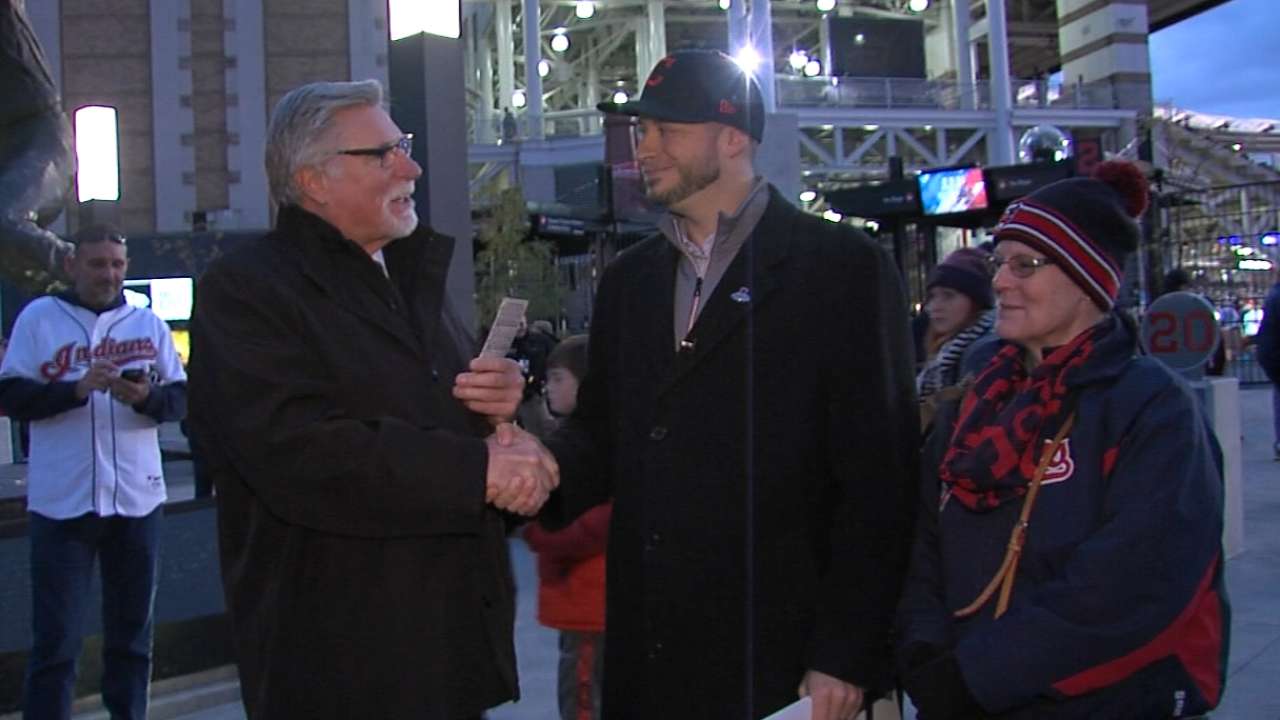 It's a good time to be a Cleveland sports fan, with the Cavaliers and the Indians rewarding decades of devotion with an NBA championship and a trip to the World Series, which the Tribe faithful hopes ends with the franchise's first title since 1948.
One fan in particular, Nat Crowe, was recognized for his support, receiving the inaugural Cleveland Indians Fan of the Year Award this season.
Crowe, who originated the "Party at Napoli's" phrase, was selected among four nominees via fan vote and received two tickets to Game 1 of the American League Championship Series and Game 1 of the World Series.
"Absolutely magic," Crowe said of the Indians' postseason run. "I don't think there's another word in any kind of dialect that would describe this feeling but 'magic.'"
• Shop for Indians World Series and AL champs gear
The other nominees included Kat Heintzelman, who asked for and received a hug and a home run from Mike Napoli the day before she began chemotherapy; Kyle Chaboudy, famous for his scoreboard selfie; and Makhi Williams, a 9-year-old who traded signed batting gloves with Francisco Lindor.
Crowe brought fellow nominee and Tribe fan Heintzelman with him to both games.
Crowe and Heintzelman sat down with former Major Leaguer and MLB.com analyst Jack Morris prior to Tuesday's Game 1, the same night the Cavaliers received their championship rings at nearby Quicken Loans Arena before defeating the Knicks in their season opener. Crowe spoke of what this recent sports success means for the city of Cleveland.
"Everything. Every little thing," he said. "It reminds me of growing up and going to a matinee at the stadium, being with friends and family and going through the heartbreak every year of, 'Maybe next year, maybe next year.' It's now."
Crowe's claim to fame among Cleveland fans dates back to April, when he scrawled "Party at Napoli's" in big, bold letters onto a poster board and displayed it in right field at Progressive Field. The players took notice, and it gained momentum when Napoli himself wore a T-shirt with the slogan during a TV interview.
The shirts are now mass produced with profits benefitting Cleveland Clinic Children's, eventually helping earn Crowe Fan of the Year honors.
"It's being a part of a family, like being here with Kat," Crowe said of the award. "Being an Indians fan, you have to really be a true die-hard fan to be here. It's a die-hard kind of city, blue collar, we're close together.
"You don't travel to Cleveland, you're from Cleveland, and that's the best part of about being Fan of the Year. It's being part of a family."
Chad Thornburg is a reporter for MLB.com. This story was not subject to the approval of Major League Baseball or its clubs.