Kluber to start Game 4 on short rest
Plan for Indians is to also call on their ace in Game 7, if necessary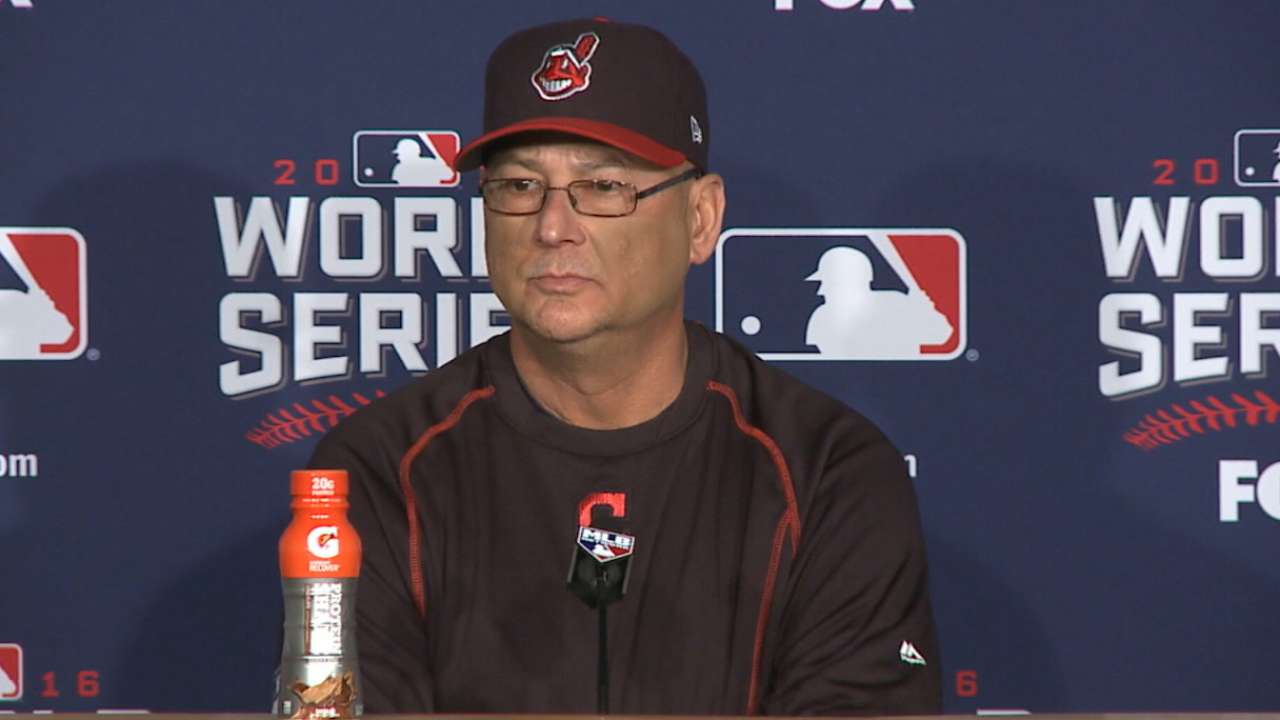 CLEVELAND -- The decision really was not much of a decision at all for Indians manager Terry Francona. Ace Corey Kluber gives Cleveland the best chance to win, so Francona always planned on using the right-hander as often as possible during the World Series against the Cubs.
Prior to Game 2 of the Fall Classic on Wednesday, a 5-1 win by the Cubs that evened the Series at one game apiece, Francona just made it official: Kluber will return on short rest to start Game 4 on Saturday at Wrigley Field. If the World Series goes the distance, the Tribe's Cy Young-caliber leader will return again on short rest for Game 7 on Nov. 2 at Progressive Field.
• Game 3: Friday, 7:30 p.m. ET air time | 8 ET game time on FOX
This was always the plan.
"That was probably Plan A," Francona said. "We tried to look at our team and how we best set up, and what's in our best interest to win four games before the Cubs do? That's how we came to this conclusion."
• Shop for Indians World Series and AL champs gear
Before Francona was willing to announce Kluber as the probable starter for Games 4 and 7, though, the manager wanted to see how the right-hander got through the World Series opener on Tuesday night. Kluber was brilliant, spinning six-plus shutout innings with nine strikeouts and no walks during a 6-0 victory in Cleveland to give the Tribe a 1-0 lead in the best-of-seven Fall Classic.
The other result of Kluber being handed the ball up to three times -- twice on three days' rest -- means that starters Trevor Bauer and Josh Tomlin will face a similar challenge. Bauer, who took the loss in Game 2, would then be slotted in to return on short rest for Game 5 on Sunday at Wrigley Field. Tomlin, who is the planned starter for Game 3 on Friday, would be the tentative starter (also on short rest) for Game 6 next Tuesday.
"That's the way we're set up, but we can always change it," Francona said. "If [Bauer and Tomlin don't go on short rest], now all of a sudden, you're sacrificing. You have one or two pitchers going short, and you're still pitching a bullpen day. So that doesn't necessarily help us as much as we want to. We tried to think it through ahead of time."
If the World Series goes the full seven games, Kluber could become the first pitcher since 2001 (Arizona's Curt Schilling) to pitch in Games 1, 4 and 7 in a Fall Classic. The last pitcher to start three games in a World Series was Chris Carpenter, who did so with the Cardinals in 2011 (Games 1, 5 and 7).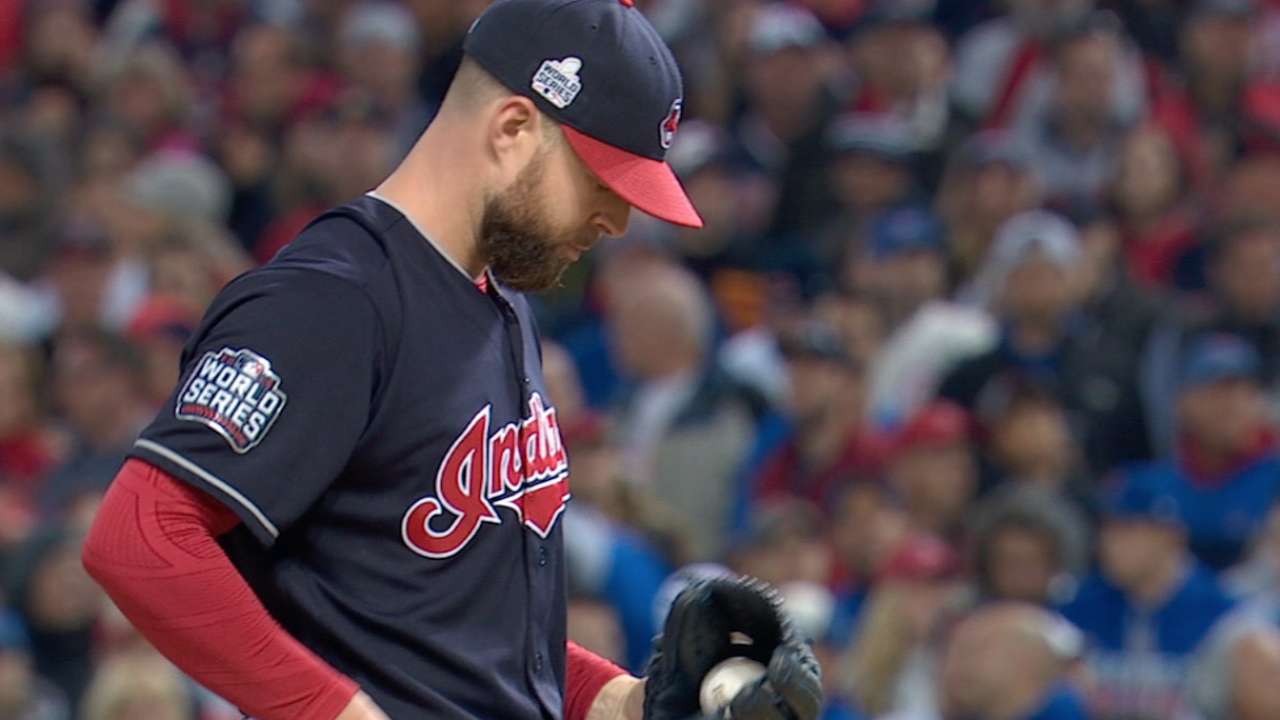 A couple factors fueled the Indians' confidence that Kluber could handle the task.
First, Kluber only logged 88 pitches in his Game 1 win over the Cubs. Thanks to the early lead by Cleveland's offense, and the presence of Andrew Miller and Cody Allen in the bullpen, Francona was able to pull Kluber after six-plus innings. Beyond that, the Tribe was also impressed with how Kluber performed while working on three days' rest in Game 4 of the American League Championship Series against the Blue Jays.
"Early in the game, I think his legs got tired," Francona said, "because he thought he had to generate more. Then, he realized he was throwing exactly like he always does. So I think the idea that he's already done it, I think he'll be a lot more at ease with it."
During that Oct. 18 outing, Kluber went five innings, allowing two runs on four hits with seven strikeouts and two walks in a hard-luck loss. The righty averaged 93.7 mph on his sinker, 90.9 mph on his cutter and 85.4 mph on his curve, while pitching on short rest for the first time in his career. Those rates were right in line with Kluber's season averages of 93.4 (sinker), 90.1 (cutter) and 84.6 (curveball).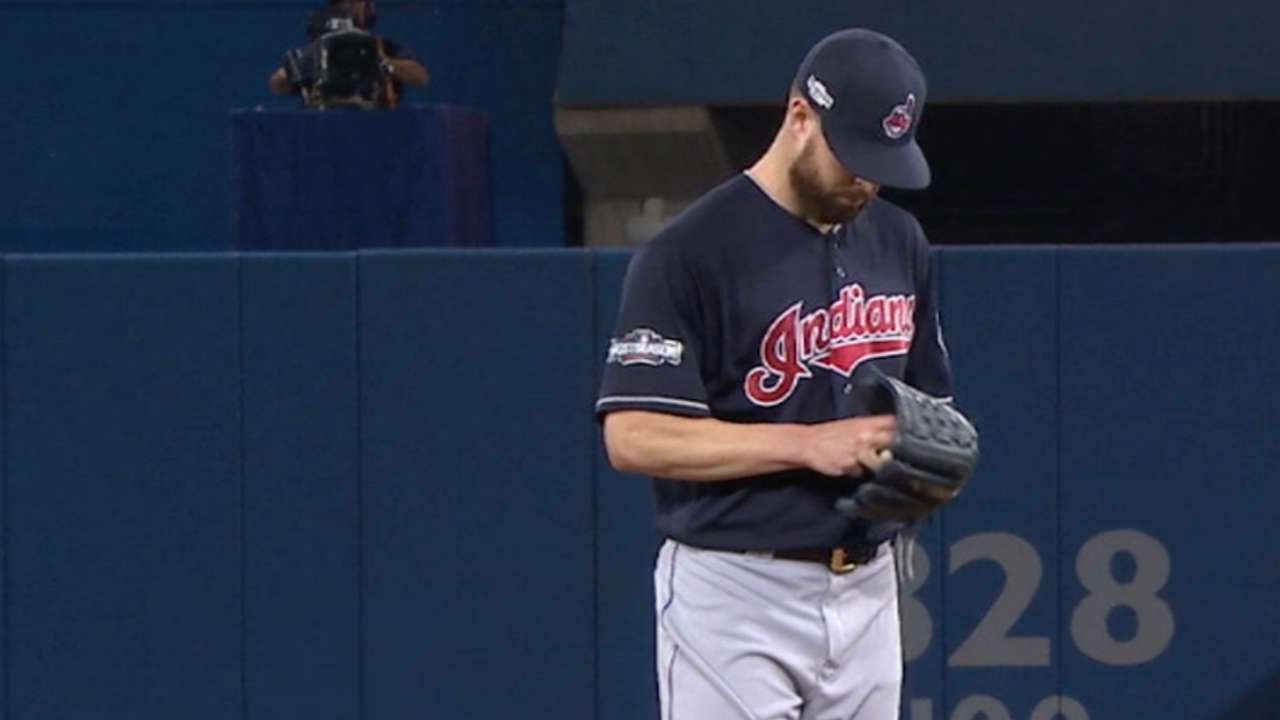 Overall this postseason, Kluber has gone 3-1 with a 0.74 ERA and 29 strikeouts against seven walks in 24 1/3 innings. Historically, though, pitchers have not fared as well on short rest in October. In the Wild Card era (since 1995), there have been 30 Cy Young Award winners, including Kluber, who have pitched on three or fewer days of rest. As a group, they have gone 9-12 with a 4.26 ERA. Their teams have gone a combined 12-18 in those games.
"He's ready to go," Francona said. "We still wouldn't have done it, if we didn't think it was the right thing to do. And part of that is the workload the starters have had lately hasn't really been [overbearing]. This has been Kluber's least amount of pitches this month, just because when they're winning, we go to the bullpen, and if they're losing, we take them out. So, I think they're all situated to handle it."
Tomlin has only started on three days' rest once in his career. On July 31, 2010, the righty returned after an abbreviated layoff and turned in 5 1/3 innings with only one run allowed against the Blue Jays. Bauer has never started on short rest, but he did work on three days' rest following a start once out of the bullpen this year. On July 1 in Toronto, he logged five shutout innings to close out a 19-inning win.
"Trevor's a guy that can pitch all the time," Francona said. "Tomlin, we were a little concerned. He's been pitching great, but he doesn't have the biggest frame in the world. But he hasn't pitched that much, so I think we're OK."
Jordan Bastian has covered the Indians for MLB.com since 2011, and previously covered the Blue Jays from 2006-10. Read his blog, Major League Bastian, follow him on Twitter @MLBastian and listen to his podcast. This story was not subject to the approval of Major League Baseball or its clubs.