MLB.com Columnist
Jonathan Mayo
Reds in AFL: Dixon, Wallach acclimating to new organization
MLB Pipeline checks in on Cincinnati's prospects participating in the Arizona Fall League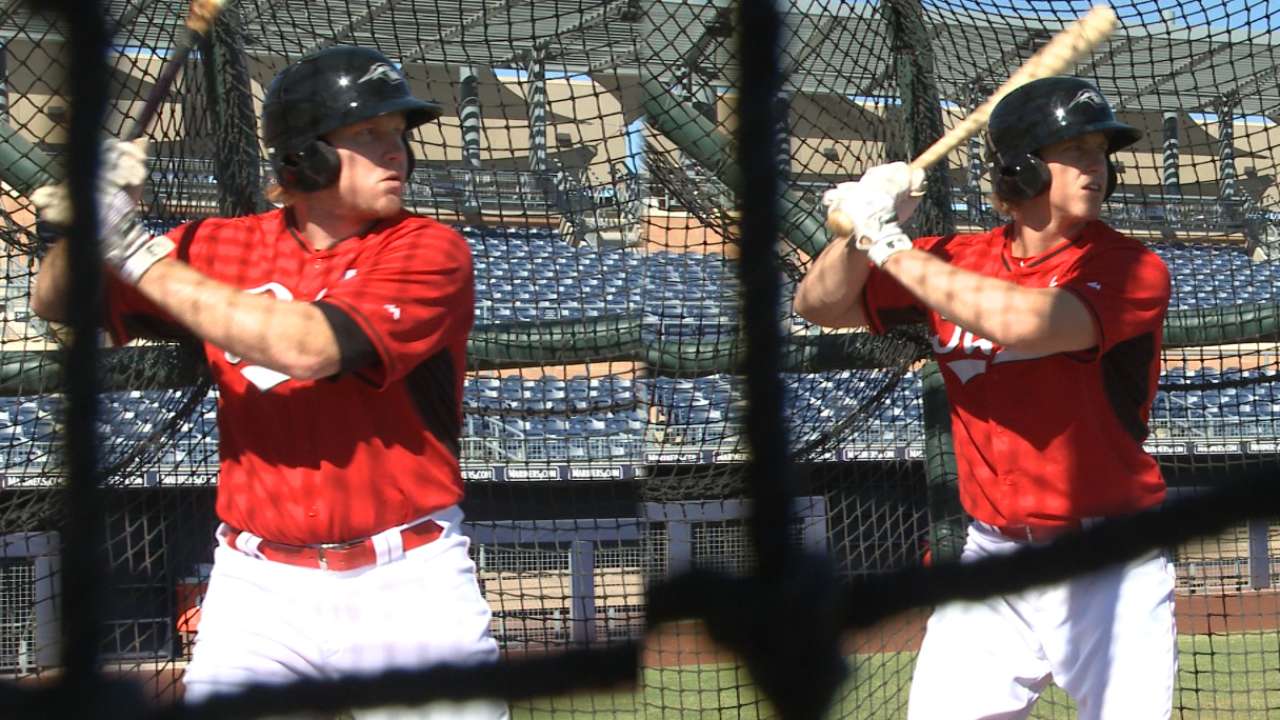 During the 2016 regular season, the Pensacola Blue Wahoos were one of the most consistent teams in all of Minor League baseball. The Double-A affiliate of the Reds won division titles in both halves of the Southern League and while they didn't walk away with a championship, it's hard to look at it as anything but a successful campaign.
Several players from that roster are trying to continue that success in the Arizona Fall League and at least in terms of team fortunes, the winning has carried forward. The Peoria Javelinas, the team for whom the Reds prospects are playing this fall, won 10 of their first 13 games of the AFL season.
Brandon Dixon played a big part on that Blue Wahoos team, spending the entire season on the roster and finishing with 16 home runs and 15 stolen bases while seeing time at second (his primary position), first and all three outfield spots.
• Complete Arizona Fall League Coverage
"Pensacola is a beautiful place to play," Dixon said. "We had a good team and we made the playoffs. It was a fun year."
It wasn't quite as much fun for Chad Wallach. A broken left hand forced the catcher/first baseman to miss about a month and half of the season, but he was back in plenty of time to participate in the postseason.
"It was a lot of fun," Wallach said. "We had a great team there. We played really well, which always makes it better. It was a little rough missing six weeks, but other than that, it was a really good season."
Wallach, the son of long-time big leaguer Tim and brother of former Minor Leaguers Matt and Brett Wallach, is no stranger to the Fall League. This is actually the third go-round for the former fifth-round pick of the Miami Marlins. Wallach played in 2014 while still with the Marlins, getting sent to the Reds that December in the Mat Latos trade. He was back a year later with his new organization, though he played more sparingly. Combined, Wallach hit .171 (14-for-82) in his two previous stints. In his first seven games this year, while playing first base exclusively (he caught in 2014-15), Wallach has gone 8-for-26 (.308) with a pair of home runs.
"I've been able to get a feel for it," said Wallach, who is eligible for the Rule 5 Draft this offseason. "It makes it kind of easier, you know what you're doing a little more out here, that always helps."
Dixon also came to the Reds via trade, joining the organization in December 2015 from the Dodgers as part of the three-team trade that sent Todd Frazier to the White Sox and Trayce Thompson (among others) to Los Angeles. He's also an AFL veteran, having played for Glendale as part of the Dodgers a year ago, hitting .295 with three homers and 12 RBIs in 61 at-bats. He's gone 8-for-28 (.286) in his first seven games this Fall.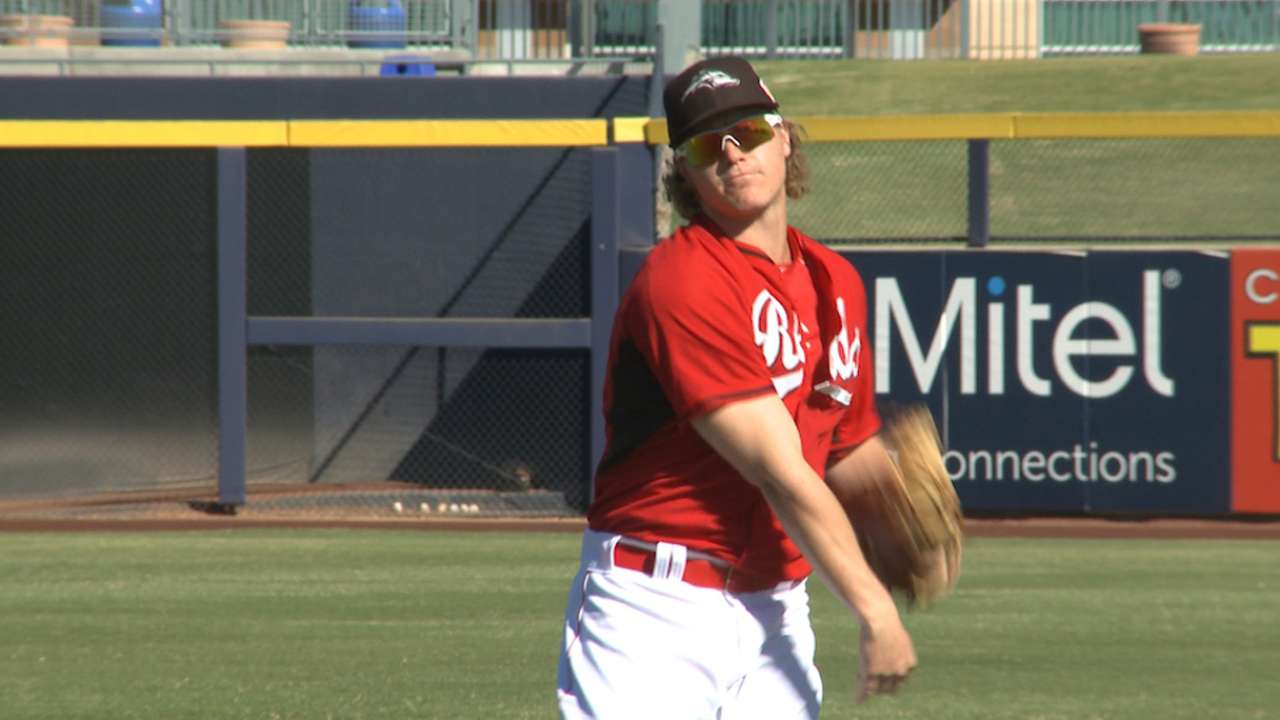 "It's been really smooth," Dixon said of his transition to his new team in his first year post-trade. "The whole Reds staff has been really welcoming. They've helped me a lot in my development. I'm happy to be where I am.
"[I want to] put together some good at-bats, get some more baseball in and have fun before the offseason."
Reds hitters in the Fall League
Brandon Dixon, 2B/OF
Brian O'Grady, 1B/OF
Zach Vincej, SS
Chad Wallach, C/1B
O'Grady, an eighth-round pick and senior sign out of Rutgers in the 2014 Draft, had earned a promotion up a level in his first full season, up to the Florida State League. He then spent all of 2016 in the FSL. While he struggled to hit for average (.235), he did continue to draw walks and get on base (.363), while stealing 16 bases. An outfielder and first baseman, he's seen time in both spots this fall and hopes to follow in the footsteps Rutgers product-turned-Red Todd Frazier.
Vincej, a former Brooks Wallace Award Winner as the top collegiate shortstop while at Pepperdine in 2012, has moved slowly up the Reds ladder. Like Wallach and Dixon, he spent the year in Pensacola, and had a very good playoff series, going 8-for-17 in four games. He's carried it over to the AFL over his first seven games, hitting .346 with three homers and 12 RBIs while playing a solid shortstop. He'll need to be protected on the 40-man roster or he'll be eligible for the Rule 5 Draft.
Reds pitchers in the Fall League
Barrett Astin, RHP
Evan Mitchell, RHP
Nick Routt, LHP
Seth Varner, LHP
Astin came to the Reds from the Brewers in the Jonathan Broxton trade back in August 2014. A ground-ball machine, Astin had success as a starter and reliever on the Blue Wahoos in 2016 (2.26 ERA, .201 BAA, 2.42 GO/AO), but has been coming solely out of the bullpen for the Javelinas this fall. Like Vincej, Astin is Rule 5 eligible this offseason.
Another part of the Pensacola bullpen following his late-May promotion from Class A Advanced Tortugas, Mitchell had a strong 2016 season (2.87 ERA, .225 BAA, 2.28 GO/AO). A 2013 draftee out of Mississippi State, the right-handed reliever is another player in the Rule 5 eligible boat.
Taken in the 16th round of the 2012 Draft, Routt is already 26, but after having trouble moving up the ladder, he's found some success coming out of the bullpen full time, especially with, yep you guessed it, Pensacola. The lefty had a 0.89 ERA in the Southern League to go along with a .166 BAA and earned some time up in Triple-A as a result. He, too, is Rule 5 eligible with his left-handedness making him stand out.
Varner is a lefty starter who is hoping the AFL will help him prepare for the jump to the promised land of Pensacola. He actually began the year in Daytona's bullpen, but moved into the rotation in May and with the exception of a rough July, he threw well. That was true particularly down the stretch as he posted a 2.88 ERA over his final six outings (five starts).
Jonathan Mayo is a reporter for MLBPipeline.com. Follow him on Twitter @JonathanMayo and Facebook, and listen to him on the weekly Pipeline Podcast. This story was not subject to the approval of Major League Baseball or its clubs.