Historic Wrigley set for Game 3 (Fri., 8 ET, FOX)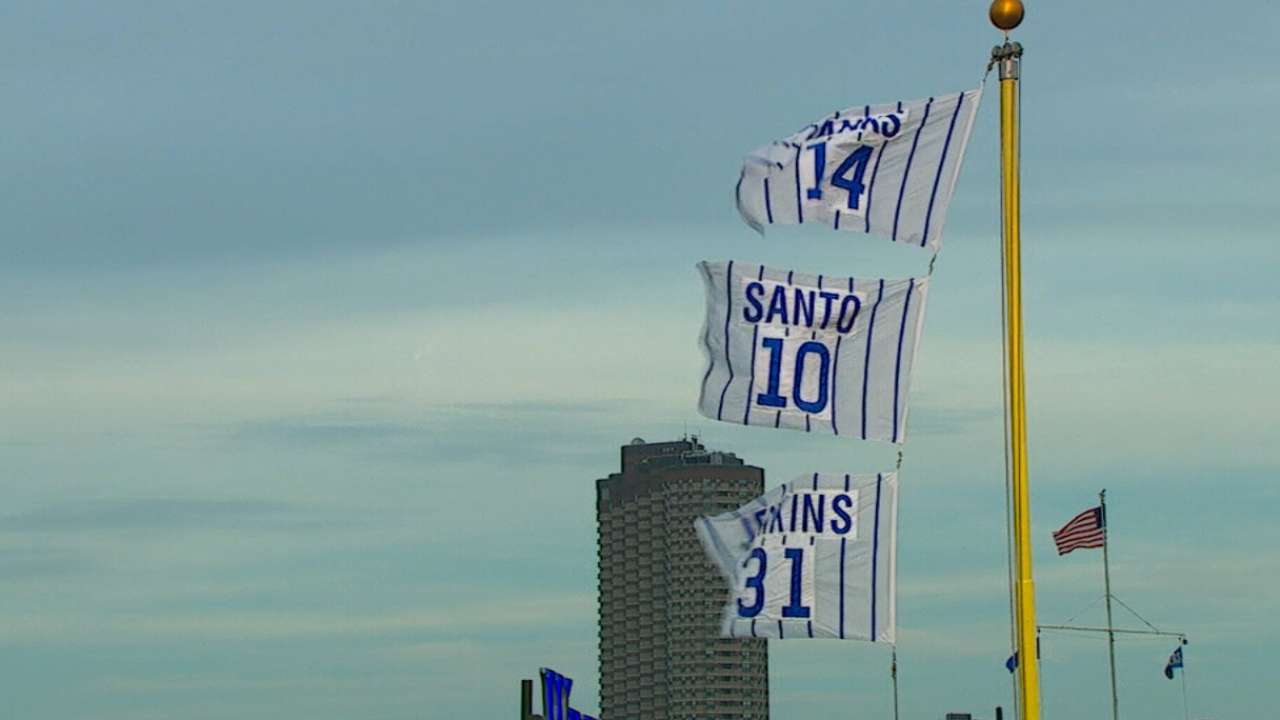 With the first two games of the World Series in the books, the Indians and Cubs are tied at a game apiece and the series now shifts for the next three to Wrigley Field, which will host a Fall Classic contest for the first time since Oct. 10, 1945.
Beginning with Friday's Game 3, it's a venue change that could have big implications, beyond the loss of the designated hitter in a National League ballpark. It also means that the wind could take center stage and alter the course of the World Series.
As of now, the forecast says the wind will be blowing out for Game 3, with south/southwest winds up to 20 mph. With that in mind, here is a look at how the weather conditions at Wrigley Field could favor right-handed hitters, specifically, and all hitters in general -- something the two teams might factor in to their lineup decisions.
North Side favors left field
It was much better to bat from the right side at Wrigley Field this season, especially in terms of power. According to 2016 ballpark factors available at StatCorner.com, for which 100 represents average, left-handed hitters had a "home run factor" of 84 at Wrigley, meaning it suppressed the long ball by 16 percent. Right-handers had a factor of 117, which was the fourth highest in the Majors.
• Shop for World Series gear: Cubs | Indians
Among all 30 big league parks, Wrigley ranked last with 25 pulled homers from lefty batters (Cleveland's Progressive Field had 56, tied for third). Cubs lefties pulled more than twice as many long balls on the road (29) than they did at home (14).
"At our place, the wind is blowing in so much, if the ball's hit to the right side, the ball's going to hold up and it's not going to go anywhere," Cubs manager Joe Maddon said in August. "But if you hit it to the left side, it's going to go."
The October effect
So how much does that wind really matter?
In 48 regular-season games with it blowing in this year, there was an average of 7.3 runs and 1.2 home runs, according to research done by the Daily Herald. In 14 games with a crosswind, those averages increased to 7.6 runs and 2.4 homers. And in 19 games with the wind blowing out, offense surged to 9.6 runs and 3.7 homers per game.
"There's no other ballpark I've been involved with anywhere, anywhere, that can change so dramatically from day to day," Maddon said earlier this season.
Yet the wind blows in at Wrigley more often than it blows out. That has been true in all but one season since 2000, according to the Herald.
However, a recent study from The Hardball Times showed that the wind is much likelier to be blowing out in mid-October than in summer. The effect on batted balls is potentially enormous. To cite one example from The Hardball Times study, a fly ball hit to center field with backspin, a 100-mph exit velocity and a 35-degree launch angle would travel 355 feet under Wrigley's average summer conditions but 423 feet under average mid-October conditions.
In the 2015 postseason, the wind was blowing out at first pitch for each of the Cubs' four home games, which averaged 10.5 runs and 4.8 homers. Game 3 of the NL Division Series against the Cardinals had the stiffest breeze (17 mph out to right) and Chicago walloped six homers to St. Louis' two in an 8-6 victory.
This year has been a bit different, with four of the Cubs' five postseason home games featuring a crosswind. Those four averaged 3.5 runs and 1.3 homers. But in Game 1 of the NL Championship Series, with a 14-mph wind out to left, the Cubs took an 8-4 victory over the Dodgers and hit two of the three homers on the night.
The other homer, a solo shot by Dodgers outfielder Andre Ethier, was struck with a 98-mph exit velocity and a 43-degree launch angle, according to Statcast™. On similar batted balls this season, hitters had gone 1-for-40 (.025) with no homers, evidence for the power of Wrigley's wind.
These are the numbers on Andre Eithier's HR. Wow. pic.twitter.com/doIFWWlfV4

— Daren Willman (@darenw) October 16, 2016
Lineup leanings
Neither team figures to make radical lineup changes. But if the conditions over the next few days do support slugfests that favor right-handed power, it could influence decision making.
The Indians, who are losing the DH, must select either Mike Napoli or switch-hitter Carlos Santana to play first base. Only Santana would have the platoon advantage in Games 3 and 4 against right-handed pitchers, but perhaps Napoli will get the call anyways so he can take aim at the left-field bleachers.
Meanwhile, despite the Tribe's righty pitchers, the weather could bolster the argument for starting Jorge Soler or fellow righty Albert Almora Jr. in right field over Chris Coghlan or Jason Heyward.
But whatever the lineups are, if the wind is blowing out at Wrigley, the next three World Series games could see runs and homers in bunches.
Andrew Simon is a reporter for MLB.com. Follow him on Twitter @AndrewSimonMLB. This story was not subject to the approval of Major League Baseball or its clubs.