MLB.com Columnist
Jonathan Mayo
Phillies in AFL: Former Arizona Wildcat Kingery back home
MLB Pipeline checks in on Philly's prospects participating in the Fall League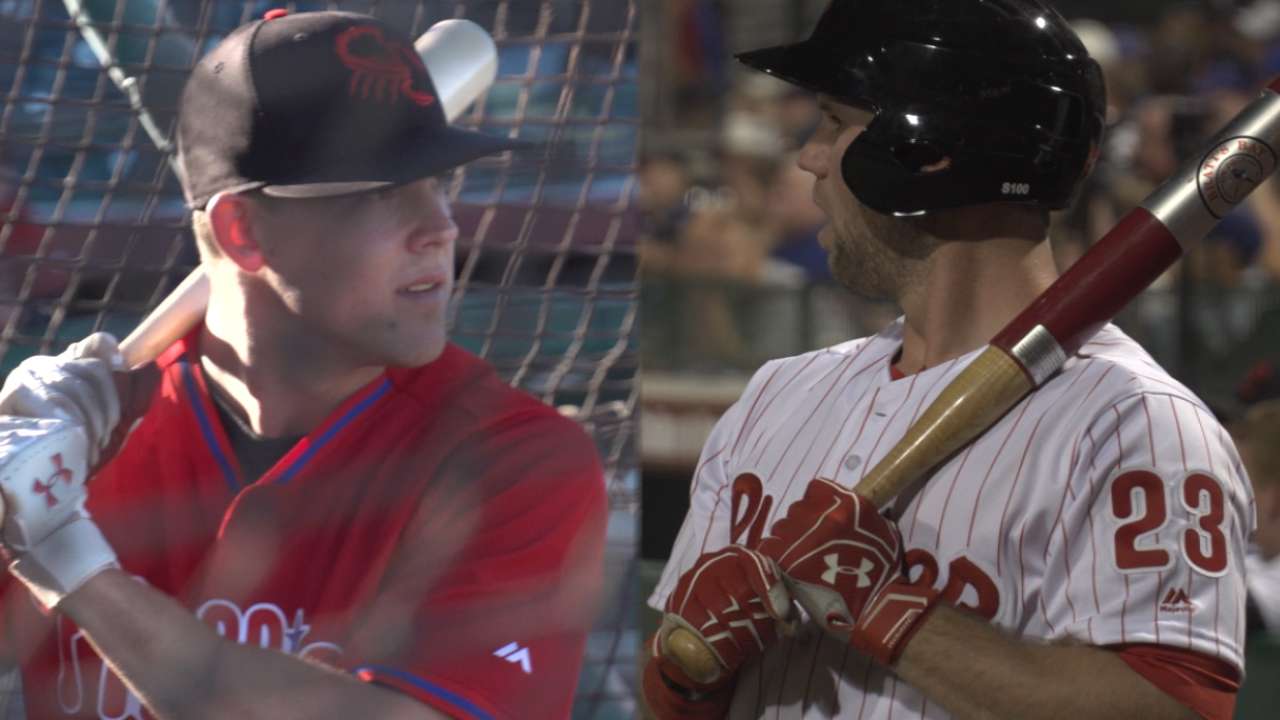 Phillies second baseman Scott Kingery is used to showing what he can do in Arizona. Born in Phoenix, Kingery spent three years excelling at the University of Arizona before the Phillies made him a second-round pick in the 2015 Draft. His professional homes have been in places like Lakewood, N.J., Clearwater, Fla., and Reading, Pa. Needless to say, he's happy to be back in the desert.
"This is a great opportunity," said Kingery, the Phillies' No. 13 prospect. "I've been on the East Coast my whole professional career. Coming back here and getting the chance to play, my family and friends can come watch, it's going to be awesome. The chance to play with all these great players is going to be an incredible experience."
• Complete Arizona Fall League Coverage
While Kingery had a stellar career at Arizona, it wasn't always easy for him at home. Lightly recruited out of high school -- he had a small scholarship to Central Arizona College -- Kingery rolled the dice as a walk-on to the Wildcats program. The gamble paid off as Kingery hit .351 over three years, .392 in his junior season.
"I had to self-recruit a little bit," Kingery said. "I told myself that if I wanted to be anybody in baseball I was going to take my shot at University of Arizona. If I didn't make it, I'd get a great education. Out of high school, there weren't really a lot of offers, so I had to take my chances and it all worked out for me."
It worked out pretty well during his first full season of pro ball as well, as Kingery reached Double-A, earning a promotion after hitting .293/.360/.411 with 26 steals in 94 Florida State League games. The Eastern League was a stiffer challenge -- he hit .250 with just a .273 on-base percentage, but he did add four more stolen bases to bring him to 30 for the year. And that's a part of his game he really worked on.
"It was definitely a different experience for me," Kingery said. "Coming from a half season, it was 142 games, plus playoffs and Spring Training. It got to me a little bit in the homestretch in that final month. I couldn't ask for a better first full season."
"I really focused on my speed a lot and my ability to drive the ball in the gap really helps me," he continued. "I'm not a big home run guy so I get my doubles and triples. Once I get those singles, I like to steal second, or third. I try to find any way I can to get myself into scoring position."
It's the kind of speed that can lend itself to nicknames. Kingery's twitter handle is @ScottyJetPax25. Considering he already has 41 career stolen bases as a pro, it's not tough to figure out how that moniker got hung on him.
"I got that during college," Kingery said. "I kind of stole home in a college game. I came back in the dugout and one of my teammates said, 'Looks like you turned on the jet packs there.' It kind of stuck and people started calling me jet packs."
For two years, Kingery used that speed in the outfield, but as a junior he was asked to use his agility at second base. The Phillies saw enough of him in the infield to keep him there and all have been very pleased with his progress. There's no talk of him moving back to the outfield, and he's working on his defensive craft in the Fall League as well.
"I feel really comfortable at second base now," Kingery said. "The past two years, just getting the work there, taking ground balls every day, and just get some game experience, has really helped a lot. I feel I'm a really solid defender there and it's only going to get better from here. I feel I can play other positions, but I know the Phillies want me at second base and I'm happy with that. I think that's what's going to help me move on up."
Phillies hitters in the Fall League
Aaron Brown, OF
Scott Kingery, 2B
Mitch Walding, 3B
Brown was a talented two-way player at Pepperdine who some teams wanted as a left-handed pitcher. He chose hitting and the Phillies chose him in the third round of the 2014 Draft. The power-hitting outfielder began the year in Double-A, missed some time with a sprained wrist, but he worked his way back up to Reading by season's end. He has legitimate pop and legitimate swing-and-miss, something he'll need to tighten up to find consistent success at the upper levels.
Selected by the Phillies in the fifth round of the 2011 Draft, Walding was a two-sport standout in the Northern California high school ranks who has moved slowly up the organizational ladder. He did reach Double-A for the first time and set career highs in a host of offensive categories, including home runs, RBIs and slugging percentage. He'll be eligible for the Rule 5 Draft for the second straight year if the Phillies don't add him to the 40-man roster.
Phillies pitchers in the Fall League
Victor Arano, RHP
Miguel Nunez, RHP
Jeff Singer, LHP
Initially signed by the Dodgers out of Mexico in April 2013, Arano came to the Phillies in the August 2014 trade that sent Roberto Hernandez to Los Angeles. After spending 2015 as a starter, he transitioned to the bullpen this past season and pitched his way across two levels to Double-A. His stuff ticked up, and he struck out 10.7 per-nine-innings while walking just 2.1, finishing with a combined 2.26 ERA and .213 batting average against. Arano's AFL stint could prepare him to impact the big league pen in 2017.
Nunez missed two years, 2011 and 2012, with injuries and was a starter for a year and change when he came back. Like Arano, a change to a relief role has served him well, and he quickly moved from the Florida State League up to Double-A Reading this past season. Combined, Nunez's 20 saves placed him second in the organization while he struck out 10.4 per-nine. He's headed to Minor League free agency this offseason.
Singer is a local product who went to Rutgers-Camden and was playing for the independent league Camden Riversharks when he was signed by the Phillies in October 2015. He began his pro career in the short-season New York-Penn League, but ended up pitching across three levels, finishing in the FSL. The lefty can get it up to the mid 90s and his AFL stint will allow the Phillies to get a sense of just what kind of reliever they have on their hands.
Jonathan Mayo is a reporter for MLBPipeline.com. Follow him on Twitter @JonathanMayo and Facebook, and listen to him on the weekly Pipeline Podcast. This story was not subject to the approval of Major League Baseball or its clubs.