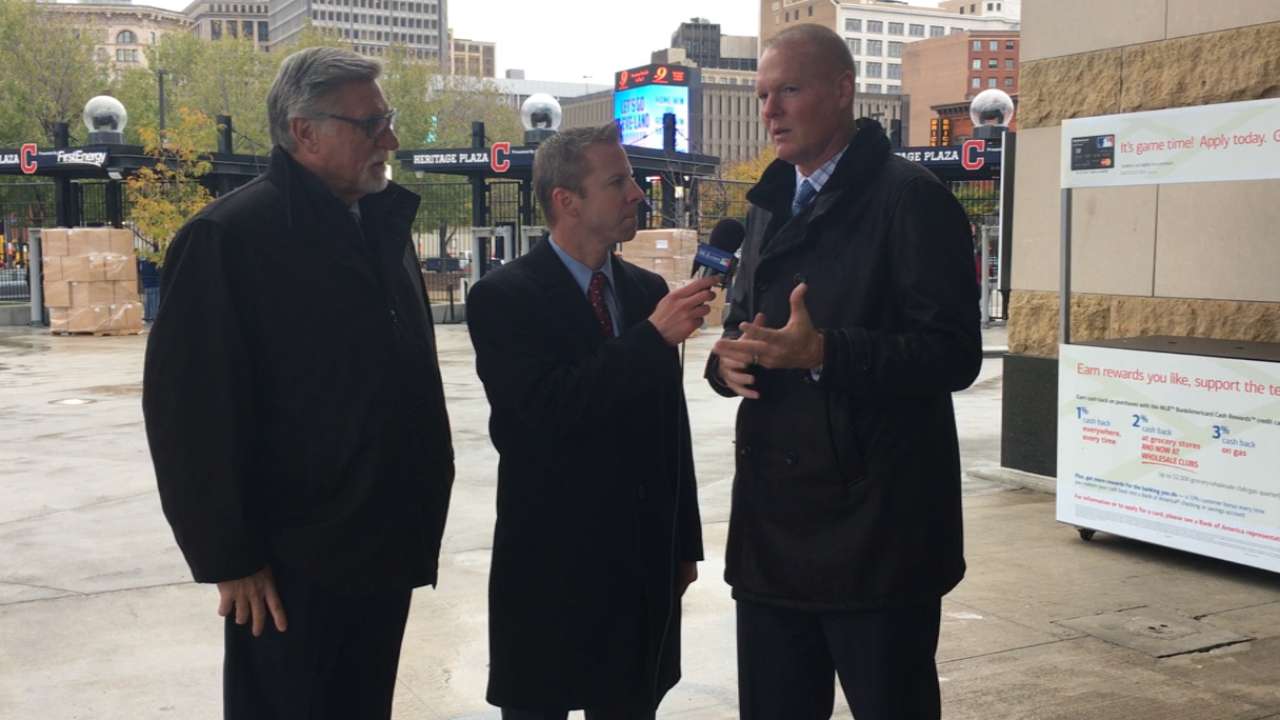 The 112th World Series got underway on Tuesday, when the Indians defeated the Cubs, 6-0, as both clubs began their quests for an elusive title in Game 1 of the Fall Classic.
Game 2 will air tonight on FOX at 7:00 p.m. ET (6 p.m. ET pregame show on FS1), with 2015 National League Cy Young Award winner Jake Arrieta taking the mound for Chicago at Progressive Field opposite Tribe right-hander Trevor Bauer.
• World Series gear: Cubs | Indians
And we are on the scene, around Cleveland and at the ballpark, taking it all in as first pitch fast approaches.
The Cubs aim to even the series before heading back to Chicago, and Bauer hopes for an extended outing after he was forced to exit his past start in the American League Championship Series in the first inning due to a laceration on his right pinkie.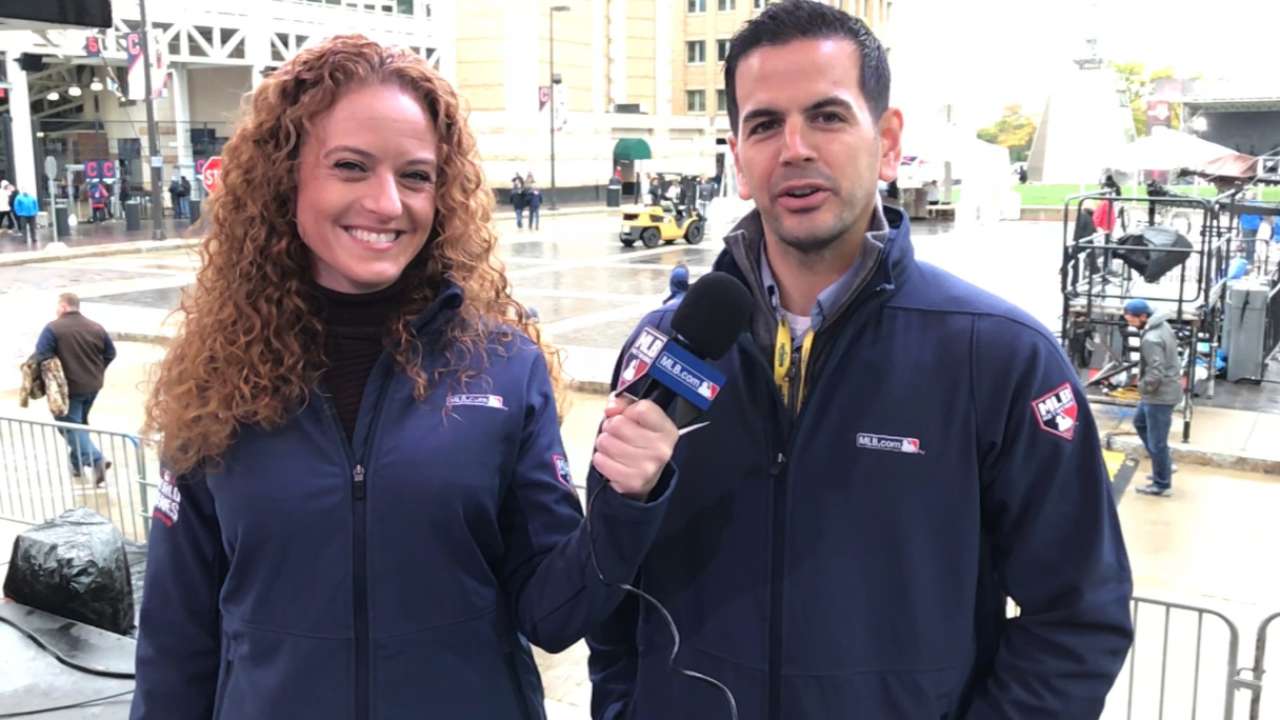 05:56 p.m. ET: Aaron at the Fall Classic
The Hank Aaron Award winners will be announced before Game 2, and the Hall of Famer is on hand at Progressive Field.
05:35 p.m. ET: Olney keeps trusty umbrella handy
Buster Olney with traffic and weather for ESPN. Well, weather, anyway. Whatever the case, we're all ready to soak it in. It's history, and history is always a little bit messy. It's not pouring, and soon Chicago or Cleveland will be scoring.
04:31 p.m. ET: Crowd forms outside Progressive Field
Cubs and Indians fans were excited to get inside the ballpark for Game 2, as this was the line 10 minutes prior to the gates opening.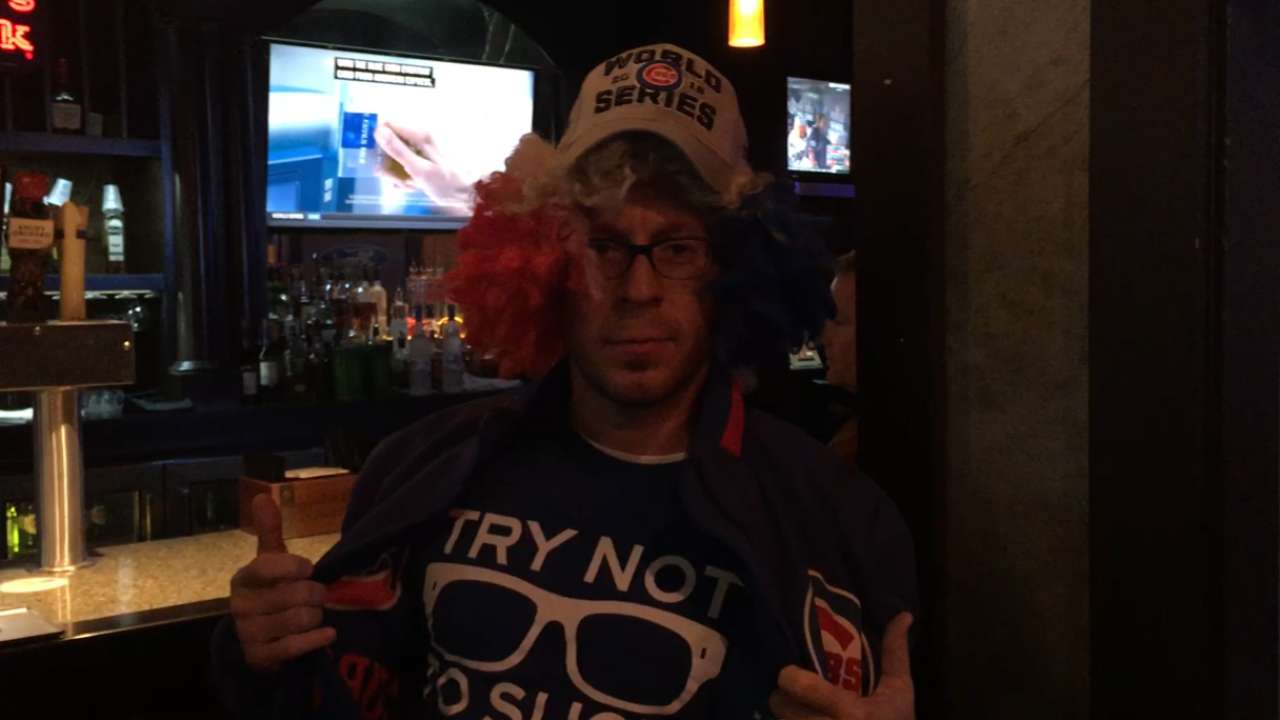 04:08 p.m. ET: Davis chats with Stern
Indians outfielder Rajai Davis is interviewed on MLB Network Radio by Casey Stern as GMs-turned-analysts Jim Duquette and Jim Bowden look on, and the latter is all smiles. And why not? It's the World Series in Ohio.
04:01 p.m. ET: Miller smiles for the camera
The Indians have seen their star reliever's picture, as he was first to pose for team portraits prior to Game 2.
03:50 p.m. ET: All clear for now
The tarp was off the field for a short while for brief groundskeeping. This is Joe Maddon's view from the visiting dugout. As Cubs fan Bill Murray prognosticated in Caddyshack: "I don't think the heavy stuff is gonna come down for quite a while."
03:36 p.m. ET: ALCS MVP grabs a seat on the bench
Indians bullpen ace Andrew Miller goes live from the dugout on MLB Network. Not as nasty on camera as he is on the mound. That smile.
03:17 p.m. ET: On deck: Game 2 of the World Series
This is what players will be standing on as they take their cuts before their at-bats.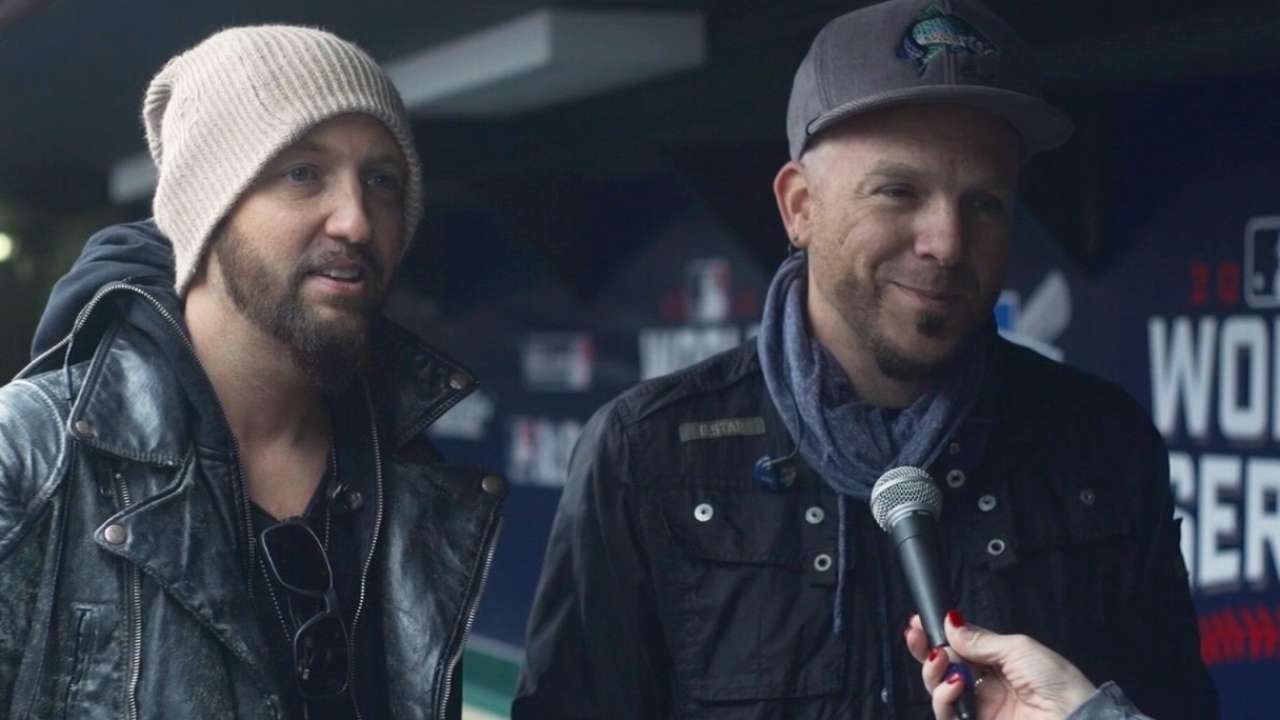 02:51 p.m. ET: MLB, Indians team up for charity
Along with the Starlight Children's Foundation, the organizations have donated a Starlight Fun Center mobile entertainment unit to the kids at Cleveland Clinic Children's Hospital for Rehabilitation.
02:36 p.m. ET: Baseball's ultimate prize
The Commissioner's Trophy, which is awarded to the World Series champions, is on hand in Cleveland.
01:23 p.m. ET: Keeping it dry
The grounds crew laid out the tarp at Progressive Field in anticipation of a potential storm in Cleveland.
11:25 a.m. ET: Media patiently wait for Game 2
Satellite trucks are ready to begin coverage at Progressive Field.