MLB.com Columnist
Roger Schlueter
Stats of the Day: Tribe gets it done in Game 1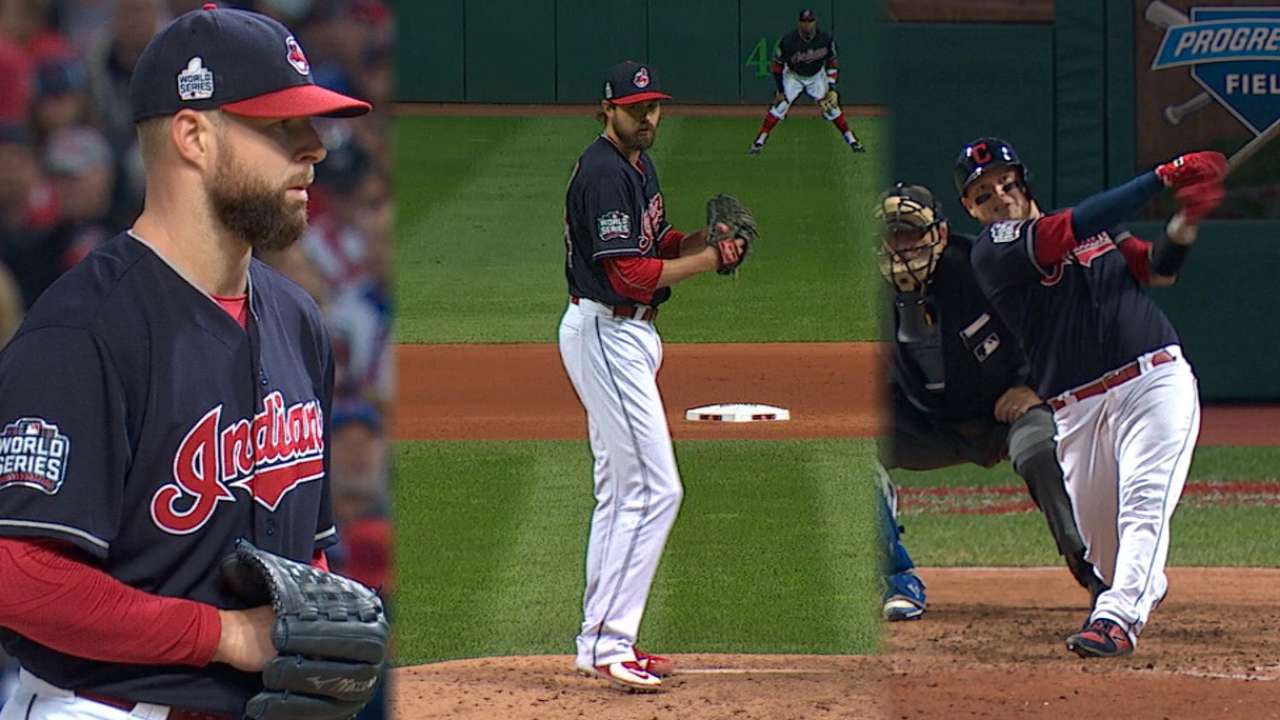 Here are three interesting items from Game 1 of the World Series …
• Cleveland right-hander Corey Kluber worked into the seventh inning and finished his World Series debut with nine K's over six frames, four hits, and no walks as the Indians defeated the Cubs, 6-0, at Progressive Field.
With Kluber recording the first 18 outs, Andrew Miller handling six and Cody Allen finishing up for the last three, the Indians' staff posted the 17th Game 1 shutout in World Series history. Of the 16 previous teams to win via shutout in Game 1, seven went on to win the World Series.
The teams that won: 1905 Giants, '18 Red Sox (against the Cubs), '49 Yankees, '50 Yankees, '61 Yankees, '89 Athletics and '90 Reds.
• Shop for World Series gear: Cubs | Indians
The teams that lost: 1921 Yankees, '35 Cubs, '45 Cubs, '48 Braves (against the Indians), '59 White Sox, '68 Cardinals,'75 Red Sox, '82 Brewers and 1986 Red Sox.
• Making his World Series debut, Indians catcher Roberto Perez connected on a pair of home runs. Perez is the 53rd player all time -- and first Indians player -- to homer twice in a World Series game. The other catchers to hit a pair: Yogi Berra in 1956 (Game 7), Gene Tenace in '72 (Game 1), Johnny Bench in '76 (Game 4) and Gary Carter in '86 (Game 4).
Perez is the second player to homer twice in a World Series while catching a shutout. In Game 7 in 1956, Berra bashed two roundtrippers (and drew a pair of walks) while helping guide Johnny Kucks through a three-hitter in the Yankees' 9-0 win over the Dodgers.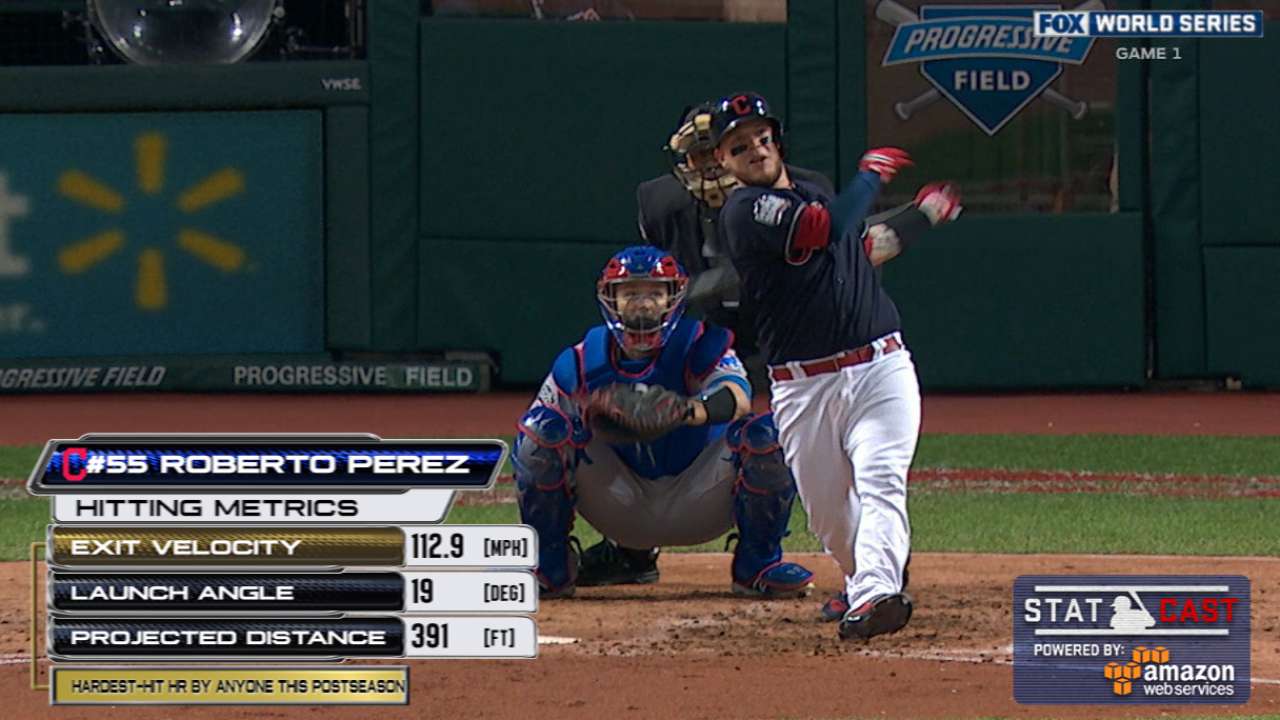 • In the loss, Cubs left fielder Ben Zobrist went 3-for-4 with a double. As a member of the Royals in 2015, he had three hits (two doubles) in Game 1 of the Fall Classic. Zobrist is the fifth player to have multiple three-hit efforts in a World Series Game 1. The others: Home Run Baker (1910, '13); Babe Ruth ('27, '28), Manny Ramirez (2004, '07) and Pablo Sandoval ('12, '14).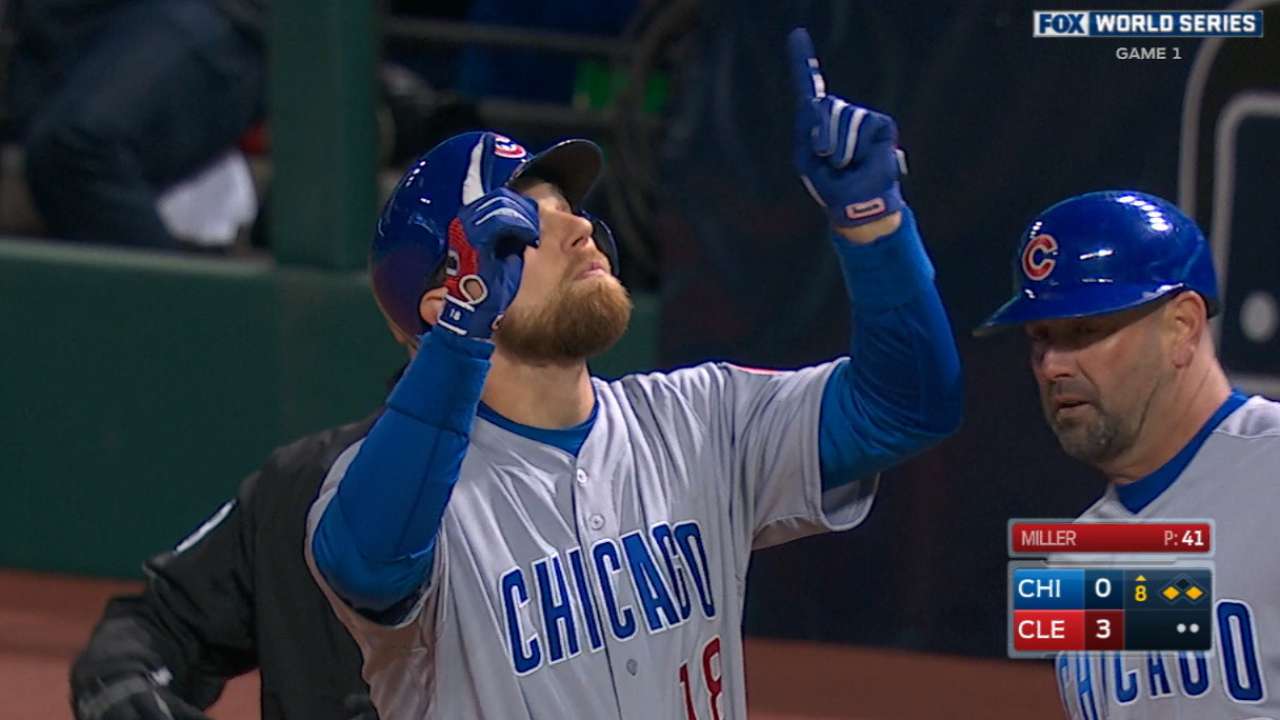 Roger Schlueter is a statistical researcher and writes for MLB.com. This story was not subject to the approval of Major League Baseball or its clubs.