World Series Game 2 starting lineups: Cubs vs. Indians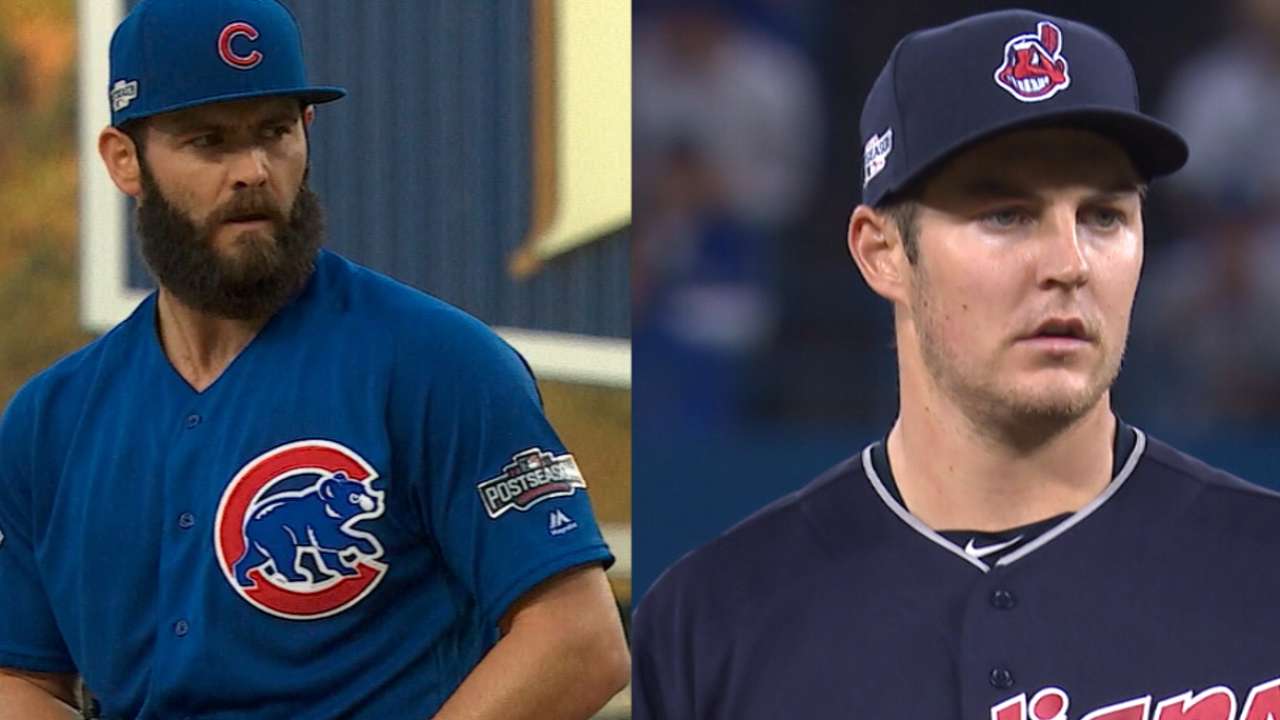 CLEVELAND -- Kyle Schwarber was in the Cubs lineup for Game 2 of the World Series, batting fifth, but manager Joe Maddon decided to start catcher Willson Contreras and right fielder Jorge Soler tonight.
Miguel Montero had been paired with starter Jake Arrieta in the postseason but Maddon hinted that he might switch to Contreras, who has had better success throwing out baserunners. Soler is 0-for-8 so far in the postseason, but batted .474 in the playoffs last year.
The Indians, facing a right-hander in Arrieta after taking on left-hander Jon Lester in Game 1, made a few moves. Designated hitter Carlos Santana moves back to leadoff from the No. 5 spot, while outfielders Rajai Davis and Brandon Guyer will start the game on the bench in favor of switch-hitter Coco Crisp and lefty-swinging Tyler Naquin.
The Cubs are looking for offense after being shut out 6-0 in the Series opener. So far, the Cubs have scored five or more runs in seven of their 11 postseason games, but have scored just one run combined in the other four games.
Dexter Fowler leads off for the Cubs in Game 2 and starts in center field, and will be followed by third baseman Kris Bryant, first baseman Anthony Rizzo, left fielder Ben Zobrist, Schwarber, second baseman Javier Baez, Contreras, Soler and shortstop Addison Russell.
The Cubs lineup features six players age 24 or younger, a postseason record. The list includes Bryant, 24; Schwarber, 23; Baez, 23; Contreras, 24; Soler, 24; and Russell, 22.
Schwarber went 1-for-3 with a walk in Game 1 on Monday, collecting his first hit in the Majors this year. He's the first National League player (including pitchers) with a World Series hit and no regular-season hits in the same year since Mets reliever Jesse Orosco in 1986.
Schwarber missed the regular season after tearing the ACL and LCL in his left knee in a collision in the third game of the season on April 7. He does like Progressive Field, going 6-for-10 with a triple, a home run and four RBIs there in an Interleague series in June 2015.
CUBS
Dexter Fowler, CF
Kris Bryant, 3B
Anthony Rizzo, 1B
Ben Zobrist, LF
Kyle Schwarber, DH
Javier Baez, 2B
Willson Contreras, C
Jorge Soler, RF
Addison Russell, SS
Jake Arrieta, P
INDIANS
Carlos Santana, DH
Jason Kipnis, 2B
Francisco Lindor, SS
Mike Napoli, 1B
Jose Ramirez, 3B
Lonnie Chisenhall, RF
Coco Crisp, LF
Tyler Naquin, CF
Roberto Perez, C
Trevor Bauer, P
Carrie Muskat has covered the Cubs since 1987, and for MLB.com since 2001. She writes a blog, Muskat Ramblings. You can follow her on Twitter @CarrieMuskat and listen to her podcast. This story was not subject to the approval of Major League Baseball or its clubs.