Vote: Make the call on Best Call, TV/Radio Award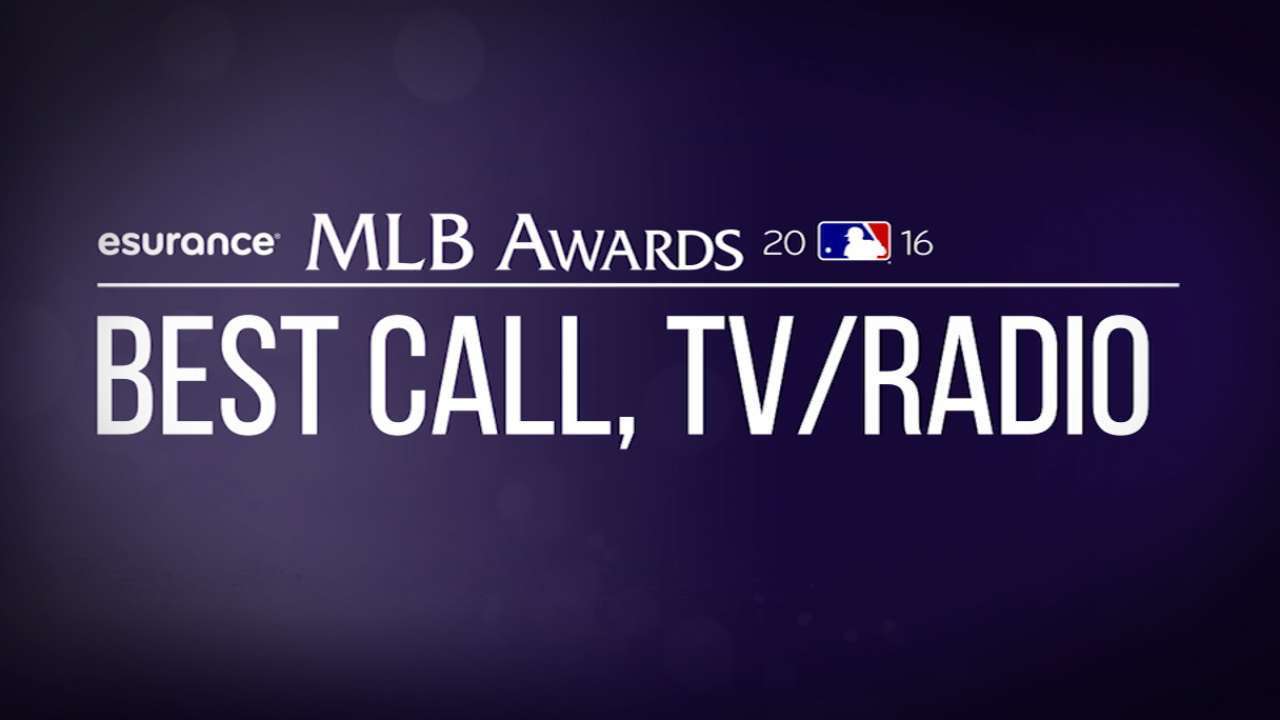 An announcer is only as good as yesterday's performance.
-- Hall of Fame broadcaster Curt Gowdy
There were 2,427 Major League Baseball games streamed live on MLB.TV in the 2016 regular season, resulting in memorable performances not just by players but also by announcers who had to live up to the moments. Five of those broadcasts produced a candidate truly worthy of your consideration in the category of Best Call, TV/Radio.
Voting is underway through 2 p.m. ET on Nov. 11 to help decide this and many other categories in the Esurance MLB Awards, and this one especially hits home for the average baseball viewer. We share a special affinity for those singular voices that have described the game, taught us the game, made us feel the game. Those voices are the priceless connection that remains such a rich part of baseball tradition.
Unlike last year, when a Bartolo Colon hit led to Best Call, Radio, and when a Vin Scully description took home Best Call, TV, those two categories are being merged into one now. And like last year, an unbelievable Colon hit and a Scully call are again among the nominees. The other three are the description of Max Scherzer's 20-strikeout effort, Tyler Naquin's inside-the-park walk-off, and a Padres third baseman literally diving into some nachos.
Here is a breakdown of the five calls we can't forget:
"Randy Johnson, Kerry Wood, Roger Clemens and now Max Scherzer!"
OK, it wasn't a proper chronological listing, but who cares? Nationals radio voice Charlie Slowes officially and emphatically pronounced it a quartet as Scherzer threw an 85-mph slider past Detroit's Justin Upton to tie the record of 20 strikeouts in a nine-inning game. Scherzer's milestone night is also nominated in the Best Performance category.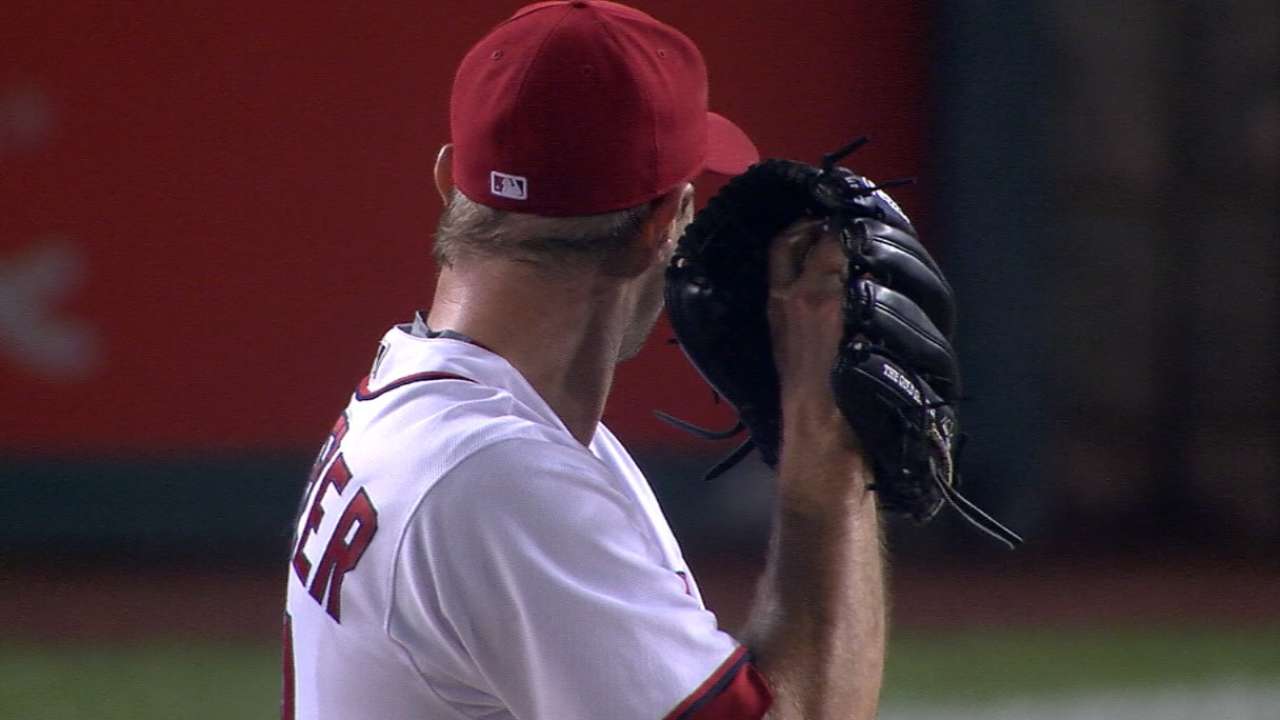 "Excuse me sir, but there's a third baseman in my nachos!"
There are two kinds of cheese at a baseball game: The kind that is hard to hit with a bat, and the kind that you brought back from the concession stand only to find Yangervis Solarte diving into it to make a catch over the rail in foul territory. Thanks to Padres announcers Don Orsillo and Mark Grant, the cheesy call from that July 15 game lived up to the moment.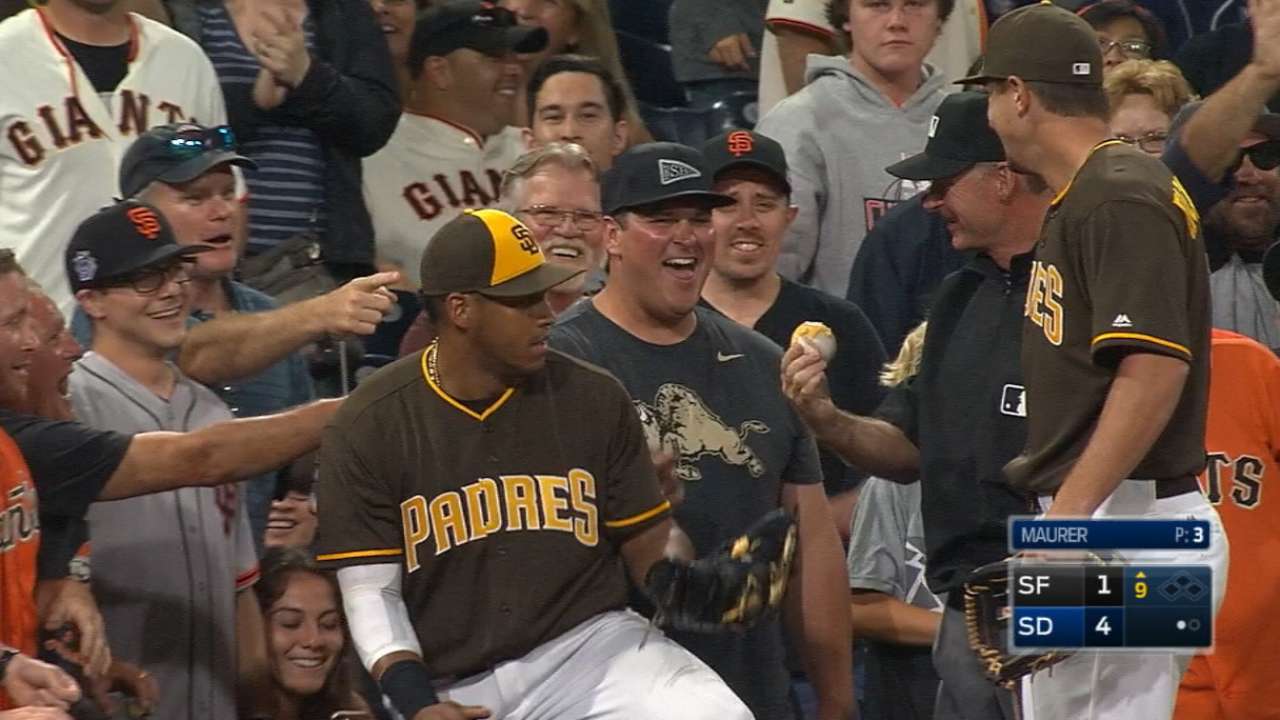 "This is one of the great moments in the history of baseball!"
Think back to how many times you replayed the call by Mets broadcasters Gary Cohen and Ron Darling after Colon stupefied everyone with his first career home run at nearly 43 years of age -- the oldest to go deep for his first career blast in Major League history. That happened on May 7 at San Diego, and half a year later fans will still be voting in this category to help determine whether it really was "one of the great moments in the history of baseball." After all, it has to win this specific award if the call is more than hyperbole, right? You can also vote for it in Best Trending Topic.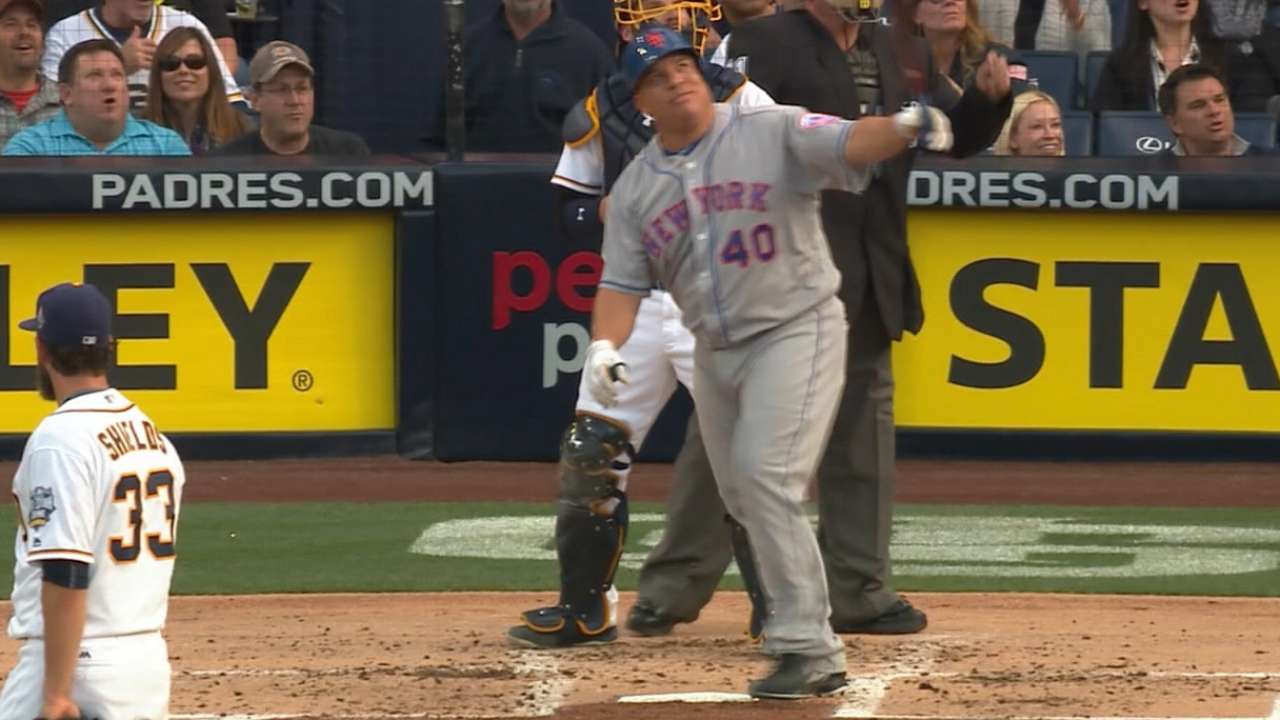 "Usain Naquin ... flying around the bases!"
On the same day that Jamaica's Usain Bolt ran in the 4x400 prelims in Rio, Indians rookie Naquin hit a walk-off homer. Cleveland radio man Tom Hamilton saw the connection and put that emphatic capper on his call as Naquin scorched the basepaths and then rose to exult with teammates. This play became a hot GIF sensation on social media, the definition of hustle, speed and desire. It also is sure to be in any highlight reel of the Indians' World Series season.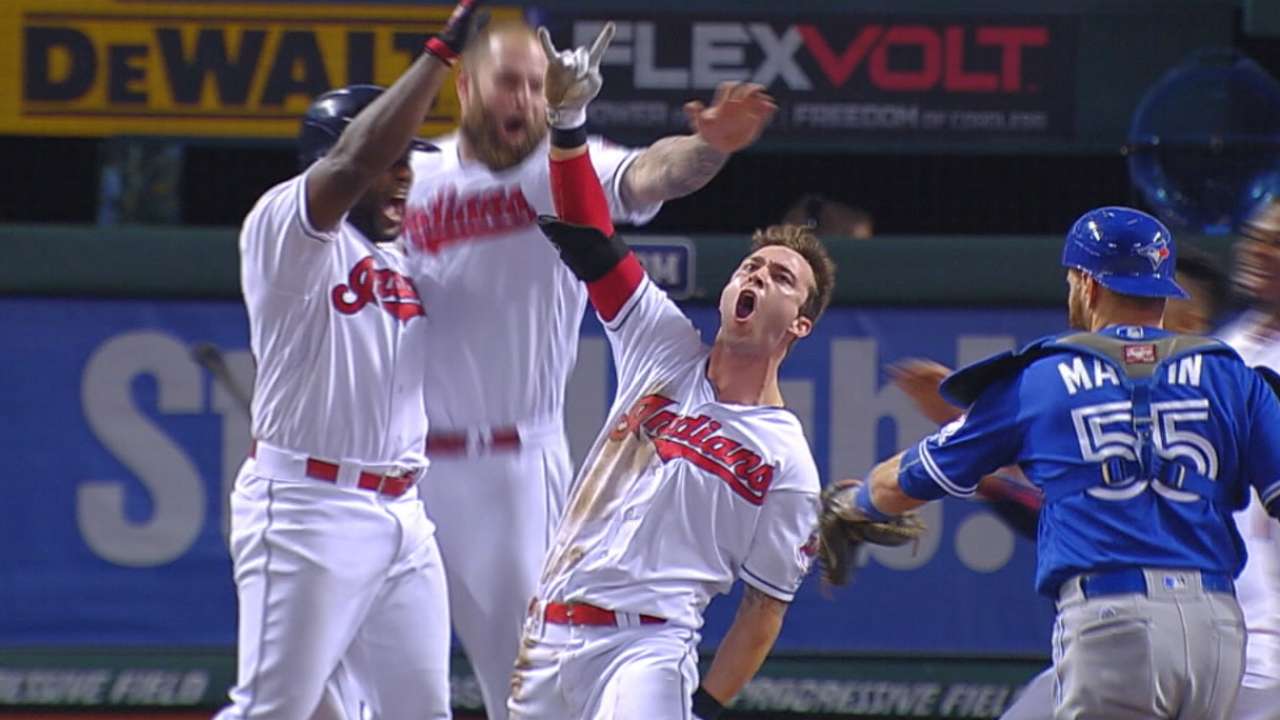 "Would you believe a home run?"
It was the moment we never wanted to come, but the moment we were waiting for. Vin Scully finally called it a career after 67 glorious and nonpareil years in the baseball broadcast booth. In addition to Best Social Media Post and Best Moment, Scully's farewell is represented quite naturally in this category that pays homage to his longtime profession. Scully would have another series to finish up at San Francisco before signing off for good, but this particular call was his last one at "the office" -- Dodger Stadium -- and he finished it by announcing the division-clinching walk-off homer hit by Charlie Culberson. No exclamation mark was needed in his delivery; Scully gave us his own exclamation mark simply by retiring.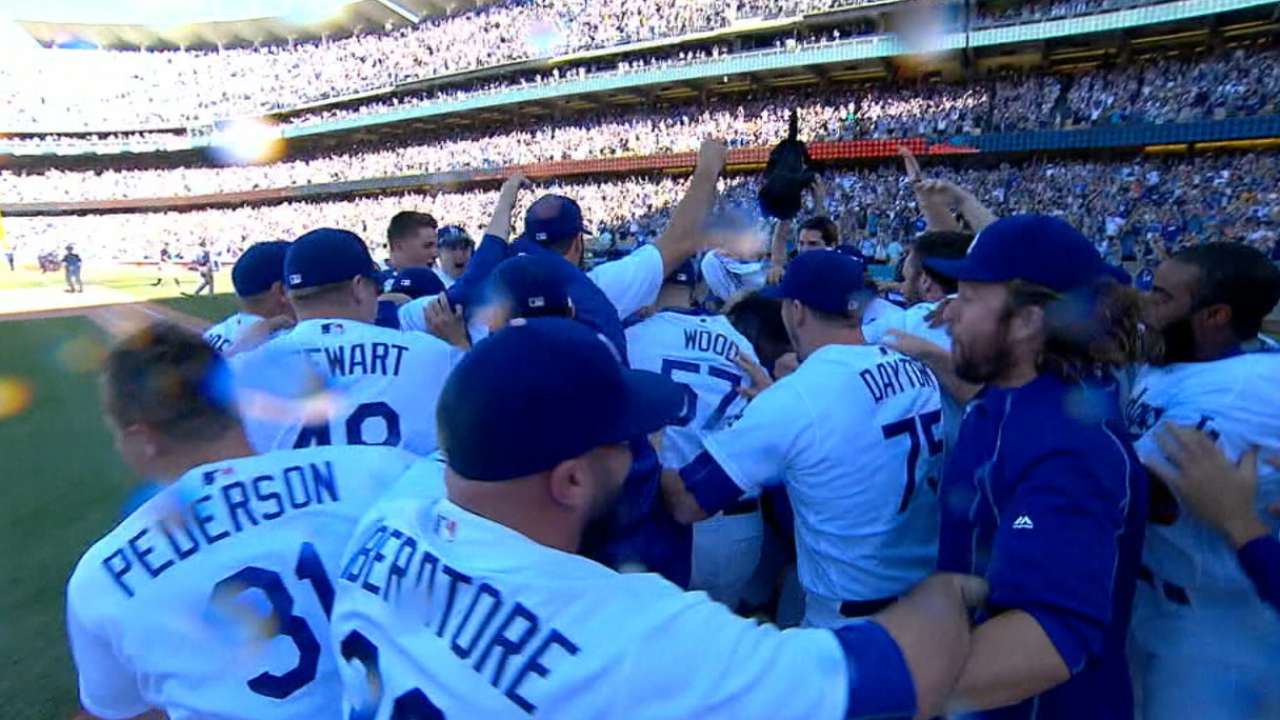 "Good is not good when better is expected," Scully once said.
That is your voting criteria.
The Esurance MLB Awards annually honor MLB's greatest achievements as part of an industry-wide balloting process that includes five groups, each of which accounts for 20 percent of the overall vote: media, front-office personnel, retired MLB players, fans at MLB.com and Society for American Baseball Research (SABR) voters.
The MLB Awards are an all-inclusive program, encompassing the top players and performances from both the American and National Leagues from Opening Day through the end of the postseason.
Individual awards will go to the Best Major Leaguer, Best Hitter, Best Pitcher, Best Rookie, Best Defensive Player, Best Manager, Best Executive, Best Social Media Personality and Best Postseason Performer.
In addition to Best Call, TV/Radio, winners will be recognized for Best Play, Offense; Best Play, Defense; Best Regular Season Moment; Best Postseason Moment; Best Performance; Best Social Media Post; Best Fan Catch; Best Player-Fan Interaction; and Best Trending Topic.
Voting began on Sept. 19 at 4 p.m. ET on MLB.com/awards, one hour after the inaugural Esurance MLB Fans of the Year winners were announced. Winners for all categories will be announced live on MLB Network and MLB.com on Nov. 18.
Mark Newman is enterprise editor of MLB.com. Read and join other baseball fans on his MLB.com community blog. This story was not subject to the approval of Major League Baseball or its clubs.