Tale of the Tape: Bauer, Arrieta clash in Game 2
Indians starter has prior success vs. Cubs; Chicago righty looks to reverse trend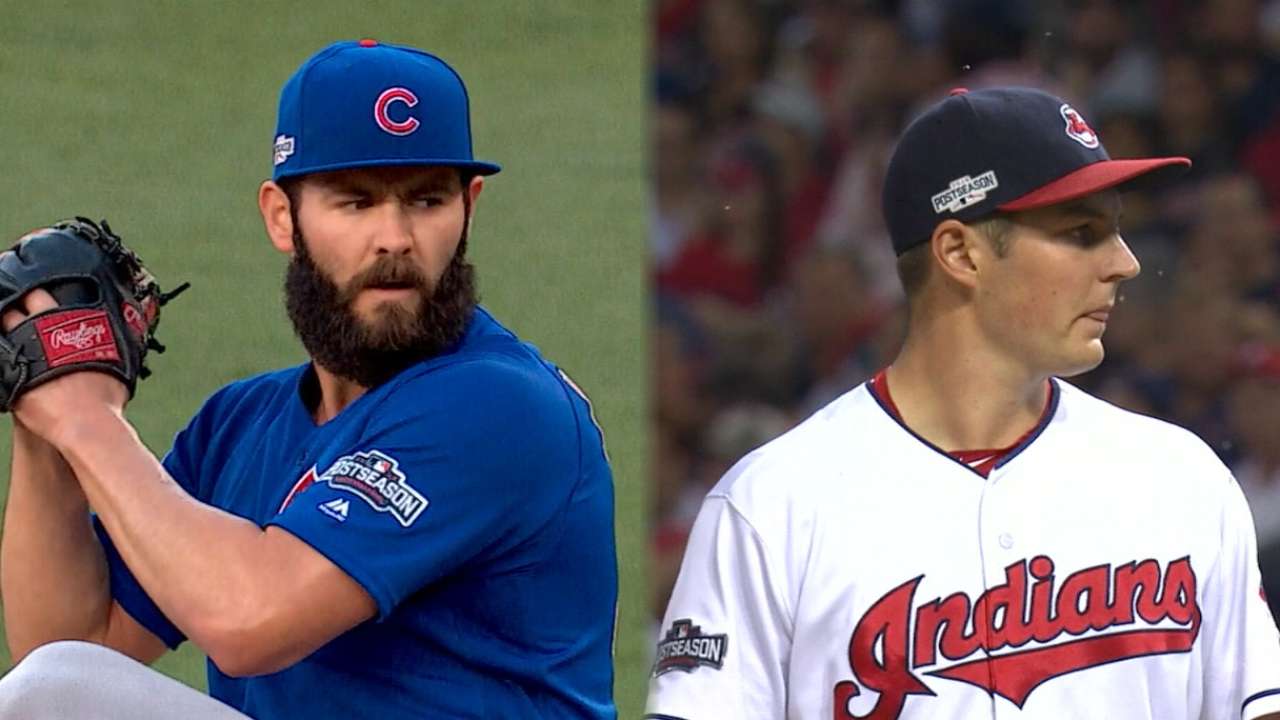 After Corey Kluber outpitched Jon Lester in Game 1, the Indians and Cubs are ready to square off again in a pivotal Game 2 of the World Series at Progressive Field on Wednesday. In Game 2, Trevor Bauer returns to the mound for Cleveland looking to open a commanding 2-0 series lead, but he'll have a tough task ahead, facing the Cubs' Jake Arrieta.
Arrieta is looking to bounce back from a rocky start against the Dodgers in the National League Championship Series. Bauer is pitching for the first time since the first inning of Game 3 of the ALCS, when his drone-injured right pinkie finger started bleeding on the mound and brought an early end to his night.
• Game 2: Tonight, 7 p.m. ET game time on FOX (6 p.m. ET pregame show on FS1)
Here's how the two right-handers match up in advance of Game 2.
Season stats
Bauer: 12-8, 4.26 ERA, 190 IP, 168 K
Arrieta: 18-8, 3.10 ERA, 197 1/3 IP, 190 K
• Shop for World Series gear: Cubs | Indians
Trevor Bauer, Indians
Bauer against the Cubs
2016: Did not face
Career: 1 GS, 1-0, 0.00 ERA, 7 IP, 7 K
Loves to face: Jason Heyward, 0-for-6, 1 K
Hates to face: Addison Russell, 2-for-3
Game breakdown
Why he'll win: The one time Bauer faced the Cubs, on June 16 of last season, he dominated them, and he was facing a lineup that had many of the same key pieces as the one he'll likely see in Game 2. Bauer threw seven shutout innings -- to beat Arrieta, in fact -- and held Dexter Fowler, Anthony Rizzo and Kris Bryant to a combined 1-for-7 at the top of the order, including a strikeout of Bryant.
Pitcher beware: Bauer maintains he'll be able to pitch without any issues with his lacerated finger, but there's no way to know how everything will hold up once he takes the mound. The injury doesn't impact Bauer's pitching (even though it's on his pitching hand), but if the wound opens during the game, he won't be allowed to stay in. The Indians will have to hope there's no repeat of the ALCS, when he was forced out after just two-thirds of an inning.
Bottom line: If he can stay in the game without his finger bleeding, Bauer could certainly pitch effectively against the Cubs. His best pitch is his curveball, and the Cubs are a weak curveball-hitting team. He'll also be pitching in front of a raucous home crowd, and if he can feed off that energy, he'll have a chance.
Jake Arrieta, Cubs
Arrieta against the Indians
2016: Did not face
Career: 4 GS, 1-1, 8.69 ERA, 19 2/3 IP, 15 K
Loves to face: Coco Crisp, 1-for-8, 3 K
Hates to face: Carlos Santana, 1-for-3, HR, 3 RBI, 3 BB
Game breakdown
Why he'll win: He's still Jake Arrieta. His stuff is electric, some of the best in the game. Kyle Hendricks and Lester might have finished 1-2 for the NL ERA title, but there's a reason Arrieta was an All-Star this year and the Cy Young winner last season. Two no-hitters the past two seasons were no accident.
Pitcher beware: The Indians have owned Arrieta in his career. In his four starts against the Tribe, Arrieta has allowed 20 runs, an average of five per start, and four home runs. His 8.69 ERA against Cleveland is his highest against any Major League team, more than two runs higher than his next-worst mark.
Bottom line: Arrieta has earned his place among the game's top pitchers, and the Cubs couldn't do much better than having him on the mound as they try to even up the World Series. Game 2 is a key chance for the Cubs to try to seize momentum heading into their three games at Wrigley Field, and they're placing the ball in capable hands.
David Adler is a reporter for MLB.com based in New York. Follow him on Twitter at @_dadler. This story was not subject to the approval of Major League Baseball or its clubs.