Reliever McGrath adds length as AFL starter
Quartet of Padres bullpen prospects sharp in Arizona Fall League
Bill Center, longtime sportswriter for U-T San Diego, is an employee of the Padres.
Left-hander Kyle McGrath made his third start in the Arizona Fall League Tuesday afternoon. But that doesn't mean the prized bullpen prospect is changing roles.
Starting pitchers in the AFL are restricted to three innings. By starting in the AFL, the 24-year-old McGrath is adding length to his game. Over his three AFL outings, McGrath has allowed two runs (one earned) on five hits and two walks with five strikeouts for a 1.00 earned run average.
The 6-foot-2 McGrath is a finalist for the Minor League Reliever of the Year award after compiling a 0.93 ERA in 45 games in 2016 while advancing from Class A Advanced Lake Elsinore through Double-A San Antonio to Triple-A El Paso. He allowed 41 hits and 10 walks with 78 strikeouts in 67 2/3 innings.
• Padres Top 30 Prospects list
McGrath was a 36th-round pick in the 2014 draft out of the University of Louisville.
McGrath is not the only Padres prospect off to a fast start with the Peoria Javelinas of the AFL.
Second baseman Josh VanMeter is tied for sixth in the AFL batting race, hitting .370 (10-for-27) with a home run, two steals, nine walks, nine runs scored and six RBIs. He is tied for the AFL lead in walks, tied for third in runs scored, ranked fourth in on-base percentage (.500) and eighth in OPS (.981).
VanMeter, 21, the Padres' fifth-round pick in the 2013 draft, had a combined .251 average between Lake Elsinore and San Antonio this season. He had a combined 14 homers and 56 RBIs.
Right-handed reliever Phil Maton has allowed one baserunner with six strikeouts in his first five innings in the AFL. The 23-year-old Maton, who finished the 2016 season as the playoff closer for Triple-A Pacific Coast League champion El Paso, has allowed one hit with no walks.
The 6-foot-3, 220-pound Maton was the Padres 20th-round pick in the 2015 draft. He pitched for three teams during the 2016 regular season -- Single-A Fort Wayne, Lake Elsinore and El Paso 0- posting a combined 1.74 ERA over 51 2/3 innings in 38 appearances. He had 78 strikeouts during the regular season against 11 walks and went 5-3 with 11 saves in 13 chances. In the PCL playoffs, Maton appeared in four games allowing no runs on three hits with five strikeouts in 4 1/3 innings. He also had four saves.
Franchy Cordero and Michael Gettys are sharing center field for the Javelinas. Gettys, who turned 21 on Oct. 22, is hitting .229 (8-for-35) with three doubles, a homer, two steals and six runs scored. Cordero, 22, is hitting .207 (6-for-29) with a double, five runs scored and four RBIs.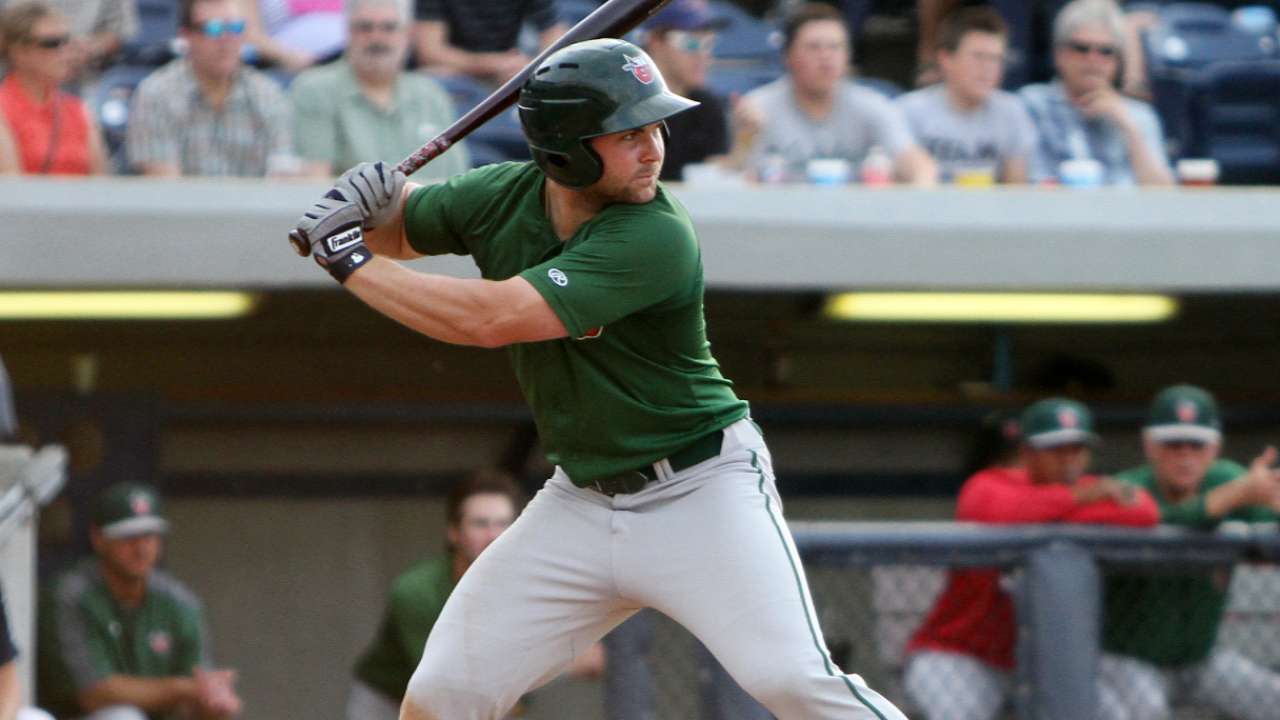 Three other Padres relief prospects have also pitched well in the AFL.
Right-hander Jason Jester has allowed a run on five hits and three walks with six strikeouts over six innings for a 1.50 ERA. He has two saves during the Javelinas' 9-1-2 start. Left-hander Brad Wieck, 25, has allowed two runs on four hits and three walks with 10 strikeouts over six innings for a 3.00 ERA. Left-hander Jose Torres, 23, has a 5.40 ERA, allowing two runs on four hits with two walks and three strikeouts in 3 1/3 innings.
Other Padres prospects have started play in the Caribbean Winter Leagues.
Center fielder Manuel Margot is off to a 5-for-17 start (.294) with three doubles, an RBI and a run scored for Este in the Dominican Republic. Second baseman Carlos Asuaje is 3-for-15 with two walks and two RBIs with Escogido. Relievers Frank Garces and Keith Hessler have each worked 1 2/3 scoreless innings in two appearances in the Dominican Republic, which began play last Thursday.
Shortstop Jose Rondon is hitting .243 (9-for-37) with two doubles, two walks, seven runs scored and an RBI for Magallanes in Venezuela. Rondon is leading off with a .333 on-base percentage. Infielder Daniel Bravo is hitting .205 (8-for-39) with six walks, a double, five runs scored and two RBIs for Aragua in Venezuela.
Infielder Fernando Perez is 3-for-9 with two walks and a run scored for Hermosillo in the Mexican Pacific League.