Lofton's first pitch gets World Series underway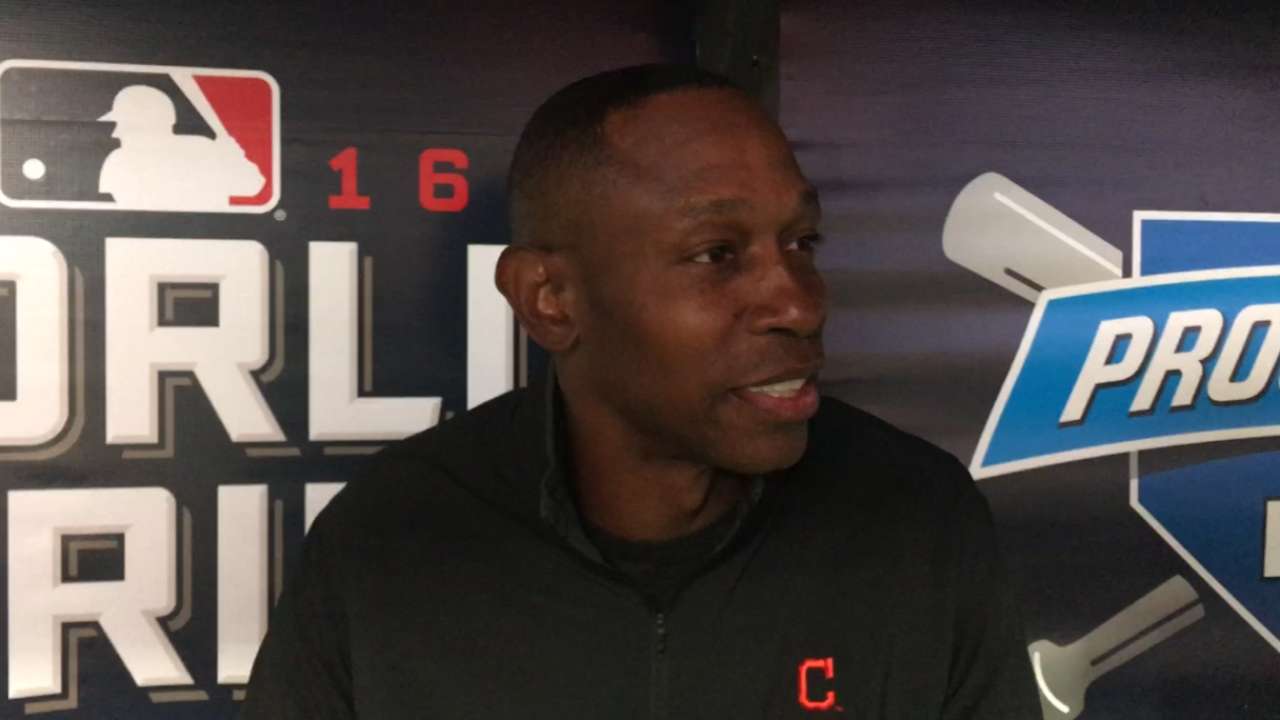 CLEVELAND -- Kenny Lofton, a member of the Cleveland Indians Hall of Fame, the Tribe's 1995 American League championship team and the 2003 Cubs squad that reached the National League Championship Series, threw out the first pitch prior to the Indians' 6-0 win over the Cubs in Game 1 of the 2016 World Series at Progressive Field on Tuesday night. Lofton paused to take a selfie on the mound before tossing a strike to Indians catcher Yan Gomes.
"I'm very excited," Lofton said pregame. "It's awesome to be a part of it and have the opportunity. It's an historic moment between the Cubs and the Indians with some history behind them winning the World Series. So to be here to kick it off is awesome."
• Game 2: Tonight, 7 ET game time on FOX (6 ET pregame show on FS1)
Lofton's trip to Cleveland was an eventful one. He was booked on a flight from Los Angeles to Houston and was going to continue to Cleveland from there. However, when he got to the airport, he ended up in line for the wrong red-eye.
"It wasn't going through Houston, it was going right to Cleveland," he explains. "And I said, 'Oh no, I have to get out of line.' People were calling my name, asking for autographs, and I said, 'I have to go. I can't get on this flight. I have to get to the other flight.'"
• Shop for World Series gear: Cubs | Indians
Lifelong Indians fan Ken Kostal, who owns Big Boppers restaurant in Marblehead, Ohio, was also in line for the flight. He promptly volunteered to give up his seat for Lofton.
"He said, 'I want you to have this seat. I want you to be able to make it,'" Lofton said. "He said, 'I don't want you to miss the first pitch of this historic series.' It is a great story."
The game ball was delivered to the mound by Boys & Girls Clubs of America National Youth of the Year Jocelyn Woods, 18, from the Boys & Girls Clubs of Silicon Valley in San Jose, Calif. She was accompanied by former Indians manager Mike Hargrove, who led the club to their last two World Series appearances, in 1995 and '97. Woods is a freshman journalism student at the University of Southern California.
Thanks to a kind fan, @Kenny_Lofton7 didn't get stranded at the airport.

Instead, he took a first pitch selfie: https://t.co/Lw5e01733n pic.twitter.com/gUWOd3au8X

— Cut4 (@Cut4) October 26, 2016
The national anthem was sung by pop star Rachel Platten, who also performed at the 2016 MLB All-Star Game at Petco Park in San Diego. During her World Series performance, a large United States flag was held in the outfield by Cleveland Metropolitan School District students. Despite Platten's previous ballpark experience, she was nervous.
"At first, it was totally nerve-wracking," she said. "Then I breathed and looked around and I was like, 'This is an amazing experience.'"
Platten was born in New York City but is a Red Sox fan.
"As a longtime Red Sox fan, I can feel for both teams deeply," she said. "I know what it's like to not have won the World Series for a long time and to be wanting it hard. I am rooting for both of them."
Lindsay Berra and Alyson Footer are reporters for MLB.com. This story was not subject to the approval of Major League Baseball or its clubs.