MLB.com Columnist
Jim Callis
Rockies in AFL: McMahon's growth continues
MLB Pipeline checks in on Colorado's prospects participating in the Arizona Fall League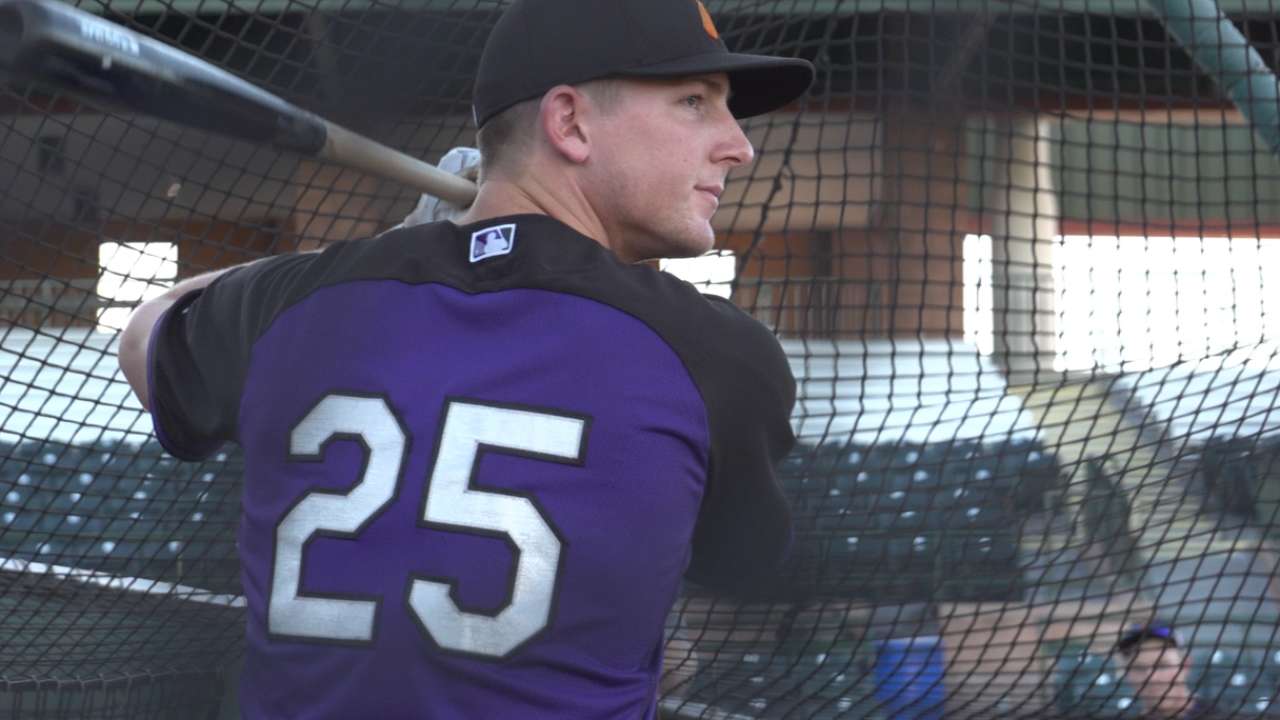 Ryan McMahon breezed through his first three years in pro ball. He batted a combined .297/.372/.524 and led the Class A Advanced California League with 43 doubles as a 20-year-old in 2015. There was no reason to think he would struggle in Double-A this year.
But struggle he did. The Rockies corner infielder hit just .242/.325/.399 with 161 strikeouts at Hartford, spending the much of the season on the road with a franchise that lacked a home ballpark for several months. Now he's regrouping in the Arizona Fall League with the Salt River Rafters.
• Complete Arizona Fall League Coverage
McMahon takes a glass-half-full perspective on his 2016 performance. He believes in the long run that it will be better for him to have faced adversity for the first time on the way to Colorado, rather than after he gets there.
• Rockies Top 30 Prospects list
"It's kind of a reality check," McMahon said. "As soon as you think you have this game figured out, it humbles you right away. So I'm glad it happened there instead of in the big leagues. I'm glad I can learn from it and bounce back."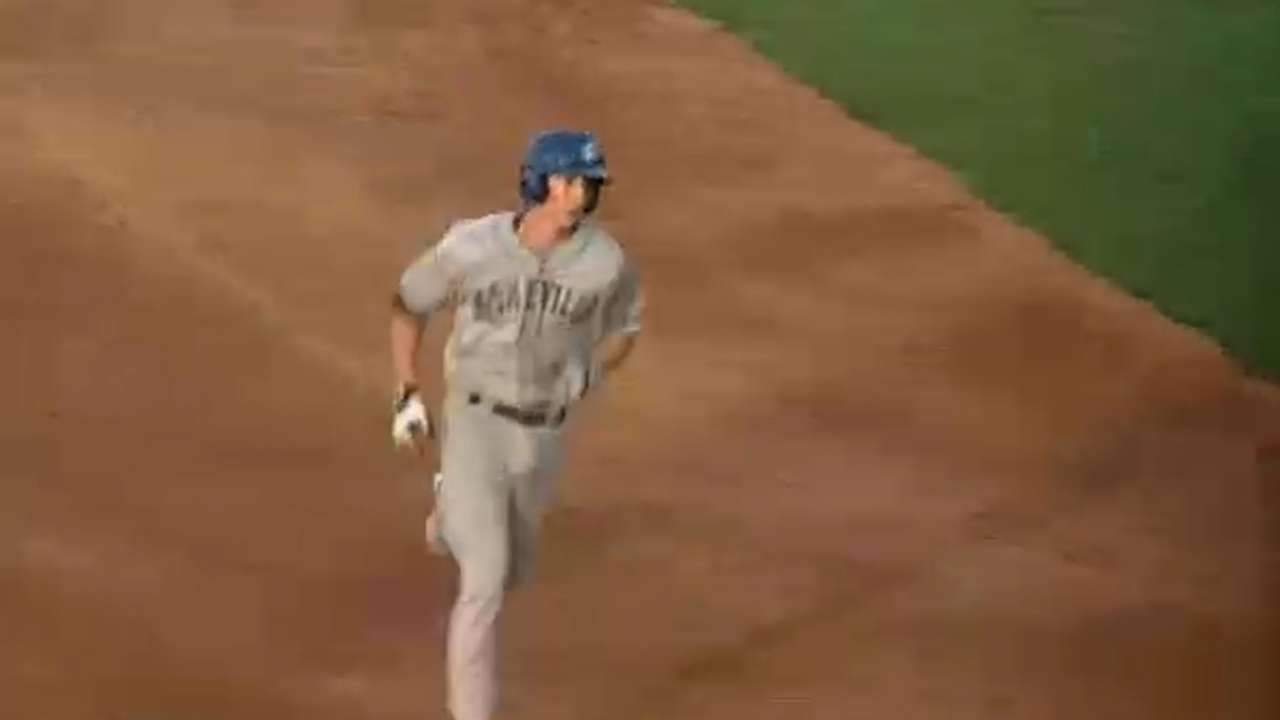 Double-A pitchers forced McMahon to make adjustments, and he finished the season on a strong note. He hit .263/.347/.450 after the All-Star break as one of the Eastern League's youngest regulars at age 21.
"Double-A is a big jump," McMahon said. "The game's a lot more mature up there, so you got to grow up with it. That's basically what happened this whole last year. I was a little bit immature on the side of the baseball stuff, so I grew up a lot, learned a lot. Great coaches, great teammates around me that helped me kind of grow up in the game. I'm pretty excited to play here in the Fall League and then jump into next season."
McMahon has continued his resurgence in the AFL, as he hit .286/.412/.357 in his first eight games. He has the bat speed and loft to generate power to all fields, and he has the smooth left-handed stroke and the patience to hit for average if he can cut down on his strikeouts.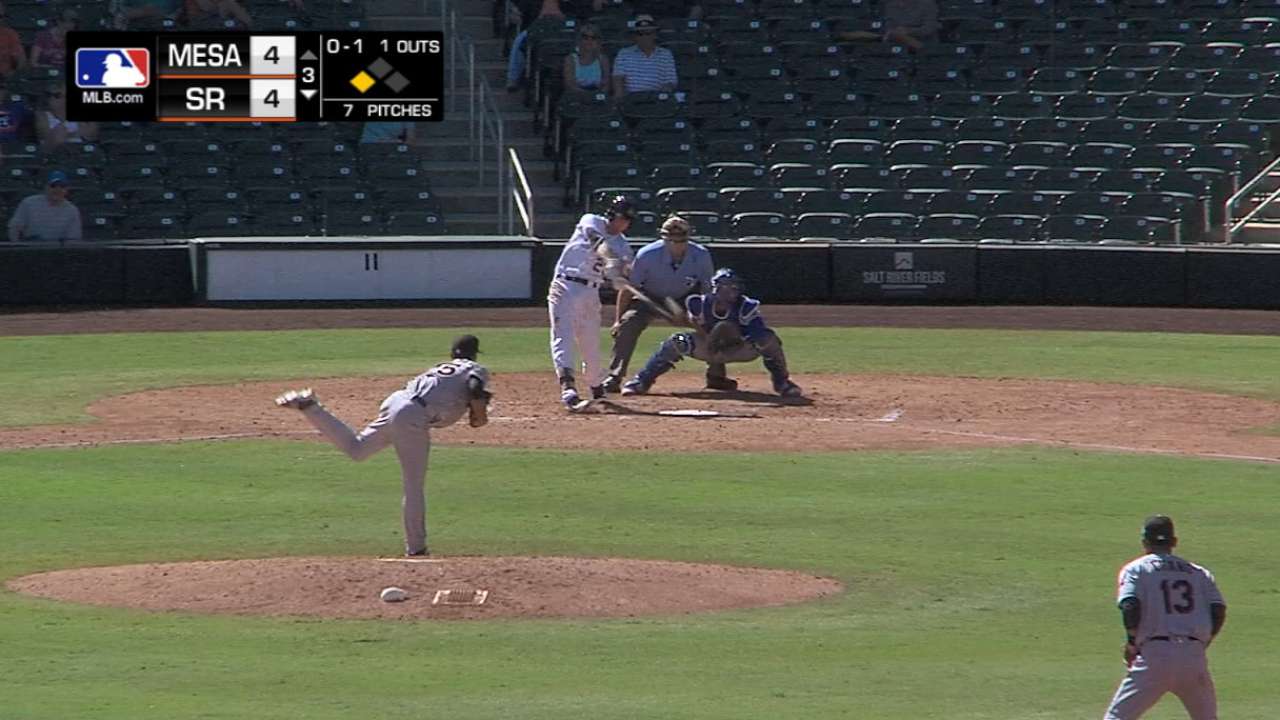 A second-round pick in 2013, McMahon also was a star quarterback at Mater Dei High (Santa Ana, Calif.), following in a tradition of Monarchs passers that includes Heisman Trophy winners John Huarte and Matt Leinart and college standouts Colt Brennan and Matt Barkley. He has the arm and athleticism to be an asset at third base, but he also has been error-prone and is blocked at the hot corner with the Rockies by Nolan Arenado.
As a result, McMahon split his time between first and third base in Double-A. He has focused on playing first base with Scottsdale, playing six of his first eight games there and the other two at DH. He says he has been glad to add to his versatility by getting time on the other corner of the infield.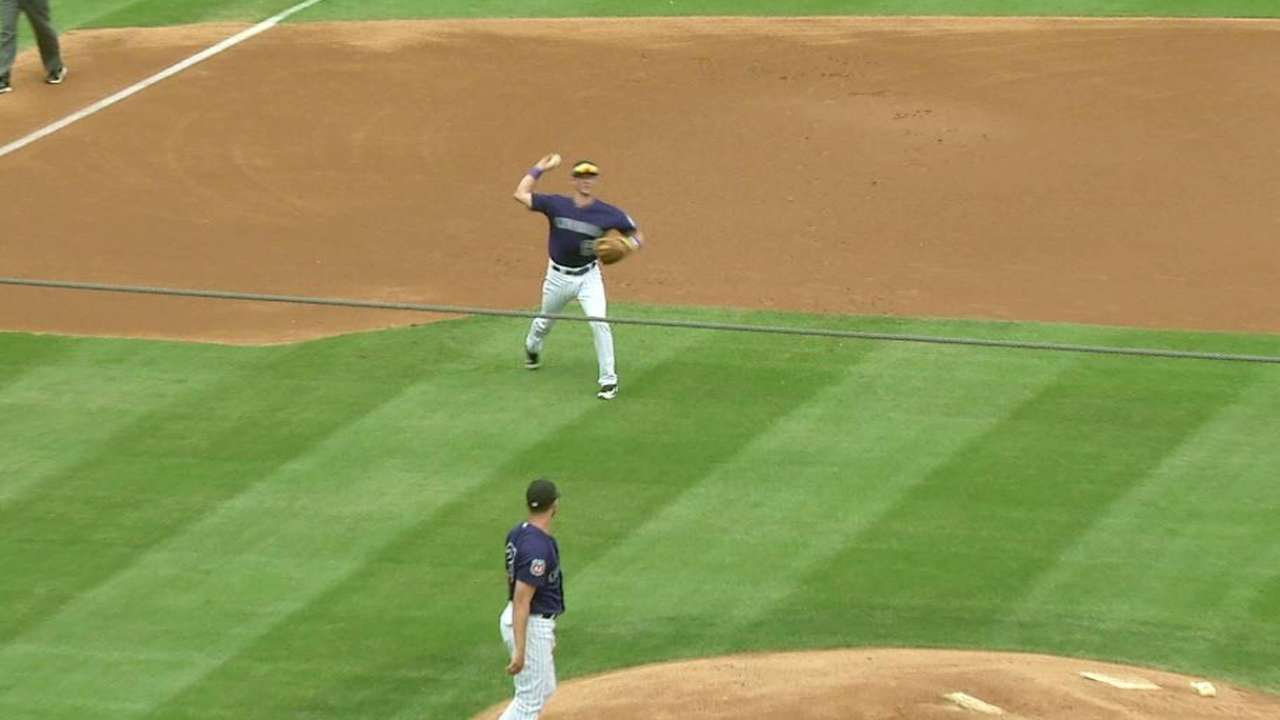 "It was definitely different -- different spin, different side of the diamond, but it's fun," McMahon said. "I enjoyed it, I enjoyed learning it and I enjoy playing both. Whatever they need. I love third. Third is my favorite position, so I'm glad they haven't totally pulled the plug on that."
Rockies hitters in the Fall League
Noel Cuevas, OF
Pat Valaika, INF
A Dodgers 21st-round pick out of a Puerto Rican junior college in 2010, Cuevas came to the Rockies in December 2014 as the player to be named in a trade for Juan Nicasio. Speed is his most reliable tool, and he hit .296/.331/.414 with eight steals in 94 games between Double-A and Triple-A this year.
Valaika became the second member of his family, following his brother Chris, to play in the big leagues when he made his debut this September. Part of UCLA's College World Series championship club in 2013, when he was a ninth-round pick, he's a utility type who sticks out most with his versatility. He batted .257/.297/.425 with 14 homers in 136 games between Double-A and Triple-A before his callup.
Rockies pitchers in the Fall League
Shane Carle, RHP
Rayan Gonzalez, RHP
Zach Jemiola, RHP
Jerry Vasto, LHP
Carle got torched as a starter (5.70 ERA) but found more success as a reliever (3.60 ERA) in Triple-A this season, in part because his fastball peaked at 98 mph and his slider was sharper in shorter stints. A 10th-round pick by the Pirates out of Long Beach State in 2013, he got traded to Colorado for Rob Scahill the following year.
A 21st-rounder from Bethune-Cookman in 2012, Gonzalez has used a sinking and cutting 92-95 mph fastball and a deep curveball to generate a lot of strikeouts and groundouts since turning pro. After a rough 2015 in Class A Advanced, the reliever rebounded in Double-A this season with a 3.12 ERA and 49 whiff in 52 innings.
A starter with a low-90s sinker and a nifty changeup, Jemiola was a ninth-round pick in 2012 as a California high schooler. He spent 2016 in Double-A, going 8-10, 4.39 with a 92/46 strikeout-to-walk ratio in 162 innings.
Vasto has had little trouble in pro ball since signing as 24th-round redshirt junior out of Felician (N.J.) in 2014. Using a 92-95 mph fastball and a hard slider, he posted a 2.26 ERA with 70 strikeouts in 55 2/3 innings between Class A Advanced and Double-A this year.
Jim Callis is a reporter for MLB.com. Follow @jimcallisMLB on Twitter. This story was not subject to the approval of Major League Baseball or its clubs.