Demeritte's heads-up play wins it for Salt River
Braves' No. 9 prospect helps force balk in final frame in Fall League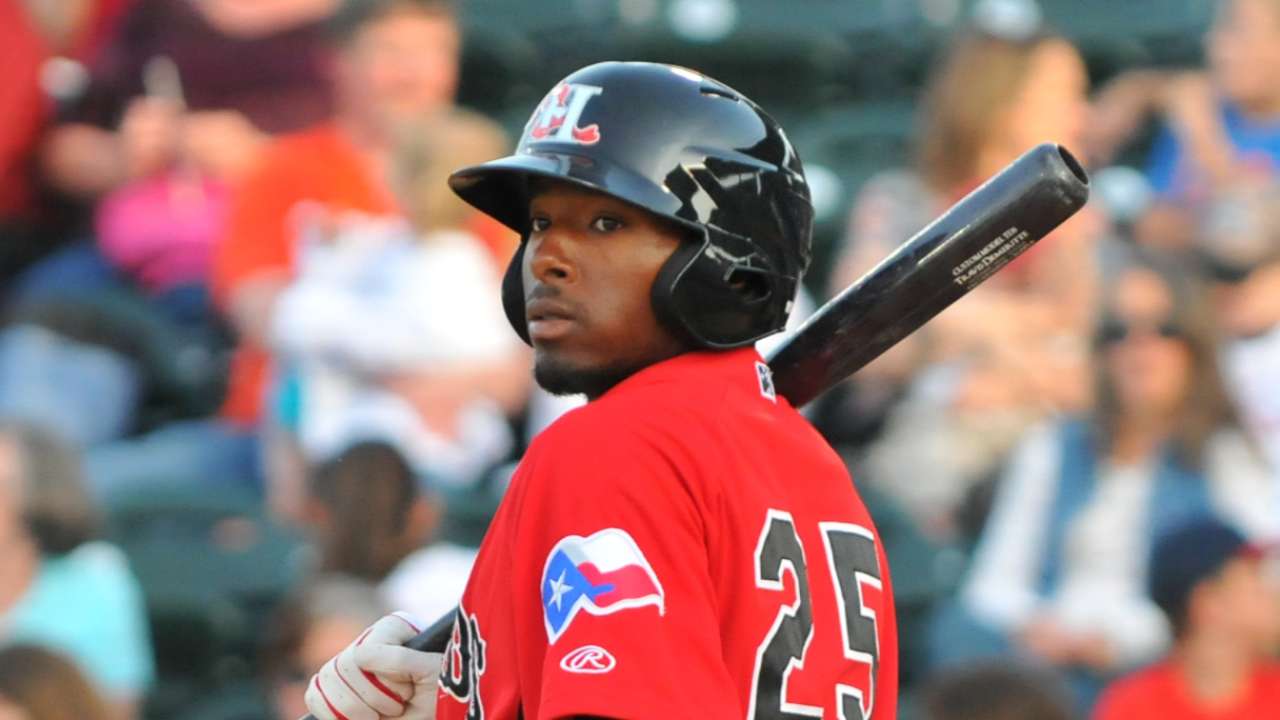 SCOTTSDALE, Ariz. -- Travis Demeritte extended his AFL hitting streak to six games and scored the tying run in the seventh, but it was his awareness in the ninth that stood out as Salt River completed its comeback win in unusual fashion.
Standing on second base after being intentionally walked and then advancing on a ground-ball out, Demeritte saw Jarlin Garcia (Marlins) flinch and instantly jumped, pointed and yelled "balk." The balk forced in a run and Salt River came away with a 7-6 win over Mesa at Salt River Fields.
"I was involved in one this year, which is pretty funny," the Braves' No. 9 prospect said of the walk-off balk. "But in this circumstance, this league, I didn't think I'd see one. It's pretty funny that the game ended this way."
Demeritte, who finished 2-for-4 with a stolen base and a run scored, hit .266 in 123 games this season across two organizations.
"Very happy with my season," the 22-year-old said. "I can always get better, that's why I'm here, to get better and work on some things. Overall, I was pretty happy with the season I had and I'm looking forward to building on that in 2017."
After spending the first four seasons of his career in the Rangers' organization, the Georgia native had to quickly adapt to new surroundings after he was traded to the Braves on July 27.
"It was difficult," Demeritte said. "The camaraderie I had with those guys and that organization, the familiarity. Just being around them my first four years, I was 18 when I got drafted, so it was a pretty [strange] feeling to have to leave home and then come home. It was pretty drastic, but I feel like I've made the transition pretty smooth and the team has welcomed me with open arms."
The Rafters came away with the win, but it was far from easy. Mesa took a 2-0 lead in the top of the first and led for the vast majority of the game, except when the Rafters briefly tied it up in the fourth and seventh.
Oakland's top prospect Franklin Barreto (No. 42 overall) flashed some speed to lead off the game, beating out an infield single and Yefri Perez (Marlins) followed with a base hit. Then fellow Athletics' prospect Max Schrock (No. 20) drove the ball into the right-center gap, plating both.
Eloy Jimenez (Cubs' No. 2, No. 23 overall) extended Mesa's lead to 4-1 in the third when he crushed a 76 mph slider out to left for a two-run homer, his second of the AFL.
The Midwest League MVP had a massive season, hitting .329 with 14 homers in 112 games for Class A South Bend, but is off to a slow start in the AFL. Through seven games, the 19-year-old is hitting .185.
After scratching across a run on an error and a wild pitch in the second, Salt River put another run on the board in the third as D-Backs' No. 11 prospect Dawel Lugo brought home Brett Phillips (Brewers' No. 7) with an RBI single.
After already tying the game twice, Salt River came into the ninth needing one run to extend the game.
Kevin Cron (D-backs) led off with a single and advanced to second after Christin Stewart (Tigers' No. 3) walked. Phillips, who drove in a run with a sacrifice fly earlier in the game, moved the runners over with a sacrifice bunt and after the game-tying run scored on a fielder's choice, it promptly ended when Stewart scored on Garcia's balk.
"We battled," Demeritte said. "We've been battling since the first game. This team has proven to be resilient and we've got a bunch of guys who know how to grind out at-bats and get the job done. It's awesome to see us come back and tie the game up. This game just showed how resilient we are."
William Boor is a reporter for MLB.com. Follow him on Twitter at @wboor. This story was not subject to the approval of Major League Baseball or its clubs.