Oct. 25 Jake Arrieta pregame interview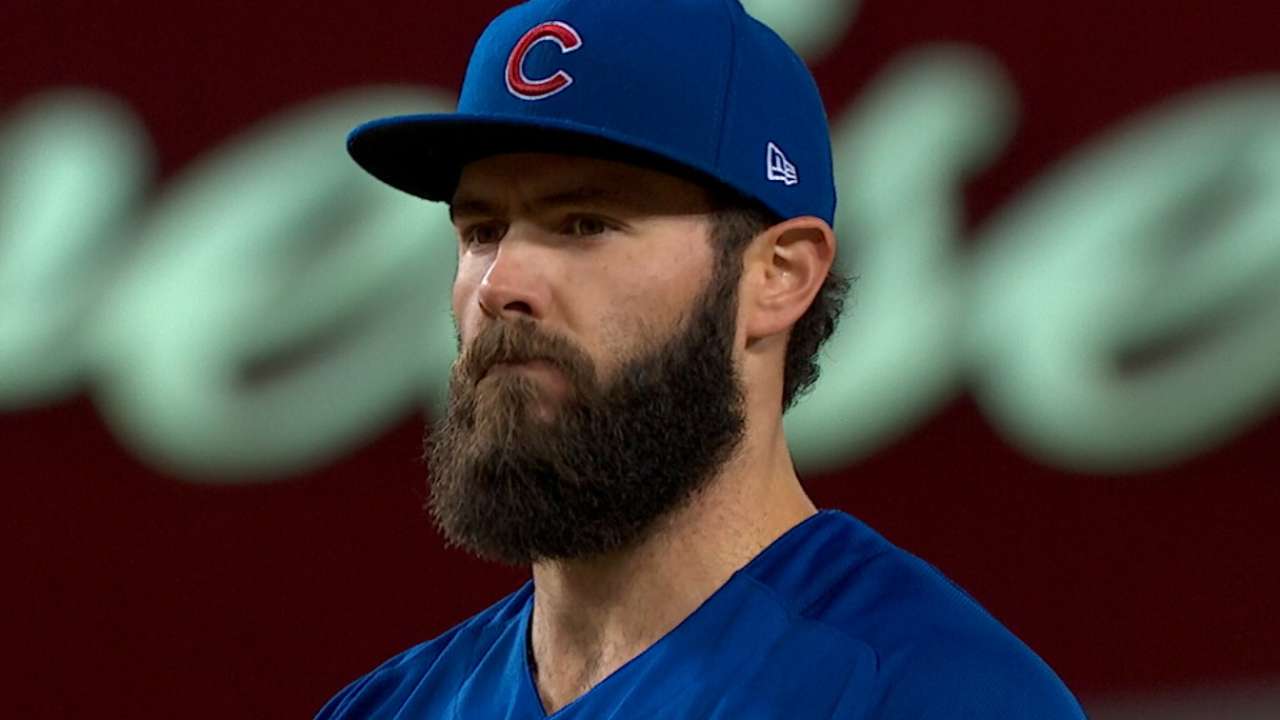 Q. Jake, can you give us a glimpse into what you saw from Kyle Schwarber as he went through rehab? How did you see his work ethic?
JAKE ARRIETA: Well, I tell you what, he's one of the hardest working kids I've ever been around. With the circumstances of the injury, you know, none of us really thought that we'd see him in play until Spring Training or maybe get some work in somewhere in the fall to get some at-bats and to get his baseball skills kind of back in order. I saw him in and out of the gym three, four, five hours a day with our trainers, doing everything he physically could to get to this point.
So we all knew that he was in the Fall League getting some at-bats, and I saw him hit a double the other day and actually slide into second base, and he feels good. So that's a great sign for us. To have that bat as an option in the DH spot throughout this series is a really big boost for us.
Q. This is obviously the biggest of the big stages. How excited are you personally to pitch in a World Series game come tomorrow night?
JAKE ARRIETA: Well, it's why you play the whole season. To hopefully be in this position to be one of the last two teams standing with an opportunity to win a World Series for your organization, your city, for your team, friends and family. So it means a ton. You know, there's only two of 30 even get these opportunities. Not many players -- there are some players that go their whole career without being able to get to the postseason. So we're all very fortunate.
We worked extremely hard to get to this point, and now we're in a spot where we want to enjoy it as much as we can. We've worked extremely hard, and now it's time to go out there, have some fun and try to win four ballgames.
Q. You've gone through several playoff series now in your career. Do you get better at preparing for them, experiencing them, going through them? And if so, what is it that you learn from one series to the next about the experience?
JAKE ARRIETA: Well, I think what you really learn with the more experience you get in the postseason is the finer details, controlling the running game, not allowing mental mistakes to -- not allowing your opponent to capitalize on your mental mistakes. Because, obviously at this point in the season, the team that makes the fewest mistakes typically wins the ballgames.
So I think that's really the biggest takeaway for me over the past couple years is limiting walks, controlling the running game, getting bunts down in situations where it's necessary for us to do things like that, and play fundamentally sound baseball on the field. Not make any errors, and trying to not have to make our pitchers throw more pitches than they need to. Obviously from my perspective, I want to get our defense in the dugout as fast as possible. So trying to work quickly, not allow my defense to sit back on their heels.
But like I said, the mental mistakes is really, I think, what is the turning point in a series like this.
Q. Obviously you do a lot of video work in preparation for these games, but having not played the Indians in over a year, do you watch tonight's game differently than you watch a normal game in the dugout knowing you're pitching the next day?
JAKE ARRIETA: Well, with Jon on the mound, it's obviously a different look than I will be tomorrow night. So there are some things that I'll watch for, but it's kind of two different attacks. Being left-handed with his arsenal, he'll attack them significantly different than I will tomorrow night. But we've got such great scouting and our advance reports are done extremely well by Mike Borzello, Chris Bosio, Lester Strode. These guys put a ton of time and effort, and we trust them. So we'll watch some tape, but they put in, you know, tons of hours beforehand leading up to a series like this to prepare us for this situation.
So I will watch the game a little bit differently, but like I said, with Lester being out there tonight, his attack's going to be a little different than mine tomorrow.
Q. I know that you guys have been watching Kyle all year, but it seems like kind of a big ask for a guy to come in cold like that who hasn't hit Major League pitching in six months. The faith you guys have in him, despite that, where does that come from? Because it seems, like I said, a tough task for somebody to do to hit Major League pitching after that long.
JAKE ARRIETA: Yeah, it is. You're right about that. But I think Kyle's a little different, and I think everybody sees it. We're around him seven, eight hours a day. We see the focus, and physically, if he's ready to go, which he obviously is, nobody doubts his ability to go up there. Even without seeing Major League pitching of this caliber for a while, we're still confident he can go out there and produce. We don't expect him to go 3-for-3 with three homers, but I know that he's going to put up really nice at-bats, make the guy on the hill work, and help us win a game.