Oct. 25 Joe Maddon pregame interview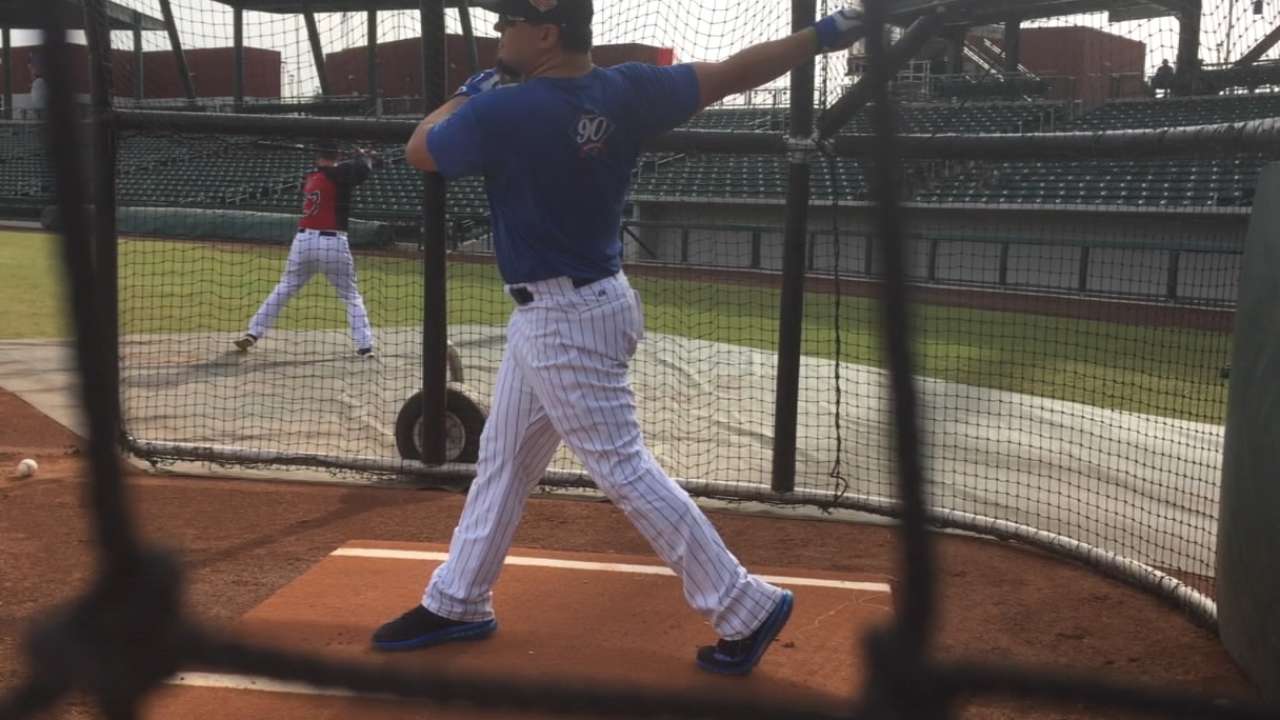 Q. You managed a low-payroll team to the World Series back in 2008 and now you have a high-payroll team playing against a low-payroll team. Do you think a low-payroll team can use that as additional motivation?
JOE MADDON: I don't think when you get to this point you're really worried about it. I never did that with the Reys. It was just kind of interesting the David and Goliath kind of mental concept. But when you actually get out there, you don't obviously think about any of that. I think it makes for a good writing right now and of course there is that conjecture, the thought that a lower-payroll team could beat a higher-payroll team, which is of course true, and we knew that all the time back in the day in Tampa Bay.
So it's an interesting narrative. It's just the way it is right now. Give Cleveland a lot of credit. Regardless of how much money they spent, they have a really nice team on the field and an outstanding bullpen. They're just moving forward.
Yes, I've had a chance to work under both set of circumstances, and it's interesting in both cases. I think there's a little bit more creativity, possibly, that you have to draw on, however, like even this year, we were missing Strop and Rondon for a long period of time, Schwarber the entire season. We went through that period before the break, 24 straight games and guys got tired. There's always adversity, I don't care if you're getting paid a lot or not. It's just, I think there's more creativity involved with the group, and that's the group I think where the Sabermetrical components are really important, too, where you attempt to unearth players that really are not obviously talented in a sense. Velocity ball off the bat was a big thing back then. You looked for the guy that did that in the Minor Leagues and Triple-A that nobody knew about. Logan Forsythe is a classic example of a guy that really has come on in the last couple years. That guy can hit the ball hard without any luck for a long time in Tampa Bay. So you're able to utilize those tools, I think, in a sense for acquisitions, and eventually you'll end up in a World Series, like Cleveland is right now.
Q. Could you share the thought process on Coghlan over Heyward, and also if you gave any thought to Baez ahead of Schwarber instead of Schwarber ahead of Baez?
JOE MADDON: Yeah, it was primarily obviously Jason's been struggling at plate, that's it. I love having this guy on the field. He's one of the best professional athletes I've ever been around. For right now in a short period of time, I just thought CC might have a better chance tonight to move the baseball offensively and help us grab a lead, and then put Jeyward in the game in the latter part of the game.
So that's it. I mean, there's nothing really complicated about it. It's obvious that Jason's been struggling a bit, but having so much faith and confidence in this fella, we just want to continue to work. And this doesn't mean it's going to look like this for tomorrow. This is just for today, for sure.
I just like Schwarber there. If it were a left-handed pitcher, obviously, Schwarber probably wouldn't be there at all. But being that Kluber's left-handed -- if you look at it, there are a lot of numbers that are very close versus righties and lefties with Kluber when it comes it down to OPS, like they're not hopefully disparate, but they're rather close. But knowing Javy and what Kluber looks like, Schwarbs, I really think the game's not going to be too fast for him tonight. That was my big -- the one item I thought about the most that I thought was more comfortable with me putting him in the five hole is, I don't think it's going to be quick for him. I don't think so. We're going to find out. If you make a mistake against him the way the wind's blowing, it could go far to right field. But just give him a shot.
I have a lot of faith in the guy. I don't know. I guess he talked up here earlier, and I'm certain that he came across the right way. He's definitely not afraid, and he definitely feels as though he's ready. I watched the videos. I know that the easy dialogue there is that he has not played in a bit and why would you do this? But we have a lot of faith in him. And I looked at the swing and everything, and it looked normal. Furthermore, he's running well. He's running really well. So I don't think that's going to be a concern.
Q. When you look at some of the former players you've seen around Wrigley Field in the last couple years, the Kerry Woods, the Billy Williams, et cetera, how noticeable has their presence been, and how good has it been to see them sharing in this with you guys?
JOE MADDON: Love it. Billy just came in and said hi to me. I did not know that Billy was going to be here today, and that was really nice. Ryan Dempster just walked in. Kerry's been around all the time. Ryne Sandberg, the whole group. I saw Andre Dawson was here recently. They're all coming back, and I love that. I love that part of it. We encourage it. I want them to come to Spring Training. I want them to hang out. I want them to always feel comfortable. I really do.
For them to walk among our players, just not to teach them anything, just to say hi and support, that means a lot, I think. And our guys are veteran guys that come back, do it the right way. They're really outstanding people.
So I love it, and I just got done talking to Billy, and I was very impressed that Billy showed up to see us play today.
Q. You were there at the beginning of the Ben Zobrist immersion here. How would you describe his ascension into this now veteran guy, the big contract, the World Series ring, what he's done and how his career has developed?
JOE MADDON: Yeah, he's really comfortable. You've always known him to be comfortable in his own skin. He's always been his own man. My first thought is how he got to this point when we kind of made him into this super utility guy, and how he embraced that role. Because always for Ben, it's always been about winning. He has never -- so many times we sent him back to Triple-A, and he would leave, walk out, shake hands and say, "Listen, I wish you the guys the best. I want to be here when we win." That's what he would say as he was walking out the door. Eventually he turns into an All-Star player.
Right now, he's such a calming influence because he doesn't get excited. You watch his at-bats, they are absolutely the same all the time, and I think you look at the ascension like of a Baez as an example or Addison, I know they're watching him. They watch how he's never in trouble at the plate. Two strikes don't bother him. He accepts his walks. I anticipate over the next couple years you'll see our young guys working those same kind of at-bats.
Now defensively, how about right now he's in left field. He came here to play a lot of second base. He sees what Javy's doing. He understands. He goes out there and you watch him take his extra work out there. The one game he threw somebody out at the plate at home, and nobody even talked about that. But that was such a big play in that game last week.
His foot work is perfect. His arm is fine. He does everything right. So he's just wherever you ask him to go, you watch, he will work at it. He'll have Davey out there hitting him extra ground balls. If the wall is funny, he'll hit the ball off the wall a couple times for him to check it out. He prepares. He absolutely prepares. He's a great influence on everybody out there. That's his Benjamin. He does everything properly and well.
Q. I know you have paired Miggy and Jake all throughout the playoffs, but any consideration with Cleveland's strong running game of maybe using Willie tomorrow?
JOE MADDON: We are considering it. We haven't decided fully yet, but we are considering that.
You're right, again, the facts are facts. They do run, and Willson is one of the best young throwers in the game right now. You have to balance out how comfortable you think Jake's going to be throwing to him versus Miggy. So we've got to consider all these different thoughts or ideas.
But at the end of the day, they are good as baserunners and we are good at preventing that when everything is in place. So we are considering that right now.
Q. Can Schwarber play defense in this series?
JOE MADDON: I don't know. We're not planning on it, but then here's my thought: I mean, watch him the next two nights and see how he moves. Recovery's going to be really important also. How do you feel the next day?
Regardless of how much you practice and attempt to simulate a regular game in practice, you cannot. You cannot. That quick movement, that sudden burst that you derive in a game, you cannot simulate that in a practice. It's impossible. So I think it's really important to get him through these next two nights and then find out where he's at. I think, hopefully him getting on base and watching him move around the bases will give somewhat of an idea what we think we can or cannot do. So not counting on it, but keeping an open mind.
Q. Joe, given the fanfare and the size of contract that Heyward signed with you guys, do you think that weighed on him at all through this season with his struggles or even coming into this postseason? How have you talked to him or sold him on how he can impact this series and contribute, even if he's not offensively right?
JOE MADDON: Well, we've talked all year. Listen, he's wonderful. He's absolutely wonderful. We've had a lot of conversations during the course of the season, whether it's just in general terms you're talking about right now, or specifically about hitting or specifically about hitting through our hitting coaches. I have not just sat him down specifically yet. We're going to talk about all this, he and I, just been busy. But he's been fine. He always handles everything well.
The contract specifically, I think human nature sometimes you're going to see that happening. I think you could actually make an argument for other guys that have signed in the past. Things maybe in the first year don't go exactly according to plan. However, I really feel strongly that they will with him. I do.
He's an incredibly wonderful young man, and he's very strong mentally. He just has some things to work out, honestly, from the offensive side with his swing. I'm not saying anything new to you guys, but that's what comes next. The off-season's going to be really important for him. But over the course of this next week, I'm certain he's going to do something to help us win this whole thing.
Q. With the Schwarber decision, was it just a matter of you and Theo looking at the video? Was it a long discussion afterwards? Was there a lot of back and forth? Was it pretty easy watching his at-bats down there?
JOE MADDON: Pretty easy. Yeah, the biggest thing was health. First of all, the biggest thing was doctors saying he can do this. That was the biggest thing. Was not anticipating that. Doctor says, it's incredible, but he's at this point, yes, he's cleared to it. Did not know that was going to occur. So once you get that information, then you research and you watch him.
Now the biggest thing, obviously, even more than hitting a fastball tonight would be how do you react to off-speed pitches. And not to hit the off-speed pitch, to take the one that's a ball. That's probably the most important thing that he'll be able to do tonight is to know when to not swing. Because if the ball's in the area where he's ready to hit, he's going to do some damage with that, there is no doubt.
So we thought that everything looked right. The doctor said he has no problem with his leg whatsoever. Then you watch him run. We watched him run and slide on a video. If you did not know this guy was straight, you would never have guessed he was hurt. He was that normal. Again, I'm eager to watch it, too, again tonight. And like I'm saying, moving forward if in fact it looks smooth and good, and he comes back and says, "I don't feel a thing. It feels normal." Who knows, we may attempt to do something more. But I can't tell you that for sure right now.
Q. When runners are taking 20-plus foot leads, is there a way to stop the running game?
JOE MADDON: Yeah.
Q. How?
JOE MADDON: Well, I can't tell you the whole thing. I mean, we did okay -- this season, I think there's been a 15-base drop off from last year with Jonny, stolen base. Something around 15 less than there was last year. A large part of a guy stealing a base -- well, okay, if the guy's like a premiere base stealer that really can go, it's probably almost impossible to stop him. I agree with that. It's the situational guys. So the premiere guys, you really just want to hopefully prevent them from getting to first base at all. That is number one priority. Then there's the situational guys. Situational guys are going to be uncomfortable because to get out that far and if we do something on our side, then you could be out both ways, whether you go or try to get back to the base and be picked off. People don't even talk about that. When you get to that area, too far off, you're definitely in pickoff land, too. So if we do something right on end, we're going to put you in a bad spot there, and David's done a great job of that all year.
The premiere guys that can really run that are actual basestealers, probably almost, I don't know, we might have a 10% chance at best of throwing them out. But the situational dudes, I think we have as good of a chance as anybody else does, based on what we're able to do.
So tonight, priority, probably keep Davis off base. No big secret, keep Lindor off base. But I would say any team would prefer doing that when they're playing against the Indians.
But, again, we have some things we're attempting to do tonight. It will be fun to watch. We're going to see if it works. But, again, the primary emphasis is don't let those guys get on base.
Q. I'm going to throw one more Schwarber question at you: We all know the physical challenges he's faced this year. What is it about his mental make-up that makes you think that this guy after missing the whole year can step in today and keep his head about him? It's not like he's a ten-year veteran at this point.
JOE MADDON: He's missed the entire year physically, but he has not missed the entire year mentally. He's been doing everything. He's been to all the meetings, the pitcher-catcher meetings. He's been studying video all year. He looks at data. He does everything that we always do when we're at home. He's not been on the road the whole time, but he has not taken the year off mentally by any means. I'm a big believer in visualization and of course the mental side of this thing.
So right now he is behind physically in the sense that he hasn't seen a lot of pitches come at him. But he has been there every minute, every second of the season with us. So I have a lot of faith in that part of him. When you hear the guy talk, he came in and talked to me before, it's like he was not really concerned. "I'm fine. Believe me, I'm fine. I'm good. I'm not going to hold back." He's telling me these things by the office over there a couple minutes ago. And I said, "For me just a little bit in the back of your mind just a little bit caution in the back of your mind today." That was it.
But we're going to find out. I have a lot of faith in him. I think, again, in some perverse way at times when you're laid off that long and the adrenaline's going to be flowing as much as it is, and just knowing this fella how he is, I'm betting the ball's not too quick, and I'm betting the ball looks really big to him tonight. I'm going to ask him that question after the game.
Q. Just a quick follow-up on Schwarber possibly playing defense. If he was medically cleared, obviously to hit, but does he need to be medically cleared to play defense or is that another hurdle?
JOE MADDON: It wasn't really described to me that way. He's mentally -- he's been cleared to play offensively, which includes baserunning. The biggest thing on defense would be the possibility of running into somebody else again, which is also there on baserunning. So I don't know the answers exactly, but from what I understand of the answer, I think that there should be no difference between playing defense or running the bases. It would just be a matter of how much he can take maybe being on his feet that long. The next two days, how much cutting is he going to do? Does he get sore at all? Is there no soreness? Those are the kind of things we have to find out before you make that kind of determination.
I'm saying probably not being able to play defense. Probably not, but I want to keep an open mind.