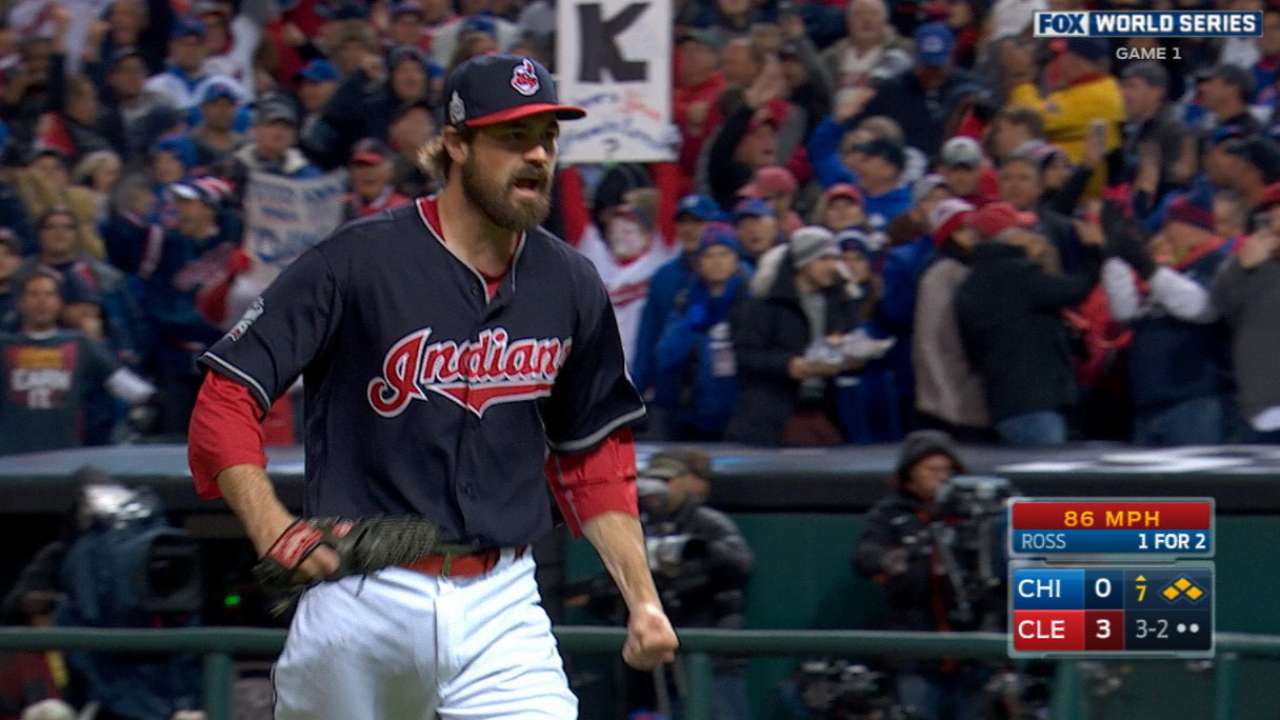 The 112th World Series got underway as the Cubs and Indians began their quests for an elusive title in Game 1 of the Fall Classic, which Cleveland won, 6-0.
And we were on the scene at Progressive Field, taking it all in following the first pitch.
Tribe ace Corey Kluber was off to a brilliant start at his home park opposite National League Championship Series co-MVP Jon Lester, who allowed three runs on six hits over 5 2/3 innings.
• World Series gear: Cubs | Indians
Programming note: With rain in the forecast for northeastern Ohio on Wednesday night, Major League Baseball moved up first pitch of Game 2 to 7:08 p.m. ET, one hour earlier than originally scheduled. Jake Arrieta is set to start for the Cubs against the Indians' Trevor Bauer. Thursday is a scheduled travel day before the Series resumes Friday night in Chicago.
World Series IRL
11:13 p.m. ET: Into and out of trouble
American League Championship Series MVP Andrew Miller relieved Kluber (6+ IP, 4 H, 0 R, 9 K) following a leadoff single in the seventh, and although the Cubs loaded the bases with no outs, the Tribe's relief ace escaped by inducing a popout to shallow center and striking out a pair. The inning-ending strikeout of David Ross was Miller's 23rd this postseason in 12 2/3 innings, and Kyle Schwarber's walk was Miller's third. An inning later, Miller again worked out of a jam, getting Schwarber swinging to leave runners on the corners and keep Chicago scoreless.
10:10 p.m. ET: Whose goat is greatest?
With the Cubs in the house, it has been hard to miss "goat" references around Progressive Field. For example, after the fourth-inning home run by Roberto Perez, the giant scoreboard read: "LONG LIVE THE GOAT." And then there is Nate Crowe's sign. The Indians fan from Streetsboro, Ohio, has been holding up a huge fold-up sign in the Section 114 right-field home run seats, paying homage to Indians third baseman Jose Ramirez with the player's likeness and the message: "OUR GOAT PLAYS THIRD BASE." "Hey, it's Jose Ramirez, why not?" Crowe said. "He's the greatest of all time."
The man we call the GOAT tonight: 3-3 with an RBI in his first #WorldSeries game.#RallyTogether pic.twitter.com/7d8stgwJCj

— Cleveland Indians (@Indians) October 26, 2016
9:57 p.m. ET: Wild scene
A fan at Progressive Field wears a jersey of the character Ricky "Wild Thing" Vaughn from the 1989 comedy "Major League."
9:36 p.m. ET: Schwarber connects, but momentum shifts
Schwarber proved his timing and mechanics are back with a fourth-inning double to the right-center-field gap that fell a few feet shy of a solo home run. A Javier Baez flyout left Schwarber stranded on second, and Cleveland increased its lead to 3-0 a half-inning later with Perez's lined homer to left.
9:08 p.m. ET: Kluber's record-setting start
It didn't take Kluber long to enter the record books, becoming the first pitcher in World Series history to strike out eight batters through the first three innings of a Fall Classic game. The Tribe's ace closed the top of the third with a swinging strikeout of Kris Bryant to seal the record. The overall World Series record is 17 K's, by Bob Gibson in Game 1 of the 1968 Series.
8:36 p.m. ET: Grandpa Rossy's slick grab
Fans reacted with amazement to Ross' catch of a Lonnie Chisenhall foul pop, which left the bases loaded in the bottom of the first inning.
8:30 p.m. ET: Indians strike first
Francisco Lindor singled off Lester with two outs in the bottom of the first inning for the first hit of the World Series. Lindor swiped second base, and walks to Mike Napoli and Carlos Santana loaded the bases for Ramirez, who hit an infield single to drive in the first run. Brandon Guyer was then hit by a pitch for a 2-0 Indians lead.