Twins' Garver goes yard in Fall League win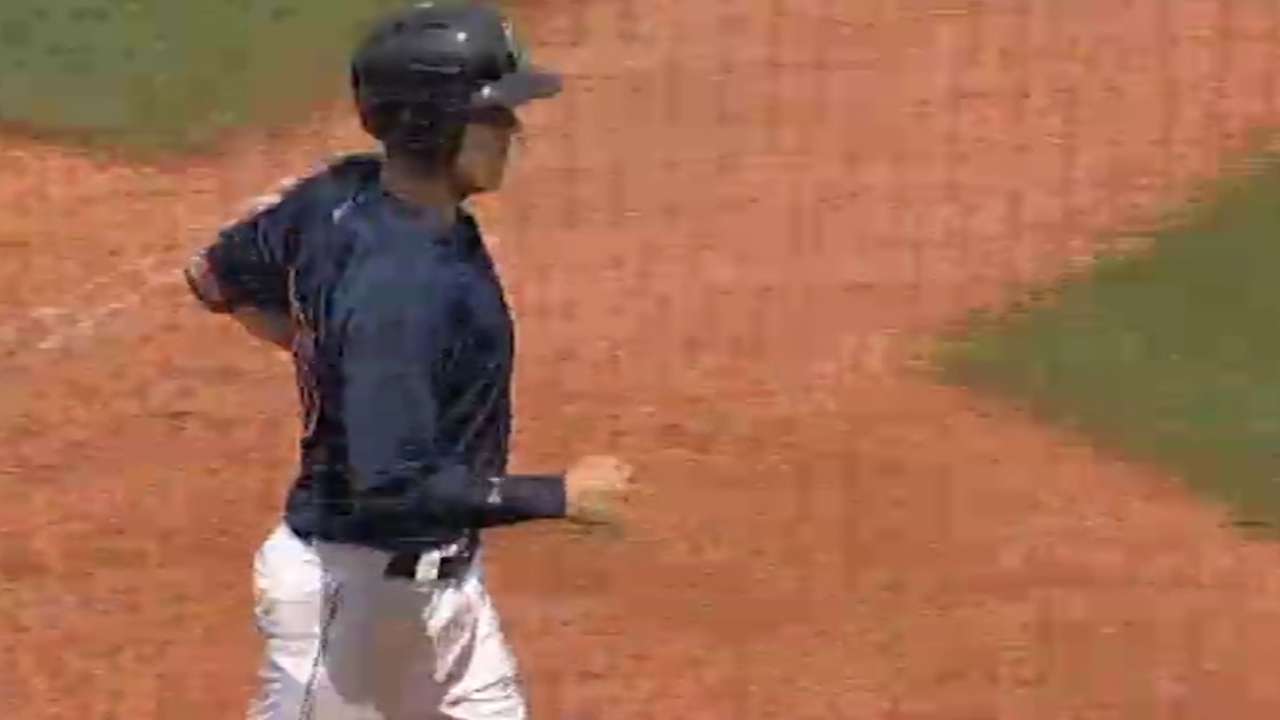 GLENDALE, Ariz. -- It's safe to say Mitch Garver is acclimating well to the Arizona Fall League.
The 25-year-old catcher, who is rated as the No. 24 prospect in the Twins' organization , hit a two-run home run in the fourth inning as his Surprise Saguaros defeated the Glendale Desert Dogs, 4-0, at Camelback Ranch. It was Garver's second home run of the fall, and he co-leads his team with seven RBIs.
"I was looking for something up in the zone," Garver said. "They'd been pitching me inside and I got my hands extended. It was good to get one up in the air."
• Gameday
Garver was selected by the Twins in the ninth round of the 2013 Draft after excelling at the University of New Mexico. Four years into his pro career, things seem like they're starting to click for Garver, who started 2016 at Double-A Chattanooga and hit 11 homers and drove in 66 runs before being promoted to Triple-A Rochester. There, he got even hotter, slashing .329/.381/.434 in 76 at-bats.
"Offensively, I had a pretty good season," Garver said. "I've been working on mostly defense. I've been catching every other day, trying to keep my feet underneath me. I've been working on my throwing and blocking.
"I need to learn how to control a staff if I have any shot to make the team next year. So I'm down here controlling 20 different guys, and it's good to get all those personalities and trying to learn them all."
Garver said the transition to Triple-A was comfortable because he was reunited with his hitting coach from the previous Arizona Fall League season, Chad Allen, and had learned a lot from former big leaguer and Double-A manager Doug Mientkiewicz.
"He helped me a lot this year," Garver said. "He helped me grow as a player."
Otherwise, Tuesday's game was mostly about the starting pitching of Surprise right-hander Reed Garrett, a Rangers farmhand. Garrett tossed four innings of one-hit, shutout baseball, striking out three and outdueling Glendale starter Francis Martes, the Astros' top prospect.
Second baseman Andy Ibanez, the Rangers' No. 2 prospect, got the scoring going right away, singling in a run in the first inning, and the Saguaros tacked on two more in the fourth on Garver's long ball. Surprise added a run in the ninth on a single by Pittburgh designated hitter Jin-De Jhang.
Royals No. 7 prospect Ryan O'Hearn, a first baseman, added two hits and scored a run, and shortstop Mauricio Dubon, Boston's No. 12 prospect, doubled and scored a run. Center fielder Tanner English (Twins) also had two hits for the winning team.
Nationals No. 8 prospect Andrew Stevenson went 1-for-3 for Glendale, as did Cardinals No. 12 Paul DeJong.
Martes gave up three runs on five hits in four innings, striking out three and walking three. His Fall League ERA climbed to 7.27.
Doug Miller is a reporter for MLB.com. Follow him on Twitter @DougMillerMLB. This story was not subject to the approval of Major League Baseball or its clubs.