Santana to LF? With no DH at Wrigley, maybe
Slugger played left once in '12, but could be there when Series shifts to Chicago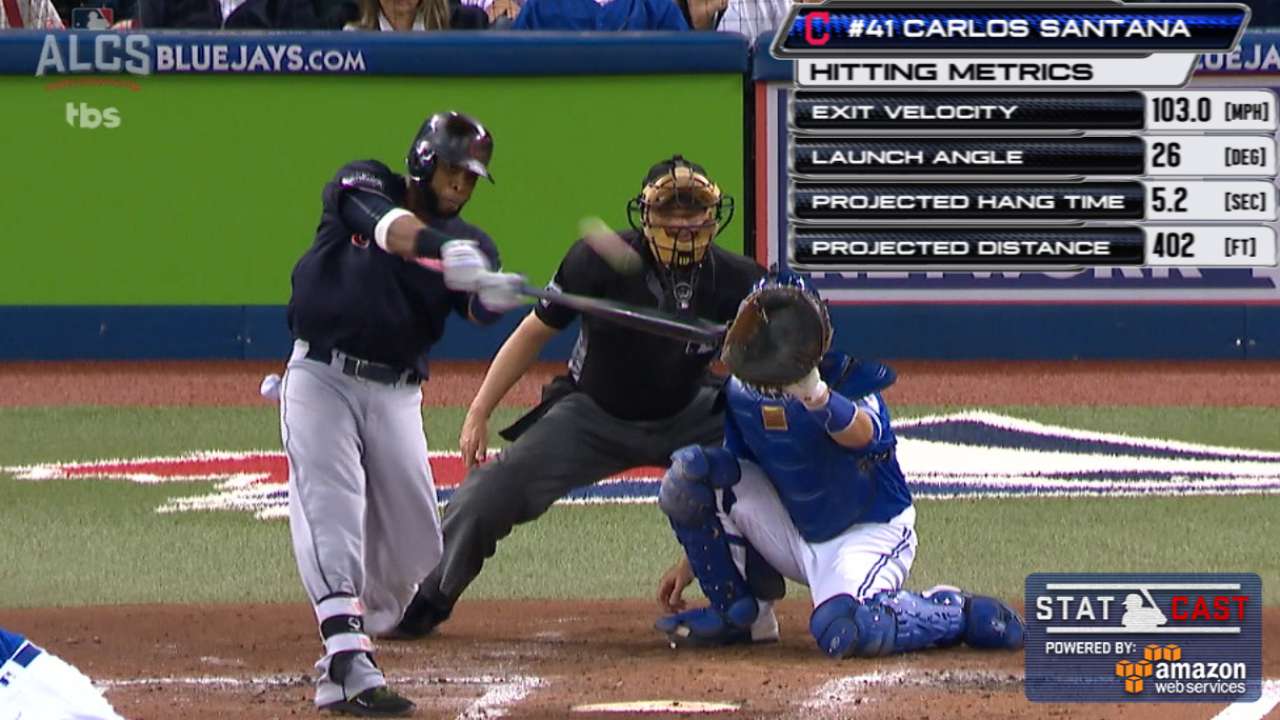 CLEVELAND -- Carlos Santana has not been taking fly balls in left field just for fun over the past couple of days. With no designed hitter available under National League rules at Wrigley Field, Indians manager Terry Francona is weighing all his options for this World Series against the Cubs. Cleveland won Game 1 of the best-of-seven Fall Classic, 6-0, on Tuesday.
The DH will not be a part of the equation for Cleveland for Games 3-5 in the Fall Classic, meaning Mike Napoli or Santana would be forced to the bench. Both players are first basemen, and each is a critical part of the Tribe's lineup. Given their importance to the offense, Francona is considering starting Santana in left field when the Series shifts sites.
• Game 2: Wednesday, 7 p.m. ET game time on FOX (6 p.m. ET pregame show on FS1)
"We want to keep every option open," Francona said prior to Game 1 on Tuesday. "We were in a scouting meeting yesterday and I kind of asked everybody in the room what they would do. At the end, I said, 'OK, so if I do this, you guys were all in.' But we'll see. I honestly don't know."
The disruption to Cleveland's regular lineup, which always includes Napoli or Santana in the DH role, does not sit well with Francona, either.
• Shop for Indians World Series and AL champs gear
"I don't like the idea that we play all year with [the DH]," Francona said, "and now you get to the most important games and you don't have it. But that's the way it is, so we'll see."
In 158 games this season, Santana hit .259 with 34 home runs, 31 doubles, 87 RBIs, 89 runs and 99 walks for the Indians, while splitting his time between the leadoff and No. 5 spots in the lineup. Napoli hit .239 with 34 homers, 22 doubles and 101 RBIs in a career year for the Indians.
Cleveland's normal outfield alignment consists of Brandon Guyer or Coco Crisp in left field, Rajai Davis or Tyler Naquin in center and Lonnie Chisenhall in right. Guyer and Davis typically start against left-handed pitchers, while Naquin and Chisenhall play mostly against righties. This postseason, Chisenhall has been a regular part of the lineup no matter who has been starting.
As for Santana, he has played just one career game in left field. On Aug. 12, 2012, Santana spent the final four innings of a 14-1 loss to the Red Sox at the position. During Monday's workout, Francona spent some time talking with Santana in the outfield, and the switch-hitter said he was willing to play left, if asked.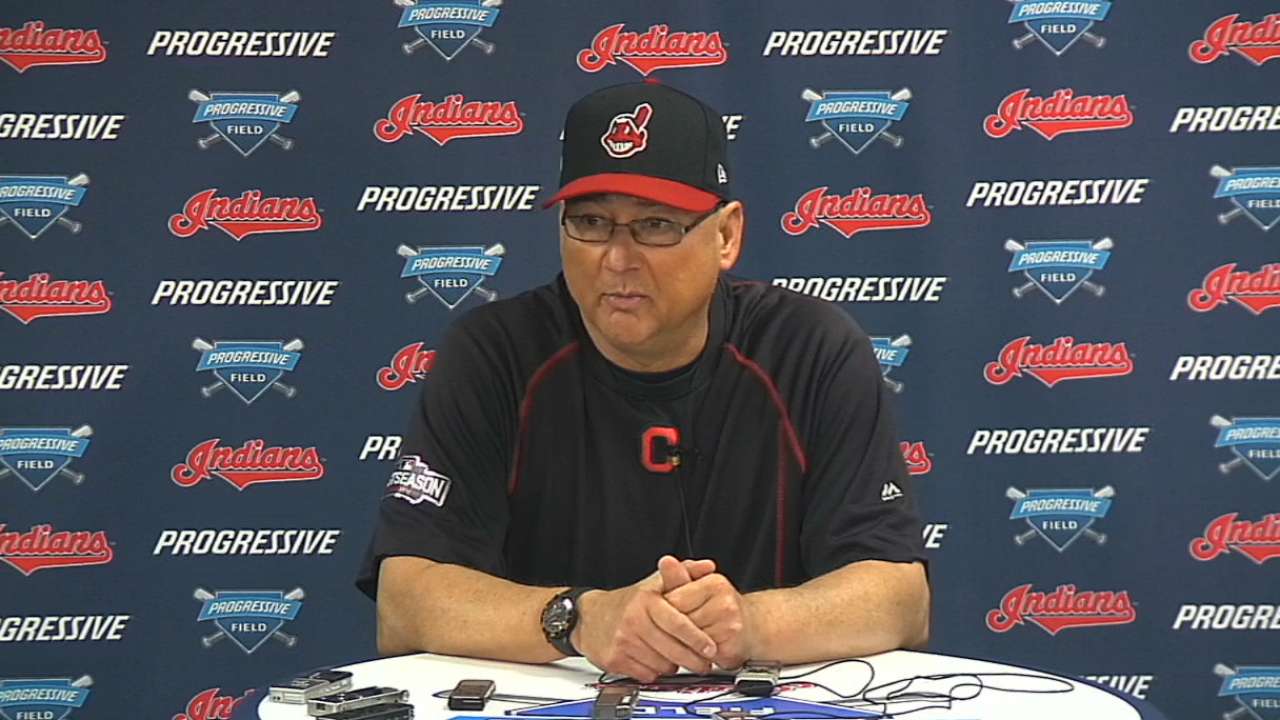 "He's more than willing to do it," Francona said, "which is good."
Other items of note from Tuesday
• Right-hander Danny Salazar made the World Series roster after not having pitched for the Indians since Sept. 9 due to a right forearm strain. Salazar has been cleared to pitch and may be able to handle 65-70 pitches, according to pitching coach Mickey Callaway. That may put the righty in the mix as a starter for Game 4 on Saturday in Chicago, but he is available as a reliever for the time being.
"He's in the bullpen," Francona said. "We don't know what's going to happen. You can't just say, 'We're going to use him early,' because if it's bases loaded. I don't know if that's fair to him. ... If it's the right situation, we might bring him in."
• One of the reasons Francona has not named a Game 4 starter is the fact that ace Corey Kluber could potentially return on three days' rest for that Saturday contest at Wrigley Field. If Kluber did that and Cleveland wanted to stick with a three-man rotation, then Trevor Bauer (Game 2) and Josh Tomlin (Game 3) may be asked to come back on short rest as well.
"We've said who our first three starters are," Francona said. "But just to be fair to them, we need to wait until everybody pitches. Because it's not just if one guy can handle and maybe come back early. Once you do that, then the other guys pretty much have to, too, or you're really not helping yourself. So we've talked to all the starters. They understand how we feel about things. But we also need to wait and see."
Jordan Bastian has covered the Indians for MLB.com since 2011, and previously covered the Blue Jays from 2006-10. Read his blog, Major League Bastian, follow him on Twitter @MLBastian and listen to his podcast. This story was not subject to the approval of Major League Baseball or its clubs.