Top 10 Draft prospects from WWBA World Championship
Adell, Brannen, Rocker headline list of best players at the Perfect Game event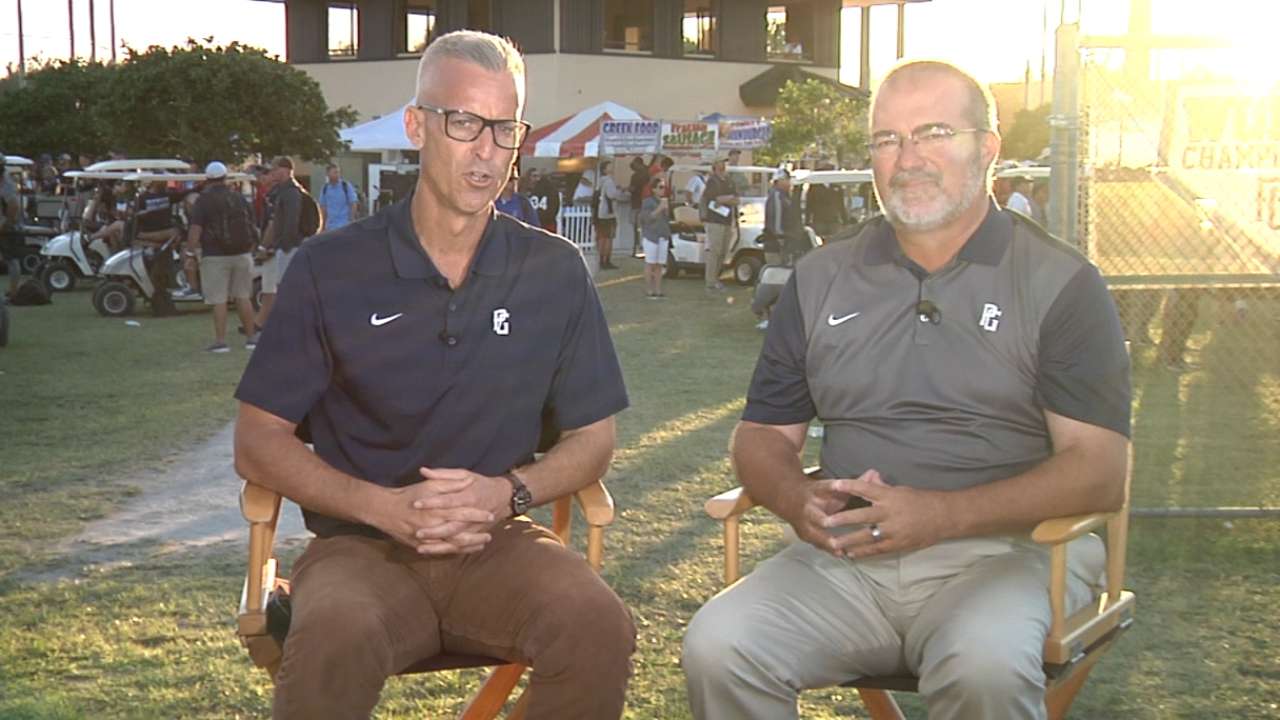 The 2016 Perfect Game World Wood Bat Association World Championship came to an end on Monday, with the Dirtbags defeating Team Elite Prime, 4-2, at Roger Dean Stadium in Jupiter, Fla.
Team Elite Prime's Ethan Hankins (Cumming, Ga.), a prospect eligible for the 2018 Draft, was named the event's Co-Most Valuable Pitcher after he tossed 10 scoreless innings with 12 strikeouts across two starts. The 6-foot-6 right-hander was particularly sharp in his semifinals matchup as he kept AZ T-Rex off the board for 6 1/3 innings while notching six strikeouts and topping out at 93 mph with his fastball.
Sharing the award with Hankins was the Dirtbags' Mason Hickman (Hendersonville, Tenn.), who tossed 8 2/3 scoreless frames during which he compiled 11 strikeouts against one walk.
Offensively, Rutgers commit Davis Schneider (Berlin, N.J.) batted .391 (9-for-23) with five doubles, two home runs and a tournament-best 11 RBIs across five games for the Dirtbags en route to MVP honors.
The 18 previous PGWWBA World Championships have sent 566 players to the Major Leagues, including Nolan Arenado, Bryce Harper, Clayton Kershaw, Manny Machado and Mike Trout. Below is a list of the top 10 overall Draft prospects from this year's event, based on their overall talent and not just their performance at the tournament:
1. Jordon "Jo" Adell, OF/RHP (Louisville, Ky.)
One of the top prospects in the 2017 class, Adell continued to "wow" scouts during the five-day event with his elite athleticism, loud physical tools and improved hitting ability. The Louisville commit collected six hits including four doubles in 16 at-bats for the Evoshield Canes 17U squad and showed excellent bat speed that produced an average exit velocity of 92.9 mph, the fifth-best mark of the tournament according to TrackMan.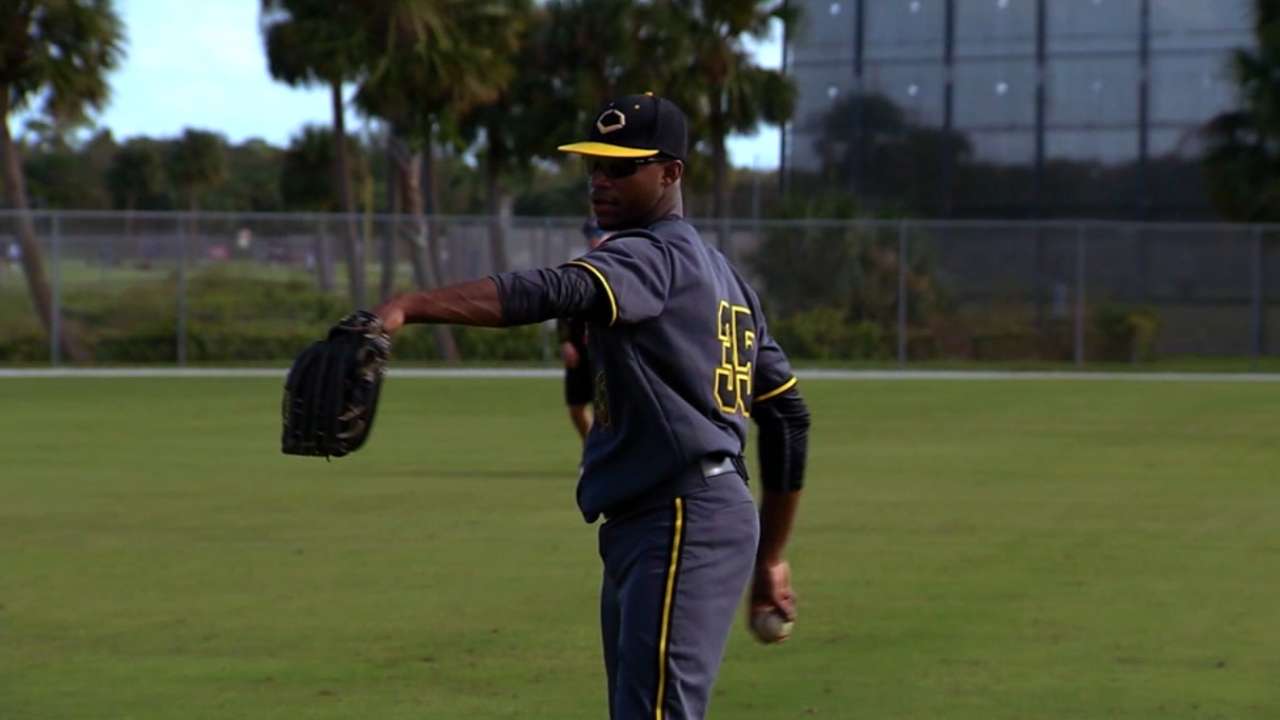 The 6-foot-3, 205-pounder also flashed his potential on the mound, as he struck out the side in his lone inning of work on Thursday while topping out at 94.4 mph with his fastball and averaging an event-best 93.8 mph. The right-hander also received positive reviews for his hard slider, with some scouts pegging it as a true out pitch, and even worked in several changeups.
2. Cole Brannen, CF (Elko, Ga.)
Already regarded by scouts as one of the better prep position prospects in the 2017 class, Brannen, a Georgia Southern commit, showcased his impressive hitting ability by going 3-for-11 with a triple, three RBIs and stolen base for Chain National. The 6-foot-1, 188-pound outfielder also recorded the third-best exit velocity of event at 104 mph, per TrackMan.
.@PGAllAmerican Cole Brannen showed off his pop and speed on this triple for @ChainBaseballWR. #PGJupiter @TrackManBB pic.twitter.com/Q875I0wgFM

— WWBA (@PGWWBA) October 22, 2016
3. Kumar Rocker, RHP (Watkinsville, Ga.)
Arguably the top pitching prospect for 2018, Rocker pitched Team Elite Prime to a first-round playoff victory on Sunday as he tossed three innings of one-hit, one-run ball. The Vanderbilt commit issued two walks and struck out seven, throwing 29 of his 49 pitches for strikes, while averaging 91.5 mph with his fastball and topping out at 94.1, the ninth-highest velocity of the event. Scouts in attendance also spoke highly of his breaking ball, a potentially above-average offering thrown with depth and bite. Meanwhile, the fact that he's an impressive athlete in spite of a physically mature 6-foot-4, 235-pound frame has evaluators convinced that he can remain a starter.
#1 ranked 2018 Kumar Rocker helps Team Elite to round 2 in Jupiter 3 IP 0 ER 7 Ks Fastball up to 94 mph pic.twitter.com/OyVxTyfexE

— Perfect Game USA (@PerfectGameUSA) October 23, 2016
4. Mervyl "MJ" Melendez, C (Montgomery, Ala.)
Melendez is one of the better prep catchers in the 2017 class, standing out for his athleticism and tools behind the plate as well as his potential for development. The left-handed hitter has made strides offensively in the past year, and that trend continued over the weekend by going 2-for-6 with a solo home run and two RBIs for the Astros Scout Team.
5. Luke Bartnicki, LHP (Marietta, Ga.)
Though he won't graduate until 2018, Bartnicki, 16, has firmly placed himself on the Draft radar after his pair of impressive outings for the East Cobb Astros. The 6-foot-3, 190-pound left-hander struck out five in 2 2/3 scoreless innings across a pair of relief appearances and did so while bumping 94.8 mph with is heater, which tied for the fifth-best velocity recorded by TrackMan during the event. The Georgia Tech commit also flashed a promising slider, thrown in the 77-81 mph range, and even mixed in a couple of mid-70s changeups.
LHP Luke Bartnicki (2018, East Cobb Astros) was up to 93.8 MPH according to @TrackManBB. GA Tech commit. #PGJupiter pic.twitter.com/LBYUvZM4Dv

— WWBA (@PGWWBA) October 21, 2016
6. Drew Waters, OF (Woodstock, Ga.)
Waters stood out at the top of the order for the Braves Scout Team/Ohio Warhawks as he went 4-for-8 with three runs scored, three RBIs and three stolen bases. A Georgia commit, Waters is a 6-foot-2 switch-hitter with above-average speed and an advanced feel for hitting from both sides of the plate.
7. Jake Eder, LHP (Ocean Ridge, Fla.)
The 6-foot-4 left-hander boosted his Draft stock after an impressive start for the Astros Scout Team/FTB Tucci on Saturday morning, when he allowed one hit and struck out three in two scoreless innings while throwing 17 of his 26 pitches for strikes. Eder, a Vanderbilt commit, also recorded the game's top fastball velocity at 93.5 mph, also the 13th-best of the tournament, according to TrackMan. Overall, he operated at 89-92 mph and received largely positive reviews for both his fastball command and improved feel for his curveball, which registered in the high 60s with tighter spin and more consistent downward action.
.@TrackManBB had Jake Eder up to 93.5 MPH from the left side! Pitching for the Astros Scout Team here at #PGJupiter pic.twitter.com/1Jdtwll6qW

— WWBA (@PGWWBA) October 22, 2016
8. Sam Carlson, RHP (Savage, Minn.)
Starting on Day 2 for the Evoshield Canes 17U team, Carlson, a 6-foot-4, right-hander, allowed one earned run over five innings and threw 52 of his 93 pitches for strikes. Behind a fastball that maxed out at 93.9 mph, the Florida commit scattered six hits, walked a pair and struck out six, also generating 10 outs on the ground.
RHP Sam Carlson topped out at 93.9 MPH according to @TrackManBB. @EvoshieldCanes prospect is committed to Florida #PGJupiter pic.twitter.com/XHqhSkDK4f

— WWBA (@PGWWBA) October 21, 2016
9. Hagen Danner RHP/C (Huntington Beach, Calif.)
An intriguing two-way talent and a known commodity in the 2017 class, Danner showcased his offensive potential by going 4-for-11 with four RBIs. He tallied three extra-base hits in the tournament, including a clutch game-tying, 367-foot homer to left-center field for Evoshield Canes 17U in a pool-deciding game. More significant, Hagen showed a better fastball in his lone start for Evoshield after experiencing a dip in velocity during the summer. The right-hander averaged 91.6 mph on his heater, topped out at 93.4 and posted that particular game's top breaking-ball spin rate of 2538 rpm, per TrackMan. Overall, the UCLA commit allowed three runs (two earned) on three hits, with five strikeouts and one walk in 4 2/3 innings.
10. Wilberto Rivera, RHP (Naranjito, P.R.)
Pitching in relief for the Toronto Blue Jays Scout Team on Thursday, Rivera, a Florida International commit, recorded the top fastball velocity of the tournament at 96.6 mph and sat in the 93-96 mph range, according to Trackman. The 6-foot-4, 205-pound right-hander scattered two hits, walked two and struck out six over three scoreless innings.
Video of Wilberto Rivera (PR) who touched 97 mph yesterday @PGWWBA World Championship @TrackManBB @MLB pic.twitter.com/nvzaXgj0Xb

— Perfect Game USA (@PerfectGameUSA) October 21, 2016
Best of the rest
Nick Jodway, RHP/OF (Morganton, N.C.) | Dirtbags
Devin Ortiz, RHP/3B/SS (Nutley, N.J.) | Team Citius Elite
Aaron Perry, RHP (Hurricane, W.V.) | Kentucky Baseball Club
Heliot Ramos, OF (Maunabo, P.R.) | Padres Scout Team/Chandler World
Daniel Ritcheson, RHP (Northridge, Calif.) | CBA Marucci
Spencer Strider, RHP (Knoxville, Tenn.) | Royals Scout Team
Mike Rosenbaum is a reporter for MLB.com. Follow him on Twitter at @GoldenSombrero This story was not subject to the approval of Major League Baseball or its clubs.