Oct. 25 Kyle Schwarber pregame interview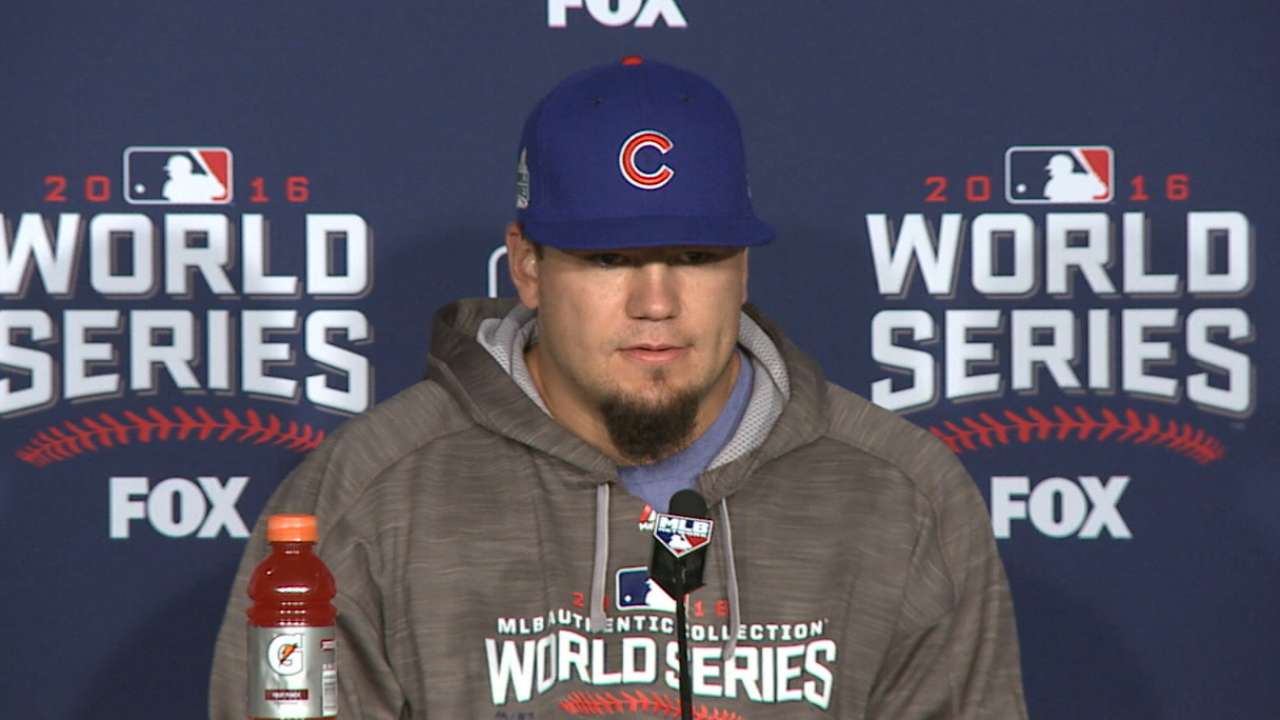 Q. Kyle, at what point in your own mind did you think it was realistic in your rehab that you could be back at some point this year, regular season or postseason?
KYLE SCHWARBER: I'd probably say about six days ago (laughter). So the plan was pretty much the whole time that it was going to be Spring Training. I took regular visits to the doctor every month or two. And he kept telling me, "It's going to be Spring Training." Then this past doctor's visit I had right before we went to L.A. for the CS he looked at my knee, he's like, "Man, it's great. You're strong. I'm not going to hold you back from doing anything." So then we went from there.
Q. Now that this moment has come for you to actually participate in the postseason, we talked after they clinched the division and all the celebration you were watching but not involved. Now that you can participate, how are you handling your emotions? How are you feeling?
KYLE SCHWARBER: I would say it probably hasn't hit. I'd say probably once I hit that line, that a lot of emotions will come pouring out. I'll probably cry at some point today. It was a long road, but once we stepped in between those lines, it's game time. I'm going to be locked in. I'm going to be ready to go and go out there and try to win this.
Q. Anthony Rizzo talked about the fact that maybe ten times during the year he'd see you watching video of your own swing, going over scouting reports and told you just enjoy the games, watch them. Where was your mind at? Did you ever really accept that you were an injured player?
KYLE SCHWARBER: Well, if you know me as a person, that's the kind of guy I am. I'm a baseball rat. I want to be involved in it as much as I can.
A lot of things goes to this team and this organization for allowing me to be around. They were a big rock in my rehab. I could have easily just gone to Arizona, gone through the motions in rehab, but these guys really made me kick it up a notch. I'm here, sitting here today mostly because of those guys.
Q. How do you replicate the process of seeing a breaking ball in a Major League game in such a short period of time?
KYLE SCHWARBER: Well, I went down to Arizona, and I tracked probably about 1,300 pitches off a pitching machine. That's as much as we can get to a live game, besides playing in the Fall League for those two games and facing some live pitchers. So I tried to set it to the nastiest setting that I could to where it would be a really sharp break just to train my eyes all over again.
Q. Can you take us through some of the mile posts in your rehab, what were you doing when, and was there a point when someone in August or September said, if you keep going down this path you could be ready for the playoffs?
KYLE SCHWARBER: Pedro Strop said all along, "Man, you're going to be back for the World Series." But the process was a long time. I mean, at first I didn't think I was ever going to have a normal knee again. I had to do six weeks of just keeping it straight, no walking on it, no anything. And then trying to get range of motion back after that, that was probably the toughest part for me mentally. You're going to the field every day and trying to get your knee to bend and it just won't. It's painful, you're getting strapped down to a table, they're pushing back on it.
But then after that, we got that range of motion back, it went to the strengthening portion of rehab where you want to try to get all your strength back in your knee and then in your quads, hammies, things like that. Then after that, there goes the running. Running was like trying to learn as a kid again. You're limping all over the place. You can't figure out why you're limping. Then after that it goes to swinging the stick. That went about as good as possible.
Q. We've heard that the only problem right now is blisters.
KYLE SCHWARBER: That's right. They kept asking me every day how I felt. I'm like, my knee feels great, my body feels great, it's just my hands hurt. I had about eight blisters on my hand. But those are about all gone now.
Q. The mindset right here is about you acting, stepping to the plate and swinging a bat. Knowing that your manager has a way of doing some quirky things, let me ask you this: How good are your legs if he did something quirky?
KYLE SCHWARBER: My legs? How do my legs feel if I had to run or something like that?
Q. Yeah.
KYLE SCHWARBER: I've got full confidence in myself. I'm sure you guys saw the video in the Fall League, that was probably about 50% of what I could actually do in a game. We were more focusing on at-bats there, and not focusing on the running portion. We did that earlier in the day, and felt really good. I have full confidence in myself and my running ability. So, like I said, I feel confident.
Q. If you were going to describe for someone who has never been there, describe what it was like playing for the Mesa Solar Sox of the Arizona Fall League compared to now being here, in your home state, Game 1 of the World Series?
KYLE SCHWARBER: Well, we had about probably 100 people there. That's the first part. You see them getting all on their feet, and it's like crickets.
But, no, I really appreciate those people down there, first off, coming out to the game and giving me a good round of applause. But it's going to be a complete 180. You know, you're going in front of a packed stadium here, it's going to be awesome. That's what we live for, baseball players, we live to feed off that, and especially since we're in such a hostile environment here in Cleveland. I like to feed off that. I love that. I think it's going to be great. It's going to be great for our team. We're in for a really hard-fought battle coming in.
Q. Can you talk about your teammates and the support they've given you. A couple of them said yesterday that this is like a made-for-TV movie, and they're expecting a big moment out of you. Everybody just had grins on their faces.
KYLE SCHWARBER: Like I said before, those guys were pretty much my big rock throughout this whole thing. I didn't really want to get in their way too much as being a baseball player. I don't want to take up room. I don't want to get in guys' way when they're preparing and things like that. You want to be there and help these guys, put smiles on their faces, but that's what they were doing for me, really. They were there to comfort me throughout this whole ride. And I can't thank them enough.
I can't thank them enough. I can't thank our staff enough. I can't thank the organization enough. They did a really good job of keeping me involved and making sure that I came in with the right mindset every day for rehab.
Q. We saw the video, I think, from your agency of the little champagne celebration you had the night the Cubs clinched. What was that day and night like for you?
KYLE SCHWARBER: Well, I was watching the game when I was playing in the Fall League on the bench. We had a little iPad set up on the side. And I looked like probably the most cheeriest player out there because I'm watching these guys. I'm cheering them on. I'm screaming in the dugout. And I'm getting some looks. But that was fun for me. I wanted these guys to succeed. I feel like these guys have done so much throughout the season and we've faced adversity, we've faced pretty much everything they could throw at us, and we've handled it very well.
When we clinched that game against one of the best pitchers in the game, that was exciting. Then after the game I was coming in, they were talking to me about icing and all that, and then all of a sudden I walk in the training room and they've got champagne ready for me. They just start blasting me with it, it was fun.
Q. No one has ever missed a whole season and played in the World Series. Did you have to talk Joe and Theo into doing this, I mean, without having played many games except for the Fall League stuff?
KYLE SCHWARBER: So, pretty much when I got the news that I was not going to be held back in any way, I called Theo right away and I was like, "Hey, I'd love the opportunity to try." Deep down inside, knowing that I had the opportunity to try and get back, it would kill me deep down inside if I didn't. And I knew going into it there were no guarantees of I'm going to come back and be on the World Series roster.
I didn't do it for this reason. I didn't want the media attention. I didn't want any of that. I did it for my teammates. I did it for me, too. That's the competitor in me. Like I said, those guys, that's a special clubhouse we've got and that's why I did it.
Q. A couple of your teammates were saying they would see you rehabbing and working out and asked you, are you going to take a day off? How many days did you actually take off? And when you did take it off, what did you do on your off-days?
KYLE SCHWARBER: There weren't many off-days. There was the scheduled off-day, but you want to do kind of cardio and stuff in between those days where you're not lifting and doing the actual rehab part. But then there were days that you would actually just do nothing. Those were just the days where usually the team's on the road. I didn't travel with the team. Like I said, being the baseball player, I didn't want to get in the way of them prepping to play a baseball game. So usually that was the day that they'd be on the road. But I wouldn't really do anything. I'd just go home and sit at home and watch the baseball game. But, like I said, not many days off in between.
Q. I wonder if you could run us through your itinerary over the last 24, 36 hours, when you left Arizona, how you got here, et cetera. Any complications along the way?
KYLE SCHWARBER: So got done with the game, finished up with all the icing, whatever you want to do, pretty much had my bags packed. Hopped on a private jet over in Mesa, then we flew directly here. Got off the plane, came right here. I didn't want to get slapped in the face with everything that's going to be happening, so I wanted to just get a little sneak peek what it would be like for today. You know, just tried to soak it in as much as I can.
Then went back to the hotel room and didn't really sleep. I had a lot of thoughts running through my mind. I told myself I wanted to go to sleep at a good hour. That didn't happen, but as expected. But then coming into today, just trying to take it like a normal ballgame.
Q. How and when were you delivered the news that you'd be batting fifth tonight?
KYLE SCHWARBER: Well, I got the -- so, usually for pregame we get the text on who is in the lineup and what the schedule of the day is. So Brandon Hyde, our first base coach, sends that text out. I just happened to be on the receiving end of that text. It was a good feeling. It was a really good feeling.