Yanks content to watch former closers in Series
Cashman focused on Bombers' bright future as Chapman, Miller compete for title
NEW YORK -- As they prepare to face off in what promises to be a historic World Series, Aroldis Chapman and Andrew Miller have heard no regrets from their new employers, fitting in just fine after the Cubs and Indians stripped them of their Yankees pinstripes in a pair of midseason blockbuster trades.
Watching the festivities from afar, Yankees general manager Brian Cashman said that he is certain the right moves were made on his end. A trophy will soon be raised in Chicago or Cleveland, and after acquiring a total of eight players for Chapman and Miller, Cashman believes his Yankees now sit closer to their next title.
• World Series Game 1: Tonight, 7:30 p.m. ET air time | 8 ET game time on FOX
"I'm happy for both of those players, and I'm happy for both of those teams because obviously they paid a steep price for instant impact," Cashman said on Tuesday. "We drove the hard bargain for impact down the line. Hopefully everybody gets what they wanted out of this thing."
The ripple effect of those trades, plus ones that unloaded Carlos Beltran and Ivan Nova from a club spinning its wheels, are evident in what MLB Pipeline now ranks as a suddenly potent Yankees system. One wonders how the now-eliminated playoff clubs might have fared had they pursued Chapman or Miller more aggressively.
Standing in the center of a champagne-soaked celebration after being named the MVP of the American League Championship Series, Miller said that he never could have imagined all of this would happen back in March, when he was preparing to fill in as the Yanks' closer while Chapman served a 30-game suspension.
"I was focused on being a Yankee," Miller said. "The important thing was just being part of a winning team. I made a lot of good friends; I miss those guys in New York, and I will. They were great teammates, it was a great team to play for, it was a great city to live in. But I've got a chance to be a part of a team that's going to the World Series, and you couldn't ask for anything better."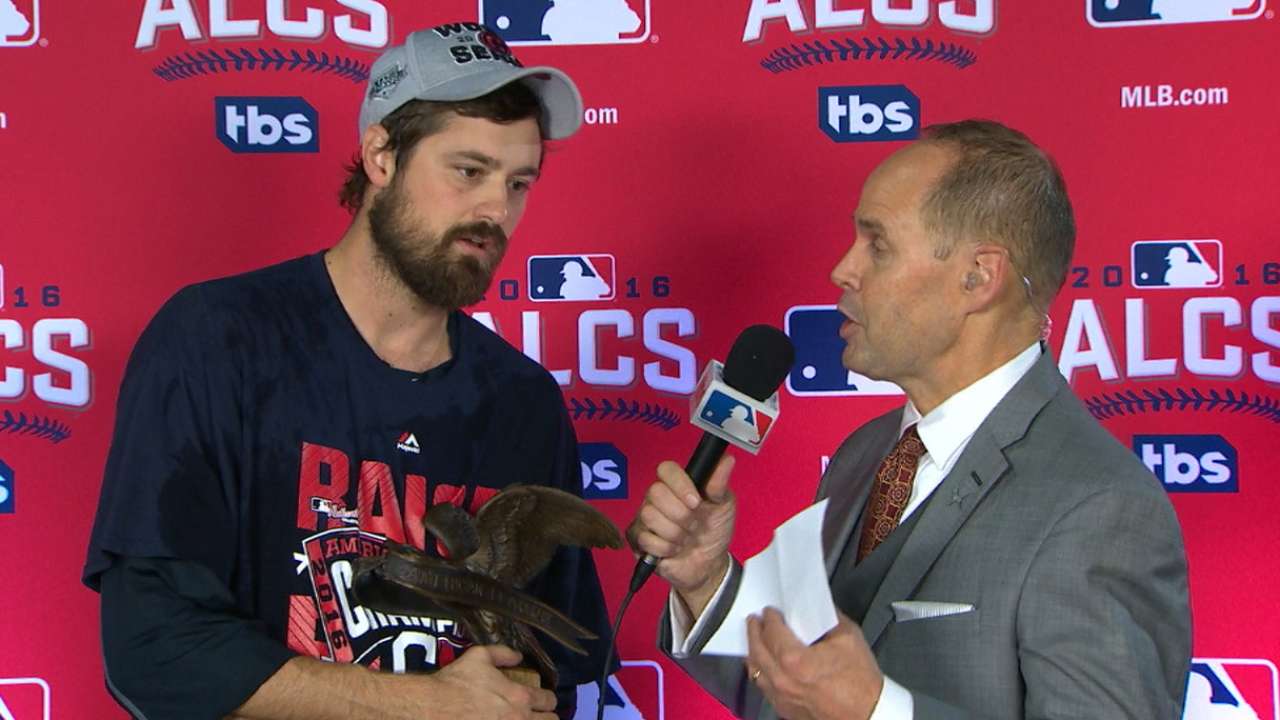 Though managing general partner Hal Steinbrenner remained unconvinced that a wholesale sell-off was necessary, the Chapman deal was completed on July 25, centering on infielder Gleyber Torres. The 19-year-old is now rated as the Yankees' No. 2 prospect by MLB Pipeline and was named as the Arizona Fall League's Player of the Week on Tuesday.
"We are extremely excited that we have the opportunity to get him exposure to the Fall League, to get him exposure to that type of competition," Cashman said. "I believe he's the youngest player in the Fall League. He's a hitter. … We were going to do the best deal we could do, period, with Chapman. The best deal was Chicago with Gleyber Torres being the primary piece."
The Cubs also surrendered right-hander Adam Warren, plus outfielders Billy McKinney and Rashad Crawford. Cubs president of baseball operations Theo Epstein predicted at the time that a reliever like Chapman would take on an even more significant role come the postseason, words that have proven true.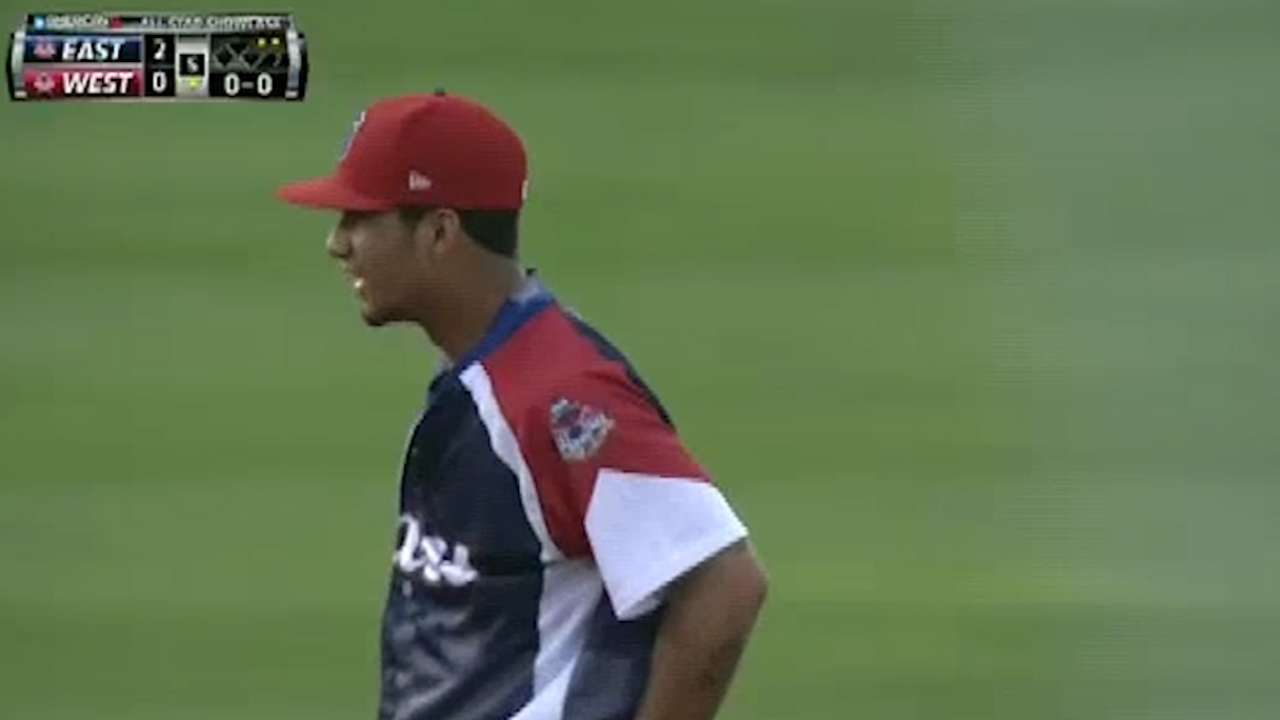 "He's a dynamic pitcher, he's an impact guy and he fits really well with our club," Epstein said. "It was tough to give up what we gave up, but if not now, when?"
The Yankees were swept in a July 29-31 series by the cellar-dwelling Rays, convincing Steinbrenner to greenlight further trades. Indians president Chris Antonetti has said that the talks for Miller were "excruciating," as the Yankees refused to be moved off 22-year-old outfielder Clint Frazier.
Cashman called Frazier "a very exciting, high-energy guy that shows up for the National Anthem in a dirty uniform." Laundry aside, Frazier is now rated as the Yanks' No. 1 prospect by MLB Pipeline, having finished the year with Triple-A Scranton/Wilkes-Barre before participating in the instructional league.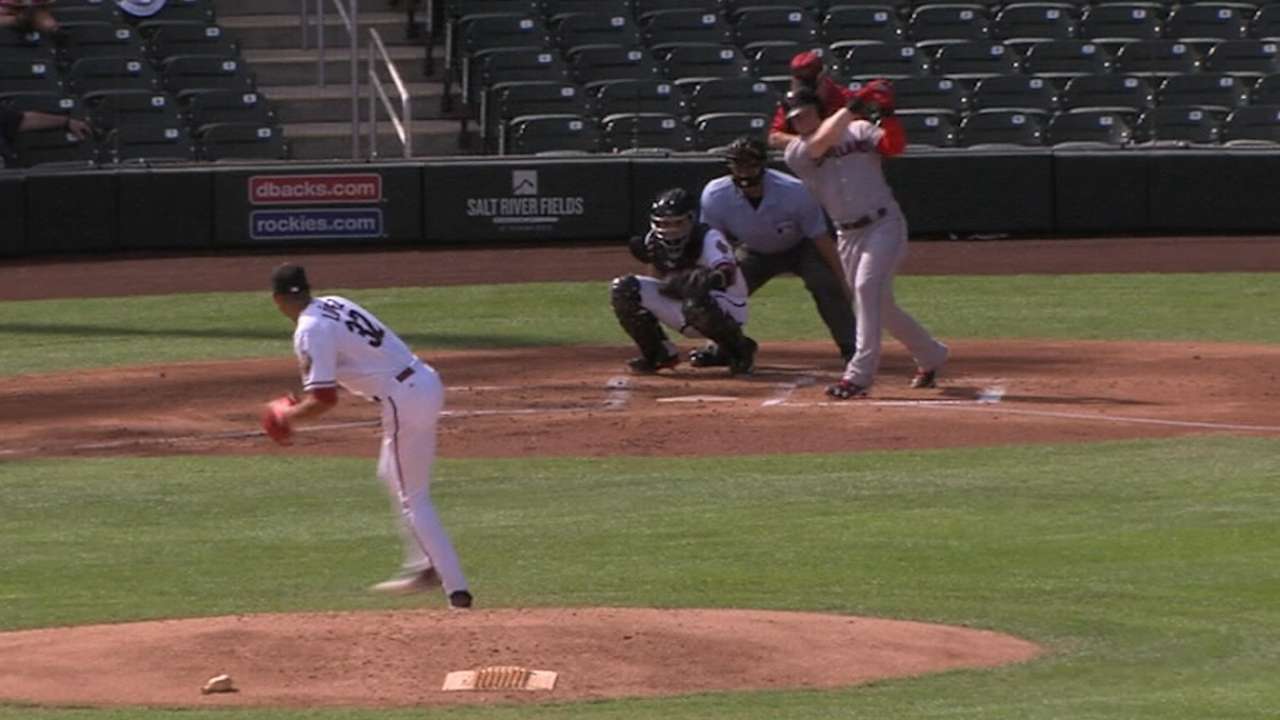 "He was aggressively promoted to Triple-A last year by Cleveland," Cashman said. "You could have easily made the case that he should have played the full year last year in Double-A in the Eastern League. … He's on his way, and he has a chance to have a very exciting future as an everyday player, if not a well above-average everyday player."
In the eyes of some, Miller's dominance in this postseason might have moved the bar higher for Frazier, who will attend big league camp next spring and will have a chance of making his debut at some point during the season.
Hard-throwing left-hander Justus Sheffield was also a prize of the Cleveland trade and is currently the Yanks' No. 6 prospect. Cashman said that he views right-handers Ben Heller and J.P. Feyereisen as the closest players to being ready for the Majors; Heller made 10 appearances for the Yankees late this past season, while Feyereisen excelled for Double-A Trenton.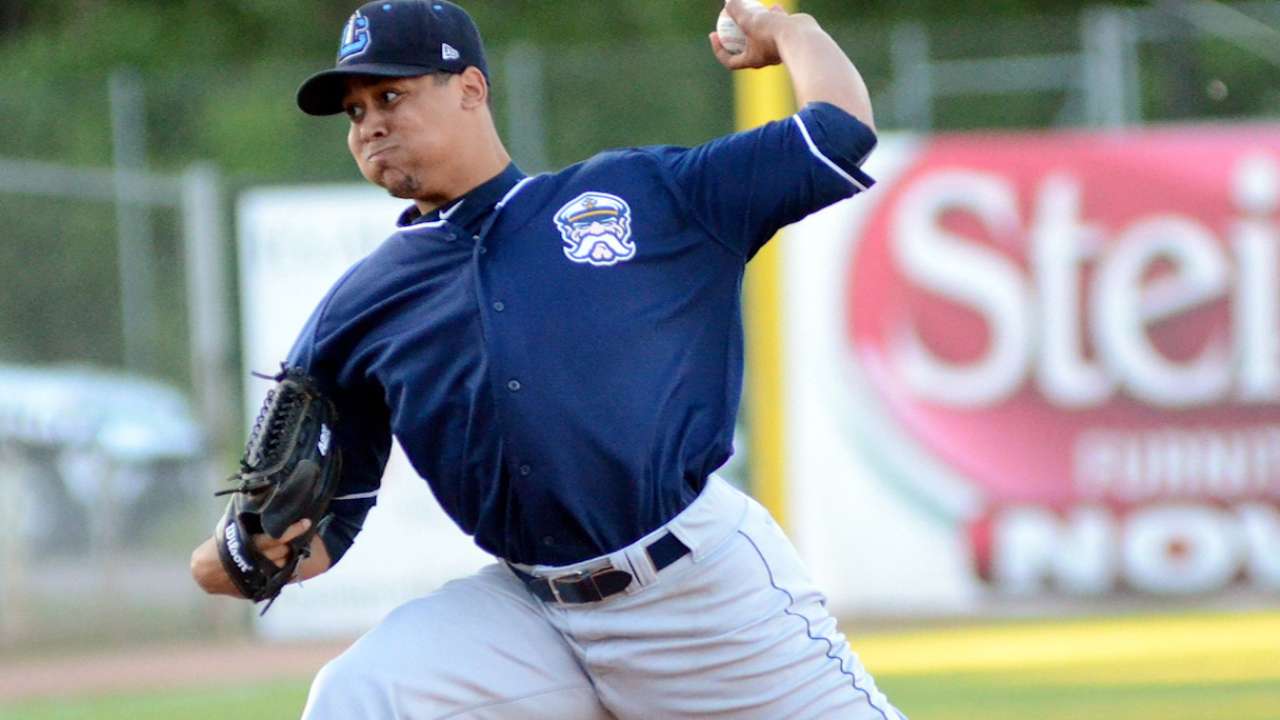 "We gave up a lot, but it's all about winning," Indians owner Paul Dolan said. "And we were positioned to win this year, and it's very clear now that Andrew Miller was the big difference in terms of getting us there, because of what he meant to our pitching staff and our bullpen, particularly. Yeah, years from now I suspect we'll look at some of these guys that we traded and say, 'Why did we trade them?' But then we'll look at the couple trophies we have, and we'll know why we did it."
Cashman said that it required a lot of heavy lifting to negotiate this eventful Trade Deadline, not only with other clubs but also with his own front office. The toughest sell might have been convincing Steinbrenner to send Chapman and Miller on to more serious contenders, with the aim of setting the Yankees up for a brighter tomorrow.
"Clearly Cleveland and Chicago are getting what they bargained for," Cashman said. "We expect over time with all the cast of characters -- not just the ones we got in these deals -- that we'll be having a much better, impactful future than we would have had."
Bryan Hoch has covered the Yankees for MLB.com since 2007. Follow him on Twitter @bryanhoch, on Facebook and read his MLBlog, Bombers Beat. This story was not subject to the approval of Major League Baseball or its clubs.
This story was not subject to the approval of Major League Baseball or its clubs.