Staff, IF set as Blue Jays seek OF, 1B for '17
Estrada, Travis, Donaldson, Tulowitzki returning as Bautista, Encarnacion enter free agency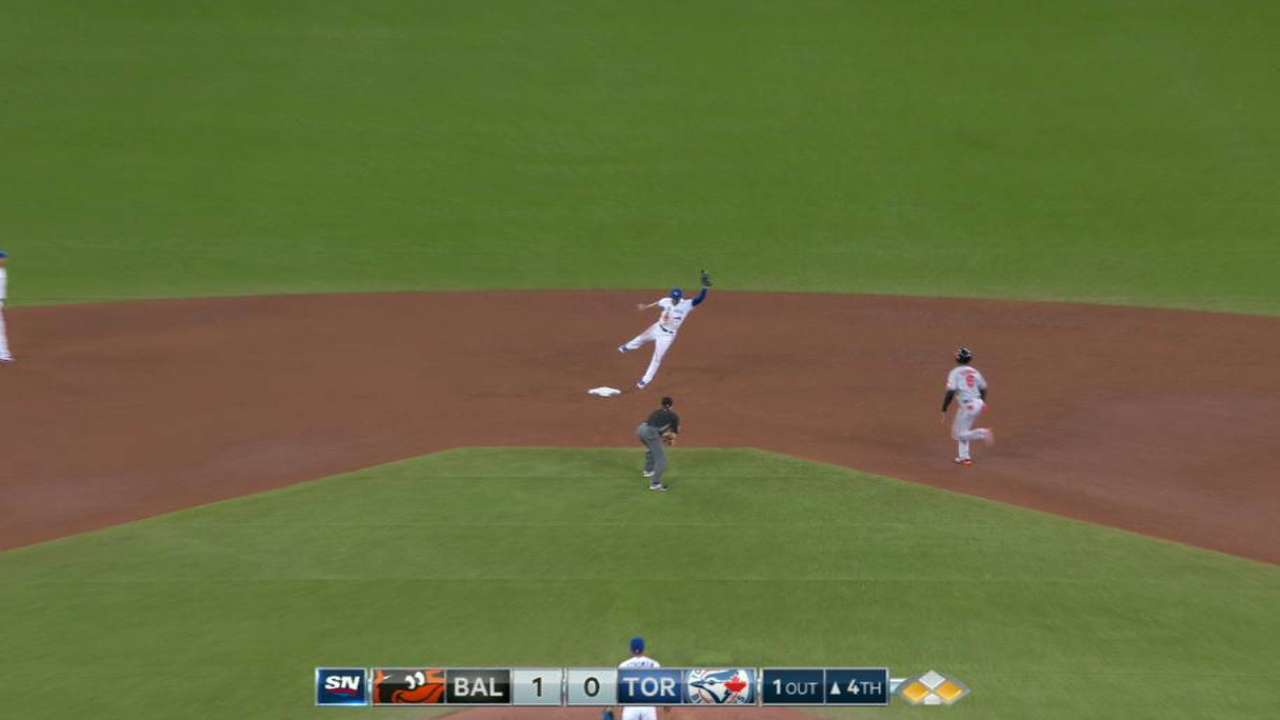 TORONTO -- The Blue Jays are fresh off a pair of back-to-back appearances in the postseason, but with so much uncertainty surrounding the team, it will be up to the front office to make sure the winning doesn't stop.
Toronto has 10 players who are eligible to become free agents this offseason, and two of those -- Edwin Encarnacion and Jose Bautista -- have been the faces of the franchise for the past eight years. It's possible that the end of an era is upon us, but whatever happens this winter, do not expect this situation to turn into a rebuild.
The first priority is trying to re-sign either Encarnacion or Bautista, but even if that happens, there are plenty of holes elsewhere on the roster that need to be fixed. Here's a closer look at the challenges facing general manager Ross Atkins.
• Arms lift Blue Jays in strong 2016 campaign
Arbitration-eligible: IF Darwin Barney, OF Ezequiel Carrera, C Josh Thole and LHP Aaron Loup.
Free agents: OF Bautista, 1B/DH Encarnacion, C Dioner Navarro, OF Michael Saunders, RHP Joaquin Benoit, LHP Brett Cecil, RHP R.A. Dickey, RHP Scott Feldman, RHP Gavin Floyd and RHP Jason Grilli ($3 million club option).
Rotation: Toronto's starting rotation was a big part of its success in 2016, and there's a good chance all of the main contributors will be back next season. Marco Estrada and Francisco Liriano have one year remaining on their deals, J.A. Happ is signed for another two and Aaron Sanchez and Marcus Stroman are still not eligible for arbitration. The only subtraction here will be Dickey, who is expected to leave via free agency following four years with the Blue Jays. Right-hander Joe Biagini is expected to transition to the rotation, but more depth options will be required.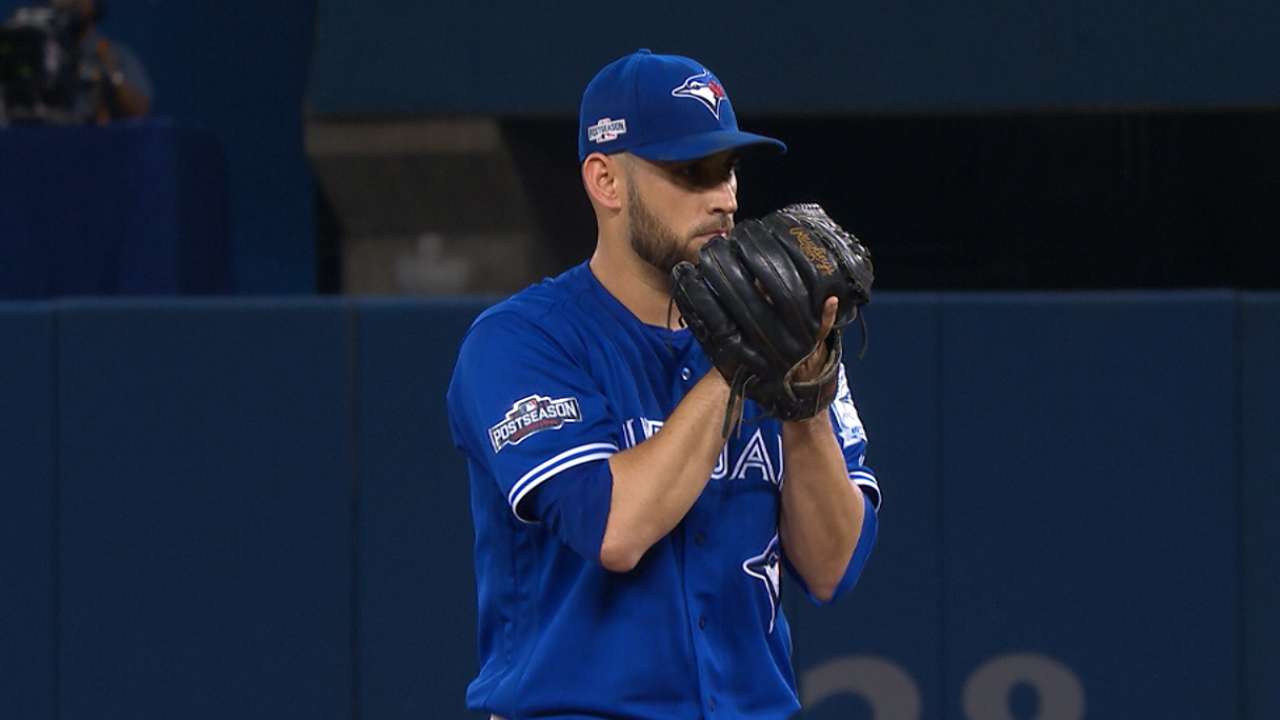 Bullpen: There had been some talk over the last couple of years about Roberto Osuna eventually moving into the starting rotation, but that's simply not going to happen. Osuna has been vocal about his desire to remain a closer, and Atkins recently confirmed that the hard-throwing reliever will remain in his current role next season. Grilli also will be back after Toronto picks up his $3 million option prior to the start of free agency, but outside of those two, expect plenty of changes here. Benoit is a possibility to return, but there's a good chance Cecil will price himself out of Toronto's comfort zone following a strong finish to the year. Danny Barnes, Matt Dermody and Ryan Tepera are all internal options, but the club will need to address its middle relief this winter with a flurry of additions.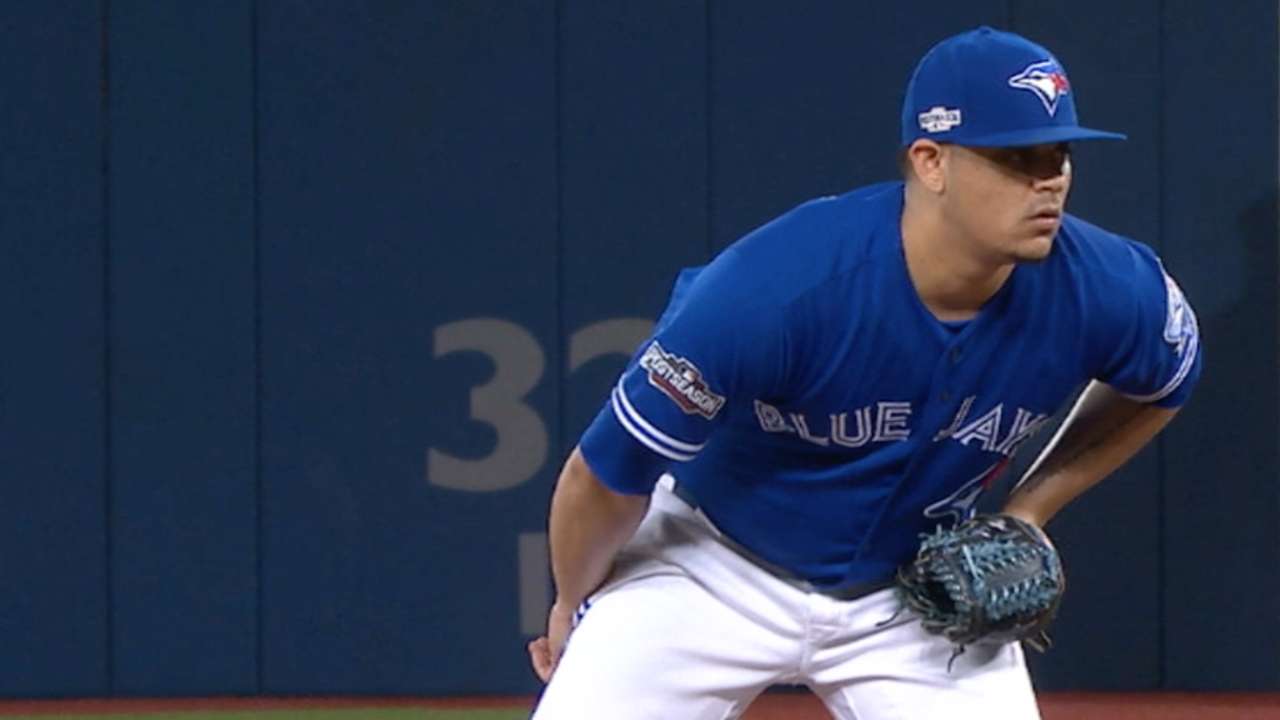 Catcher: One area the Blue Jays don't have to worry about this offseason is behind the plate. Russell Martin still has three years remaining on his deal and will carry the bulk of the workload again in 2017. The only question here is who will become the backup option. Thole is a non-tender candidate with the expected departure of Dickey, while Navarro is eligible for free agency. Minor Leaguer A.J. Jimenez, who is out of options on his contract, will potentially compete for the job during Spring Training, but expect at least one or two depth options to be added this winter.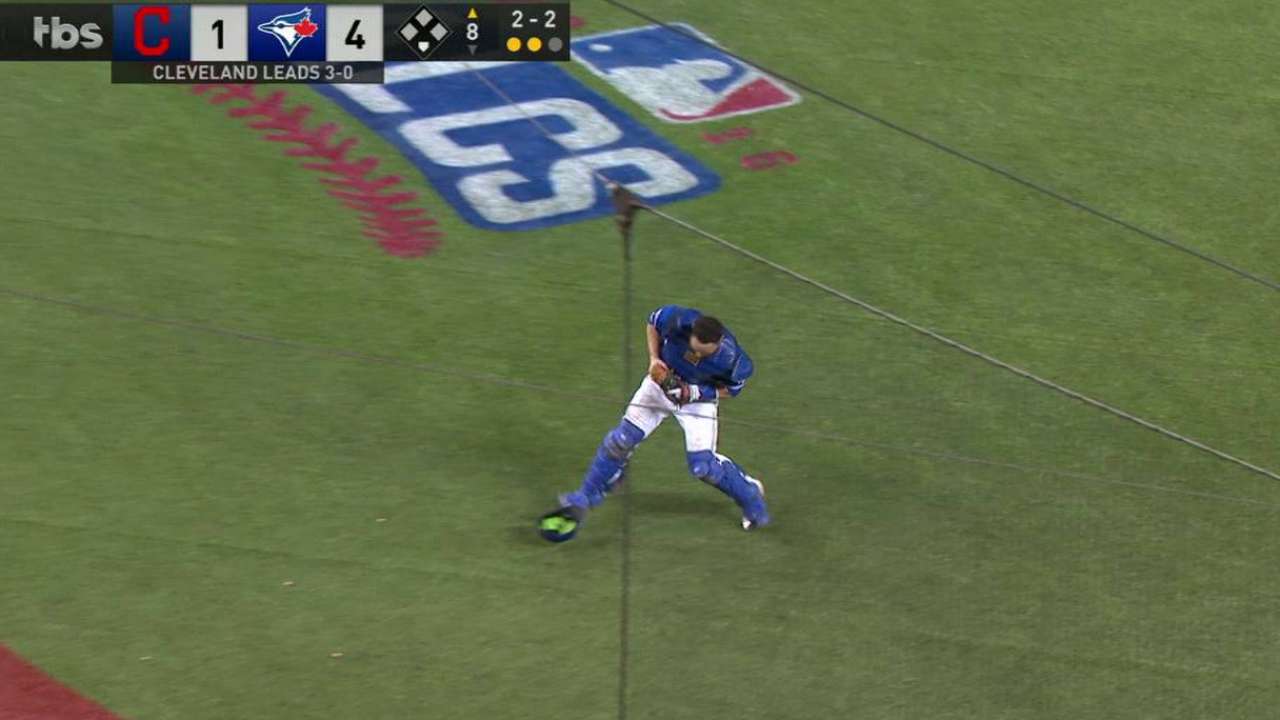 First base/designated hitter: Encarnacion could not be picking a better time to hit the open market. The class of free agents is relatively weak compared to the past several years, and Encarnacion should have no shortage of suitors. He'll likely seek a four-year contract and could make upwards of $25-30 million per year, depending on the market. The Blue Jays are interested in bringing Encarnacion back, but whether or not they're willing to outbid other teams remains uncertain. Justin Smoak is under contract for another two years, but he'll likely be limited to bench or platoon duties. One rumor that never seems to go away is a potential trade for Joey Votto, which could pick up steam if Encarnacion leaves town.
Second base: Devon Travis established himself not only as Toronto's second baseman of the future, but also of the present, following a strong sophomore showing. Travis proved his rookie season was not a fluke by hitting .300 with a .785 OPS in 101 games this season while distancing himself from Barney and Ryan Goins. Travis will start again next year, but he'll need to prove his health following a pair of injury-plagued seasons. Barney and Goins likely will return to the team in their current backup roles.
Shortstop: Troy Tulowitzki has four years and $78 million remaining on his current deal. The veteran shortstop got off to a very slow start in 2016 but salvaged the season by hitting .281 with 19 homers and 66 RBIs over the final 99 games. He continues to provide plus defense, and he'll be relied upon more offensively if Bautista and Encarnacion leave. Barney and Goins would be the likely backups here again in 2017.
Third base: The Blue Jays won't have to worry about an arbitration case for Josh Donaldson, because he signed a two-year deal worth $28.65 million last offseason. He's eligible for one more year of arbitration in 2018, but if Toronto wants to lock him up longer-term, it would likely have to take place this offseason. That seems unlikely, considering all of the holes that need to be filled, but after next year, Donaldson likely would have very little incentive to sign long-term with only one year to go before free agency. Donaldson has appeared in at least 155 games during each of the past four seasons, so Toronto knows it has a durable option here even if a hip problem did seem to cause a lot of issues in September.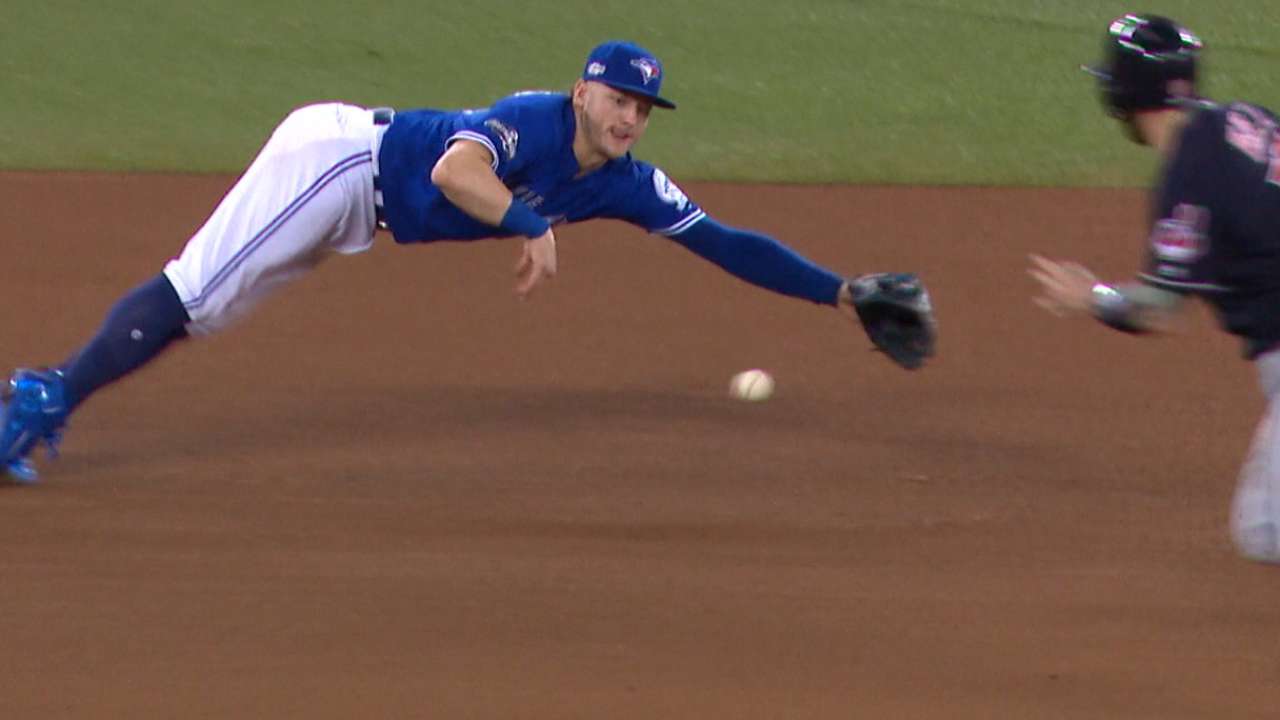 Outfield: The outfield could look completely different next year, with Kevin Pillar as the only lock to return. Bautista will receive a qualifying offer, and it's unclear exactly how big his market will be this winter, but he is not guaranteed to return. Saunders was once a candidate to receive a qualifying offer as well, but that no longer seems realistic following some struggles in the second half. He'll likely depart via free agency, which will either open the door for prospect Dalton Pompey or instead force the club to make a deal or signing. Carrera and Melvin Upton Jr. could return in backup roles, but carrying both may be difficult unless the club can find a way to keep five outfielders on the roster.
Gregor Chisholm has covered the Blue Jays for MLB.com since 2011. Follow him on Twitter @gregorMLB and Facebook, and listen to his podcast. This story was not subject to the approval of Major League Baseball or its clubs.