Ahead of WS, Manfred, Dolan stress youth involvement
Commissioner: World Series 'a great opportunity for us to showcase the game and to showcase it to kids'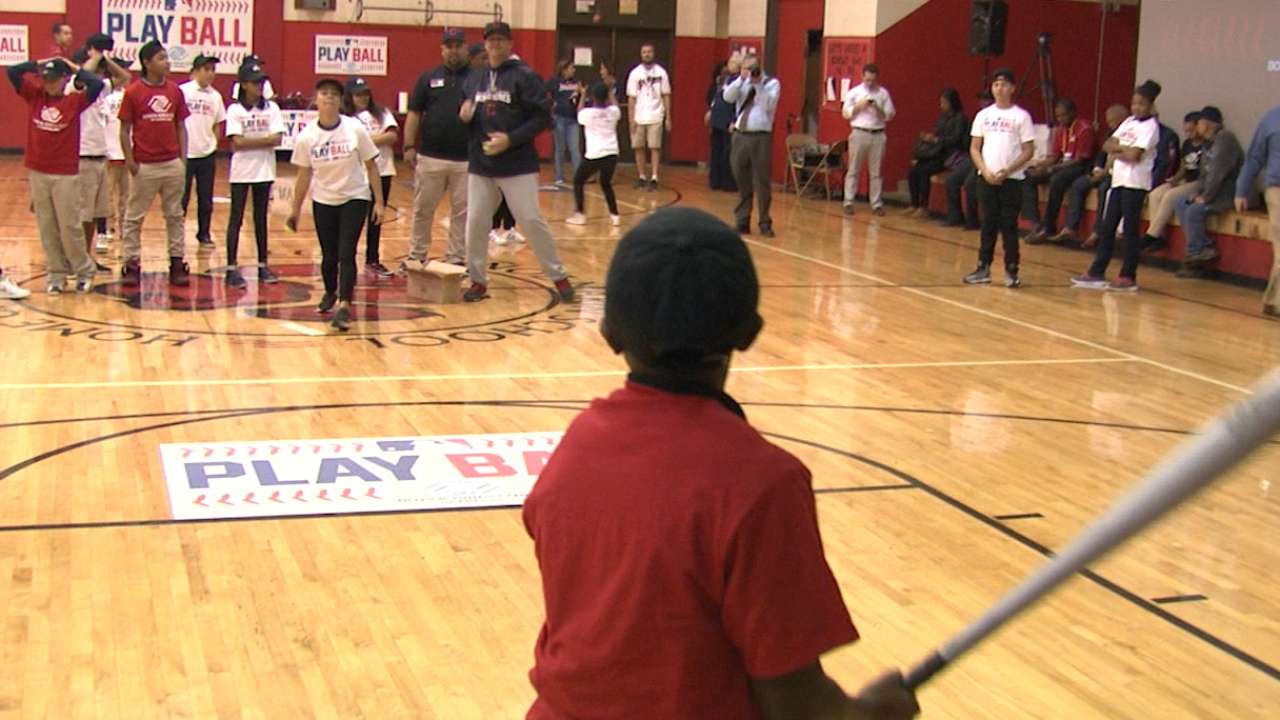 CLEVELAND -- The distant past and the distant future were both on Commissioner Rob Manfred's mind Tuesday as he greeted a gym floor full of kids who attended a Play Ball event at the Luis Munoz Marin Dual Language School, a Boys & Girls Clubs of Cleveland location 10 minutes from the World Series at Progressive Field.
"I think it's really important, and for us symbolic, that you begin the day with kids," Manfred said. "It is about passing the game on to the next generation. A World Series like this that has attracted the kind of attention that it's attracted is a great opportunity for us to showcase the game and to showcase it to kids.
• Game 2: Wednesday, 7 p.m. ET game time on FOX (6 p.m. ET pregame show on FS1)
"You think about it -- one of two great things is going to happen: Cleveland is going to get its first World Series championship in 68 years, or Chicago is going to get one for the first time in 108. Those are both great outcomes for us."
It was eight hours before Game 1 between the Cubs and the Indians at Progressive Field, and the appreciation for two historic droughts was rivaled only by the urgency to make sure that future generations -- like those right in front of him -- would help assure that these kinds of traditions are carried forward in the next century of Major League Baseball.
• Shop for Indians World Series and AL champs gear
Manfred said it has been remarkable to watch the surge in ticket interest for both cities since the pennant clinchers. The Cubs are expected to draw double the highest previous average ticket price at a World Series game, and Games 1 and 2 in Cleveland were expected to top previous highs, as well.
"The secondary market, I think, is the best indication of the demand for tickets," Manfred said. "We're setting records in both markets in terms of prices in the secondary market. I think it's indicative of the historic nature of this matchup and the level of interest that the matchup is generating."
• Complete Youth Baseball coverage
This community event was a way to highlight the game's commitment to youth, particularly through the Play Ball initiative, and to celebrate baseball's partnership with BGCA, MLB's official charity.
Also in attendance were Indians part-owner & CEO Paul Dolan; Indians catcher Chris Gimenez; former Indians Joe Charboneau, Len Barker, Brian Anderson and Jason Stanford; BGCA national VP Frank Sanchez; Jocelyn Woods, BGCA National Youth of the Year from San Jose, Calif.; president of BGCA of Cleveland Ron Soeder; CEO of the Cleveland Metropolitan School District Eric Gordon; Kendra Gaither, a 1996 Jackie Robinson Foundation Scholar and currently Senior Policy Director, Americas, U.S. Chamber of Commerce; and Indians mascot, Slider.
"These are the kind of things we get a chance to do all year long, but to be able to do it under the umbrella of a World Series being in town is pretty special," Dolan said. "Something that's very important to the Cleveland Indians, that we've been doing for a long time, is trying to encourage kids to be active by playing the game of baseball. It's great for their social well-being, their physical well-being, and it's great for the game, as well, to have young people playing at an early age.
"You love the game, I think first and foremost, because you played the game. So to have young kids playing the game is good for the overall health of the game of baseball."
Dolan grew up playing the sport as an infielder at Gilmour Academy, a prep school in the Cleveland suburb of Gates Mills. Becoming an owner, he said, was a better Indians route for him.
"I was well on my way to a Major League Baseball career. It was cut short at age 14 when we realized that I wasn't very good," Dolan said with a grin. "I played all through high school and a little bit of college. Infield is where I wound up. I couldn't see the ball well in the outfield. My pitching career was cut short when 70-mph fastballs right down the middle of the plate went 300-and-some feet. I realized maybe that's not where my future lay."
On Monday night, as many in the MLB world gathered at the Rock and Roll Hall of Fame for a legendary World Series Gala, Dolan was able to chat with Cubs chairman Tom Ricketts about this one-of-a-kind Fall Classic.
"Tom came over, and we had a fun time together," Dolan said. "I look forward to being able to spend more time with him over the course of the week, having fun with this great rivalry.
"What I'm seeing is a community that's absolutely galvanized around a baseball team. It's just an extraordinarily exciting time for the city of Cleveland and our greater community. Cleveland is alive in ways that it probably never has been, because we're hosting a World Series Game 1 for the first time in the history of the franchise, and then add to that, across the plaza from us, the Cavaliers are opening their season with their ring ceremony. It's just an unprecedented day for the city of Cleveland, so the excitement levels are off the chart."
Dolan said the Indians' so-called "Curse of Rocky Colavito" is no match for the Cubs' vaunted Billy Goat Curse, and he said he wants it to stay that way.
"It's a great history with both traditional franchises, and both of us have our struggles with the so-called curses," Dolan said. "I actually think the Cubs have a better curse than us, and I think they should hold onto it because it's a big part of their tradition. So we're going to try to help them to maintain that so that their brand is well-established and continues on."
Mark Newman is enterprise editor of MLB.com. Read and join other baseball fans on his MLB.com community blog. This story was not subject to the approval of Major League Baseball or its clubs.