Fernandez posthumously honored by Sporting News
Marlins star, who passed away in tragic boating accident, selected by NL peers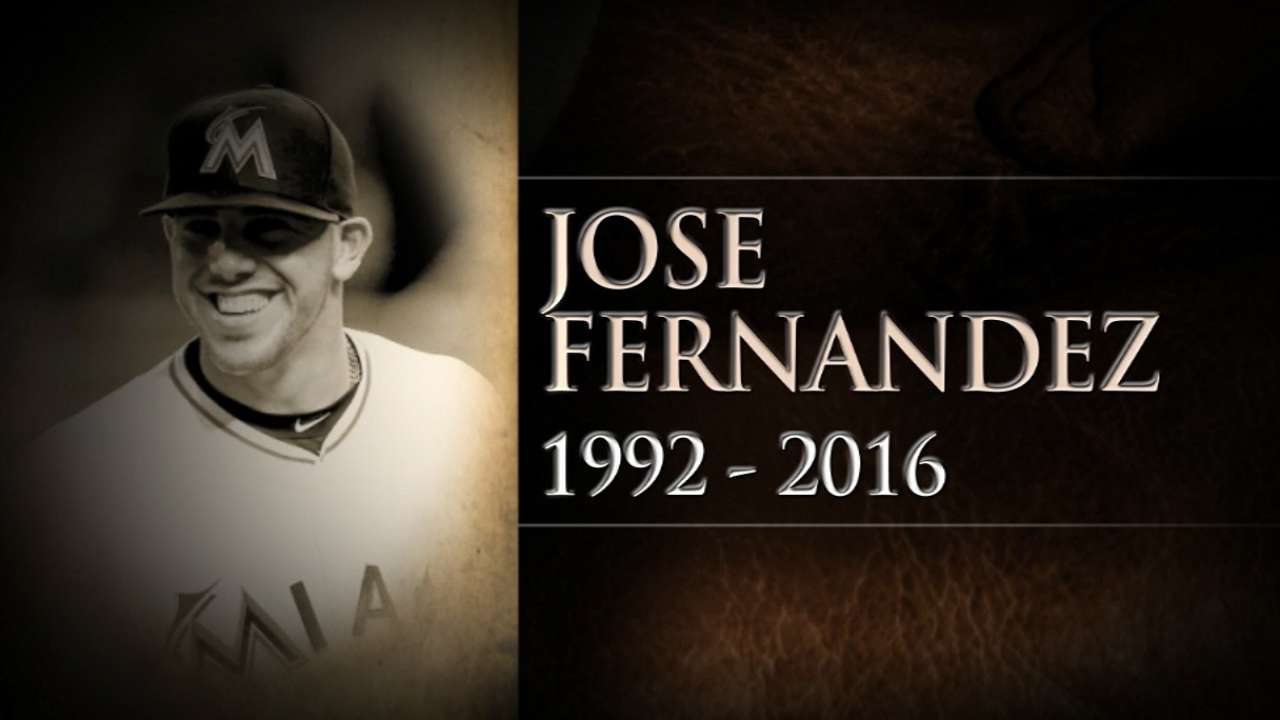 MIAMI -- Jose Fernandez, who captured the hearts of the baseball world with his boyish enthusiasm before breaking them with his tragic death in a boating accident, on Tuesday was named the 2016 Sporting News National League Comeback Player of the Year.
In the 80 years the Sporting News has honored baseball players for various awards, Fernandez is the first to be a winner posthumously. The Marlins' two-time All-Star was recognized by his peers.
The Comeback Player was selected by a panel of 177 NL players, with votes being cast during the month of September. A majority of the tallies were made before Fernandez's death on Sept. 25.
Fernandez is the third Marlins' player to win Comeback honors, joining Casey McGehee (2014) and Darren Daulton (1997).
Fernandez finished 16-8 with a 2.86 ERA in 29 starts. The 24-year-old shattered a Marlins' season record with 253 strikeouts, and his 12.5 strikeouts per nine innings were the tops in the Majors.
An All-Star in 2016, Fernandez was emerging as one of the top pitchers in the game at the time of his death.
"There was just joy with him when he played," Marlins manager Don Mattingly said the day Fernandez died. "When he pitched, I think that's what the guys would say, too, as mad as he would make you with some of the stuff he'd do, you'd see that little kid you see when you watch kids play Little League or something like that. That's the joy that Jose played with and the passion he felt about playing."
Fernandez was considered for the Comeback Player honor because 2016 was his first full season since undergoing Tommy John surgery in May '14.
The Marlins had the hard-throwing right-hander on an innings plan of around 180, and he finished at 182 1/3 innings.
By his own admission, Fernandez's finest career start happened to be his last. On Sept. 20, the right-hander threw eight shutout innings, striking out 12 in a win over the Nationals.
Fernandez broke onto the big league scene in a big way.
In 2013, at age 20, Fernandez reached the big leagues, and dazzled from Day 1. He finished 12-6 with a 2.19 ERA on a 100-loss Miami team. Fernandez won the NL Rookie of the Year Award for his campaign.
But in May of 2014, he suffered a torn ligament in his right elbow, requiring Tommy John surgery. He returned to the big leagues on July 2, 2015.
In a shortened season, he made 11 starts and went 6-1 with a 2.92 ERA in 64 2/3 innings.
Fernandez was just starting to tap into his immense potential when he and two friends were killed in the waters off Miami Beach.
Joe Frisaro has covered the Marlins for MLB.com since 2002. He writes a blog, called The Fish Pond. Follow him on Twitter @JoeFrisaro and listen to his podcast. This story was not subject to the approval of Major League Baseball or its clubs.