Nationals in AFL: Ward all the wiser; Stevenson developing
MLB Pipeline checks in on Washington's prospects participating in the Arizona Fall League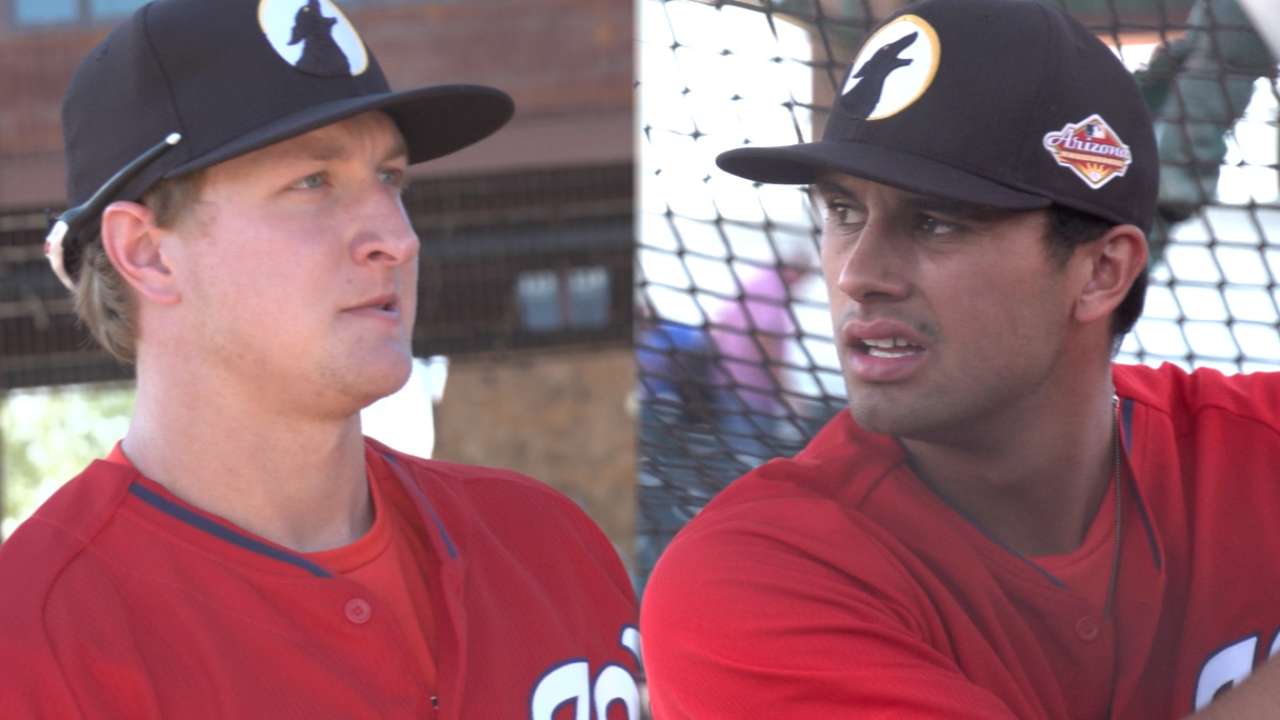 After struggling as the youngest player in the Arizona Fall League in 2015, Drew Ward, a year older and wiser, is coming into his own this fall in his second tour of the desert.
Selected to play in last year's Fall League at age 20, Ward batted .097 over 12 games as a member of Salt River's taxi squad. But while Ward's performance may have left something to be desired, it didn't keep him from making the key developmental strides that would aid him in 2016.
• Complete Arizona Fall League Coverage
"Coming here last year and being a [taxi squad] guy, I learned a lot about myself," said Ward, the Nationals' No. 10 prospect. "I developed a leg kick in my swing and it's helped me to get a little more rhythm and my timing's a lot better. That was the biggest thing for me.
"Last year, here, the Blue Jays' hitting coach, [John Tamargo], we went to the cage every day," he continued. "One of the days we went there and he was like, 'Hey, let's try a leg kick today,' which I used to do in high school but took out in pro ball.
"At first it felt really weird; I mean, I hadn't done it in two years," conceded Ward, "but I started doing it more and more and it felt like I got my hands in a really good position.
The Leedy, Okla. native opened this season back at Class A Advanced Potomac, where he batted .278/.377/.491 with a career-best 11 home runs in 64 games. He added three more homers after moving up to Double-A Harrisburg at midseason, but ultimately batted just .219 across 53 games at the more advanced level.
All together, the 21-year-old third baseman posted a .252/.348/.412 slash line in 117 games, with 14 home runs and 23 doubles.
Now back for his second go-round in the Fall League, Ward is showing improvement every time he takes the field. He's hit safely in each of his eight games for Glendale and, thanks to back-to-back three-hit performances, he enters Tuesday with a league-best .448 average and 13 hits.
Nationals hitters in the Fall League
Osvaldo Abreu, SS/2B
Andrew Stevenson, OF
Drew Ward, 3B
Coming off of a breakout 2015 campaign in the South Atlantic League, Abreu, the Nationals' No. 19 prospect, built on his intriguing power-speed package this season at Class A Advanced Potomac. He finished his season on a high note by hitting .311/.368/.447 and three of his six home runs over his final 33 games, and that success has carried over into the Fall League for the 21-year-old middle infielder.
Selected by the Nationals in the second round of the 2015 Draft, Stevenson, like Ward, fared well during the first half of the season at Potomac but struggled after a mid-season promotion to Harrisburg. Nonetheless, it was a productive first full season for the Nationals' No. 8 prospect, as he batted a combined .276/.332/.374 with 36 extra-base hits and 39 steals across the two levels.
"It's definitely a jump from High-A to Double-A," Stevenson said. "But a little bit older guys you get a feel for what they're doing. I think that was the biggest thing. You gotta stay in yourself -- you know, it is what it is -- and not try to do too much."
Nationals pitchers in the Fall League
Ryan Brinley, RHP
Jake Johansen, RHP
Nick Lee, LHP
Austin Voth, RHP
Brinley, 23, thrived as Potomac's closer, saving 16 of 18 games and posting a 1.37 ERA with a 0.89 WHIP in 39 1/3 innings (32 appearances). He allowed just one home run in that span and held opposing hitters to a paltry .196 average. So far this fall, the right-hander has yet to allow a baserunner in four innings spanning three appearances.
Johansen, whom the Nationals selected in the second round of the 2013 Draft out of Dallas Baptist, was limited to only 36 2/3 innings and 24 appearances this year as the result of two separate trips to the disabled list. Now healthy, the 25-year-old righty is showing the type of power stuff in the Fall League that could one day make him a valuable bullpen piece.
Lee was viewed as a candidate to take a significant step forward in 2016 after a strong showing in Arizona last fall. Instead, the 25-year-old southpaw regressed with his control at Harrisburg, posting a 4.32 ERA with 42 walks in 50 innings that prompted the Nationals to designate him for assignment late in July. Lee's control problems have continued in his second tour of the Fall League, although his unblemished ERA and six strikeouts in five innings speak to the quality of his stuff.
Voth continued his climb towards the Major Leagues this season by posting a 3.15 ERA over 157 innings (27 games/25 starts) at Triple-A Syracuse. The Nationals' No. 9 prospect has yet to find his rhythm in the AFL, however, as he's allowed 13 earned runs in 9 2/3 innings in three starts. But it hasn't been all bad for Voth; in his second Fall League start, the 24-year-old righty tossed four innings of one-run ball during which he permitted two hits and recorded seven of his 12 outs via the strikeout.
Mike Rosenbaum is a reporter for MLB.com. Follow him on Twitter at @GoldenSombrero