History gives Hart reason to root for Cleveland
Braves president of baseball operations was Indians' GM during club's trips to Fall Classic in '90s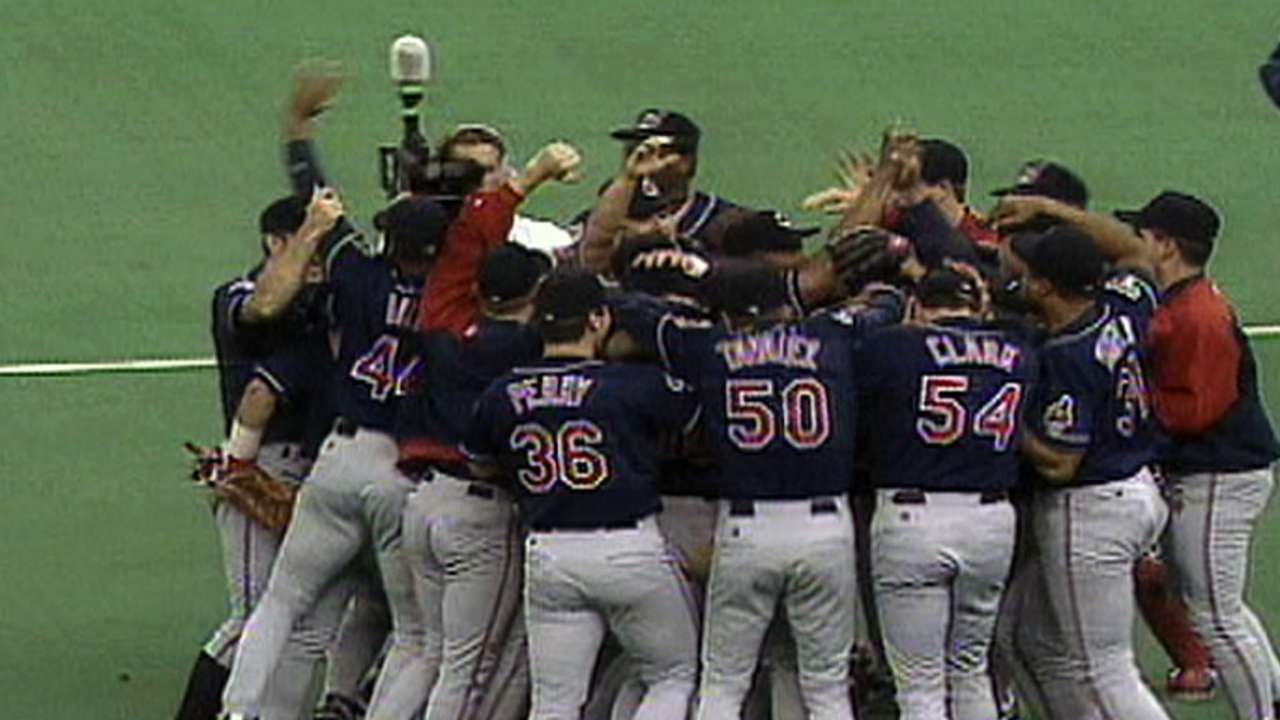 ATLANTA -- Twenty-five years have passed since Braves president of baseball operations John Hart was persuaded to become a general manager for the first time. His assignment wasn't necessarily enviable as he was tasked with healing the hearts of Cleveland sports fans, who had too often been tortured by their baseball, football and basketball teams.
With thoughts of Michael Jordan's jumper, John Elway's drive and Earnest Byner's fumble still fresh in their memory, Cleveland fans saw the once hapless Indians prosper under Hart's direction, winning two American League pennants during his first six full seasons as general manager. Some heartache lingered, when a loss to the Braves in the 1995 World Series was followed by a dramatic Game 7 loss to the Marlins in the '97 Fall Classic.
• Game 2: Wednesday, 7 p.m. ET game time on FOX (6 p.m. ET pregame show on FS1)
Still, as the Indians won six division titles within a seven-season span (1995-2001), a rust belt town that had gone nearly 40 years without an AL pennant and closer to 50 years without a World Series title came to love Hart, who likewise developed an indelible bond that he feels as the Indians battle the Cubs in this year's World Series.
"I have so many ties to Cleveland, I'd love to see them win," Hart said. "I always pull for them. It was where you did something for the first time. It was just a special time in my life and we were wildly successful, almost beyond my imagination."
Along with the natural bond that was strengthened by that successful run during the late 1990s, Hart also has ties to Indians manager Terry Francona and president of baseball operations Chris Antonetti.
Hart brought Francona to the Indians' front office to serve as a special assistant during the 2001 season, and when he became the Rangers' general manager the following season, he hired him as a bench coach. Their friendship remains strong. In fact, as Hart completed his managerial search this month, he called Francona for some advice.
While Hart ran Cleveland's front office, his staff included seven men -- Dan O'Dowd, Mark Shapiro, Josh Byrnes, Paul DePodesta, Ben Cherington, Neal Huntington and Antonetti -- who would become general managers at the Major League level. Huntington worked with a baby-faced Antonetti in Montreal, and then suggested he be the man who filled the void created when "Moneyball" lured DePodesta to the A's front office.
"I knew of [Antonetti], but didn't really know him," Hart said. "He came with such a strong recommendation [from Huntington], and he was razor smart. The only knock was he looked like he was 12. He was young, but wise beyond his years."
When Hart became the Indians' GM after the 1991 season, the Indians had not visited the postseason since being swept by Willie Mays and the New York Giants in 1954. They had not won a World Series title since 1948, when they beat the Boston Braves, who were a city and six years away from introducing a young phenom named Hank Aaron.
The Indians are now appearing in the World Series for the first time since Hart left after the 2001 season. Though he has not had any direct impact on Cleveland's rosters over the past 15 years, he indirectly aided this year's team when he agreed to the financially-motivated swap that brought Michael Bourn and Nick Swisher to Atlanta last year in exchange for Chris Johnson.
While the Braves' aim was to create payroll flexibility for 2017, the Indians completed the deal to gain financial flexibility for this current season. Consequently, they were able to comfortably add the likes of Mike Napoli and Andrew Miller to their roster.
"I loved the players that we had when I was with the Indians, and I loved the people," Hart said. "It's a good, loyal town. I don't have anything but good memories from Cleveland. I can't help but pull for these guys."
Mark Bowman has covered the Braves for MLB.com since 2001. This story was not subject to the approval of Major League Baseball or its clubs.