World Series Game 1 starting lineups: Cubs vs. Indians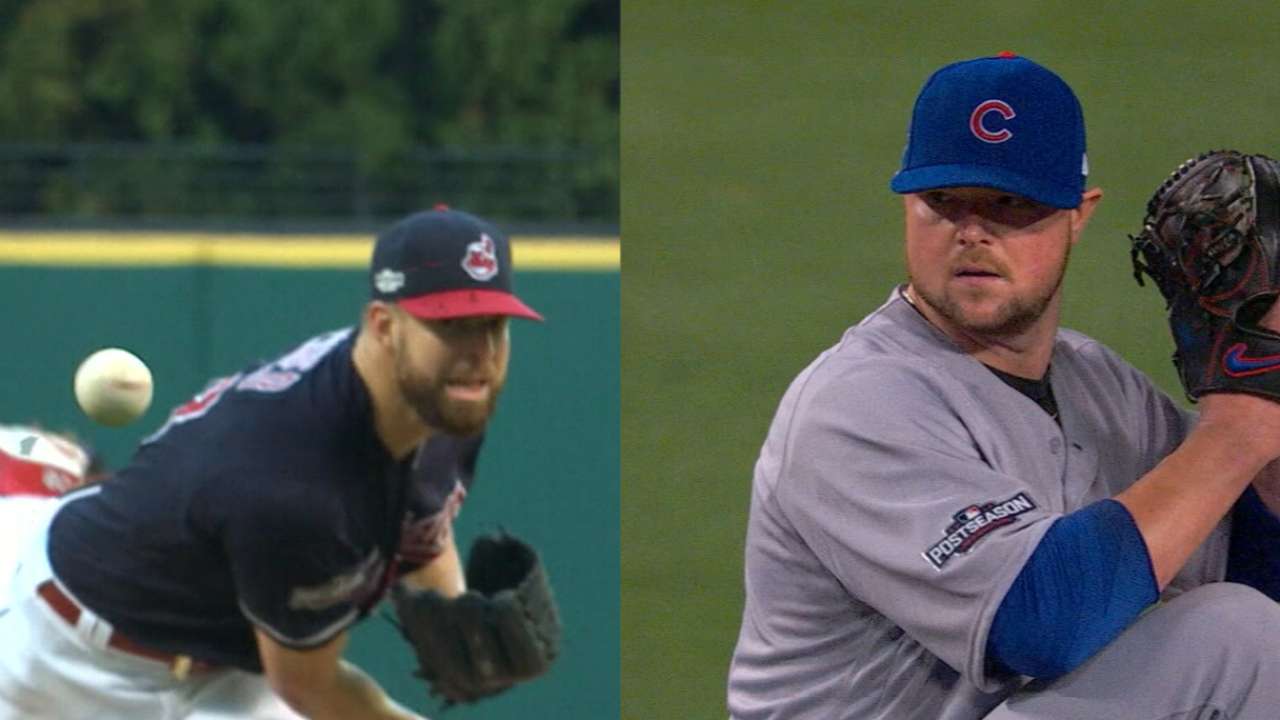 CLEVELAND -- Not only is Kyle Schwarber on the Cubs' World Series roster, but he's starting as the designated hitter and batting fifth on Tuesday for Game 1 against the Indians.
Schwarber, who tore the ACL and LCL in his left knee in a collision on April 7, returns to the ballpark where he made his Major League debut in June 2015. In an Interleague Series against the Indians last year, he went 6-for-10 with a triple, a home run and four RBIs. The only issue for the Middletown, Ohio, native is finding enough last-minute tickets for his family and friends.
The other surprise in the Cubs lineup is Chris Coghlan starting in right field over Jason Heyward. Coghlan has faced Indians Game 1 starter Corey Kluber, and was 1-for-3 with a double. Ben Zobrist has the most at-bats against Kluber among the Cubs (13), but only one hit. Heyward has gone 2-for-28 in the postseason. Coghlan has gone 0-for-4 in the postseason, but he has been solid against right-handed pitching in his career (.268/.341/.424).
Think about this: On Opening Day against the Angels, Coghlan was with the Athletics, Baez was on the DL, Heyward was batting second and Jorge Soler was the designated hitter.
The big question for the Indians was answered in the affirmative, with Jason Kipnis in his customary spot, hitting second and playing second behind Kluber, despite an ankle sprain incurred during the Tribe's on-field celebration after clinching the AL pennant.
As expected, right-handed-hitting Rajai Davis is leading off and playing center for the Indians vs. Cubs southpaw starter Jon Lester. Interestingly, the veteran speedster, who led the AL with 43 steals this season, actually hit worse against lefties (.235/.296/.374) than righties (.258/.312/.396) this season. But if Davis can get on base, he'd be a prime candidate to take advantage of Lester's issues with throwing to first base.
While the Cubs stacked their lineup with lefty hitters, Kluber did not demonstrate a large platoon split this season, as left-handed batters posted a .648 OPS against him as opposed to a .615 mark from righties. However, lefties have had a lot more success against him in his career (.254/.316/.404 line) than right-handed hitters
Including Zobrist, a switch-hitter, the Cubs will have five left-handed hitters in the starting lineup tonight. When Kluber threw 6 1/3 scoreless innings against the Blue Jays in Game 1 of the ALCS, Toronto featured just two lefties in its starting lineup.
With Rizzo and Schwarber just two spots apart, it seems likely that left-hander Andrew Miller, the Indians' ace reliever, will be brought in at some point to face both of them. If so, Joe Maddon would have to decide whether to use one of his many right-handed hitters on the bench -- including Willson Contreras and Soler -- to pinch-hit for Schwarber, who has a career .481 OPS against southpaws.
This is the Cubs' first World Series since 1945. According to Elias Sports Bureau, no team in the four major North American sports had ever gone longer than 71 years without an appearance in a championship game/series.
Tuesday's game also marks the 25,948th day since the Cubs previously played a World Series game on Oct. 10, 1945.
CUBS LINEUP
Dexter Fowler CF
Kris Bryant 3B
Anthony Rizzo 1B
Ben Zobrist LF
Kyle Schwarber DH
Javier Baez 2B
Chris Coghlan RF
Addison Russell SS
David Ross C
INDIANS LINEUP
Rajai Davis CF
Jason Kipnis 2B
Francisco Lindor SS
Mike Napoli 1B
Carlos Santana DH
Jose Ramirez 3B
Brandon Guyer LF
Lonnie Chisenhall RF
Roberto Perez C
Carrie Muskat has covered the Cubs since 1987, and for MLB.com since 2001. She writes a blog, Muskat Ramblings. You can follow her on Twitter @CarrieMuskat and listen to her podcast. This story was not subject to the approval of Major League Baseball or its clubs.