MLB.com Columnist
Jonathan Mayo
D-backs in AFL: Westbrook, Cron enjoying homecoming
MLB Pipeline checks in on Arizona's prospects participating in the Fall League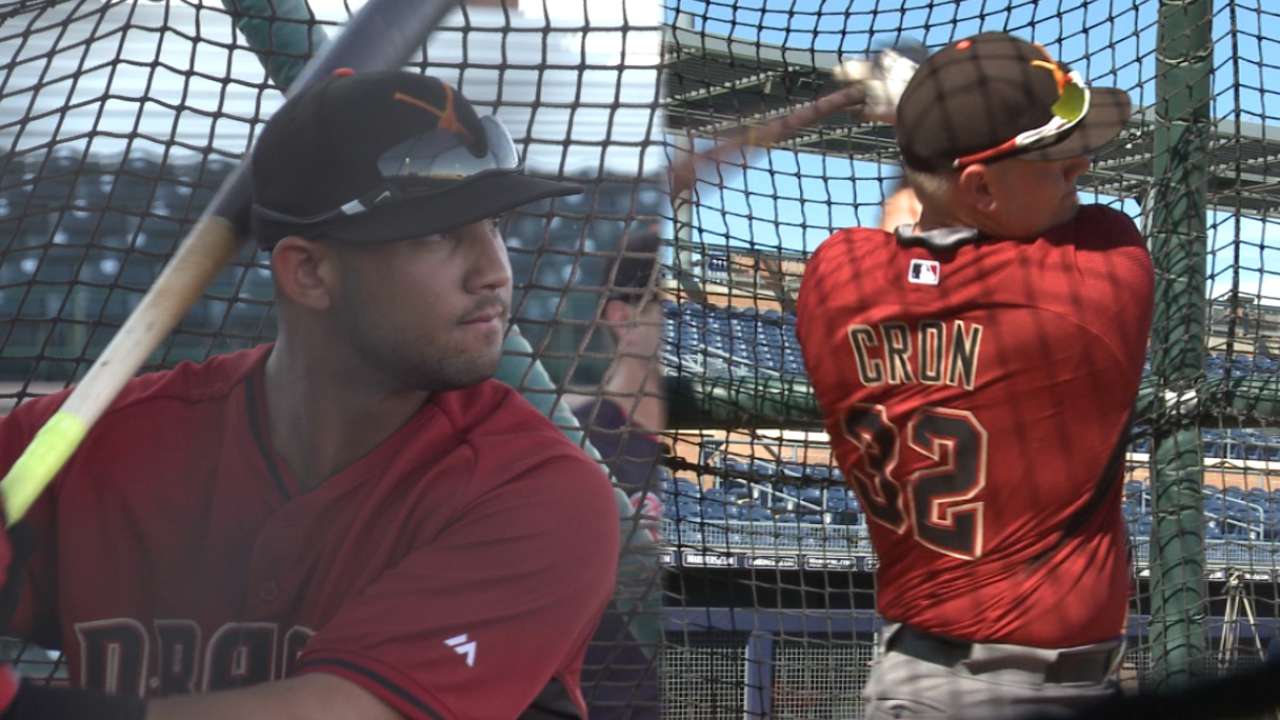 Any time a D-backs prospect heads to the Arizona Fall League, there is a feeling of it being a homecoming, of sorts. They always play for the Salt River Rafters, so the home park is Salt River Fields, which is also where prospects go for Spring Training and instructional league play.
For a pair of prospects playing in the AFL this fall, it goes beyond just playing in familiar surroundings. Jamie Westbrook, No. 21 on the D-backs Top 30 prospects list, and Kevin Cron both are products of the Arizona high school baseball scene. Westbrook signed out of high school as a sixth-round pick in 2013. Cron went to TCU and began his career after the D-backs took him in the 14th round of the 2014 Draft. As a result, both were well-versed in what the AFL was all about.
• Complete Arizona Fall League Coverage
"I grew up coming to watch all these games since I was little," Westbrook said. "I even came last offseason to watch. I get to be home and play against the best competition there is in the Minors. I was really pumped; I was excited for the opportunity."
Not only did Cron also watch Fall League action as a kid, he has multiple family ties to the AFL. His father, Chris, now the D-backs' minor league hitting coordinator, has played (1992) and managed (1999, 2001) in this league. And his brother, C.J., now a first baseman for the Angels, played as well, in 2013.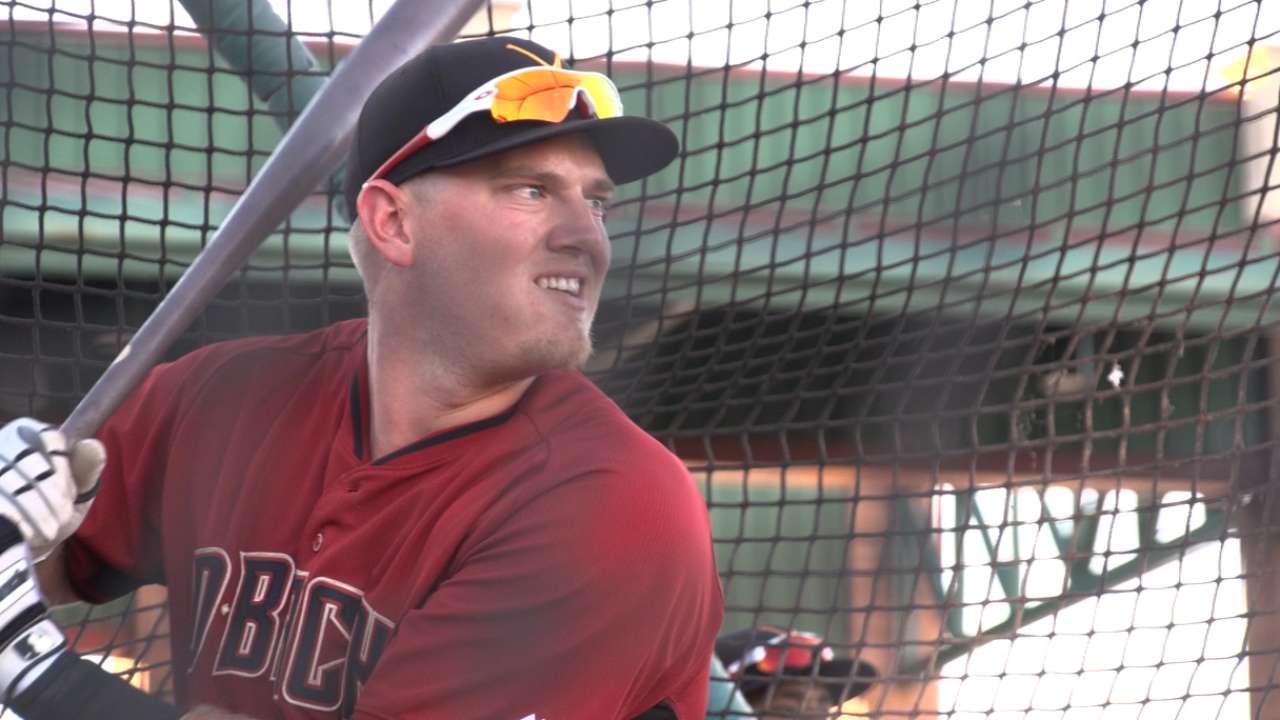 "I was fired up," Cron said about getting the AFL invite. "It was always a goal of mine to make it here and play. I know the prestige or the honor it is to play here. My brother let me know how much fun he had, tried to calm the nerves a little bit, me understanding how big of an opportunity this is to showcase my abilities."
Cron and Westbrook showcased what they could do together in Double-A for the first time. Both saw their numbers dip following seasons in the hitting-friendly California League, but both came away feeling they are better players now, with lessons carrying over to the AFL, having gone through the 2016 season.
"It was definitely an adjustment period," said Cron, who did hit 26 homers. "I came to learn a lot about who I was as a player. You always hear that old adage that the most important thing is to know who you are, play to your strengths and improve on your weaknesses."
"It was definitely a big jump from High-A to Double-A, bigger than from Low-A to High-A," Westbrook agreed. "I was pleased with my year. Obviously, I'd have liked for it to go better, but I learned a lot of things. I think I matured a lot, not just on the field, but mentally. I learned how to deal with failure more. I think it was a positive year. I can take something from it."
Westbrook is trying to take some things from his Fall League experience. He's played almost exclusively at second base throughout his pro career, but he's getting some time in left field while playing for Salt River.
"The more positions you can play, the better, to help the big league ball club," Westbrook said. "That's all you're trying to do. It's the Arizona Fall League, it's good competition, but it's still baseball. If they hit a fly ball, you have to catch it, whether you're in little league, the Fall League or the big leagues. I'm not too worried about it. I'm excited for the opportunity. I think it's going to help me."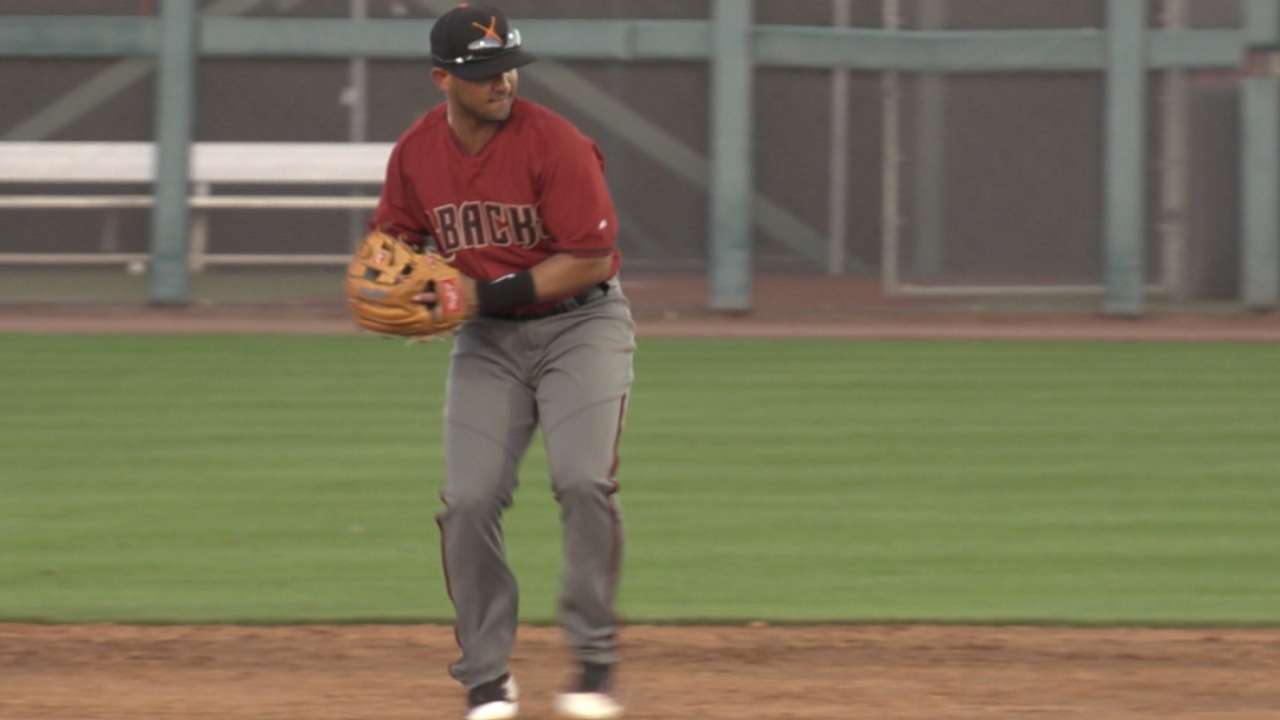 While Westbrook hit well over the AFL season's first two weeks, carrying a .364 average over his first 22 at-bats, Cron has scuffled a bit. He did homer and double over his first four games, but he is just 2-for-30 over eight games. That all comes with trying to make adjustments to his approach at the plate.
"I feel like I've made some of those adjustments carry over," Cron said. "I feel that's carried in to what I've been trying to do here: draw a few more walks, see a few more pitches, cut down on the strikeouts a little bit. Obviously, some of those things are going to take some time, but those things are what I'm looking to do."
Westbrook, who has seen plenty of his teammate over the years, knows exactly what he is capable of.
"He hit a home run off of this building in high school; I watched him do it," Westbrook said. "I've played with him the last two years, probably seen 1,000 of his at-bats. He just has a bunch of juice. That kid can crush baseballs. It's fun to watch. Every time you go up there, you're thinking, 'OK, this might be it. Let me watch. I want to see how far this one could go.'"
D-backs hitters in the Fall League
Cron, 1B
Dawel Lugo, 3B/SS
Westbrook, 2B
Lugo had a breakout season in many ways, setting career highs in a host of offensive categories. While much of the numbers came in the hitter-friendly California League, he hit well over 48 games after being promoted to Double-A. He also spent a majority of his time defensively at third after playing shortstop almost exclusively earlier in his career, a trend that continued with Salt River.
D-backs pitchers in the Fall League
Joey Krehbiel, RHP
Jared Miller, LHP
Gabe Speier, LHP
Josh Taylor, LHP
Originally a 12th-round pick of the Angels back in 2011, Krehbiel came to the D-backs in a July 2014 trade. Since then, he has made slow and steady progress up the organizational ladder. He spent all of 2016 in Double-A, posting strong numbers (2.75 ERA, .207 BAA, 10.7 K/9), albeit with a 3.7 BB/9 rate. Could a 40-man roster spot be in his future?
Miller, an 11th-round Draft pick in 2014 out of Vanderbilt, spent all of 2015 as a starter without much success. The 6-foot-7 lefty moved to the bullpen in 2016 and took off, pitching at four levels and striking out 11.7 per nine along the way. He had 14 strikeouts, with just one walk and four hits allowed, in seven innings of shutout ball over his first four Fall League outings.
Originally a draftee of the Red Sox, Speier has been traded three times, going from Boston to Detroit in December 2014, then from the Tigers to the Braves the following offseason. Atlanta sent him to the D-backs in the Shelby Miller deal soon after that. The lefty reliever started in Low-A ball and finished in Double-A.
Taylor is yet another lefty on the Salt River staff. The 6-foot-5 southpaw came to the D-backs in 2015 from the Phillies in exchange for international slot money and pitched well following the deal. He didn't back it up with as strong of a 2016 campaign, although he did make it to Double-A. He has size and arm strength, with a fastball that can touch the mid-90s, but his secondary stuff is inconsistent and he struggles with command, particularly within the strike zone, leading to a much-too-high hit rate.
Jonathan Mayo is a reporter for MLBPipeline.com. Follow him on Twitter @JonathanMayo and Facebook, and listen to him on the weekly Pipeline Podcast. This story was not subject to the approval of Major League Baseball or its clubs.