Staumont named Fall League Pitcher of the Week
Royals' No. 10 prospect has allowed just one run in three outings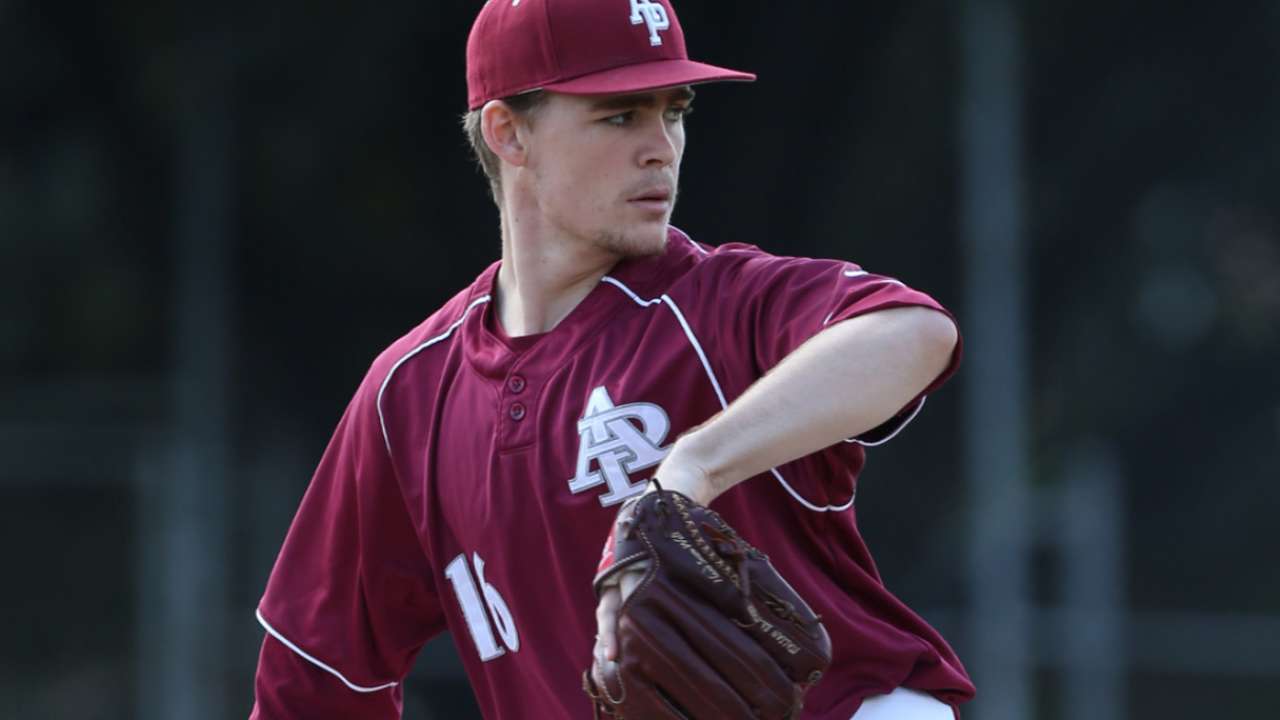 MESA, Ariz. -- Josh Staumont, who holds one of the lowest ERAs in the Arizona Fall League, received one of its highest honors Monday by being named Pitcher of the Week.
After allowing only one run across his first three starts, the right-handed pitcher from La Habra, Calif. -- the Royals' No. 10 prospect -- owns a 0.87 ERA in 10 1/3 innings.
"It's a huge honor, there's a ton of great guys out here and honestly, everyone has ups and downs," Staumont said. "So it's nice to have a good week and kind of finish it out strong."
• Yankees' Torres named Arizona Fall League Player of the Week
The only run he has allowed came in Saturday's game against the Glendale Desert Dogs. The Surprise Saguaros went on the win the game 10-8, but Staumont did not earn the win for his 3 1/3 innings.
"It was unfortunate to give up a run. I made some good pitches, but he got it on a swinging strike," Staumont said.
• Arizona Fall League coverage
Staumont has allowed only five hits in his three starts, and the only run to score while he was on the mound for the Saguaros came because of a wild pitch on a swinging strike that put Nationals No. 8 Andrew Stevenson on base. Another wild pitch, a pitching change, a sacrifice fly and a base hit scored Stevenson.
But, he wasn't concerned with posting a 0.00 ERA for the entire Arizona Fall League season.
"If you give up a run in one inning, it's not necessarily a problem, and if you go scoreless for one inning, you just won that one inning," Staumont said. "So, if you take it one inning at a time, it's not so much a whole entire AFL season, it's just that you won that one instance."
While he posted a 4.23 ERA during his time with Class A Advanced Wilmington and Double-A Northwest Arkansas, he also led the Minor Leagues in walks with 104 during the 2016 season. His recent control over his high-velocity pitches have nabbed 11 batters for strikeouts and only allowed four walks in the Fall League.
"The continuation of the end of my season and the Fall League has been drastically different only because things are clicking," Staumont said. "Especially with velocity, when you finally find something that works for you and you can repeat."
His fastball is one of the things that has been working on the mound, accounting for about half of his pitches per game, but he also relies on his curveball.
"As soon as you find something that works for you, it allows you to be competitive," Staumont said.
The 22-year-old was drafted by the Royals in the second round of the 2015 Draft out of Azusa Pacific University. He became the highest Draft pick out of Azusa, following the footsteps of seven other Major Leaguers, including Stephen Vogt of the Oakland Athletics.
His fastball has been rated at the top of his repertoire, scoring an 80, the highest possible by scouts. It can top out at triple digits but drops to mid-90's in late innings. Some headlines have called him a "power arm" and the "next No. 1 guy for the Royals," as well as mentioning the effect he could have in the Royals clubhouse as soon as 2017.
However, Staumont isn't fazed by high praises. He wants to see his own results by controlling his command and settling in on the mound.
"It tells me there's potential, but at the same time it's complete speculation," Staumont said. "It's all talk, so unless you actually do something on the field, it's never gonna happen, so that's my job now."
Trisha Garcia is a sports journalism graduate student at Arizona State University. This story is part of a partnership between MLB.com and ASU's Walter Cronkite School of Journalism and Mass Communication. You can follow her on Twitter @trishaanicole. This story was not subject to the approval of Major League Baseball or its clubs.