Bat change just part of Rizzo's turnaround
Cubs slugger heats up using Szczur's lumber, but keeps same approach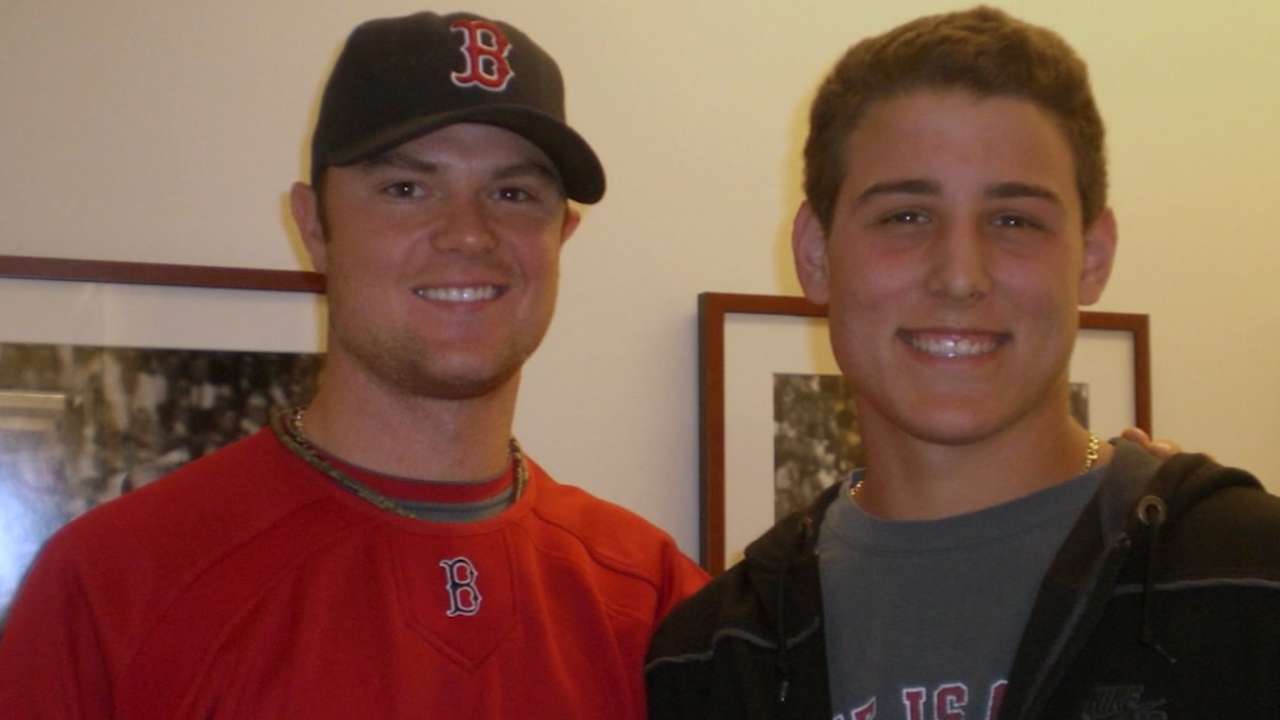 CLEVELAND -- How did the Cubs' Anthony Rizzo deal with his early postseason struggles? It involves more than Matt Szczur's bat.
"The only comment we shared was Rizzo came up to me and said, 'Addy, congrats,'" Cubs shortstop Addison Russell said Monday. "I was like, 'Congrats for what?' And he said, 'Congrats on getting as many hits as me.'"
• World Series Game 1: Tonight, 7:30 p.m. ET air time | 8 ET game time on FOX
Which meant, not many. Russell and Rizzo had one hit each through the first six postseason games.
"I said, 'We're going to turn it around,' and we did," Russell said. "I don't think there was any panic between the two of us. ... We believed in our work, we believed in what we had, and we believed in our craft. You saw in the last couple games with L.A., it takes one hit, and off we go."
• Get official gear: Go, Cubs, going to World Series!
The Cubs will be counting on Rizzo against the Indians in the World Series, which begins tonight at Progressive Field. The good news for Rizzo is that the Indians don't have an overload of left-handed pitchers like the Dodgers, whom the Cubs faced in the National League Championship Series.
In the NL Division Series against the Giants, Rizzo went 1-for-15. He was 1-for-11 in the first three games of the NLCS, and struck out twice in Game 4 before grabbing Szczur's bat and hitting a home run in the fifth, a two-run single in the sixth, and another single in the eighth in the 10-2 win over the Dodgers.
He had two hits each in Games 5 and 6 with two more RBIs, hitting a home run off Clayton Kershaw in the fifth inning of Game 6 that had Wrigley Field shaking. And, yes, he was using Szczur's bat in those games, too.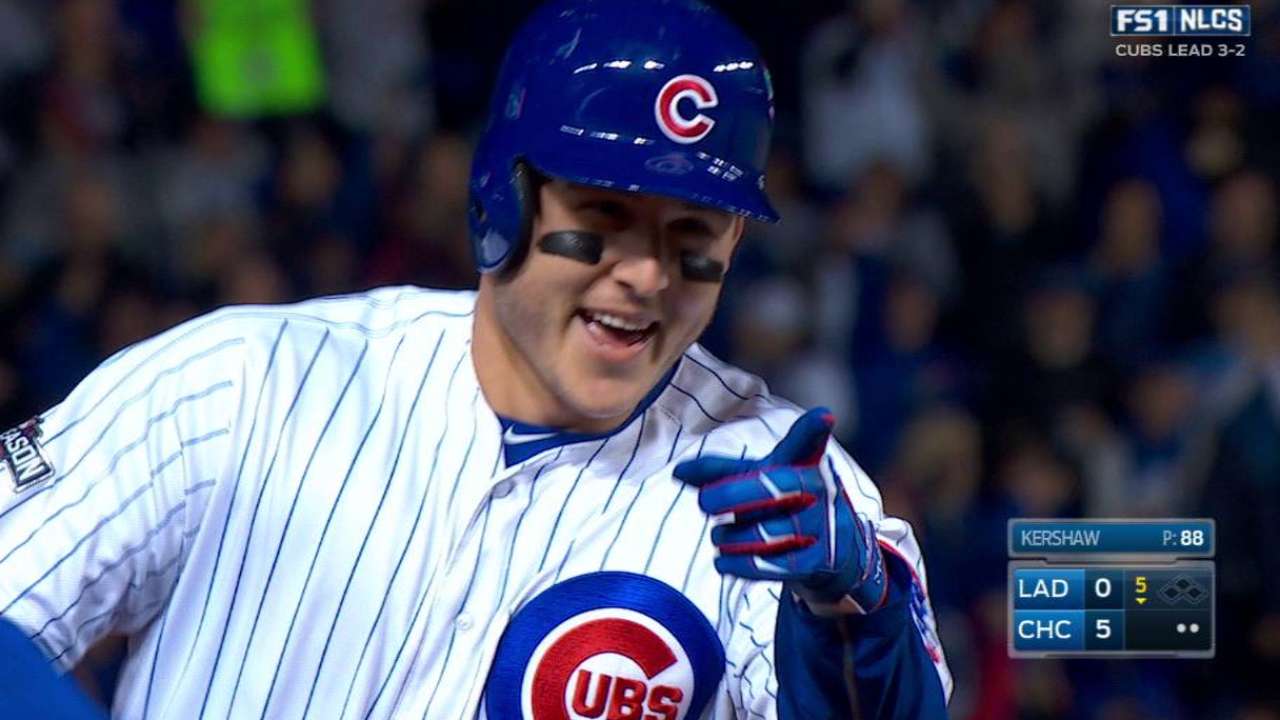 "Tony's like a big kid," Szczur said. "He's not really superstitious or anything. I don't think he cared about his bat, he just wanted to do something different. For some reason, when he used my bat, it went well. Maybe it took the pressure off, I don't know."
Rizzo had some new bats waiting for him that were the same model as Szczur's. They can stay in the box.
"Rizzo said, 'I'm not using it because it doesn't have your name on it,'" Szczur said, laughing.
"It was just something different," Cubs hitting coach John Mallee said, trying to explain the bat karma. "It's all psychological. Maybe when he put the bat in his hands, there was a different feel in his hands, and the focus was on using a different bat rather than being worried about the next pitch. Maybe it just cleared his mind."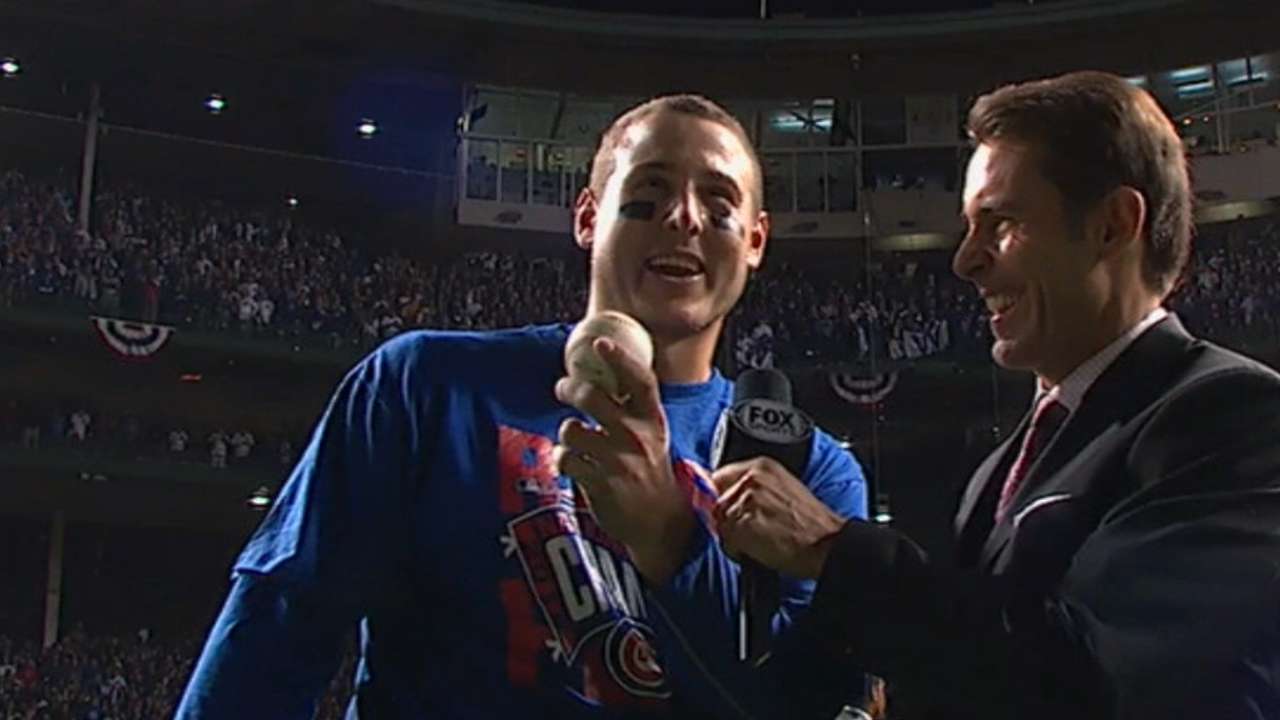 Rizzo and catcher David Ross spend time together on the road working out before games. Ross, a career .229 hitter, doesn't offer advice.
"When you're struggling, more voices can kind of overwhelm you," Ross said. "I've struggled a lot in my career, and I've had pitching coaches come up to tell me how to hit."
After batting .292 with 32 homers and 109 RBIs this season, Rizzo knows himself better than anyone.
"I've felt good since the first game of the playoffs," Rizzo said. "Obviously, balls have fallen lately and that helps a lot. It's just going up there and trying to have good at-bats, and I've consistently done that during the whole postseason."
That's all the Cubs can ask for.
Carrie Muskat has covered the Cubs since 1987, and for MLB.com since 2001. She writes a blog, Muskat Ramblings. You can follow her on Twitter @CarrieMuskat and listen to her podcast. This story was not subject to the approval of Major League Baseball or its clubs.