de Blasio settles WC bet, dons Giants jersey
'San Francisco won fair and square,' NY mayor says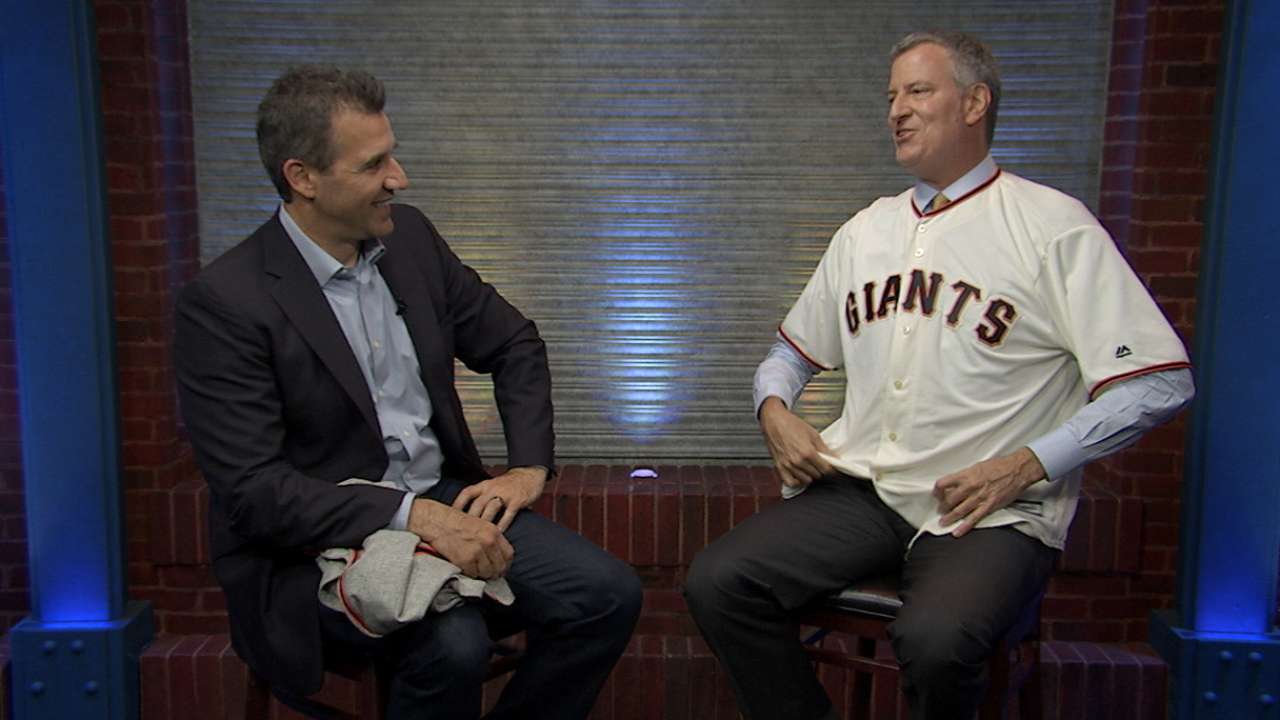 NEW YORK -- Consider Mayor Bill de Blasio's bet settled. The New York City mayor, a Red Sox fan himself, shrugged on a San Francisco Giants Willie Mays jersey in the MLB.com studio in Manhattan on Monday, honoring a friendly wager with San Francisco mayor Ed Lee over the outcome of this year's National League Wild Card Game.
Before the Mets and Giants faced off in the postseason earlier this month, the two mayors took to Twitter to predict a win for their city, prompting a bet centered on Mays, one of baseball's most iconic players, who played for both franchises. If New York won, Mayor Lee would have to wear Mays' Mets jersey; if San Francisco won, Mayor de Blasio would wear Mays' Giants jersey.
Let's up the ante. Loser wears the winning team's Willie Mays jersey for Halloween. I think you'd look good as a @Met, @MayorEdLee. pic.twitter.com/7V3hTWK7U7

— Bill de Blasio (@NYCMayor) October 5, 2016
Now you're talking @BilldeBlasio! Hope they make one tall enough for you. #SFGiants #WildCard pic.twitter.com/UtvTFJMQfd

— Mayor Ed Lee (@mayoredlee) October 5, 2016
"We've got to support our teams," Mayor de Blasio said Monday. "It gives another way for people to connect to the moment, that their mayor is taking on the other mayor on behalf of the team."
Mayor de Blasio was in attendance when the Giants shut out the Mets, 3-0, in a dramatic Madison Bumgarner-Noah Syndergaard pitchers' duel at Citi Field. On Monday, the eve of the World Series, he fulfilled the terms of the bargain with his West Coast counterpart -- first jokingly donning a New York Giants Mays jersey, before switching it for the San Francisco iteration. He also sent Mayor Lee black-and-orange bagels as part of the bet.
"You know, you go to a game like that -- San Francisco won fair and square, incredible pitching -- I hold up my end of the deal," de Blasio said. "A good man won a good bet fair and square."
Before the jerseys came out, he also talked baseball, discussing the Wild Card Game, the upcoming World Series, the player he'd most want to watch a game with (Jackie Robinson), his diehard Red Sox fandom (the mayor was born in New York but grew up in Cambridge, Mass.) and his longstanding love for the game.
"There's a lot of good in this sport," de Blasio said. "I look at stadiums nowadays and I see every kind of fan; I see so many more women going to the games. I'm just a believer in baseball."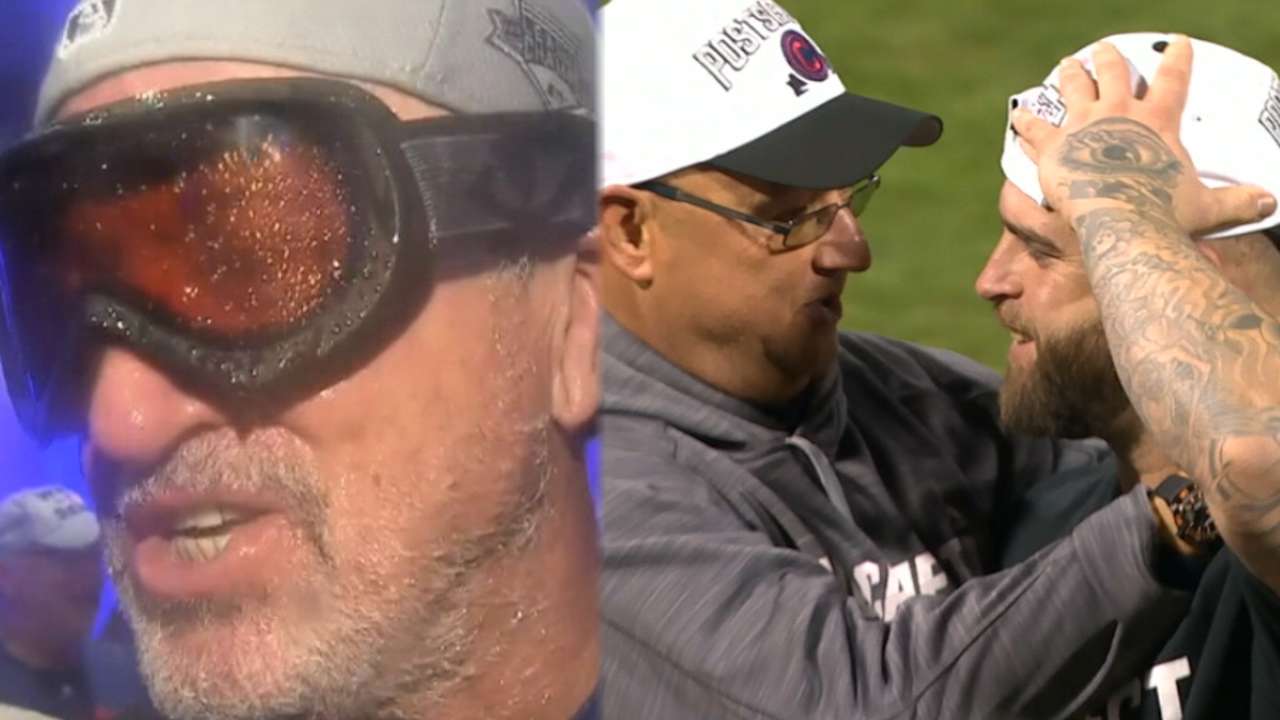 The sport, he said, gives him another avenue to relate to New Yorkers.
"It's deep, deep, deep in the culture of New York City," de Blasio said. "I think as mayor, I'm just a true baseball fan, but the good part about that is, it's another way to really connect with my constituents on something that matters a lot to them, that matters a lot to me, that we have in common."
He said he especially values that connection in a city with ties to four storied Major League franchises -- the Yankees, Mets, Dodgers and Giants. In general, New Yorkers are even willing to look past him being a Red Sox fan.
"I think most people, most fans that are serious fans, want to know if you're real about the game and not casual about it," de Blasio said. "And they quickly come to realize I'm like a diehard fan, of my team but also of baseball in general, and that's usually all people need to know."
David Adler is a reporter for MLB.com based in New York. Follow him on Twitter at @_dadler. This story was not subject to the approval of Major League Baseball or its clubs.