Rays' Honeywell stingy in AFL win
Tampa Bay's No. 2 prospect goes four scoreless innings, allows one hit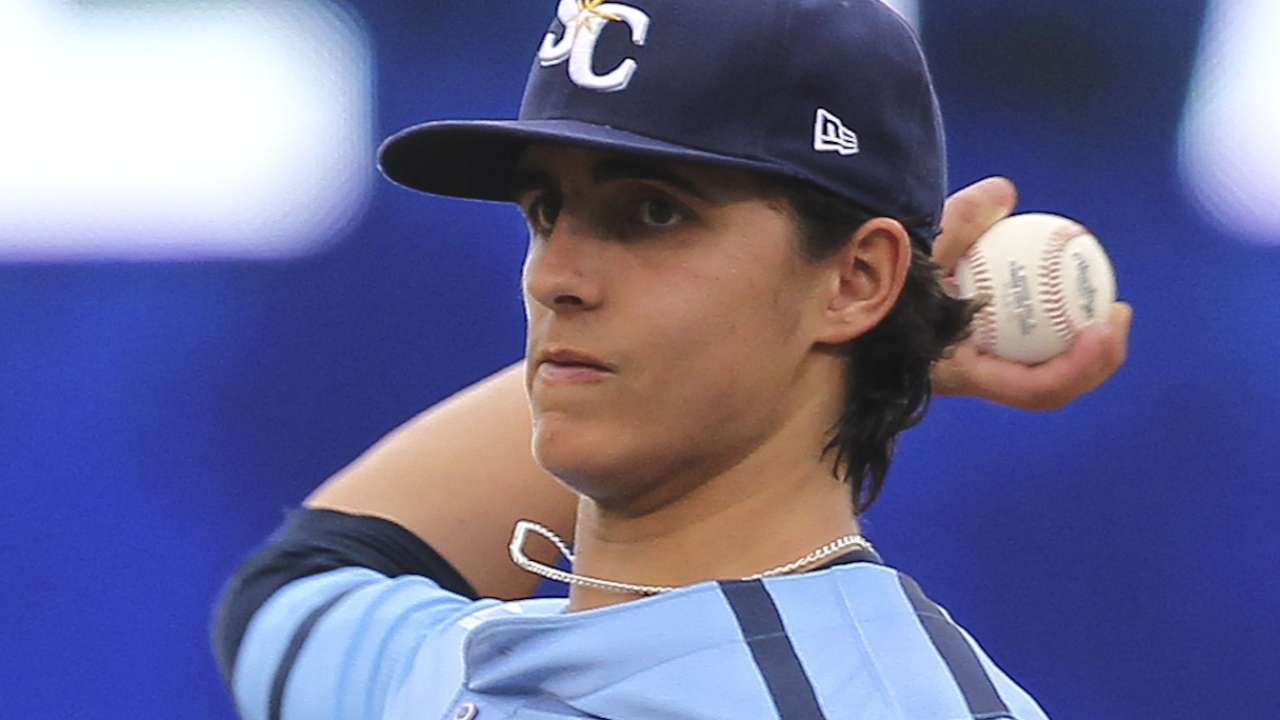 PEORIA, Ariz. -- On a day Peoria hitters feasted on Salt River pitching, Brent Honeywell put Rafters hitters on a diet.
"I was dialed in today," Honeywell said.
The Rays' No. 2 prospect and No. 39 on MLBPipeline.com's Top 100 list threw four shutout innings, allowing only one hit in an 8-2 Javelinas victory Monday.
• Gameday
It was easily his best outing of the fall. Honeywell yielded eight runs in his first two starts covering 4 1/3 innings.
"I felt the same as I have my first [two] starts here,'' he said. "However, I was just executing better pitches today ... Today was a step in the right direction.''
The Georgia-born right-hander started in 10 Class A and Double-A games in the 2016 season. He went 3-2 at Double-A Montgomery with a 2.28 ERA and was an All-Star at Class A Charlotte, where he was 4-1 with a 2.41 ERA.
Honeywell's success in the Minor Leagues last season earned him Minor League Pitcher of the Year honors within the Rays organization.
"It's good to know that your organization thinks highly of you like that," Honeywell said. "Having the organization right there behind me thinking, knowing that one day I'll be able to get to the big leagues and pitch for them is a good thing to have in my back pocket."
However, he struggled his first two starts in Fall League and saw his ERA rise to 16.62.
"Everyone out here knows what is going on,'' he said. "So I still have to execute my own pitches, I have to execute down in the strike zone, and if I am up in the zone out here I am going to get beat up for runs. It's all of the stuff that I've worked on since I got here and it is finally all coming together.''
While the 9-1-2 team is enjoying success, Honeywell is aware he has a chance to not only impress his own organization, but scouts across the big leagues.
"We've got the Rays on the front of our chests and we have our names on the back, so it's a lot of fun,'' said Honeywell. "But there's a lot of guys out here watching, and we are all trying to get to the big leagues as soon as possible so that's another good thing about being out here -- that you're playing out here for 28 or 29 different teams.''
That's his ultimate goal but Honeywell's focus now is on winning a championship as a Javelina.
"Right now I am pitching for the Javelinas. I want to win the playoffs. I want to win the championship, the whole thing."
Alexis Ramanjulu is a senior journalism student at Arizona State University. This story is part of a partnership between MLB.com and ASU's Walter Cronkite School of Journalism and Mass Communication. This story was not subject to the approval of Major League Baseball or its clubs.