In Fall League, World Series foes are teammates
Cubs-Indians matchup spurs friendly rivalry among prospects on AFL's Solar Sox squad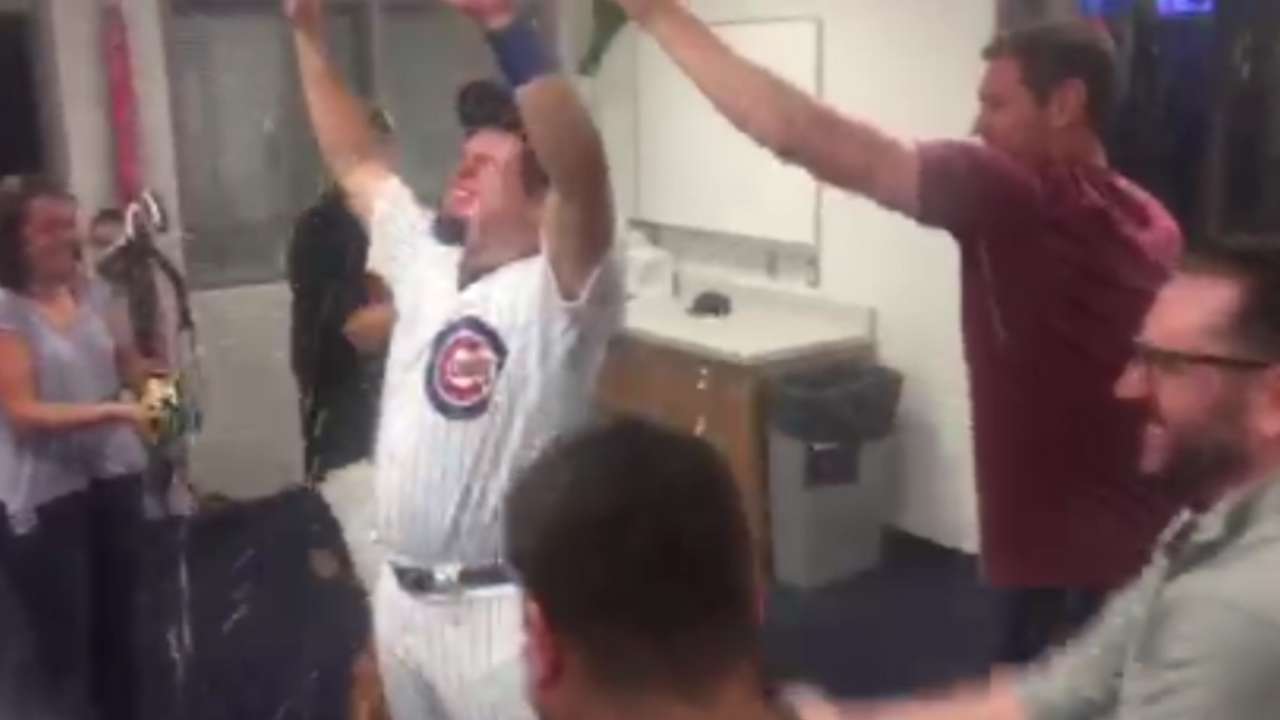 MESA, Ariz. -- The Cubs and Indians were in opposite dugouts when the World Series kicked off Tuesday night at Progressive Field with a 6-0 Cleveland victory, but 2,001 miles away at Sloan Park, prospects from each organization are sharing the same clubhouse.
Cubs and Indians prospects -- along with Minor Leaguers from the Blue Jays, A's and Marlins -- comprise the Mesa Solar Sox, one of six teams in the Arizona Fall League.
With prospects from three playoff teams in one clubhouse there has inevitably been banter throughout the postseason, and players from the Cubs and Indians expect that to continue through the World Series, with Cleveland out to a 1-0 advantage after Tuesday's victory.
• Game 2: Wednesday, 7 p.m. ET game time on FOX (6 p.m. ET pregame show on FS1)
Meanwhile, the addition of Kyle Schwarber, who had been out of action since he suffered a torn ACL and LCL in his knee on April 7, to Mesa's roster on Saturday only added to the excitement for Cubs prospects. On Sunday the Cubs' all-time postseason home run leader received a celebratory champagne shower from his teammates upon entering the clubhouse. He'll now fly to Cleveland to join the Cubs ahead of the World Series, though it's yet to be decided whether Schwarber will be added to the postseason roster.
"It's funny in the clubhouse," Cubs top prospect Ian Happ said. "I'm sure tomorrow night we'll get into a little bit more of guys rooting back and forth during the games, but that's all fun for us. It's cool that we have both organizations trying to win the World Series."
• Shop for World Series gear: Cubs | Indians
While out in Arizona the prospects have been busy with their own development and AFL schedules, but they've made time to follow the playoffs as well.
"For the guys that are here, it's been a lot of fun to watch them, root them on and enjoy their success," said Happ, MLBPipeline.com's No. 21 overall prospect.
"It's been awesome," Indians top prospect Bradley Zimmer said. "They've done everything right. They've done everything to deserve to be where they're at right now."
That the bulk of AFL games take place during the day allows for the prospects to get home in time to catch the night games and keep up on the progress of their organizations.
As the World Series gets underway a contingent of Indians' prospects in Zimmer (No. 25 overall), Greg Allen (Indians' No. 19), Cameron Hill and Michael Peoples, all roommates, expect to watch the game at their place.
Happ said he wasn't sure where the Cubs prospects would watch the games, but there is a chance they will all get together, despite rooting for opposing teams.
"I know during the ALCS, we even had some of the Blue Jays guys over watching the games," Allen said.
The new internal rivalries are good-natured and will be fun for all the prospects involved throughout the World Series, until one team claims the ultimate prize. However, it's ultimately all in good fun as prospects from both teams are simply enjoying the ride.
"There's a little bit of some nice, competitive rivalry there," continued Allen. "Obviously they want their guys to win and do well and we're pulling for our guys, so we get in some friendly banter."
William Boor is a reporter for MLB.com. Follow him on Twitter at @wboor. This story was not subject to the approval of Major League Baseball or its clubs.