Tribe's staff aims to remain stingy in Series
Club adept at limiting big innings, which could prove crucial against Cubs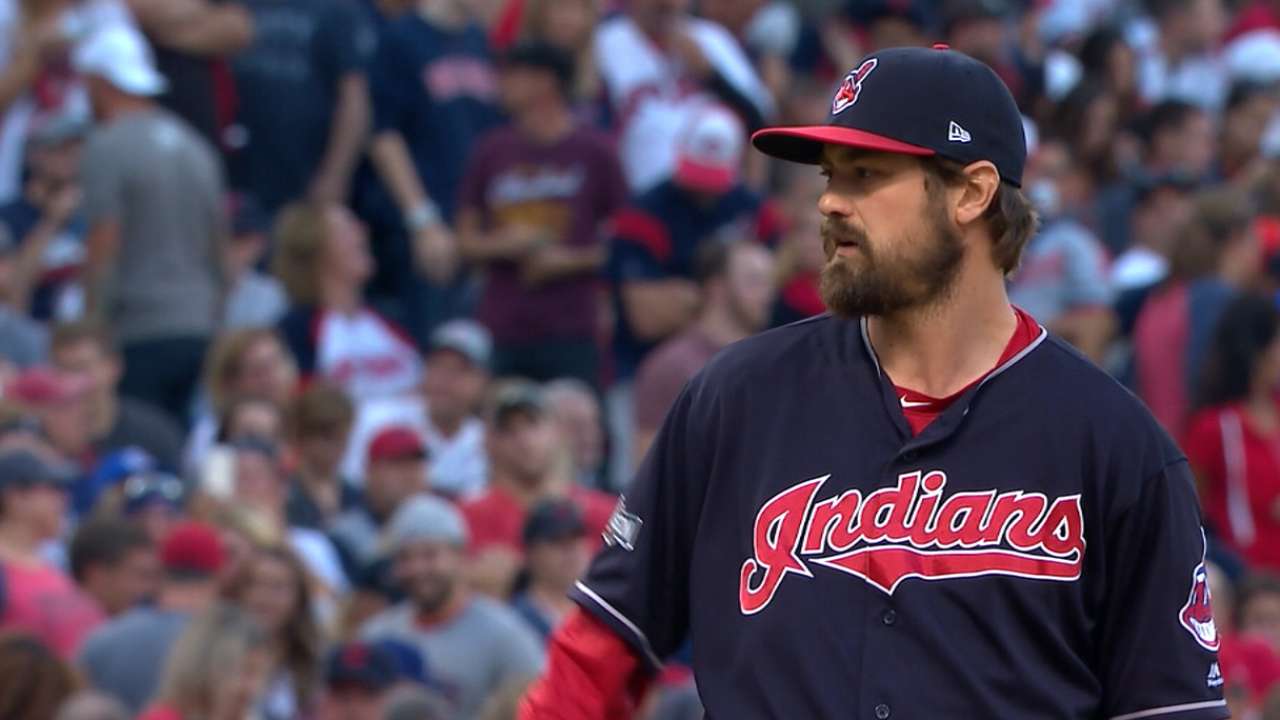 CLEVELAND -- Every postseason has its inflection points -- those hits, those errors, those strikeouts that determine a team's destiny.
For the Cubs, a significant one occurred in the ninth inning of National League Division Series Game 4, which they entered trailing the Giants by three runs. Had the Cubs lost that game, they would have faced elimination two nights later in Chicago. Instead, one of the NL's most fearsome offenses ripped off four runs to clinch on enemy soil, one of 10 times in 10 postseason games in which they've scored multiple times in an inning.
• World Series Game 1: Tonight, 7:30 ET air time | 8 ET game time on FOX
Contrast that to the Indians, who have allowed more than one run in an inning exactly once -- in the only game they lost. With the degree of difficulty ratcheted up to new heights, Cleveland's ability to continue holding teams without any crooked numbers may determine its final, and most important, inflection point of October.
"We've got to figure out what they do well and what they don't do well, and try to pitch accordingly," Indians starter Josh Tomlin said. "But the biggest thing for us is staying with our strengths and understanding what we're capable of doing, what we're able to do, and not try to do anything more because it's the World Series or because it's the Chicago Cubs."
• Shop for Indians World Series and AL champs gear
While the 2016 Cubs conjure images of hulking sluggers and MVP candidates, what they do most effectively lies largely in their approach. Merely average at hitting home runs, and well below average at stealing bases, the Cubs are more of a station-to-station team than most. They led the league in walks and hit batters during the regular season, ranked second in on-base percentage and fourth in pitches per plate appearance. They don't bludgeon opponents so much as they grind them down with a pestle.
"You just try and have that approach as a group," Cubs outfielder Jason Heyward said. "You try and get good pitches in the zone. If you don't get them, you try not to swing at them. We just try and let the game come to us."
The Indians want the opposite and are above average at achieving it. During the regular season, their pitching staff ranked seventh in ERA, seventh in walk rate, fifth in strikeouts and sixth in ground-ball percentage. Catcher Roberto Perez, who took over as the starter in mid-July, has developed a reputation as one of baseball's best pitch framers. Add in a heavy dose of glovework -- most metrics put the Indians in the top third of Major League teams defensively, which doesn't count the fact that they've committed just one error in eight postseason games -- and it becomes clear that the Indians have a fully stocked run-prevention arsenal.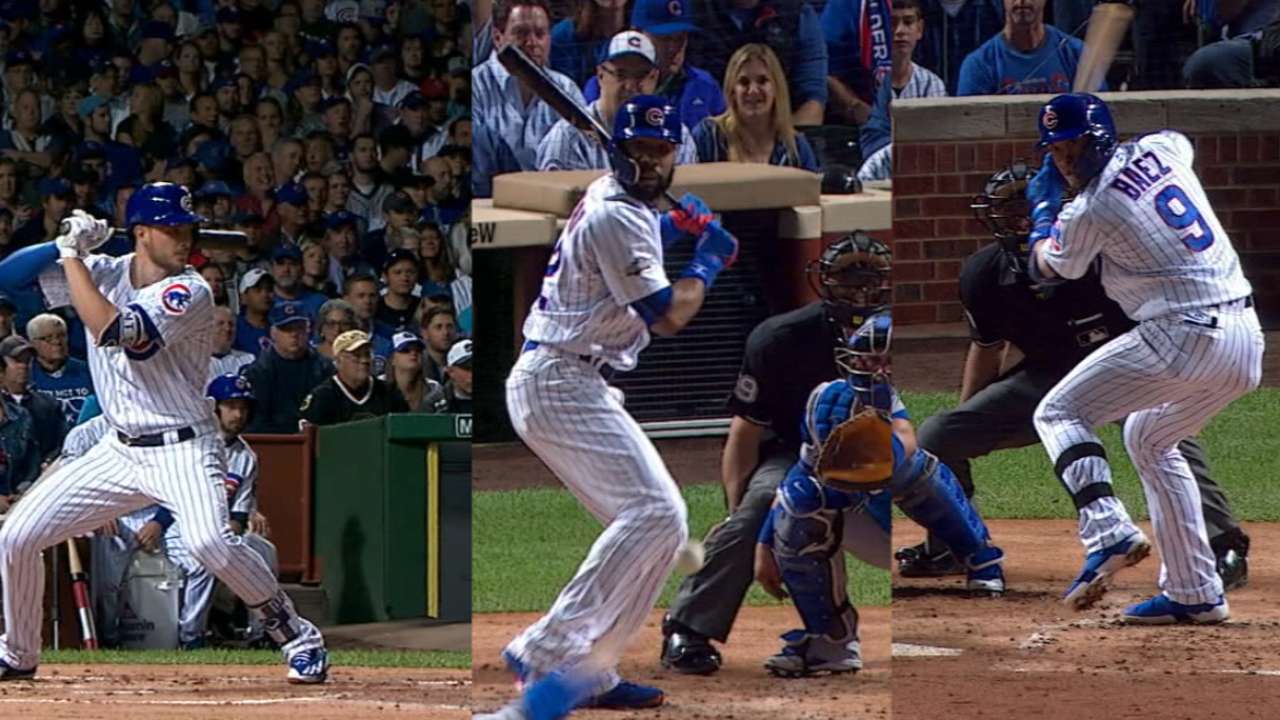 "We played airtight defense," closer Cody Allen said. "Roberto Perez did an unbelievable job. Guys have controlled the running game, and we're just making big pitches when we've needed to. There were some big outs to be had in the Boston series a couple times when the meat of their order was up with guys on base. One swing of the bat and the series could have changed. Guys have stepped up in big spots and made big pitches."
Part of that is because the Indians are relentlessly mixing and matching their pitchers, using their best relievers most often and in their most critical jams. Through two postseason rounds, Indians relievers have allowed just 18.2 percent of their inherited runners to score, by far the lowest rate of the four LCS teams. Andrew Miller and Allen were responsible for stranding nearly half of them.
The question is, how much of that is sustainable? How much has roots in the postseason's small sample size? How much is luck and how much is real? The Indians can't say. But against a Cubs team bent on exposing every weakness it can find, they're about to find out.
"They've been the best team in baseball all year," Indians Game 1 starter Corey Kluber said. "So they've got a lot of good hitters through their lineup, one through nine. It's not really much of a different story than we've had the last two series -- really good offenses, and it's just going to be a matter of going out there and executing."
Anthony DiComo has been a reporter for MLB.com since 2008. Follow him on Twitter @AnthonyDiComo and Facebook, and listen to his podcast. This story was not subject to the approval of Major League Baseball or its clubs.