Jays' Alford heats up in Fall League win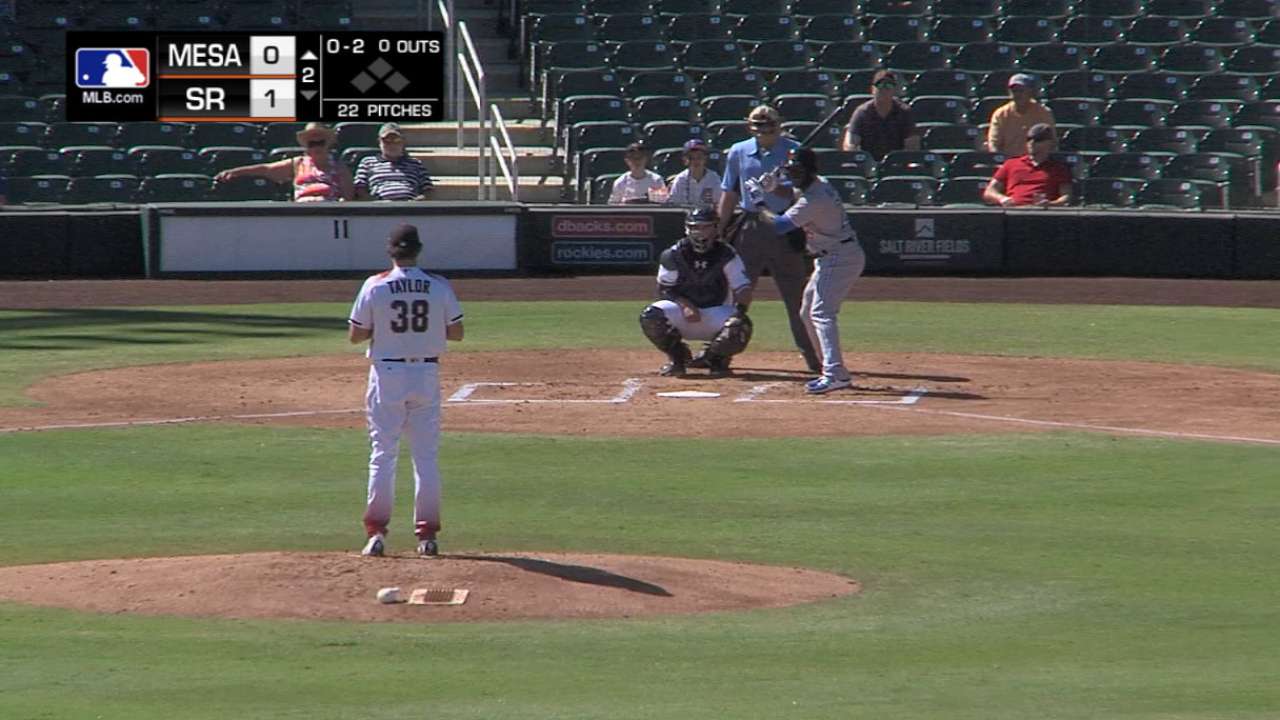 MESA, Ariz. -- Anthony Alford is learning to hit in a new spot in the order, and so far the transition has been going well.
After hitting leadoff in 64 of the 92 games he played with Class A Advanced Dunedin this season, Alford is hitting in the middle of the order for the Mesa Solar Sox and is hitting .290 with two homers and five RBIs through eight games.
• Gameday
"I think the higher I go up, I'm probably going to be more of a middle-of-the-line-up type of guy and pitchers are probably going to start throwing me more breaking balls and offspeed pitches," Alford said. "I'm glad I've got this experience to see how it is, hitting in the middle of the lineup."
Alford, the Blue Jays' No. 3 prospect, hit fourth in the order Monday. He led Mesa to a 7-2 win over Surprise with a 2-for-3 performance, including a homer and an RBI double.
Kyle Schwarber also played for Mesa -- DH'ing and batting second -- and finished 1-for-3 with a walk and a double.
Schwarber, playing in the Fall League as he tries to get ready for a possible Cubs World Series roster spot, grounded out in the first, lined out in the third, walked in the fifth and doubled and scored in the seventh.
"It's really different because they start pitching you like a power hitter," Alford said of his new slot in the order. "I have some power and I'm starting to tap into that power. It's totally different because you see way more breaking balls in fastball counts."
The No. 86 overall prospect certainly tapped into that power on Monday afternoon, giving Mesa an early 2-0 lead with an RBI double in the first, and then capping the performance with a two-run homer out to left in the seventh.
Mesa got off to a quick start, striking for three runs in the bottom of the first.
In addition to Alford, Indians No. 19 prospect Greg Allen and Cubs top prospect Ian Happ drove in runs in the opening frame.
"I felt like we did a great job as a team," Alford said. "They swung it well, they had 10 hits, we had 11 hits. I just feel like we executed in whatever situation we were in. Both teams did a good job swinging, we just did a good job executing when we had runners in scoring position."
Mesa scratched across another run in the fourth via an RBI double from Danny Jansen (Blue Jays' No. 30) and then added one more in the fifth when Indians' top prospect Bradley Zimmer (No. 25 overall) got hit with a pitch with the bases loaded.
Pittsburgh's Eric Wood hit a two-run blast for Surprise in the sixth.
After Wood flexed his muscle, Alford decided to show off some of his power as well.
The left fielder had been pounded with sliders all afternoon, but felt a change of pace was coming and when he got his pitch, he didn't miss it.
"I was anticipating a fastball in -- just by the way I took the pitch before -- and I got it and just tried to drive the run in," Alford said.
Alford did more than simply drive in Schwarber -- who had reached on a double -- from second base, he crushed his second homer of the AFL, after hitting nine during the regular season.
William Boor is a reporter for MLB.com. Follow him on Twitter at @wboor. This story was not subject to the approval of Major League Baseball or its clubs.