MLB.com Columnist
Jonathan Mayo
Angels in AFL: Ward continues to open eyes
MLB Pipeline checks in on Anaheim's prospects participating in the Arizona Fall League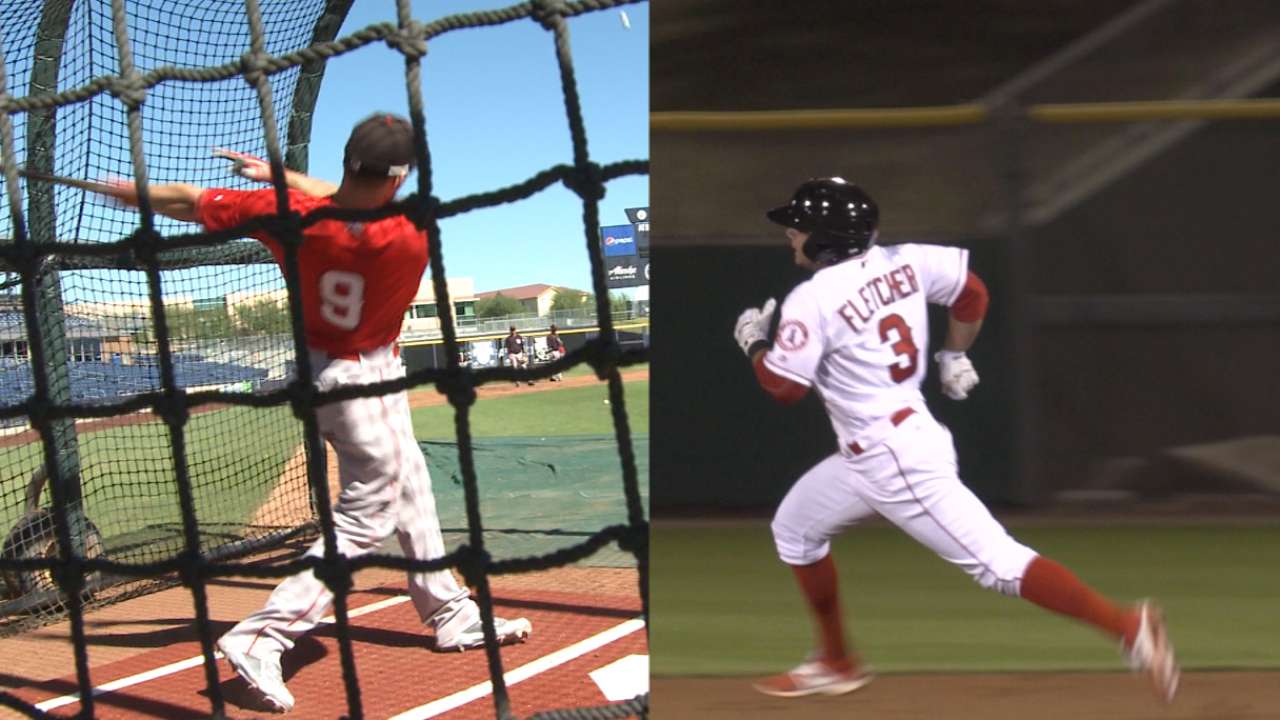 Everyone, except perhaps the Angels, was surprised when the organization took Taylor Ward in the first round of the 2015 Draft. He had been ranked No. 99 on MLBPipeline.com's Top 200 Draft prospects list heading into the Draft, a college backstop who would be helped by the lack of depth at the position in the class, but who many thought profiled as a future backup.
Since that time, the Angels' No. 3 prospect has set out to prove all of those critics wrong. He certainly opened some eyes during his summer debut, advancing to full-season ball and hitting a combined .348/.457/.438 over 201 at-bats. That put him on a bit of a faster track, with the Angels feeling comfortable sending him to the Class A Advanced California League for his full-season debut.
• Complete Arizona Fall League Coverage
The advanced placement looked to be a mistake at first. Ward hit .224 with a .541 OPS over the season's first half, speaking to questions some had about his bat heading into the Draft. But the 22-year-old made some adjustments and started to show that perhaps the summer of 2015 wasn't a fluke, hitting .274/.359/.415 with nine of his 10 home runs on the season in the second half. He's brought that with him as one of the catchers on the Scottsdale Scorpions in the Arizona Fall League. His goal while in Arizona is a simple one.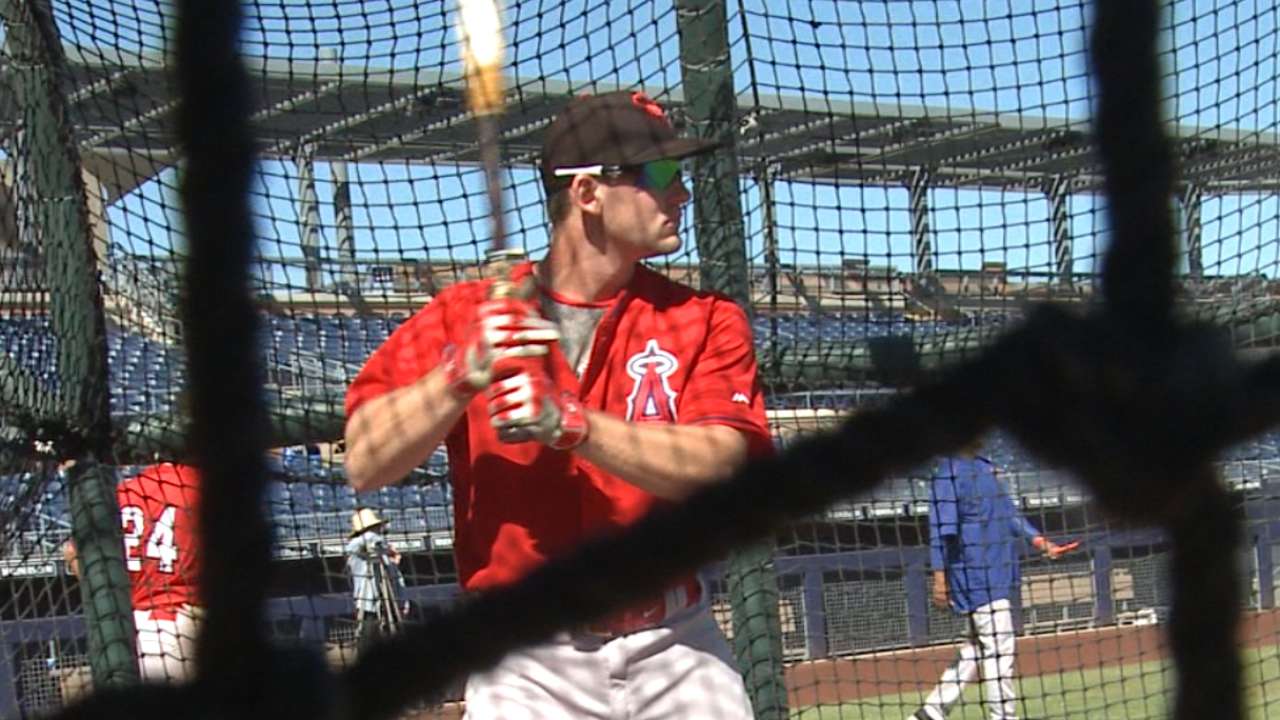 "To honestly just improve on what I was doing at the end of this past season," Ward said. "The last month of the season I was hitting pretty well and I kind of finished strong. It had been a down year and I was able to work on some timing and rhythm things. I hope I can continue that and continue to have success out here in the Fall League."
There certainly seemed to be carry-over during the AFL's first two weeks. Ward hit .353 with a pair of doubles and five RBIs in his first 17 at-bats for the Scorpions. He's also able to continue to improve his catching with a higher level of arms to work with. Arm strength has never been a question for Ward, and he threw out 38 percent of would-be basestealers with Inland Empire this past season. He continues to refine the rest of his defensive tools, from receiving and blocking to game-calling.
His time in the AFL will undoubtedly help him prepare for life in Double-A in 2017, and it will continue to point him on a path he began as a small child, watching his father catch for an over-30s baseball league he played in.
"Ever since I was four years old, when I started to play T-ball, I always wanted to catch," Ward said. "Your dad, he's your idol, he got me into catching. I'm the player today because of him."
The player he is today is one getting closer to fulfilling the dream of being a big league backstop. Ward's time in the Fall League will only fuel that fire, and he'll admit to allowing himself a glimpse of what it will look like once he gets there.
"I have, especially during big league camp, seeing how those guys go through their routines," Ward said. "Just being in the clubhouse with all those guys, it's amazing. I want to be there as quick as I can."
Angels hitters in the Fall League
David Fletcher, SS/2B
Michael Hermosillo, OF
Ward, C
Fletcher, a draft-eligible sophomore taken in the sixth round of the 2015 Draft that saw Ward go in the first, made it to Double-A in his first full season. The Loyola Marymount product prides himself on his defense, and while he's seen more time at shortstop, he can also play second, something he's doing in the AFL as well. He's gotten comps to former Angel David Eckstein, who has 10 years of big league time on his resume.
Hermosillo entered the 2016 season with a ho-hum career batting average of .240. Then the 2013 28th-round pick hit a combined .317 in 77 games across two levels of A ball this past season, not making his season debut until June 3. With solid on-base skills, he spent much of the season hitting at the top of the lineup.
Angels pitchers in the Fall League
Victor Alcantara, RHP
Adam Hofacket, RHP
Grayson Long, RHP
Eduardo Paredes, RHP
Alcantara has often teased with his electric raw stuff, with a plus fastball and a power slider that also flashes plus at times. What's held him back as a starting pitching prospect has been a below-average changeup and lack of command, as evidenced by his career 4.5 walks-per-nine ratio. Work out of the bullpen this fall could point to a role change in the future.
Hofacket was a starter at California Baptist, but he's done nothing but pitch out of the bullpen since the Angels took him in the 10th round of the 2015 Draft. He pitched across both levels of A ball in his first full season, picking up nine saves while striking out 9.9 per nine innings and walking 2.4.
• Arizona Fall League coverage
Taken in the third round of the 2015 Draft out of Texas A&M, Long looked like one of those advanced college starters who could move relatively quickly, albeit without that high of a ceiling. But the big right-hander missed two months of the 2016 season and collected just 65 innings, though he did reach the Class A Advanced California League.
Paredes has been a reliever ever since he signed with the Angels out of Venezuela right after his 17th birthday in March 2012. He's saved 32 games over the last two years and misses bats (10.5 K/9) while not walking too many (2.2 BB/9) in his career. The 21-year-old could use the AFL to springboard onto the 40-man roster and into the big league bullpen at some point in 2017.
Jonathan Mayo is a reporter for MLBPipeline.com. Follow him on Twitter @JonathanMayo and Facebook, and listen to him on the weekly Pipeline Podcast. This story was not subject to the approval of Major League Baseball or its clubs.