MLB.com Columnist
Jim Duquette
6 moves that got Tribe, Cubs to the Series
Stable front offices, aggressive trading helped pave the way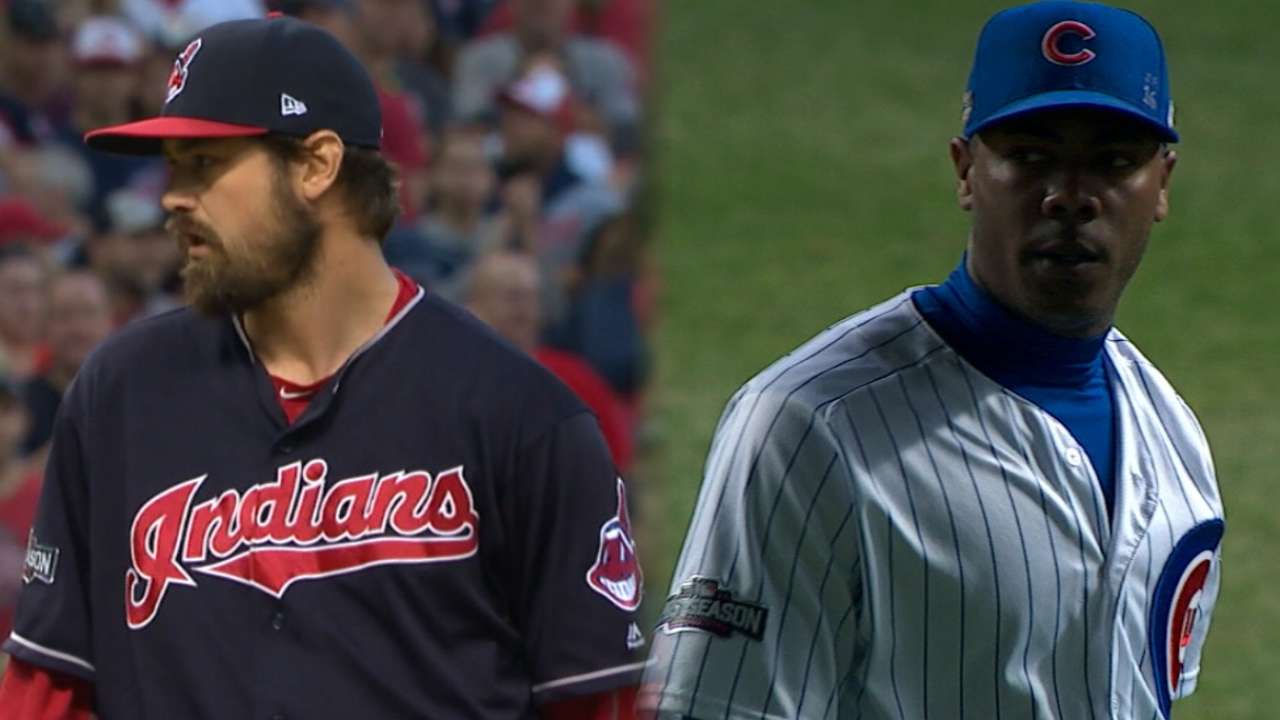 This year's World Series matchup between the Cubs and the Indians might be the most compelling we've seen in a long time. In addition to the extensive World Series droughts for both clubs, we also have two rosters loaded with recognizable stars, including Kris Bryant, Francisco Lindor, Jon Lester, Corey Kluber and many more.
Yet for all the star power on the field, there are two men behind the scenes who are arguably most responsible for the two teams taking the field tonight for Game 1, and they are presidents of baseball operations Theo Epstein (Cubs) and Chris Antonetti (Indians). Both have set similar standards for other forward-thinking front offices to aspire to and imitate.
• World Series Game 1: Tonight, 7:30 p.m. ET air time | 8 ET game time on FOX
The two are similar in many ways, and each has stressed the importance of continuity as a main reason for their success. Epstein has relied his long-standing relationship with general manager Jed Hoyer and vice president of player development and amateur scouting Jason McLeod, a trio that helped build the Red Sox's World Series winners in 2004 and '07. Epstein devised a five-year plan to build a future franchise monster, and his team clinched a World Series berth almost five years to the day of his hiring (Oct. 12, 2011 to Oct. 22, 2016).
The Indians and Antonetti, who has relied on GM Mike Chernoff and assistant GM Derek Falvey (soon heading to the Twins), have stayed disciplined and true to their plan dating back to the days when they all worked under former GM Mark Shapiro. They have had an incredible amount of continuity in their front office and on their roster, with 12 players currently a part of the organization before 2012.
• World Series gear: Cubs | Indians
But of all the moves these two shrewd execs have made, which were the most important in getting them to the Fall Classic? I've pinpointed three for each club -- a free agent signing, a trade and a Draft pick -- that best explain the reason for each team's current status.
THE SIGNINGS
Cubs: Following the 2014 season, Epstein and Co. made a sales pitch to free-agent pitcher Lester that boiled down to this: The 89-loss season that the team just endured was not indicative of the talent that was bubbling in the upper Minors. It worked.
Lester turned down a reported deal of $168 million over seven years from the Giants to take $155 million over six years with an option for seventh year from the Cubs. And unlike many big-money free-agent contracts, he has been worth every penny. Lester has posted a 2.89 ERA in more than 400 innings in his first two years with Chicago and has added to his postseason legend by allowed just two runs in 21 innings in the 2016 playoffs, earning co-National League Championship Series MVP honors.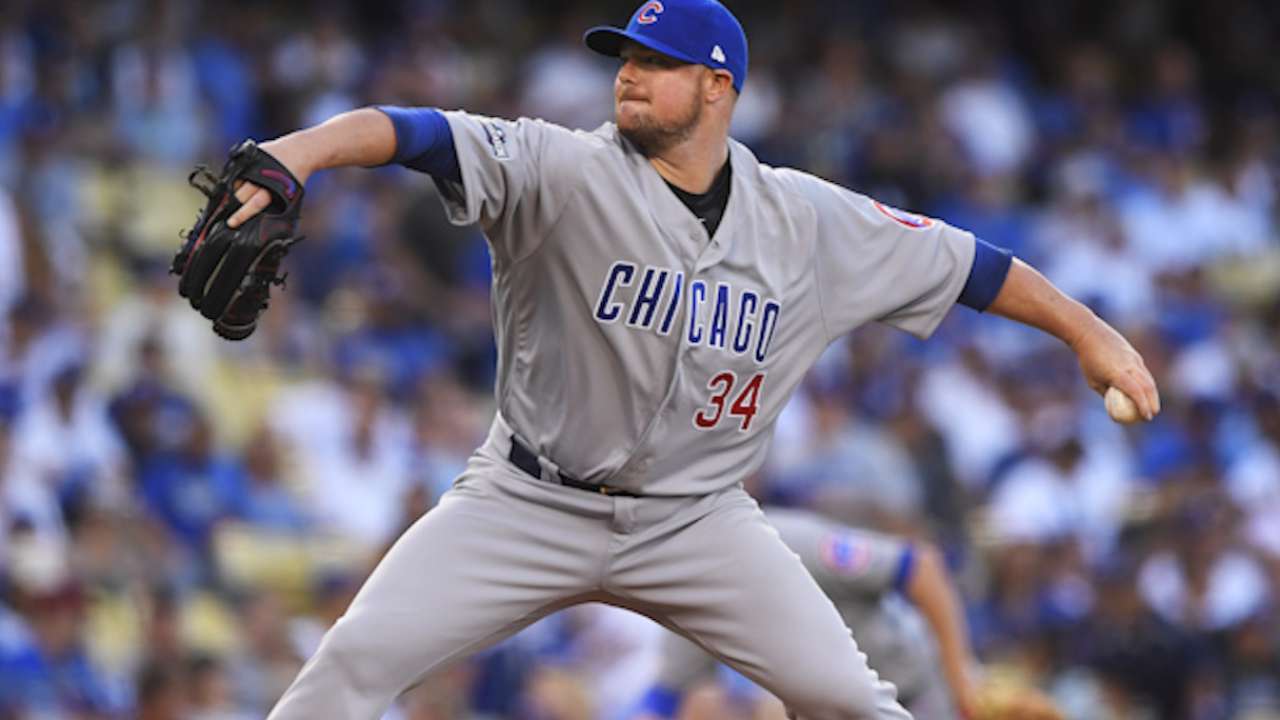 Indians: One key difference between these clubs is that the Cubs play in one of baseball's biggest markets and boast one of its largest payrolls, while Cleveland's modest market has forced the front office to be a little more resourceful. The best example of this shrewd manuevering is the one-year, $7 million deal the club agreed to with Mike Napoli before this season.
The Indians had been too left-handed in their lineup last season and had limited resources to correct the problem for '16. Napoli was the ideal solution, crushing 34 homers and, against lefties, posting a .817 OPS. Napoli also brought a winning mentality and is now playing in the postseason with his fourth different club.
THE TRADES
Cubs: This summer, both the Cubs and Indians were extremely proactive in making win-now moves, and both have paid off.
The Cubs aggressively pursued Yankees closer Aroldis Chapman to shut down the ninth inning and move Hector Rondon into the the earlier innings. Chapman came at a hefty price tag, as the Cubs gave up four players, including top shortstop prospect Gleyber Torres, and Chapman will become a free agent at the end of the season. But this move sent the Cubs players a message that the front office would do anything to add to the team's success.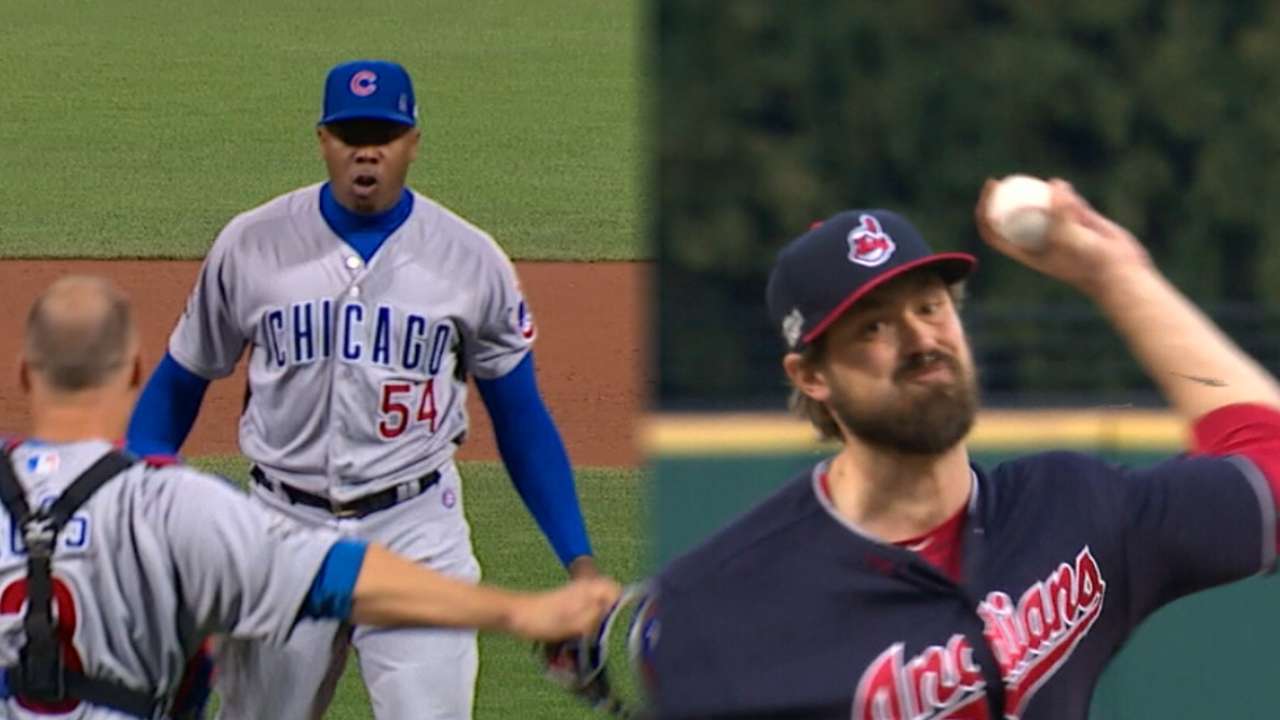 Indians: Cleveland pursued the other dominant reliever with the Yankees, one who is under contract for two more seasons, and Andrew Miller has not disappointed Indians fans. While the price was high -- Antonetti and his crew also gave up four prospects, including two top prospects in outfielder Clint Frazier and left-hander Justus Sheffield -- Miller's dominance and willingness to pitch in any of the middle innings has served to be a difference-maker since the non-waiver Trade Deadline, culminating in his being named the American League Championship Series MVP.
THE DRAFT PICKS
Cubs: While this Cubs team is loaded with young stars, many of the key players -- such as Anthony Rizzo and Addison Russell -- were acquired via trades and not the Draft. One notable exception is Bryant, who was the second overall pick in the '13 MLB Draft out of the University of San Diego. After winning NL Rookie of the Year honors in '15, he followed that with an MVP-worthy campaign.
Indians: Small-market teams need to find their franchise players via the Draft, and the Indians did just that when they nabbed Lindor with the eighth overall pick in the '11 Draft, one pick ahead of Cubs second baseman Javier Baez, who just so happened to play against Lindor in high school.
• Baez, Lindor have special baseball connection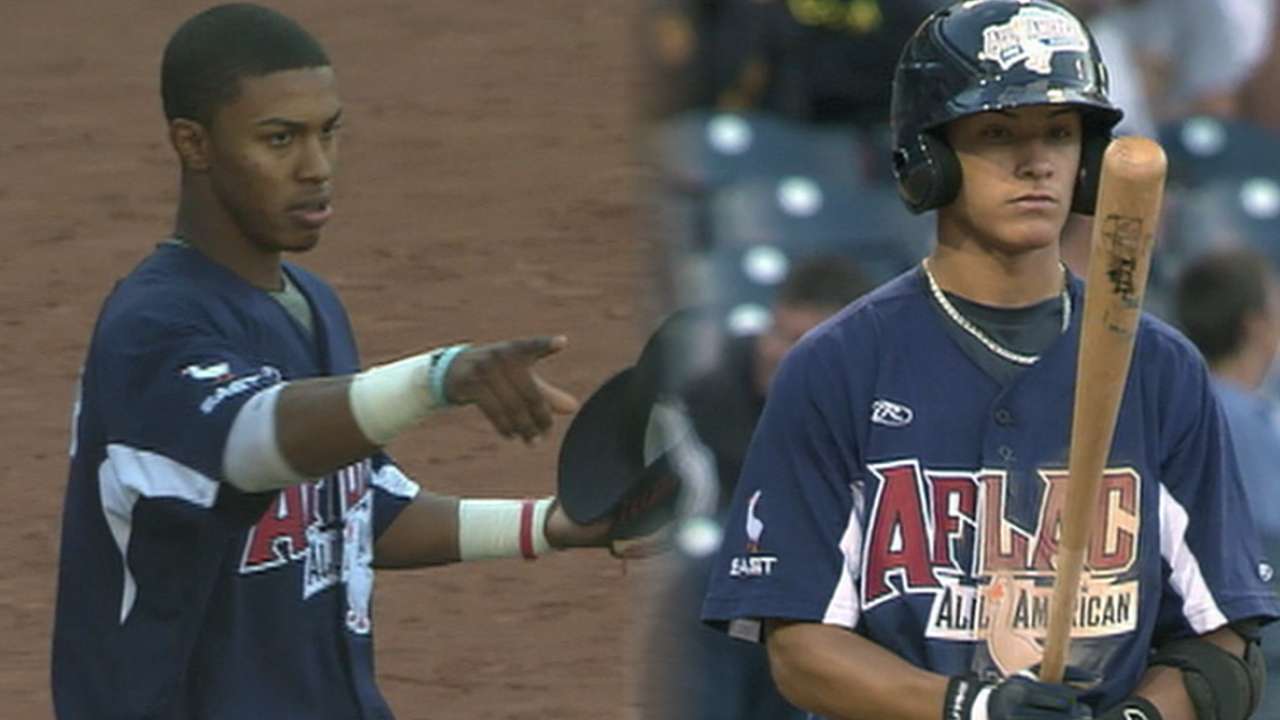 Simply put, the 22-year-old Lindor has the perfect blend of talent and persona that the Indians can build around for years to come, and has become one of the game's best two-way players.
Jim Duquette, who was the Mets' GM in 2004, offers his opinions as a studio analyst and columnist for MLB.com. This story was not subject to the approval of Major League Baseball or its clubs.