Oct. 24 Corey Kluber workout day interview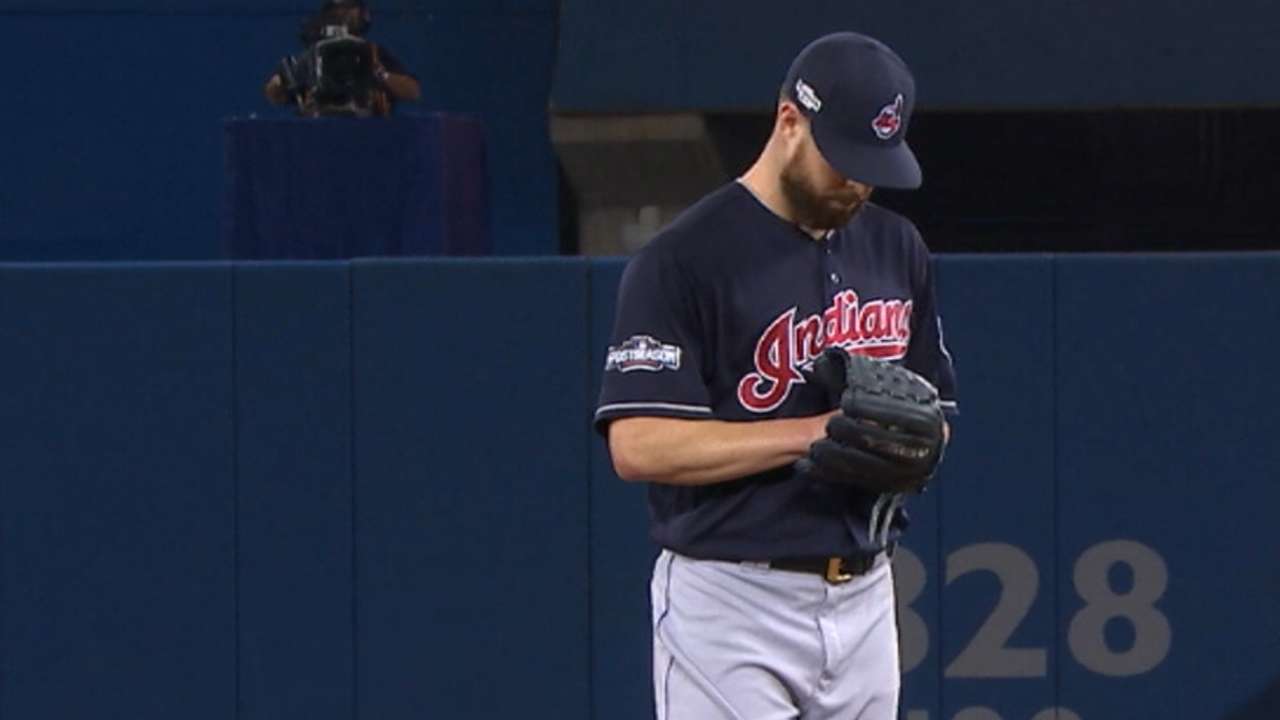 THE MODERATOR: Welcome to the World Series. Who has the first question for Corey?
Q. Corey, I'm sure you've gone over the Cubs' lineup by now. What did you get from that? How do you sense them?
COREY KLUBER: They're a good team, obviously. They've been the best team in baseball all year. So they've got a lot of good hitters through their lineup, one through nine. It's not really much of a different story than we've had the last two series. Really good offenses, and it's just going to be a matter of going out there and executing.
• World Series Game 1: Tuesday, 7:30 p.m. ET air time | 8 ET game time on FOX
Q. With all the issues that the rotation has been hit with, how impressed have you been with the team's ability to make up for some of the losses or some of the short outings, and things like that?
COREY KLUBER: Yeah, well, I mean, as far as say the short outings to start with, we had a few games in September where the bullpen had to cover a lot of innings and the results went pretty well. So I think we kind of had a blueprint for those games.
Injuries are a part of the game. It's going to happen throughout the year. Obviously, we've had our fair share of them pitching-wise. But I think it's just really guys embracing the challenges of stepping in and filling those shoes. Not really trying to do too much, but just really going out there and being the pitchers that they are, do what makes them good. I think it's had good results for us.
Q. I'm just wondering, when you're getting ready to start Game 1 of the World Series, is there any part of you that flashes back to maybe when you were a kid, and you think this is what I've been playing my whole life for, is there anything extra that you'll maybe give yourself a moment to go out there and think about?
COREY KLUBER: Oh, I think you're aware of it. Obviously, you're in the World Series, and there's two teams left and all that kind of stuff. But also at the same time, I think you're so wrapped up in the moment of trying to prepare and do everything you can to be ready that. For me at least, it's been all about getting prepared and being ready when it is time to throw that first pitch tomorrow. It will probably be something that will take more time to reflect on after the fact.
Q. Have you been talking much to your dad, life-long Indians fan, throughout this? What's he thought of this whole run?
COREY KLUBER: Yeah, obviously excited. I think every parent is excited if their kid has a chance to play in the World Series. Probably more so because, like you said, he grew up as an Indians fan.
Q. What did you take from the Cavs' run in June, and how it electrified the city? And what's it like having LeBron and those guys going crazy in the stands for you now?
COREY KLUBER: It's entertaining. I know at the last game they came to, it looked like they were having a good time up there. But, yeah, it was an unbelievable run they went on in the spring. It definitely sent a vibe through the city. You could just feel the energy through that run after they won and stuff like that. I think it's been great. It's been great for Cleveland the fact they won a championship, and hopefully we can bring them another one.
Q. Where does this team's "business as usual" kind of mantra come from that you're able to handle everything that you've been through and being in a situation where a lot of guys don't have that experience?
COREY KLUBER: I don't know if it's just the group of guys that we have that we're able to handle adversity well or we've also over the last couple years realized that's the kind of baseball we need to play to be successful. Everybody kind of realizes that we each have our own job. It's not one superstar going out there and carrying the team. I think that we've just kind of, I guess, in developing a culture of the team, that's been part of it.
Q. When a pitcher hasn't faced a team often and a team hasn't faced a pitcher, do you think one has an advantage over the other in that situation?
COREY KLUBER: Not really, because I mean, I think that nowadays there's so much information. You can watch so much video. You can get whatever data you want to get. I mean, just because I haven't faced them and they haven't faced me, I think we'll probably both still feel a level of familiarity there just because there is so much information available, too. You're fed so much stuff about the other team that, yeah, I might not have thrown a lot of games with them in the batter's box, but you're still familiar with them.
Q. Danny Salazar told us in there he's been told he's on the World Series roster. What does it mean knowing you've got that extra weapon added to the staff?
COREY KLUBER: I didn't know that, but if that is the case, then obviously that's a huge weapon. The guy was an All-Star. He's got unbelievable stuff. That would be definitely an extra weapon to have on our pitching staff. Hopefully with these sim games and everything, there won't be any rust and he'll be able to go out there right away and help us win.
Q. I'm wondering, when Tomlin's dad was in the hospital, did you admire the way he handled that? It seemed like he still was able to put it out of his mind when it was time to pitch.
COREY KLUBER: Yeah, I don't think impressive is even the right word. But we all felt for him. Obviously he missed a couple days, but to come back and still be the same guy, and like you said, really not miss a beat. I can't imagine how hard it was for him and how difficult of a situation it was to go through. But I think it just shows what kind of guy he is. When he's here, he's fully devoted to the team.
Q. Wanted to know, I know you're interested in the results on the field, but the country is viewing this as quite a remarkable match-up, one team that hasn't won the Series in 70 years and another a hundred years. As a player, I know you're part of it, but can you take a step back? How do you view this historic match-up?
COREY KLUBER: Well, like you said, it's two teams that haven't won in a really long time, so one of those is going to be reversed in about a week. So I think it's a good story, if nothing else, to have the two longest droughts without winning a title facing against each other. It's a good story and a background for the series.
Q. I know sort of the national perception is how stoic you are on the mound or straight-faced, whatever you want to call it. I just wonder, have you always been that way? Are there pictures of you in Little League smiling when you're throwing a pitch or in high school? Have you always been so straightforward?
COREY KLUBER: I'm sure there are somewhere (laughter), but, I mean, as far as it's not something that I make an effort to do. It's just the way that I am when I'm out there competing and being locked in and stuff. I don't really worry about much else other than trying to get the guy out or whatever the task at hand is, and I think that's why I don't show a lot of emotion out there, because I'm so locked in and focused and whatnot. But it's not something I'm trying to manufacture or anything like that. It's just for me that's how it comes out.