Indians' curator delves deep into club's past
Feador collecting artifacts from Tribe's previous World Series appearances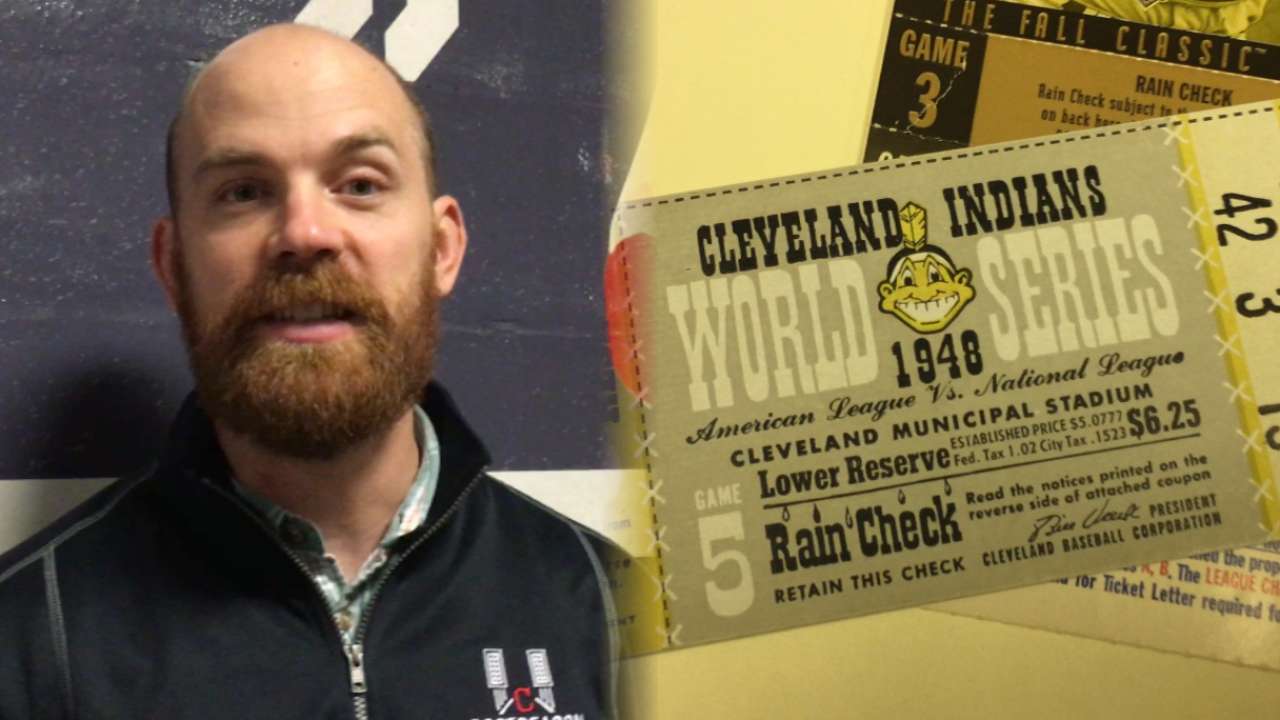 CLEVELAND -- It was found in a small box inside an office at Progressive Field. There is a small blue gem on a silver setting, which is fixed to a black stone. That rests inside a gold frame, which is attached to a long thin chain. It is a delicate physical reminder of one of the great years in Indians history.
The Indians do not possess one of the rings that were made for players and others to honor the team's 1948 World Series. What the club has is a necklace -- donated by an unknown source an unknown number of years ago -- made from part of a ring that commemorated Cleveland's last World Series triumph.
• World Series Game 1: Tonight, 7:30 ET air time | 8 ET game time on FOX
"It was probably for one of the wives," said Jeremy Feador, the Indians' team curator. "It's kind of a neat piece to have, because we don't have a '48 ring in our collection. But we do have this, which helps represent that team and what the ring would've looked like."
If the Indians defeat the Cubs in this fall's World Series, breaking Cleveland's 68-year championship drought in baseball, it is a safe bet that Feador will be trying to obtain a ring for the team's growing archives. Since joining the organization three seasons ago, Feador has made an aggressive effort to collect items from the present for future generations to see. He has also tried to search for historic items that have gone missing from seasons past.
• Shop for Indians World Series and AL champs gear
On Monday morning, when Feador brought a short stack of manila envelopes and a handful of items from Cleveland's previous World Series, it became clear just how much of the team's physical history is absent. The Indians, whose franchise dates back to 1901, have an assortment of artifacts from the '48 and '54 World Series, even less from the '95 and '97 Fall Classics, and virtually nothing from 1920.
The '90s were a golden era for baseball in Cleveland, but the team surprisingly does not have many items from that period in franchise history. During those days, the focus was on the present -- not the past -- and collecting items as history unfolded was not high on the priority list. The Indians also did not have a team historian like Feador.
Ball from '95 World Series. Press pins from '48, '54. On far right is part of a '48 ring, turned into necklace, perhaps for a player's wife. pic.twitter.com/qReOU9689p

— Jordan Bastian (@MLBastian) October 24, 2016
"We didnt have a Jeremy then, and we feel bad about that," said Bob DiBiasio, the Indians' senior vice president of public affairs. "We have no idea what happened to some things. That's troubling, unfortunately. But we've righted that with a guy like Jeremy. He's always searching, all day long. I don't know how many emails he sends to me about how many things he's found, or, 'Hey this is cool.' And, it really is. He's a godsend."
On the tunnel level of Progressive Field is a storage room, which is filled from floor to ceiling with artifacts from the organization's past. Feador emerged with a framed 1948 commemorative pennant, which was donated by the Moyes family from Salt Lake City, Utah. The dark red pennant lists 23 names on the left inside a white scroll, includes a vintage Indians logo and "World Champions 1948" in large white script.
Spent some time in Indians archives this morning. Here are some photos from Cleveland's '48 team and tickets from '48, '54 and '95 Series. pic.twitter.com/wO28JAHS0N

— Jordan Bastian (@MLBastian) October 24, 2016
From inside a series of envelopes, Feador shared World Series programs from '48 and '54, along with press pins from both the Cleveland and Boston sides. The historian pulled out a faded folder that contained black-and-white photos of members of the '48 roster, complete with printed autographs on each image. Cleveland also has tickets from the '48, '54 and '95 Fall Classics in its archives.
"We have a lot of programs," Feador said. "It's not uncommon for us to get a call saying, 'Hey, we have a '48 program, are you interested?' We're always interested. You can never have too many. We have ticket stubs from the '48 year. We don't have much from the 1920 Series, unfortunately. That's one of the greatest World Series -- I'm a little biased -- in history with all the history that occurred there."
Some of the more interesting artifacts are phantom pieces. For example, Feador pulled '59 World Series tickets from another folder. That Fall Classic featured the White Sox and Dodgers -- not the Indians. Cleveland also has an Indians pin for the '51 World Series. That championship featured the Yankees and Giants.
Oh what might have been... Phantom World Series items in Cleveland's archives include a 1951 World Series pin and 1959 World Series tickets. pic.twitter.com/Scs5aX5pH0

— Jordan Bastian (@MLBastian) October 24, 2016
"We were close enough that they made them," Feador said.
Over the past few years, Feador has worked closely with the Indians' baseball information team in collecting items from recent seasons. This year, he obtained the dirt-stained jersey that Tyler Naquin wore while legging out his walk-off inside-the-park home run Aug. 19 against the Blue Jays. Feador also acquired the jersey and hat that Rajai Davis wore while hitting for the cycle July 2.
Most notably, Feador has been able to add items from Cleveland's American League Central-clinching win, along with victories in the playoffs. The archives now have goggles, corks and champagne bottles from the celebrations this October. The Indians also have the last-out baseballs from the division clincher and the AL Division Series clincher.
"We have great people that work in our baseball information department," Feador said. "They're on the front lines of the search, so to speak, so they'll get stuff for us so we can put it in our archives. ... Whatever happens in this World Series, hopefully there's a lot of great items to collect. We have some lineup cards from the clinch game from Boston and from Toronto and Detroit.
"Whatever we can get our hands on, I think that's a unique part of our history that will help tell the story later on for fans."
Trevor Bauer's bloody jersey from Game 3 of ALCS is now on display in The Corner at Progressive Field. pic.twitter.com/ZllX2mxblD

— Jordan Bastian (@MLBastian) October 24, 2016
Many of the items from this year are on display in cases found in The Corner bar at Progressive Field. The latest addition is the bloody jersey worn by Trevor Bauer in Game 3 of the AL Championship Series win over the Blue Jays.
"We've always cherished our rich history," DiBiasio said. "But now we have somebody who's taking that to a whole new level. His energy, thinking out of the box, his creativity, he lives for these kind of days and you can tell. It's all his creativity. It's not only so people can relish what's going on on the field, but the historical nature of what's happening.
"There's a legacy being built this year and he is very much a part of building that."
Jordan Bastian has covered the Indians for MLB.com since 2011, and previously covered the Blue Jays from 2006-10. Read his blog, Major League Bastian, follow him on Twitter @MLBastian and listen to his podcast. This story was not subject to the approval of Major League Baseball or its clubs.