MLB.com Columnist
Bill Ladson
Position players: Who stays, who goes in '17?
A rundown of trade chips, injuries, those with something to prove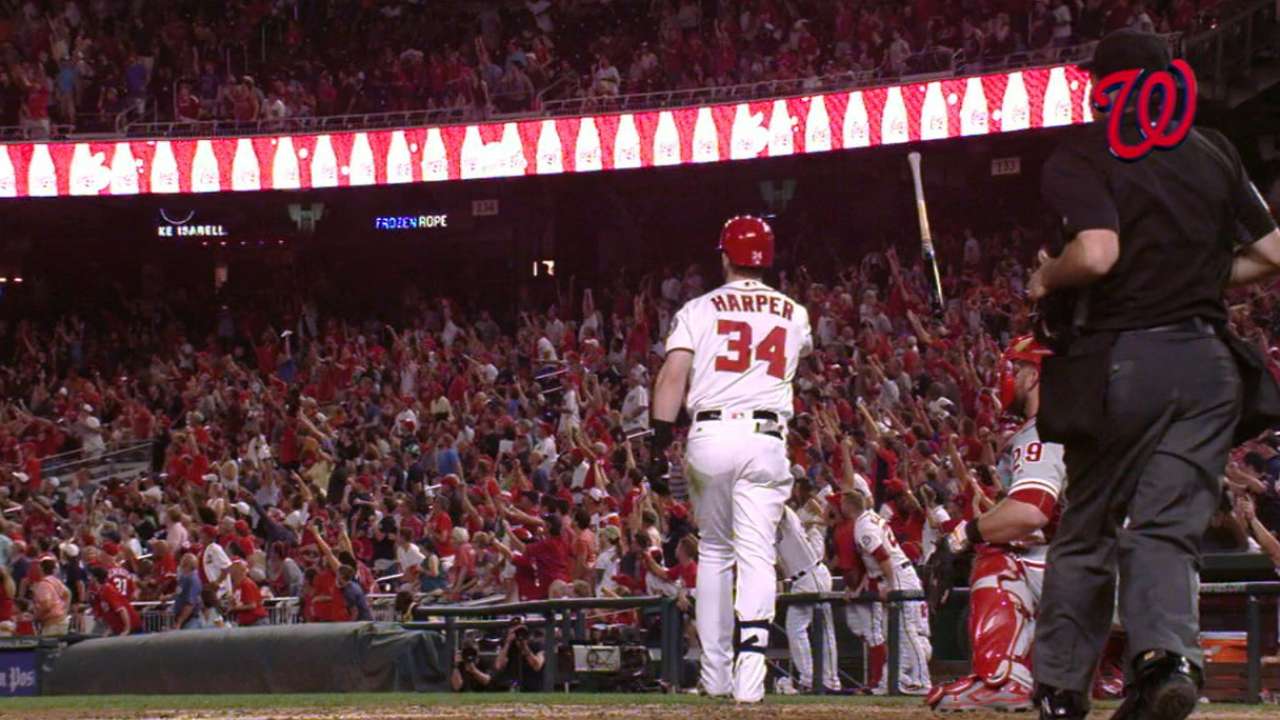 WASHINGTON -- In their first season under Dusty Baker, the Nationals captured their third National League East title, winning 95 games. But they fell short in the NL Division Series against the Dodgers.
Here's a look at the position players on the Nats' 2016 Major League roster: Who stays, who goes and who has something to prove?
THEY'LL BE BACK
OF Bryce Harper: He had a difficult season in 2016. After a great first month, he hit .235 with 15 home runs and 62 RBIs from May 1 to the end of the season. Was he dealing with an injured right shoulder? Harper and the Nationals both denied it.
C Jose Lobaton: Pitchers love throwing to him, and he is expected to be the backup again in 2017.
• Pitchers: Who stays, who goes in '17?
2B Daniel Murphy: He had the best season of his career, hitting .347 with 25 home runs, 47 doubles and 104 RBIs, all career highs. He still needs to improve his defense at second base. It would not come as a surprise if first base is in his future.
3B Anthony Rendon: He had a strong second half and set career highs in RBIs with 85. A frank talk with Baker before the second half of the season seemed to have worked wonders for Rendon.
1B Clint Robinson: He didn't get as much playing time as he did the previous season, but Robinson was still a valuable player off the bench. He hit a respectable .257 with four home runs and 22 RBIs in the 40 games he started.
CF Trea Turner: He was Mr. Everything as the leadoff man. It started in late July when Turner took over that spot from Ben Revere. Not only did Turner hit for average and power, but he became the first rookie in franchise history with 20 or more stolen bases since Mike Lansing in 1993. The big question now: Is Turner a center fielder or a shortstop? While he doesn't mind playing center, Turner would like to be the everyday shortstop.
LF Jayson Werth: He is going into the last year of a seven-year deal. For now, don't look for anyone to replace Werth in left field. He can still get on base frequently, and he is not a bad defender in left field.
ALMOST READY, BUT ...
OF Brian Goodwin: After his second callup, Baker was thinking about putting him on the postseason roster after he showed that he could hit flamethrowers like the late Jose Fernandez. Goodwin ended up not making the postseason roster, because it would have meant the Nationals had too many left-handed hitters on the bench.
C Pedro Severino: With Wilson Ramos likely gone, Severino will be given every chance to make the team out of Spring Training. It's easy to love Severino's energy behind the plate. He even has speed on the bases. The question is, can he hit enough in the big leagues? Some scouts believe he needs to do better at hitting the breaking ball.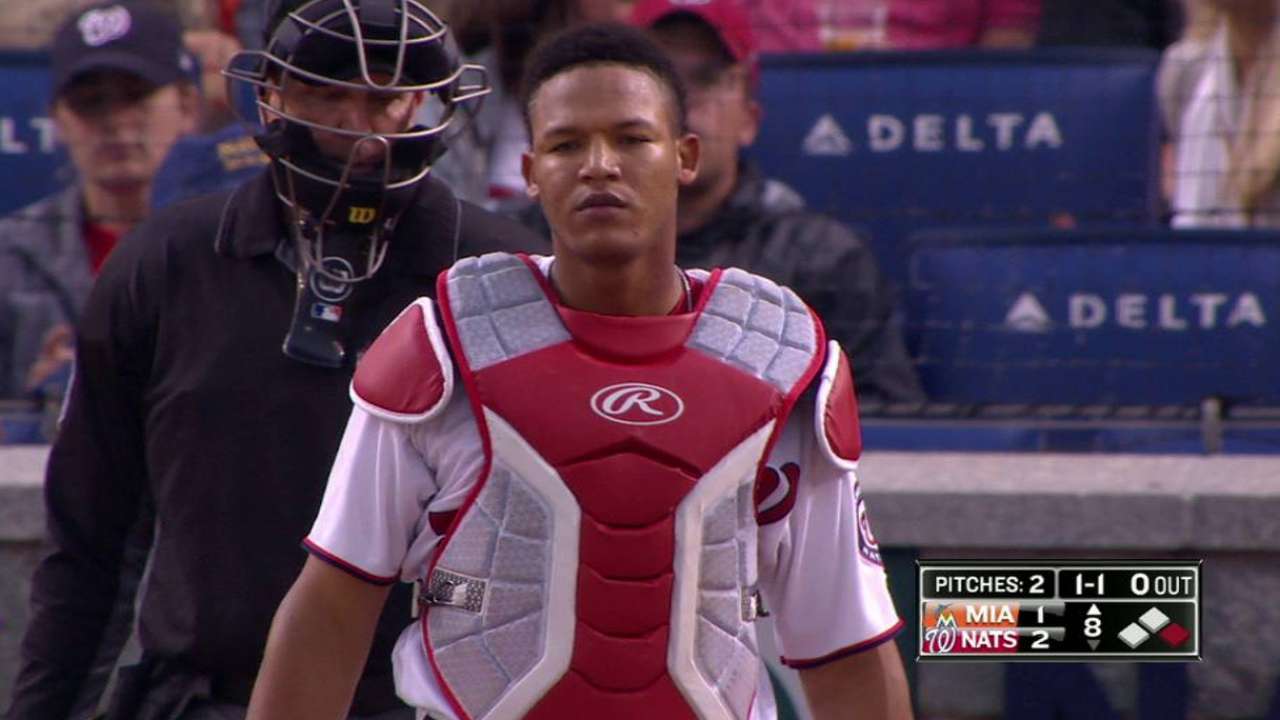 LIKELY NOT RETURNING
INF Stephen Drew: He was Washington's MVP off the bench because of his clutch hitting. The big question is, does he consider himself a bench player or an everyday player?
OF Chris Heisey: When he played, he often hit big home runs. It wouldn't come as a surprise if Baker wanted him back for another year.
C Wilson Ramos: He had the best year of his career, but he tore his ACL and meniscus during the last week of the season. He will be a free agent after the World Series and is not expected to re-sign with the Nationals. He will not be ready to play until May or June.
SOMETHING TO PROVE
INF Wilmer Difo: He added speed to the bench, but he showed he could make mistakes running the bases, and he was sometimes overmatched at the plate.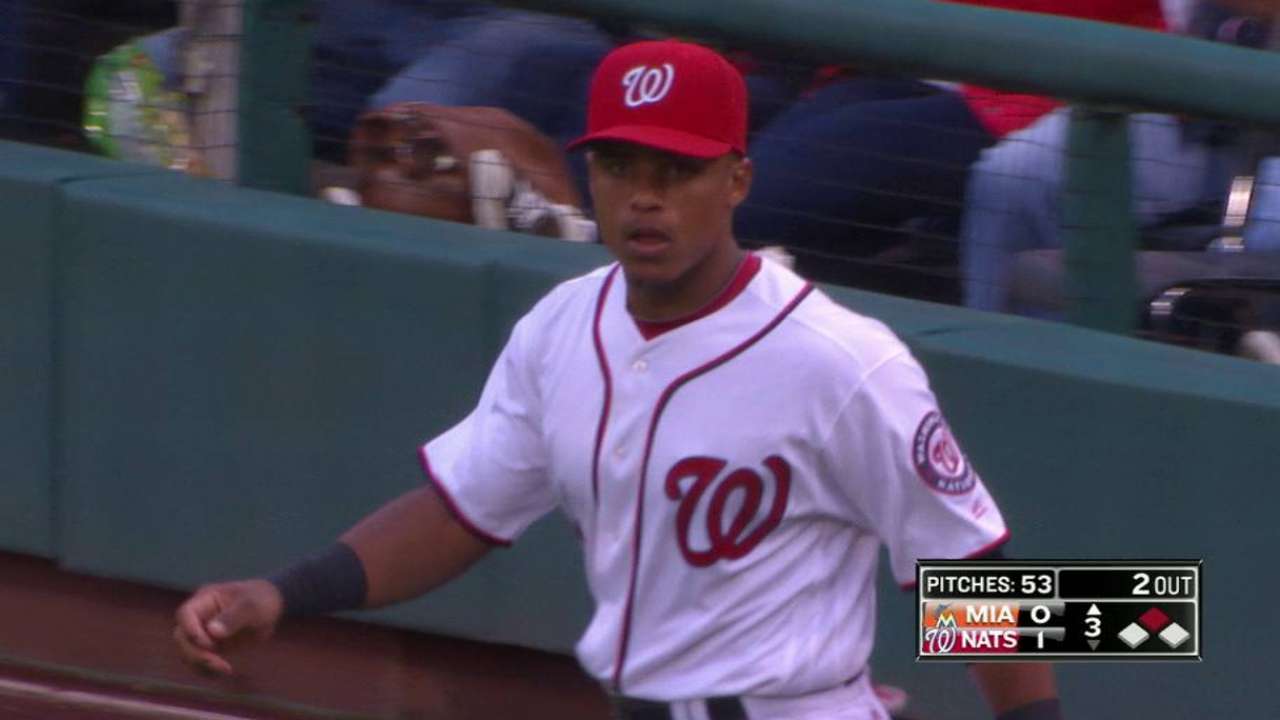 POSSIBLE TRADE CHIPS
SS Danny Espinosa: He is a great defender, but he strikes out too much to help an offense. Even though he slumped badly during the second half, it got to the point where Baker said he didn't have any other options but to play Espinosa. Because of his defense, Espinosa may be better off as a bench player.
OF Michael Taylor: He is what scouts describe as "fool's gold." He had a great Spring Training and a lot of fans and baseball experts were saying he should replace Werth in left field. But by the time the regular season started, Taylor had difficulty at the plate. Scouts now believe he was rushed to the big leagues and needs another year of seasoning in the Minors. Taylor still needs to learn how to hit the breaking ball.
THE INJURED
CF Ben Revere: He injured his oblique on Opening Day against the Braves and was never the same after coming off the disabled list on May 6. Revere is arbitration-eligible and will likely be non-tendered this offseason.
1B Ryan Zimmerman: The injury bug hit Zimmerman for the third year in a row, and he ended up having the worst year of his career. One wonders if he will ever have a season like the ones he put up earlier in his career. He has three more years to show that he can carry the club on his back.
Bill Ladson has covered the Nationals/Expos for MLB.com since 2002 and writes an MLBlog, All Nats All the Time. He can also be found on Twitter @WashingNats. This story was not subject to the approval of Major League Baseball or its clubs.