Brannen, Danner headline Draft prospects on Day 3 of PGWWBA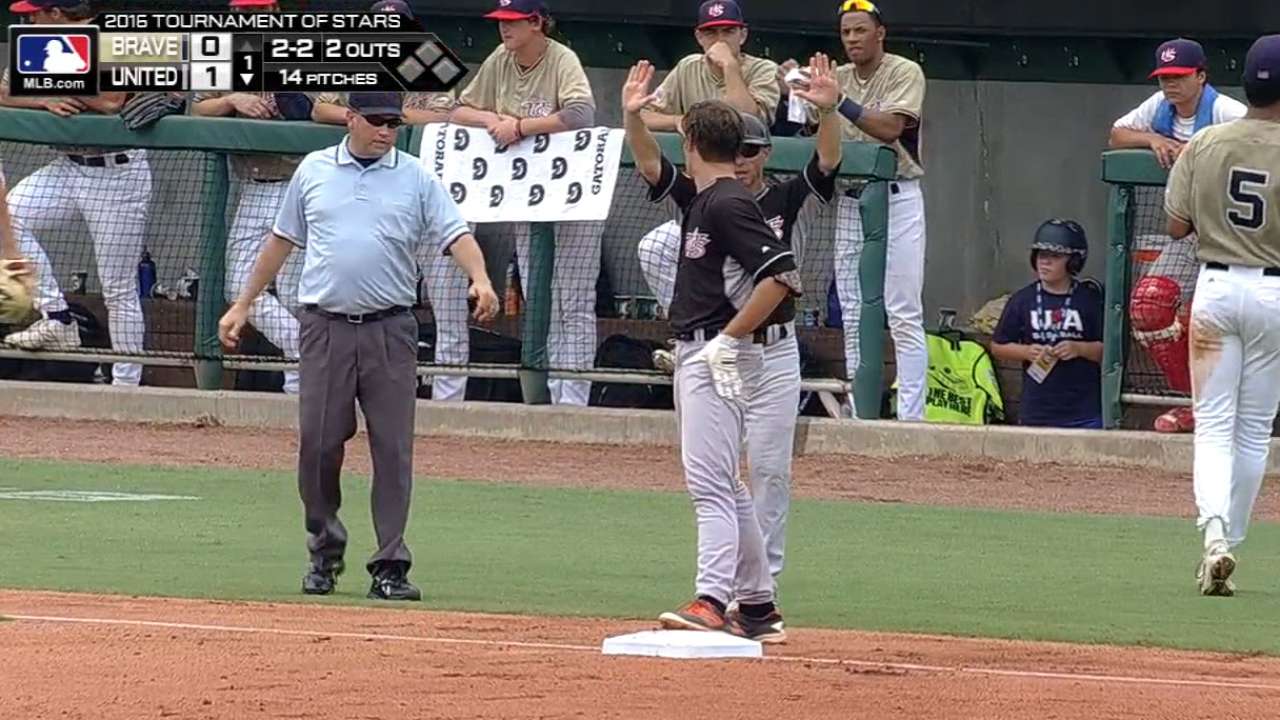 Saturday marked the final day of pool play for the 88 teams in this year's Perfect Game World Wood Bat Association World Championship, as some of the top prospects for the 2017-19 Drafts took the field across 48 games, with as many as 11 contests going on at once at Jupiter's Roger Dean Stadium complex in Jupiter, Fla.
Here's a look at how some top prospects and other notable standouts fared in Saturday's action.
Cole Brannen, CF (Elko, Ga.)
The Georgia Southern commit went 2-for-3 with three RBIs out of the leadoff spot to pace Chain National in a 10-0, run-rule win. Already regarded by scouts as one of the better prep position prospects in the 2017 class, Brannen showcased his impressive bat with a 359-foot triple to right field that had an exit velocity of 96 mph, per TrackMan. The 6-foot-1, 188-pound outfielder also turned in a nearly elite run time from the left side, going home to first in 3.78 seconds.
.@PGAllAmerican Cole Brannen showed off his pop and speed on this triple for @ChainBaseballWR. #PGJupiter @TrackManBB pic.twitter.com/Q875I0wgFM

— WWBA (@PGWWBA) October 22, 2016
Jake Eder, LHP (Ocean Ridge, Fla.)
The 6-foot-4 left-hander started and worked two scoreless innings for the Astros Scout Team/FTB Tucci on Saturday morning, allowing one hit and striking out three, while throwing 17 of his 26 pitches for strikes. Beyond his actual performance, Eder, a Vanderbilt commit, also boosted his Draft stock by posting the game's top fastball velocity (93.5 mph) according to TrackMan. Overall, he operated at 89-92 mph and received largely positive reviews for his fastball command as well as his improved curveball, which registered in the high 60s with tighter spin and more consistent downer action.
.@TrackManBB had Jake Eder up to 93.5 MPH from the left side! Pitching for the Astros Scout Team here at #PGJupiter pic.twitter.com/1Jdtwll6qW

— WWBA (@PGWWBA) October 22, 2016
Hagen Danner C/RHP (Huntington Beach, Calif.)
An intriguing two-way talent, Danner showcased his offensive potential by hitting a clutch game-tying homer to left-center field for EvoShield Canes 17U in a pool-deciding game. The solo shot traveled 368 feet and had an exit velocity of 91.8 mph, according to TrackMan. Through three games, the UCLA commit is 3-for-7 at the plate with three walks.
Harrison Francis, RHP (Tallahassee, Fla.)
Starting for the Dodgers Scout Team/East Cobb, Francis allowed one hit over three scoreless frames. He issued two walks, struck out five and threw 32 of his 55 pitches for strikes. Athletic and projectable, the 6-foot-2 right-hander's clean arm action produced easy velocity as he sat in the upper 80s and topped out at 90. Francis, a Chipola College commit, also demonstrated good feel for a curveball in the mid-70s and also mixed in several changeups.
Nick Jodway, RHP/OF (Morganton, N.C.)
Pitching the final inning of the Dirtbag's first pool-play game, the UNC Wilmington commit topped out at 95.1 mph to record the day's top fastball velocity and the second-best velocity of the event so far. Jodway, a 6-foot, 209-pound right-hander, fanned two of the four hitters he faced in the frame while averaging 93 mph with his heater.
95.1 MPH per @TrackManBB from Nick Jodway! Pitching for @dirtbag_swag and committed to UNC Wilmington. #PGJupiter pic.twitter.com/quoAwJdc8t

— WWBA (@PGWWBA) October 22, 2016
Yeankarlos Lleras, RHP (Carolina, P.R.)
Lleras, 16, tossed two impressive frames for Chet Lemon's Juice, allowing one unearned run on one hit with two strikeouts. Making the performance all the more significant was that the 5-foot-10, 135-pound righty topped out at 93.5 mph, the game's top velocity according to TrackMan, and sat a tick above 90. The Class of 2018 hurler currently is uncommitted.
Yeankarlos Lleras (2018, PR) topped out at 93.2 MPH per @TrackManBB. Pitching for @Juice_Baseball here at #PGJupiter pic.twitter.com/JBMZRxYCQp

— WWBA (@PGWWBA) October 22, 2016
Austin Martin, SS (Orange Park, Fla.)
Martin's solid showing on Friday carried over into his contest on Saturday, when he went 2-for-4 with an RBI and a run scored out of the leadoff spot for the Padres Scout Team/Chandler World. His first hit of the contest, a line-drive single in the bottom of the first, had an exit velocity of 94.2 mph according to TrackMan. On the other side of the ball, the Jacksonville commit continues to show all the tools necessary to play either middle-infield position at the next level.
Landon Marceaux, RHP (Destrehan, La.) & Patrick Wicklander, RHP (Montgomery, Calif.)
The pair of 2018 graduates combined to toss a seven-inning no-hitter for the EvoShield Canes Southeast, striking out 14 and walking just one. Marceaux started and worked the first five innings, compiling eight strikeouts and one walk while throwing 47 of his 64 pitches for strikes. To go along with a fastball maxed out at 88.9 mph and sat at 86-87 mph, the LSU commit also recorded the game's tightest breaking ball (2445 rpm) according to TrackMan. Wicklander took over in the fifth and struck out each of the six hitters he faced while throwing 20 of his 23 pitches for strikes.
Carter Stewart, RHP (Melbourne, Fla.)
The uncommitted Class of 2018 hurler may not have had the cleanest of outings (4 IP, 2 H, 1 ER, 3 BB, 5 K) for the Central Florida Gators, but scouts in attendance walked away impressed with what they saw. Stewart, a 6-foot-5, 190-pound right-hander who oozes with projection, posted the top fastball (2470 rpm) and curveball spin rates in the game according to TrackMan. The latter offering, thrown in the 75-78 mph range with considerable depth and downer action, had an incredible spin rate of 3296 rpm, far and away the best mark of the event.
Mike Rosenbaum is a reporter for MLB.com. Follow him on Twitter at @GoldenSombrero